Note: Supplemental materials are not guaranteed with Rental or Used book purchases.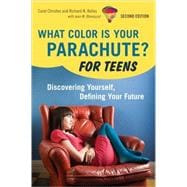 Questions About This Book?
What version or edition is this?
This is the 2nd edition with a publication date of 4/6/2010.
What is included with this book?
The Used copy of this book is not guaranteed to include any supplemental materials. Typically, only the book itself is included.
Related Products
Summary
This updated career guide for teens draws on simplified principles of What Colour Is Your Parachute? to help high school and college students zero in on their favourite skills and find a perfect major or career. As a result of the current economic climate, young adults are forced to think about positioning themselves in a career earlier - they can't just wing it when they graduate and count on getting a job. Furthermore, since the college tuition bubble has burst, teens have to think seriously before they get into debt that doesn't pay equal dividends in salary later. What Colour Is Your Parachute? For Teens helps teens plan for these challenges, while nurturing theirs dreams and passions with exciting possiblities. With even more examples of transferable skills and an expanded emphasis on foot-in-the-door internships, this new edition balances nitty-gritty details with big-picture meaning. Richard Bolles and Carol Christen's warm, hopeful tone is perfect for teens searching for their dream career - and the parents and counsellors looking to inspire them.
Author Biography
CAROL CHRISTEN is a career strategist who has provided life/work planning and job-search skill training to people since 1979. Specializing in working with teenagers, Carol lives along California's Central Coast.
 
RICHARD N. BOLLES has been a leader in the job-hunting field for more than thirty-five years. The author of What Color Is Your Parachute?, the best-selling job-hunting book of all time, Bolles lives in the San Francisco Bay Area.
Table of Contents
Acknowledgments
p. viii
Preface to the Second Edition
p. x
Introduction
p. 1
Discovering Your Dream Job
p. 5
What You Love to Do: Your Favorite Interests and Best Skills
p. 8
Who You Love to Work With: Your Favorite Types of People
p. 22
Where You Love to Be: Your Ideal Work Environment
p. 28
Putting the Pieces Together: Identifying Your Potential Dream Jobs
p. 37
On The Way to Your Future
p. 55
What Do I Do Now? Making the Most of High School
p. 57
What Do I Do Next? Making the Most of College
p. 80
Goal Setting: A Tool to Shape Your Future
p. 94
Social Networking: Using Social Media to Boost Your Career
p. 99
Landing Your Dream Job … and More
p. 109
How to Search for—and Find—Your Dream Job
p. 111
The Top 10 Mistakes Job Hunters Make—and How You Can Avoid Them
p. 141
Tracking Emerging Career Trends: Green Careers and Sustainability—
p. 147
Beyond Your Dream Job: Creating the Life You Want
p. 152
What Everyone Wants to Know: Where Are the Jobs?
p. 159
Considering College?
p. 162
More Information Interviews
p. 164
About the Authors
p. 174
Index
p. 175
Table of Contents provided by Ingram. All Rights Reserved.
Excerpts
Preface to the Second Edition, Or How Can This Book Help Me?

Welcome to the adventure of your life.
   Wait, isn't this book about choosing a career? Yes, but before you can start making decisions about careers, you really need to think out the life you want and what work will help you get that life. What purpose do you want your life to serve? What purpose does work serve in your life? 
   This book can help you answer those questions.  By reading this book and doing the exercises, you will learn how to describe the life you want as a young adult (or beyond), what you want in a dream job, and how to use that information to help you identify the training, education, and jobs that will help you get the experience and skills you need to qualify for your dream job.
   Work you will enjoy grows out of your values—that is, what is important to you. This book has been written to help you learn, step by step, what values are important to you and what kind of a life you want. That way, you'll be able to describe what makes up a job that is good for you and how to go about getting hired to do work you want to do.
   We know you don't really want to read a book. You're asking, "Isn't there some quicker method of learning what kind of career is right for me?" It would be so much easier if there were a foolproof method for helping each teen discover their perfect job. It would be lovely if there were a "sorting hat" for careers. Put it on your head and instead of saying which Hogwarts house you belong to, it would tell you what job was perfect for you. But there really isn't one perfect job that, if you're lucky enough to guess right, you'll have forever. What's perfect for you will change with age, experience, and the economy. 
   Like the Knights of the Round Table, you have a quest. Except, instead of finding the holy grail, your quest is to find your place in the world, what kind of a life you want, and how you are going to earn a living in ways you can enjoy. Most teens want their adult years to be fun and fulfilling—which is hard to achieve if you hate your job. 
   As fascinating as you are, it can take a while to get to know yourself and to pull information about you and the world of work together. In studying young adult success in transitioning from school to work, it's surprising to find that it takes about ten years to get from no clue, to a detailed plan, to well-employed. So if you hope to spend your quarterlife birthday celebrating your personal and professional success, plan on beginning your career exploration about age fifteen.
   Why fifteen? There are lots of reasons, but the most compelling is that you've still got plenty of time to become aware of dozens of careers, check them out, toss some out, find some more to explore, and eventually find several options that really interest you. In addition, planning ahead gives you time to take classes that will improve your employment skills or let you go deeper into subjects you like.
   If you're just fifteen, you can skip the first four chapters (for now). Read them when you're seventeen or eighteen. Those chapters are for older teens with some work experience, and teach you how to find your favorite interests, skills, and goals to create a description of what you want in a job. We suggest you start reading this book at the end. Chapter 12 is about the life you want as a twentysomething, which is a good goal to start thinking about now!  You might also want to check out How to Find What You Love to Do: Naming Your Interests (chapter 1, page 10) and the Party exercise (chapter 2, page 23) to get ideas about career fields to explore. 
   Fifteen is a good age to
---

Excerpted from What Color Is Your Parachute? for Teens: Discovering Yourself, Defining Your Future by Carol Christen, Richard N. Bolles
All rights reserved by the original copyright owners. Excerpts are provided for display purposes only and may not be reproduced, reprinted or distributed without the written permission of the publisher.