Note: Supplemental materials are not guaranteed with Rental or Used book purchases.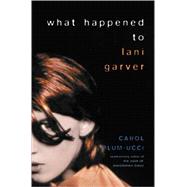 Summary
The close-knit residents of Hackett Island have never seen anyone quite like Lani Garver. Everything about this new kid is a mystery: Where does Lani come from? How old is Lani? And most disturbing of all, is Lani a boy or a girl?Popular Claire McKenzie isn't up to tormenting Lani with the rest of the high school elite. Instead, she decides to befriend the intriguing outcast. But within days of Lani's arrival, tragedy strikes, and Claire is left questioning herself, her friendships, and, most interesting of all, the possibility that angels may exist on earth.
Author Biography
CAROL PLUM-UCCI is the author of the acclaimed Body of Christopher Creed, which was named a Michael L. Printz Honor Book and was nominated for the Edgar Allan Poe Award. She lives in southern New Jersey.

Excerpts
How can some people's lives look so good when they're so foul underneath? That's the question I ask when I leaf through this photo album Macy gave me for my sixteenth birthday. I got it at my surprise party in October of sophomore year, three weeks to the day before Lani Garver showed up on Hackett.It's full of pictures of me and Macy and our other friends, and we've got some wild and happy parade of the teeth going on. And it's not like we were faking happiness for pictures. That's what terrifies me most. If anyone had asked, my friends and I would have said in a heartbeat, "We rule the cule," and would have believed ourselves.Macy scrawled titles by each picture in her pretty handwriting that slants backwards. The one most likely to rip our sides was "Uh-Oh, The Umbrella Ride," because of the disgusting story behind it, but like all "true brew stories," you find a place for it in your heart.The summer after freshman year, Macy's big sister, Mary Beth, decided it was time to introduce us to Oleander's whiskey, better known by Hackett's fishermen as Old Sweat Sock. She felt we were getting too cocky about our alcohol imbibement tales. Mary Beth was eighteen but had a fake ID. She bought a good-sized bottle of Old Sweat Sock at the Rod 'N' Reel. The six of us passed this bottle around in her car as she gunned it down Mariner Road to Fisherman's Wharf for some general goofing around.Myra Whitehall, who sat in the passenger seat, announced that she suddenly wasn't feeling so great. Mary Beth didn't want to slow down, because this Jeep full of Hackett's finest studs was bumper smooching her Mustang, and she didn't want them to see hurl flying out of her passenger window. She kept saying, "Deal with it, Myra!"Myra couldn't help rolling down the window, and to our disgust from the backseat, the ocean breeze was blowing in-way hard. Macy rooted through Mary Beth's stuff and came up with an umbrella. She snapped it open and shoved it up in front of the four of us in back. When Myra's stomach said, "No more," we screamed some combo victory chant/barnyard noises, completely protected from impending doom. The Jeep passed us with all-too-embarrassing curses and loud requests for car wash reimbursement. Geneva Graham snapped this picture on the wharf right after we got there.I was smiling so completely. Except for Myra-who had just been ruined socially for at least a week-we all were.Right next to that photo there's "Lesbian Hayride," which happened around Halloween of freshman year. I don't even remember how we lucked out so well, but Macy and I ended up in a hay wagon with about a dozen guys from the fish frat-that's the sons of Hackett's commercial fishermen, who are sometimes lifeguards and usually very hunky. We were trying not to act stupid, but also to act like we could care less about these breathtaking studs. As Mary Beth had lectured us, the only way to catch a guy in the fish frat is to pretend you don't care.Macy and I were standin
---

Excerpted from What Happened to Lani Garver by Carol Plum-Ucci
All rights reserved by the original copyright owners. Excerpts are provided for display purposes only and may not be reproduced, reprinted or distributed without the written permission of the publisher.