Note: Supplemental materials are not guaranteed with Rental or Used book purchases.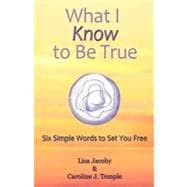 Questions About This Book?
What version or edition is this?
This is the edition with a publication date of 2/15/2012.
What is included with this book?
The eBook copy of this book is not guaranteed to include any supplemental materials. Typically only the book itself is included.
Summary
What I Know to Be True teaches you a simple and easy way to deepen your connection to your all-knowing inner wisdom. Imagine choosing to live that way! What if you could retain your sense of self, your sense of equilibrium, even in the face of life's most difficult and emotionally painful challenges? What if you could let go of what others think about you, your actions, and your choices, thereby reclaiming your personal power? What if you could connect to your deepest wisdom to feel safe and secure, regardless of circumstance? The Truth is you can! What I Know to Be True is a book, a practice, a way of life. It opens the gateway for you to connect to the truth-or knowing-that resides deep within you and acts as your personal GPS. You will learn to Know, Trust, and Live in your Truth. The practice of What I Know to Be True reminds you to . be guided by your own inner Truth, not someone else's truth for you . trust that you are never alone . deepen your connection with your spiritual self . live your life more fully with greater joy and ease Through personal stories, practical applications, and examples, this book teaches you many ways to use the simple practice of What I Know to Be True at any time, in any place. Start living your life in the only way that truly matters-from the place of your own Truth. "This book is so powerful! Using simple, practical, and heartfelt guiding words to break through our resistance, it is the beautiful and simple message that needs to be heard by all. Truly an inspired work." ~ Denise Romano "Since using What I Know to Be True, I direct my energies towards peace and harmony, which I'd been trying to do for a while. The difference is that I now come from my core instead of from my head." ~ Laurie Cameron "This book is the absolute best of all the good self-help books put together into one." ~ Lisa Cimino
Excerpts
The Way In Saying the words What I Know to Be True acts as a cue, a prompt that immediately shifts you to your center. The words short-circuit what the mind is telling you, allowing you to open your heart and find peace, regardless of what is going on around you. What I Know to Be True is a book, a phrase, a practice, a way of life. These six simple words that showed up like a gift will help you in many ways. They will: • transform your life on a daily basis and provide relief from stress • teach you how to love yourself while judging yourself (and others) less • offer relief from the intensity of difficult feelings and experiences • reduce reactivity in emotionally charged situations • help you to find the "pause" required to detach from controlling emotions • support and connect you with yourself and others even when you are feeling unhappy, misunderstood or alone • help diffuse conflict • provide an affirmation and reminder to center yourself in every day moments of your life • create a meditation to reconnect with your higher self, with Source, with universal energy • teach you how to connect with your true self What I Know to Be True is a practice that helps you discover your Truth. What do we mean? We're referring to the Truth that comes from your higher self, the place of all-knowing Source. It is the Truth that resonates with the best expression of yourself, and confidently aligns you with a feeling of clarity and purity. It connects you with the divine in you, full of love and grace, and always there for you. It invites you to experience a return to Source, teaches you how to find peace when there appears to be none, and how to find connection when you feel alone and afraid. It will bring your attention to the wisdom of your soul, something bigger than you that is only known and experienced inside of you. Truth comes with ease. It cannot be learned or forced. It needs to be experienced. We are wiser than our brains, deeper than our thoughts. Truth is felt differently for each of us. Truth is not found in someone else's words. It is not found in intellect or in the reading of yet another spiritual book, including this one. It is not found by looking to another's version of truth or through external validation. It is found in the core of each of us. It is found in "being" in stillness, not in "doing" or taking on more. Give yourself a break. Pause and exhale. Step back from the myriad of thoughts, and see how a bird's eye view changes your perception. Inner peace is found in Truth–your Truth. Learn to trust yourself through this practice. In the pages that follow we offer guidelines for the practice of What You Know to Be True. You can open this book at any page and find a new teaching to use and reflect upon, new ways to consider your Truth, or simply a gentle reminder to go within. We offer suggestions for ways you can use the practice, such as a soothing tool, an affirmation upon waking, or as a deeply profound meditation in times of emotional crisis. Experiential examples are provided for you throughout. And finally, we give you Truisms–or universal truths–that stimulate you to observe your thoughts and emotions and help you shift to a more powerful and conscious way of living when you're feeling at all disempowered. For example: • What I Know to Be True is that my emotions do not define my reality. • What I Know to Be True is that I am never truly alone. • What I Know to Be True is that all is well. We invite you to read what we share with an open mind and more importantly, with an open heart. Say the What I Know to Be True statements aloud and feel what resonates with you. Dip into the Truisms. Come back to them after letting the words marinate within you for a day, a week, a month. Don't take our word for it; don't accept them as your Truth unless you feel them as Truth. They may not be your Truth, yet they may be a catalyst for you to find your own Truth. Explore your own Truth through feeling. Get comfortable feeling your own Truth. Express your own Truth out loud. Capture your own Truth in writing. Decide to live your own Truth and allow others to live theirs. Live your life the only way it truly matters, from your own Truth. What began as a gift we used to ease the pain of emotional situations has evolved into an on-going journey of self-discovery and freedom. You will have different burdens, challenges, and experiences to address in your own life. And, whatever they may be, however large or small, the practice of What I Know to Be True will help you navigate rough waters towards a more centered, peaceful and conscious you.