Note: Supplemental materials are not guaranteed with Rental or Used book purchases.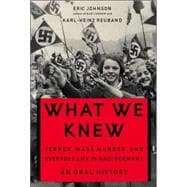 Questions About This Book?
What version or edition is this?
This is the edition with a publication date of 2/27/2006.
What is included with this book?
The New copy of this book will include any supplemental materials advertised. Please check the title of the book to determine if it should include any CDs, lab manuals, study guides, etc.
The eBook copy of this book is not guaranteed to include any supplemental materials. Typically only the book itself is included.
Summary
The shocking oral history that reveals the truth about daily life in Nazi Germany.
Author Biography
Eric A. Johnson is the author of Urbanization and Crime: Germany 1871-1914 and The Civilization of Crime: Violence in Town and Country Since the Middle Ages. A professor of history at Central Michigan University and a fellow of The Netherlands Institute for Advanced Study, he lives in Mt. Pleasant, Michigan. Karl-Heinz Reuband is professor of Sociology at the University of Dusseldorf. He lives in Dusseldorf, Germany.
Table of Contents
Acknowledgments
xi
Introduction
xiii

| | |
| --- | --- |
| | Part One: Jewish Survivors' Testimonies |

| | |
| --- | --- |
| | Jews Who Left Germany Before Kristallnacht |

3
(23)

| | |
| --- | --- |
| | William Benson, Leipzig, ``Never to forget, never to forgive.'' |

| | |
| --- | --- |
| | Margarete Leib, Karlsruhe, ``They strangled my father with a packaging cord.'' |

| | |
| --- | --- |
| | Henry Singer, Berlin, ``Anti-Semitism was there before Hitler.'' |

| | |
| --- | --- |
| | Karl Meyer, Cologne, ``In Cologne they never had this anti-Semitism.'' |

| | |
| --- | --- |
| | Jews Who Left Germany After Kristallnacht |

26
(33)

| | |
| --- | --- |
| | Armin Hertz, Berlin, ``My toes were frozen . . . all of them fell off.'' |

| | |
| --- | --- |
| | Josef Stone, Frankfurt, ``All the people started yelling at us.'' |

| | |
| --- | --- |
| | Elise and Hermann Gottfried, Berlin, ``They were all detectives in civilian clothing.'' |

| | |
| --- | --- |
| | Rebecca Weisner, Berlin, ``Every few weeks they rounded up people and shot them.'' |

| | |
| --- | --- |
| | Joseph Weinberg, Stuttgart, ``We did not feel the anti-Semitism.'' |

| | |
| --- | --- |
| | Jews Who Were Deported from Germany During the War |

59
(61)

| | |
| --- | --- |
| | Max Liffmann, Mannheim, 1940 to Gurs, ``Fear was not something I knew.'' |

| | |
| --- | --- |
| | Herta Rosenthal, Leipzig, 1942 to Riga, ``All the Jews were leaving, and they [the Germans] were happy, a lot of them. They were standing there laughing.'' |

| | |
| --- | --- |
| | Ernst Levin, Breslau, 1943 to Auschwitz, ``They say `we didn't know about it.' Bullshit!'' |

| | |
| --- | --- |
| | Ruth Mendel, Frankfurt, 1943 to Auschwitz, ``I wouldn't be alive if not for my mother.'' |

| | |
| --- | --- |
| | Helmut Grunewald, Cologne, 1943 to Auschwitz, ``I know that I'll be sent to Auschwitz and be gassed anyway.'' |

| | |
| --- | --- |
| | Herbert Klein, Nuremberg, 1943 to Theresienstadt, ``We were the last ones deported in 1943.'' |

| | |
| --- | --- |
| | Werner Holz, Krefeld, 1943 to Theresienstadt, ``I was blond, blond.'' |

| | |
| --- | --- |
| | Hannelore Mahler, Krefeld, 1944 to Theresienstadt, ``We didn't want to believe it because we could have been next.'' |

| | |
| --- | --- |
| | Jews Who Went into Hiding |

120
(21)

| | |
| --- | --- |
| | Hse Landau, Berlin, ``I had been caught and sent to Auschwitz . . . I jumped out of the train!'' |

| | |
| --- | --- |
| | Lore Schwartz, Berlin, ``In any case, I came out of the war a virgin.'' |

| | |
| --- | --- |
| | Rosa Hirsch, Magdeburg, ``There were some people who tried to help. But they were such a minority.'' |

| | |
| --- | --- |
| | Part Two: ``Ordinary Germans'' Testimonies |

| | |
| --- | --- |
| | Everyday Life and Knowing Little About Mass Murder |

141
(44)

| | |
| --- | --- |
| | Hubert Lutz, Cologne, ``In my ten years in the Hitler Youth, I never heard anybody suggest that you spy on your parents or that you spy on anybody else.'' |

| | |
| --- | --- |
| | Marta Hessler, Stettin, ``They came and arrested my brother.'' |

| | |
| --- | --- |
| | Rolf Heberer, Freithal, ``For 60 million Germans, that was what the people really wanted.'' |

| | |
| --- | --- |
| | Gertrud Sombart, Dresden, ``Most people were, of course, for Hitler.'' |

| | |
| --- | --- |
| | Erwin Hammel, Cologne, ``They felt like members of the master race.'' |

| | |
| --- | --- |
| | Anna Rudolf, Berlin, ``You, good girl!'' |

| | |
| --- | --- |
| | Peter Reinke, Cologne, ``Why should I have been afraid? We just sat there in detention.'' |

| | |
| --- | --- |
| | Helga Schmidt, Dresden, ``There was never any particular sympathy for the Jews.'' |

| | |
| --- | --- |
| | Werner Hassel, Leobschutz, ``A large number of people really didn't know anything.'' |

| | |
| --- | --- |
| | Everyday Life and Hearing About Mass Murder |

185
(41)

| | |
| --- | --- |
| | Hiltrud Kuhnel, Frankfurt, ``That was his hobby, measuring skulls.'' |

| | |
| --- | --- |
| | Ruth Hildebrand, Berlin, ``The soldiers on leave. . . did a lot of talking.'' |

| | |
| --- | --- |
| | Ekkehard Falter, Dresden, ``Rat-a-tat-tat, dead.'' |

| | |
| --- | --- |
| | Stefan Reuter, Berlin, ``One heard in communist circles that numbers of Jews were being gassed.'' |

| | |
| --- | --- |
| | Ernst Walters, Schwalbach, ``Gassed. They were killed and soap was made from the bones.'' |

| | |
| --- | --- |
| | Effie Engel, Dresden, ``[The BBC] also confirmed it, and with rather exact information.'' |

| | |
| --- | --- |
| | Winfried Schiller, Beuten, ``Auschwitz was not so very far away from us.'' |

| | |
| --- | --- |
| | Witnessing and Participating in Mass Murder |

226
(37)

| | |
| --- | --- |
| | Adam Grolsch, Krefeld, ``In two days, 25,000 men, women, and children.'' |

| | |
| --- | --- |
| | Hans Ruprecht, Cologne, ``We have to carry out some `cleansing measures' here.'' |

| | |
| --- | --- |
| | Albert Emmerich, Eberswalde, ``There are three hundred Jews lying in each grave.'' |

| | |
| --- | --- |
| | Walter Sanders, Krefeld, ``I not only told my parents about that, I also told others when I was on leave.'' |

| | |
| --- | --- |
| | Part Three: Jewish Survivors' Survey Evidence |

| | |
| --- | --- |
| | Everyday Life and Anti-Semitism |

263
(22)
285
(18)
303
(22)

| | |
| --- | --- |
| | Part Four: ``Ordinary Germans''' Survey Evidence |

| | |
| --- | --- |
| | Everyday Life and Support for National Socialism |

325
(21)
346
(15)
361
(26)
Conclusion: What Did They Know?
387
(12)
Notes
399
(20)
Index
419