Note: Supplemental materials are not guaranteed with Rental or Used book purchases.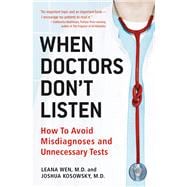 Questions About This Book?
What version or edition is this?
This is the 1st edition with a publication date of 1/15/2013.
What is included with this book?
The New copy of this book will include any supplemental materials advertised. Please check the title of the book to determine if it should include any CDs, lab manuals, study guides, etc.
Summary
In this examination of the doctor-patient relationship, Drs. Wen and Kosowsky argue that diagnosis, once the cornerstone of medicine, is fast becoming a lost art, with grave consequences. Using real-life stories of cookbook-diagnoses-gone-bad, the doctors illustrate how active patient participation can prevent these mistakes. Wen and Kosowsky offer tangible follow-up questions patients can easily incorporate into every doctor's visit to avoid counterproductive and even potentially harmful tests. In the pursuit for the best medical care available, readers can't afford to miss out on these inside-tips and more: - How to deal with a doctor who seems too busy to listen to you - 8-Pillars to a Better Diagnosis - How to tell the whole story of your illness- Learning test risks and evaluating whether they're worth it- How to get a working diagnosis at the end of every doctor's visit By empowering patients to engage with their doctors as partners in their diagnosis, this essential guide enables patients to speak up and take back control of their health care.
Author Biography
DR. LEANA WEN is a resident physician at Brigham & Women's and Massachusetts General and clinical fellow at Harvard Medical School. A Rhodes Scholar, Wen is a past national president of the American Medical Student Association.

DR. JOSHUA KOSOWSKY is assistant professor at Harvard Medical School and the Clinical Director of the Brigham & Women's Emergency Medicine Department. He is the author of over two dozen articles and textbook chapters, and is co-editor of Pocket Emergency Medicine.
Table of Contents
"This is a well-written book on an innovative approach to healthcare reform: it challenges patients to take charge of their health and every medical encounter with their doctor. An important topic and an important book--I encourage my patients to read it."
—Siddhartha Mukherjee, author of The Emperor of All Maladies: A Biography of Cancer

"I have always said that a hospital can kill you as sure as cure you. You must be your own best advocate. Follow the advice of Drs. Wen and Kosowsky…and transform from being a patient to an advocate for your own health."
—Fran Drescher, actor, producer, activist, and author of Cancer Schmancer

"It's critical for patients to advocate for their own health.  This book teaches you how…Read it; it will change radically how you approach your doctors."
—Melissa Etheridge, Academy Award- and Grammy Award-winning musician
"This clearly-written, brilliantly and creatively thought-out book, filled with fascinating and horrifying examples of how doctors are now trained to not listen to their patients in order to 'rule out' diseases, focuses on 'ruling in' diagnoses that not only are accurate, but that will save billions of dollars per year in lawsuit-driven tests. A brave, terrific, essential work."
—Samuel Shem, M.D., Ph.D., author of The House of God and The Spirit of the Place
"Leana Wen and Josh Kosowsky have written an authoritative guide to answer a seemingly simple question: How should you talk to your doctor?  Through fascinating examples taken from their own clinical experiences, they show how doctors' training fails to teach real listening skills.  But Drs. Wen and Kosowsky don't stop there: They also offer up constructive and practical advice that just might save your life."
—Darshak Sanghavi, MD, Chief of Pediatric Cardiology, University of Massachusetts Medical School, health care columnist for Slate, contributing editor at Parents magazine, and author of A Map of the Child: A Pediatrician's Tour of the Body
"Their proposal for 'diagnostic partnership' is a major contribution of this courageous book in which common sense plays the leading role."
—Julio Frenk, MD, PhD, Dean of the Harvard School of Public Health
"A powerful appeal for individualized medical evaluation based on an active partnership between doctors and patients. The rational, mutual approach to diagnosis advocated by Drs. Wen and Kosowsky is the antidote for mindless and wasteful routines that all too often replace careful listening and focused assessment of each patient."
—Harvey V. Fineberg, M.D., Ph.D., President, Institute of Medicine
"Exposes the stereotypic physician following cookbook recipes to liberating a new frontier in the 'art' of humanistic medicine that empowers patients and physicians alike."
—Lincoln Chen, MD, Director, Global Equity Center at Harvard Kennedy School of Government
"Not only offers a compelling argument for revitalizing this touchstone of good medicine, but also provides a comprehensive guide for how doctors and patients can improve the quality of healthcare by doing so."
—Jordan J. Cohen, MD, Professor of Medicine and Public Health, George Washington University, and President Emeritus, Association of American Medical Colleges
"This is an important contribution to helping both physicians and patients more effectively manage their encounters.  The authors make it clear that 'more medical care' may frequently be harmful to a patient's health."
—Robert Graham, MD, Professor of Family and Community Medicine, University of Cincinnati
"This book is a must read for informing the dialogue about health care reform and transforming medical education. Its humanistic authors provide support for re-integrating the lost art of humanism with more scientific medicine. The authors' passion for the individual behind the illness is contagious."
—Afaf I. Meleis, Ph.D., DrPS (hon), FAAN, Margaret Bond Simon Dean of Nursing, University of Pennsylvania
"Doctors take an oath to do no harm. Yet more than ever, modern medicine makes healthy people sick. Emergency physicians Leana Wen and Josh Kosowski make a passionate argument for patients to get involved and informed about their care. A fast, smart read to help you take charge of your health."
—Audrey Young Crissman, MD, author of What My Patients Taught Me: A Medical Student's Journey

"Evidenced based medicine, clinical guidelines, and diagnostic algorithms have been widely adopted as an answer to inconsistent and out-of-date medical practice. Drs. Leana Wen and Joshua Kosowsky make the case that the resultant algorithms-gone-wild syndrome seen in many medical settings today actually drives imprecise and wasteful testing, muddled diagnoses, and patient confusion. They argue that these clinical behaviors are at the heart of our "morbidly obese" medical care system and that thoughtful physicians relying on patient narratives and diagnostic common sense will create a leaner medical care system and better patient outcomes. Theirs is a contrarian and compelling case with the wellbeing of millions of patients and $250 billion a year riding on it."
—Fitzhugh Mullan, MD, Murdock Head Professor of Medicine and Health Policy, The George Washington University
Excerpts
One


From Shamans to Black Boxes
Arthur Coates is a partner in one of Boston's most prestigious law firms. At fifty-seven, with more than thirty years of malpractice law under his belt, Arthur is known in the business as being "sharp as a tack, with the instinct of a killer whale." Today was the culmination of a multibillion-dollar lawsuit involving a local hospital and several of its staff. It was just before lunchtime, and he was cross-examining the last witness when a most remarkable incident occurred.
"Were you aware that my client had a previous history of heart disease?" Arthur asked the witness. He was pacing the room with a steady, deliberate gait, a style characteristic for him, noted his younger colleague, Tim Simcock, who was watching from gallery.
As the witness was about to respond, Arthur spoke again, this time appearing to direct the question to the judge.
"Were you aware of my client's previous history of heart disease?" he asked.
What a strange strategy to repeat the question like that?Tim thought. Maybe this is how Arthur does things; perhaps Tim should take notes on Arthur's style. The opposing attorney objected, but the judge motioned to the witness to answer anyway.
"I don't recall," he stated.
"Did you know about my client's heart disease?" Arthur asked again, this time to no one in particular. "Were you aware that my client had suffered previously from heart disease?"
The opposing attorney got on his feet, yelling, "Objection—asked and answered!" but Arthur went on asking the same question several more times. Tim saw that Arthur's gait had sped up. It wasn't unsteady, but he wasn't walking in any particular direction. Could it be that the great Arthur Coates couldn't remember what else he had to ask? Tim stood up to approach the bench and request a sidebar. As he got closer, he saw that beads of sweat were pouring down Arthur's face. The judge was banging his gavel, but Arthur appeared to take no notice. The entire room was watching Arthur, transfixed. There were murmurs. What's happening? Is it a trick? Is Arthur Coates having a breakdown?
"There is something wrong!" Tim shouted. "He needs a doctor!"
A recess was called. As it happens, therewasa doctor in the courtroom—the one who Arthur had just been questioning. The doctor stepped from the witness box and cautiously made his way over to his former interrogator, who was now crouched in the middle of the courtroom like a vanquished gladiator, his head buried in his hands.
"Are you OK? Do you need help?" In a curious reversal of roles, it was the doctor asking the questions.
Arthur shook his head. "Do I know you?"
How bizarre! This was one of the most sought-after minds in his profession, and he couldn't remember a key witness? But not only couldn't Arthur recall any details of the case, he didn't know that he was in court or that the year was 2012.
"I think he may be having a stroke," concluded the doctor, a gynecologist by training, but familiar enough with basic neurology to know that sudden memory loss was potentially quite serious. "Someone call for an ambulance!"
* * *
"Who are you again?" Arthur asked Tim quizzically as they rode together in the back of the ambulance.
Tim sighed. It was the third time Arthur had asked him this question since leaving the courthouse. "Tim. We've worked at the same firm for the past eight years. We golf together. Our wives are in the same book club."
"Oh," Arthur replied. To Tim, it looked as if his colleague registered what he just said, but a few minutes later, when he asked Arthur if he remembered him, Arthur shrugged. He was apologetic, but really—he just didn't remember.
This was how Arthur Coates presented to us in the ER. On the surface, Arthur appeared like any other high-powered lawyer: middle-aged, distinguished-looking, with a dark power suit and blood-red tie. He feels great, he said. And yet he had no clue what day of the week or what month it was. He nodded when he's told that he's at a hospital in Boston, but a few minutes later, he no longer remembered this. When he was asked to recall three objects—a pencil, a lamp, and a curtain—he could repeat them back instantaneously, but a minute later, he could not remember any of them. Interestingly, though, he knew that he was born in 1953 in Omaha, Nebraska. He told us that his childhood best friend was a scrawny kid named Auggie and that his first dog was a yippy tan Yorkshire terrier.
The rest of Arthur's history and physical exam was unremarkable. His wife, Amy, arrived and confirmed that Arthur was generally healthy. He'd never had anything like this happen before. In fact, he hadn't missed a day of work in his life. He took no medications other than a baby aspirin each morning, and he went to the gym three times a week. He hadn't been traveling to any exotic locations, and nobody around him had been sick. His vital signs were all normal, as was his vision, hearing, speech, and gross motor and sensory function. He had normal reflexes, coordination, balance, and gait. When asked to perform basic addition and subtraction or spell "W-O-R-L-D" backward, he seemed to have no difficulty whatsoever.
Could the great Arthur Coates have had a nervous breakdown? Tim wondered. It had been a stressful few weeks leading up to the trial, and this morning's proceedings had more than their share of tense moments. "But this is a guy who's argued dozens of cases like this! It's just not like him to react this way!"
* * *
Arthur's behavior may seem bizarre, but he was actually exhibiting classic signs of a disease called "transient global ischemia." First described in the 1970s in a case involving a farmer who drove a tractor onto a busy highway because he could not remember who he was or where he was going,1 transient global ischemia is characterized by a sudden loss of recent memory. Patients tend to recall deeply encoded, distant events like childhood memories, but not recent happenings. Other than memory failure, they do not have any other neurological deficits. The cause of this ailment is unknown, though it is more common in males than females, and there is some association with a prior stressful or emotional event. The symptoms are self-resolving, usually completely disappearing within twenty-four hours.
Because transient global ischemia is so highly classic and specific, afflicted patients can be sent home to await symptom resolution as long as the caretakers at home are comfortable taking care of them. Twenty years ago, Arthur could have been diagnosed based on his clinical presentation alone. No further workup would have been provided, because it was clear what he had. Today, even though his diagnosis could have been made just by hearing his story, the doctors taking care of Arthur were petrified of him going home to recover on his own. Our discussion in the ER went like this: what if we were missing something bad, something really bad? What if he was having some type of stroke that we hadn't thought of? Some unusual metabolic disease?
Never mind that Arthur exhibited none of the signs concerning for this smorgasbord of bad diseases. Yet, the resulting management was predictable: to be "on the safe side," Arthur was told he needed to go through the entire battery of tests. So he got a head CT to make sure he didn't have bleeding in his brain. His CT was normal, so an MRI was ordered to look for a more subtle stroke. In the meantime, his blood tests, chest X-ray, and EKG also came back normal and offered no explanation for his symptoms, so the neurologists were called to see Arthur. After several hours of consultation, and with absolutely normal tests, their conclusions were similar to ours: "Symptoms are consistent with transient global ischemia," they wrote, "but we cannot exclude transient thromboembolic phenomenon or atypical seizure activity." They recommended further studies to "rule out" these remote possibilities, not acknowledging the difficulty of proving a negative.
So Arthur waited in the hospital overnight. By later that evening, he was pretty much back to normal. But there were still more tests to do. Arthur stayed overnight to have brain wave tests to make sure he was not having a seizure (he wasn't) and an ultrasound of his heart to confirm that his heart valves were normal (they were). Finally, late the next evening, he was discharged home, some thirty-six hours after Tim and the ambulance crew brought him in.
Why is it that Arthur Coates stayed in the hospital at a cost of tens of thousands of dollars in studies, procedures, and specialists' time, when he could have been sent home in the first place? Why did we need blood draws and radiation to conclude that he didn't have diseases that he never showed signs of? Why couldn't doctors have provided the reassurance of both the diagnosis and the expected course of his illness, sparing him and his family many fretful hours worrying about heart attacks and strokes and seizures and whether they would ever have the old Arthur Coates back?
We were there—we can tell you why. It's because doctors today no longer think that patients can be relied upon to tell the history of their illness. It's because "ruling out" bad diseases has taken precedence over making a diagnosis. It's because we have elaborate tests available at our fingertips, and both doctors and patients have an unshakable belief in technology. Never mind that the fancy tests add little value, especially when used to exclude diagnoses that weren't likely in the first place.2 Never mind that the procedures may actually impose risk or cause actual harm.
Diseases have always existed, but modern technology has not always been available. To explain how far we have come, for better and for worse, we present a brief history of medical diagnosis. We identify four periods, what we term the Four Eras of Diagnosis. As you read, think about the three patients you've been introduced to: Jerry the mechanic with chest tightness, Denise the housewife with vomiting and diarrhea, and Arthur the lawyer with sudden memory loss. How would the diagnostic process been different in each of the four eras? Would their care have been better then or now? Would yours?
* * *
Let's call the First Era of Diagnosis the "Era of Spiritual Healing and Magical Thinking." Records dating back thousands of years have described shamans, faith healers, and their equivalents as healers who provided what would now be called medical care through spiritual means. Virtually every ancient society had one such person or a designated group of people who was said to possess the magical powers to heal—and as a prerequisite to that, to diagnose.3
Many of these ancient faith healers had knowledge of local plants and herbs and made liberal use of medicinal concoctions in their practice. Others utilized the power of chants and group prayer. The Peruvian Amazons believed that spirits would teach their shaman, the "curandero," a song; the shaman's job was to learn the song in order to figure out the specific illness.4 In other cultures, the key to diagnosis lay in the identification of the appropriate evil spirit, and the faith healer's job was to possess the body of the ill and chase out the spirit causing harm. In the Hmong culture, the healer, called the "Shi Yi," was said to restore health by calling the soul of the sick from travels with bad spirits and back into the human body.5
This form of healing, grounded in belief of spirits and magic, seems worlds apart from medicine as we know it today. But there is something of this First Era that we still find in modern medicine: the notion of implicit trust. Then, as now, those who are sick entrust their health and well-being to a designated healer. In ancient times, illness was a literal black box: you tell your healer your problems, the healer shakes a black box, and out comes a solution of some kind. As a faithful member of the community, you trust your healer and accept the outcome.
Why do we even mention this era when we can take it at face value that few of us would prefer to live back in the land of shamans and black boxes? We discuss it because this era is not entirely in the past. Alternative healing methods are actively practiced today. Many societies continue to rely on shamans and faith healers. In the United States, 74 percent of patients report that they use complementary and alternative therapies in addition to Western medicine, including herbs and "new age" medicine techniques such asqi gongspiritual healing andreikienergy healing.6
It's interesting to note that these alternative healing modalities continue to emphasize the patient first and foremost. Making a diagnosis requires attention to the individual and his stories. In addition, because healers are typically from the same community as their patients, cultural context is necessarily taken into account as part of the diagnostic process. In all cases, a diagnosis (whether correct or not) is given, with treatment tailored to fix the problem identified. Perhaps as a result, these forms of treatment result in total commitment from the patient and their families, and adherence to the treatment regimen tends to be very high.
With the dawn of recorded history came the Second Era of Diagnosis, which we call the "Era of Early Empiricism and Disease Classification." As far back as 2000 B.C., the Egyptian scholar Imhotep wrote the medical textbook known as theEdwin Smith Papyrus.7 This is the first known text in the ancient world to describe in detail a method of diagnosis whereby each disease has corresponding symptoms and physical findings.8 A subsequent Babylonian text,The Diagnostic Handbook,introduced the role of empiricism and logic in diagnosis, focusing on rules for predicting when and how a constellation of symptoms and signs represented a particular disease state.9
The Father of Western Medicine, Hippocrates, was the preeminent physician of his time, and his works epitomize the diagnostic approach in this Second Era. Hippocrates was deeply invested in describing thenatural history of illnesses—how symptoms came together and how they progressed over time. For example, he was one of the first to describe epilepsy as a syndrome of uncontrolled, recurrent seizures. It was not known what caused it or how to prevent the seizures from recurring (many contemporaries continued to believe that they were a form of "possession" by evil spirits), but Hippocrates noted that lying the patient flat on the ground was beneficial (at the very least, to prevent the patients from further injuring himself or others). Hippocrates also recognized the syndrome of persistent cough, fever, and wasting as pneumonia, which he described as a contagious disease because family members and close contacts appeared to contract it. Unfortunately, this was often a fatal diagnosis, as there was no cure at the time.
Though Hippocrates's focus was on disease description and not on diagnosis per se,10 his detailed writings allowed for progress. Patterns of symptoms formed the basis of disease classification, and pattern recognition became the basis of diagnosis and medical reasoning. In Hippocrates's time, few other diagnostic tools existed; moreover, the ancient Greek taboo against dissection meant that little was known about the anatomical basis of disease. Under the tutelage of a master physician, students would learn to recognize common illnesses by learning about and then observing patterns of signs and symptoms. Over time, new diseases would be described and their natural histories recounted. Physicians practicing in this Second Era relied almost exclusively on interactions with their patients and their families, not dissimilar to the First Era.
It was during Hippocrates's time that the idea of the "expert physician" first emerged. Hippocrates himself was regarded as one, along with several of his contemporaries. These were physicians that patients traveled to from near and far to get their expert opinion, and students huddled in amphitheaters into the wee hours to listen to their ruminations. Even at this early juncture, medicine was coming to be recognized as apractice—a process of learning that takes years to refine and perfect.
Fast-forward a couple of thousands years. Advances in anatomy, physiology, and other sciences during the eighteenth and nineteenth centuries paved the way to the Third Era of Diagnosis: the Golden Age of Medical Diagnosis, in which both the science and art of medicine reached new heights. By the 1800s, enough was understood about the scientific basis of disease that diagnosis became more than pattern recognition; it also involved understanding mechanisms of disease and how the disease could be prevented and treated. Diagnosis was no longer simply based on ritual, be it the shaman's black box or the classical physician's systems of classification. Doctors could now not only make sense of the natural history of disease, but also then potentially modify it.
Despite the burgeoning scientific advances, this Third Era was still noted for its emphasis on the art of diagnosis. There was no more prominent figure in this era than Sir William Osler. Born in 1849, Sir William was one of the founding professors at Johns Hopkins Hospital and the first professor of medicine there. Osler taught his students that the best textbook of medicine was the patient himself. Before applying any tests, obtaining a complete and accurate account of the history from the patient was paramount. Osler's belief in the importance of the patient-doctor relationship led him to pioneer significant reforms in medical education, reducing the classroom time to allow students to devote a larger proportion of their time to direct interaction with patients.11
In the Golden Age of Medical Diagnosis, the interplay of the "art" and "science" was exemplified in the daily practice of the country family doctor, the general practitioner (G.P.). The G.P. took pride in knowing each member of the town, in being present for the delivery of every child, in giving the child's every vaccination and treating every broken bone, and in delivering, in years to come, the child's child. The G.P. made home visits and understood the context of his patients' illness in the most literal sense. The doctor had training in the scientific underpinnings of disease and had few additional tools (like a stethoscope, perhaps, or some simple blood or urine tests) at his disposal, but the emphasis was on the patient's story, with an equal mix of medical knowledge and common sense helping to forge the indelible bond between the doctor and patient.
It is this era of medicine to which many doctors and patients now look with nostalgia. Older doctors frequently bemoan the fading emphasis on the art of medicine, and those who practiced in the waning days of the Golden Age speak of the time spent listening to their patients, of developing an intimate familiarity not only with their patients' individual histories, but also with how the disease affects each particular patient. When they went to their G.P., patients were confident that someone who cared about them was listening to their story and doing his best to diagnose and to heal.
* * *
If this Golden Era was so great, then what happened to it? Are we really advocating for a return to the way things used to be some fifty or one hundred years ago?
In many ways, science and technology have brought positive impact on medical practice. Heart attacks used to be untreatable. Now, little wires can snake through vessels in the groin to open up blockages and restore blood flow to the heart. Abdominal surgery used to involve huge scars and weeks and months of recovery time. Now, gallbladder and appendix surgeries are outpatient, same-day procedures. Few would question that scientific and technological advances have revolutionized thetreatmentof diseases.
However, whether science and technology have contributed positively todiagnosisis more nuanced. Take the advent of the so-called "evidence-based" algorithms for diagnosis. Instead of carefully listening to a patient and figuring out what disease she has, a doctor can use a recipe to plug symptoms into a formula and come up with a number that represents the likelihood that shedoesn'thave a blood clot or a heart attack. There may be a role for algorithms as a point of reference, but increasingly, physicians will use these as a substitute to spending time listening to patients and as justification for why a diagnosis is not being made.
Related to this is the increasing reliance on the diagnostic testing. There is no doubt that blood tests and advanced imaging can reveal much-needed information. However, tests are not perfect; they can be time-consuming, not to mention expensive, and every test (even a blood-draw) conveys some risk. As we discuss in later chapters, tests may also be deceptive in that a "negative" result may provide false reassurance (and a "positive" may result in needless anxiety). And tests themselves often become a proxy for decision-making, with resulting increased cost for the patient and for society. The irony is that since tests only show what the disease is not, the diagnosis will still be as much of a mystery as it was to start with.
The reliance on science is not solely to blame for this move away from the Golden Era of Medical Diagnosis. For one thing, medicine has become increasingly fragmented; the idea of having "your" doctor is increasingly becoming a relic of the past. Family doctors and general internists are quick to refer any condition out of their comfort zone to specialists. Many patients don't have a choice of a primary care doctor—they are assigned to someone on the basis of their insurance coverage and the availability of a doctor to accept new patients. If a change in employment leads to a change in insurance, then tough luck. Our country is facing a critical shortage of physicians, in particular primary care physicians,12 and making an appointment with a new doctor can take weeks to months.
Even having a primary care provider is a luxury. For the one in four working Americans who don't have health insurance, the only option for medical care may be the ER or a neighborhood clinic, where invariably they see a different doctor each time who doesn't know their basic medical history, let alone who they are as a person.13 Some would argue that the role of the ER doctor is simply to "rule out" the worst things that a patient could have; after all, they are seeking emergency care. We would argue that this shouldn't be the case; for many of our patients, the ER is their one shot at healthcare, and they need to get their diagnosis right. If the system of care does not support this, then patients will get ushered out after a quick "rule-out" only to return with the same (or worse) symptoms of their undiagnosed disease.
We cannot discuss the problems with medical care today without mentioning the rise of medical malpractice and its impact on how doctors make decisions.14 The fear of being sued is real and not at all insignificant: the average ER doctor in the United States is sued once every six years, and pretty much every doctor in every specialty can be expected to be sued in his or her professional lifetime.15 All doctors know of someone—a supervisor, a colleague, a trainee—who is undergoing what's known euphemistically as an "adverse action." To be sure, there is a small minority of doctors out there who are actually providing substandard care. However, for the vast majority of doctors who are well trained and just doing their best, the medical malpractice system is like a game of Russian roulette: stay in the game long enough, have a patient who ends up with a bad outcome, and your number will come up. So doctors learn to order tests just to be sure that they are "covered." Just in case. Instead of focusing on getting the diagnosis right, doctors consider every conceivable life-threatening diagnosis, however improbable, and feel compelled to "rule out" all of them.
At a certain point, this kind of defensive medicine becomes so pervasive as to define, in a perversely self-fulfilling way, a standard of care in which everyone in the field is overtesting and underdiagnosing. Practiced over and over by physicians across the country, defensive medicine leads to millions of unnecessary tests, escalating the cost of care and further burdening our already-taxed healthcare budget. More insidiously, today's doctors, whose entire training has been in this environment, no longer retain a sense of proportion in considering a patient's presentation. Instead of partnering with the patient to come up with a diagnosis that is the most likely, doctors profess servile adherence to rules and recipes that they believe will protect them from malpractice lawyers.16 Fear of missing a serious diagnosis, however improbable, dominates medical decision-making to the exclusion of common sense and the patient's best interest.
But it's not just doctors that are to blame; there are expectations that originate from the patient side as well. The consumer movement in healthcare that was initially intended to empower patients has paradoxically led to less involvement in the most important aspect of their care. Certain aspects of the consumer movement have been positive—for example, the increased education of patients on preventive health and shared decision-making in weighing treatment options.17 On the other hand, in an era of commodified healthcare, the emphasis on consumerism encourages patients to request "the latest and greatest" technologies: screening tests, subspecialty consultations, whole-body MRIs. Rather than empowering patients to engage in the diagnostic process together with their doctors, this movement only further encourages doctors to forgo the traditional patient-doctor relationship and simply order the latest test, resulting paradoxically, in formulaic, depersonalized care.
Taken together, a blind devotion to science and technology, an increasingly dysfunctional healthcare system, and perverse personal and economic incentives have forced a change in the practice of medicine and ushered us into this Fourth Era, the "Era of Depersonalized Diagnosis." It is this aspect of modern medicine that we wish to challenge.
* * *
In this Era of Depersonalized Diagnosis, we seem to have come full-circle, back to the time of the black box, when a visit to the shaman turns up a solution in the form of a random incantation or ritual. Today, doctors order a CT or MRI and expect the patient to emerge from the (literal and figurative) black box with an answer. Today, doctors enter disparate pieces of data into a formula and expect it to magically churn out an answer. Why not? It's "safe." It's "standard of practice." It "saves times." It "decreases (or so doctors choose to believe) the risk of malpractice." There's no thinking necessary. But at what cost to patients?
It would be ludicrous to suggest that any of us would rather live in the First Era of shamans or the Second Era under the auspices of ancient Greeks. Most of us would probably not elect to live in the Third Era when the art of healing prevailed, because in today's modern world we do have the luxury of far more sophisticated testing and treatment at our disposal. But perhaps there are elements of the diagnostic art from the previous three eras that have been too hastily discarded. Consider the patients we've met. In a previous era, mechanic Jerry might have been told he had muscle spasms and been sent home with a heating pad; housewife Denise might have been diagnosed with stomach upset and told to drink lots of fluids. Neither would have been burdened with excessive diagnostic tests and wasted thousands of dollars of their money (and ours) only to worry more about what they might have.
Arthur Coates, too, would have gone home, he and his family reassured by the history and physical exam alone that he didn't have a stroke and that he would get better without intervention. He would have received not only less expensive but better, more personalized medical care. Perhaps Arthur can be a lesson to us that there may be aspects of how medicine was practiced in times before that we can learn from today—such as the art of healing and the paramount importance of the diagnosis.
911 REVIEW
• There are lessons to be learned from the past Eras of Diagnosis, such as the importance of making a diagnosis and primacy of the patient-doctor relationship.
• The current Era of Depersonalized Diagnosis has significant advantages over past eras, but also many problems.
• These problems are rooted in our unshakable belief in science, our dysfunctional healthcare system, and the lack of attention to the individual patient.


Copyright © 2012 by Leana Wen, M.D., and Joshua M. Kosowsky, M.D.