Note: Supplemental materials are not guaranteed with Rental or Used book purchases.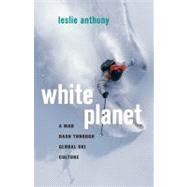 White Planet A Mad Dash through Modern Global Ski Culture
ISBN13:
9781553654797
by
Anthony, Leslie
Questions About This Book?
What version or edition is this?
This is the edition with a publication date of 3/1/2011.
What is included with this book?
The eBook copy of this book is not guaranteed to include any supplemental materials. Typically only the book itself is included.
Summary
A fun and informative look at the global ski revolution from one of its long-time devotees.Writer, adventurer, and ski hound Leslie Anthony has spent his life on two planks, racing down hills, searching for the next perfect ride. His own discovery of skiing occurred just as Alaska was becoming the ski world's Next Big Thing. In the late eighties and early nineties, ski enthusiasts, powder snow, and vast tracts of steep terrain came together, captured on film and beamed to audiences around the world. The result was a freeskiing revolution.In White Planet, Anthony traces an arc through much of skiing's global diaspora over the past thirty years, observing its metamorphoses, its ever-new destinations, and the forces that continue to push the sport in more extreme directions. He's skied volcanoes in Mexico and vertical faces in Alaska, he's raced historic telemark courses in Italy, and he's swum through powder in Japan and avalanches in India, always chasing a new experience, a fresh line, and a bluebird day of skiing with someone who shares the passion. Along the way, he introduces many of the daredevils who have succeeded-and sometimes failed-at spectacular feats, the visionaries who have changed the whole concept of boots and boards and what can be done on them, and the entrepreneurs who are bringing the sport to nontraditional markets such as China, Bulgaria, and India.From the sadistic to the sublime, White Planet is an insightful, humorous, rock 'n' roll adventure that paints a picture of modern global ski culture.
Author Biography
Leslie Anthony was bitten by the ski bug at the age of ten and has never looked back. Although he holds a PhD in zoology from the University of Toronto, was a postdoctoral fellow at McGill University's Redpath Museum, and wrote Snakebit: Confessions of a Herpetologist, skiing has remained his first love. An avid adventurer, Anthony has won awards for both his poetry and is acclaimed for his work in outdoor, action sport, and general-interest magazines such as Skier, explore, and Powder, on whose masthead he's appeared for 18 years. His ski writing has been published in seven languages in twelve countries. He lives in Whistler, B.C.
Table of Contents
Acknowledgments vii
Prologue: Legend 1

A Gathering Storm
1 | Smoke and Mirrors 7
2 | A Bum's Rush 24
3 | Into the Deep 41
4 | The Big Empty 51

The Revolution Will Not Be Televised
5 | The Motherland 73
6 | A Scattering in a Cold Wind 96
7 | A Scattering in a Warm Wind 120
8 | Last Salami, Last Pilgrim 145

The Revolution May Be Televised After All
9 | Icecapades 163
10 | Just Say Cheese 176
11 | X Marks the Spot 192
12 | Just Shoot Me 211

Another Gathering Storm
13 | A Death in the Family 227
14 | Invasion of the Powder Snatchers 238
15 | Space, the Final Frontier 253

Epilogue: Legend 287

Excerpts
From Chapter 4The Big Empty

An interesting set of circumstances had led to the Red Dog Saloon in Juneau, Alaska, where I stood in Birkenstocks, my rainsoaked socks caked in sawdust and peanut husks.

The trail had started in Toronto, bouncing through L.A., Seattle, and totem-poled Ketchikan before landing in Juneau. And now, surrounded by bad taxidermy, orange life-preserver rings, and beer mugs the size of pitchers, it seemed I might find whatever it was I was looking for.

Certainly the concept was evolving. Already there'd been the blind girl with a broken ankle on the plane who was content to tap her way onboard without help, the senator's aide at the former brothel we were bunking at who'd handed me a self-penned story about a surfer's life in landlocked Fairbanks, and the bales of salmon jerky the town seemed constructed from. Disparate images to be sure, they all pointed to something that ultimately embodied a spirit of self-reliance and wildness that seemed very Alaskan and not altogether unrelated to, well . . . say, skiing.

POWDER, where I was now a contributing editor, had sent me to Alaska on a quest. In fact, five writer/photographer teams had shown up at airports around the continent to receive envelopes stuffed with air tickets and these instructions: find the soul of skiing.

Really?

Others had been sent on discovery missions to the Vermont mega-resort of Killington, molehills of the Midwest, venerable Aspen in Colorado, and Washington's Mt. Rainier— North America's almost perennial record-holder for snowfall. These places all had well-known histories and hardcore habitués: "the known," if you will. I'd been sent to what was, in 1992, "the unknown," the big empty: Alaska.

With too many mountains to name and too few people to care, the outpost of Alaska had suddenly come onto the global snowsports radar as both a destination and newly minted ethos. The state's endless ranges and endless snow suggested endless possibilities for exploration, and my frequent photographic collaborator Henry Georgi and I were there to plumb the zeitgeist.

Bearded, boisterous, and stentorian, Henry had started his photographic career shooting rock concerts in Toronto and rafting on the Ottawa River, but his was the heart of a skier. Raised by German-speaking parents in the Toronto suburb of Downsview, he had spent his watershed skibumming and ski-photography season in the party-addled Austrian resort of St. Anton. We met in the early eighties through Ontario's nascent telemark scene, where I dressed in Norwegian period costume to forerun races that he'd been hired to document. Soon, I became one of Henry's models, and our photographic collaborations filtered onto the continent's newsstands. Our first real joint triumph, however, resulted from a trip to Le Massif in Quebec's Charlevoix region, a unique operation that employed school buses to ferry guided groups to the top of a 2,300-foot escarpment overlooking the St. Lawrence River where ships and whales bobbed among the ice floes. It snowed more than two feet while we were there, and Henry's photos of waistdeep powder skiing in the typically low-snow East were a sensation, forming the basis for my first-ever powder feature. We'd sidestepped into a career of adventuring together at the magazine's behest, as reliable to the editorial braintrust as the team of Bard and Carter that preceded us—mostly, as we would later learn, because we likewise worked cheap and would (foolishly) go anywhere.

On the "soul of skiing" mission, naturally, we were eager to embrace whatever POWDER's editors threw at us, aware of the growing gravity of our destination and that something important was brewing there. In some sense, what was burgeoning in Alaska honored the Euro "extreme" movement of big, bold, off-piste descents in the highalpine vertical world of the otherwise human-choked Alps; in another way, this push was a typically American attempt to outmuscle that small, dedicated scene with vast wilderness, a fleet of helicopters, and a few tons of film.

Although the "idea" of Alaska was steep, deep, and unexplored, skiing was hardly new there. Hundreds of local alpine, cross-country, and ski-jumping areas had been founded in the early twentieth century by waves of immigrant miners, loggers, and fishermen. At least one legitimate destination resort drew and was owned by the Japanese. So there was more than just the loam of noisy aircraft and harebrained competitions (like the pie-in-the-sky World Extreme Ski Championships held in the Chugach Mountains outside beat-down, oil-soaked Valdez the previous year) in which to dig for soul here—there were real grass roots.

Thus, while our media peers leapt from helicopters onto massive, never-skied Alaskan faces, our first experience in the new frontier was the home hill of 1992 Olympic women's downhill silver medalist Hilary Lindh. Tiny Eaglecrest Ski Area lies outside the somnolent town of Juneau, the only U.S. state capital to which no road leads: in true Alaskan style, the island-bound town can only be reached by sea or air.

Juneau was a wild place where ravens ruled the streets and grocery-store windows advertised bear repellent and ammunition. Life was dominated by commercial fishing, gold-rush nostalgia, and tourists disgorged from ships cruising the Inside Passage. Half the population lived near the weathered toe of the Mendenhall Glacier, and the enormous, steep chutes on the face of Mt. Juneau provided the biggest urban avalanche disaster potential outside of alpine Europe (they had, in the past, released to engulf part of town).

Despite its state-capital status, Juneau was still unpretentious enough that visiting journalists might be eagerly introduced from the floor of the state legislature in the midst of a critical vote to override a governor's veto. It was a place that, long before Sarah Palin appeared on Saturday Night Live, reflected the fact that Alaskans didn't take themselves too seriously, where monster trucks had license plates like OVRKILL, and a woman with a voice like Irish Cream liqueur might keep your attention while Woodstock was being re-created onstage in the Alaskan Hotel, then press a napkin into your hand with a phone number and the inscription "call or die wondering."

It was an apt metaphor for the Siren call that Alaska was putting out to the ski world: go or die wondering.