Note: Supplemental materials are not guaranteed with Rental or Used book purchases.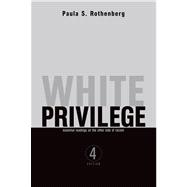 Summary
Described as vital, eye-opening, and powerful, White Privilege, Fourth Edition, remains essential reading for students and educators alike. Used in courses across disciplines and educational levels, this unique anthology expertly presents the significance and complexity of whiteness today and illuminates the nature of privilege and power in our society. Rothenberg's thoughtful four-part organization leads students through the ubiquity and corresponding invisibility of whiteness; the historical development of whiteness and its role in race relations throughout history; the real effects of privilege and its opposite, oppression; and finally, an exploration of how the system of privilege could be changed. The fourth edition continues to feature key articles and essays from such important scholars and writers as Peggy McIntosh, Richard Dyer, Beverly Tatum, bell hooks, Allan G. Johnson, and Tim Wise and includes new selections from Nell Irvin Painter, Robert Jensen, and Justin Podur. Book jacket.
Author Biography
Paula Rothenberg is a Senior Fellow at The Murphy Institute, City University of New York, and Professor Emerita at William Paterson University of New Jersey. From 1989 to 2006 she served as Director of The New Jersey Project on Inclusive Scholarship, Curriculum, and Teaching. She is the author of several books, including the autobiographical Invisible Privilege: A Memoir About Race, Class, and Gender and the best-selling anthology, Race, Class and Gender in The United States: An Integrated Study. Her newest title, What's The Problem? A Brief Guide to Thinking Critically, asks students to analyze how social problems are framed in the public eye.
Table of Contents
Preface
p. vii
About the Author
p. ix
Introduction
p. 1
whiteness: the power of invisibility
The Matter of Whiteness
p. 9
Failing to See
p. 15
Representations of Whiteness in the Black Imagination
p. 19
Questions for Thinking, Writing, and Discussion for Part One
p. 25
whiteness: the power of the past
The History of White People
p. 29
The Roots of Racial Classification
p. 33
How White People Became White
p. 39
How Jews Became White Folks
p. 45
Becoming Hispanic: Mexican Americans and Whiteness
p. 59
The Possessive Investment in Whiteness
p. 71
Global White Supremacy
p. 95
Questions for Thinking, Writing, and Discussion for Part Two
p. 103
whiteness: the power of privilege
Making Systems of Privilege Visible
p. 107
Privilege as Paradox
p. 115
White Privilege: Unpacking the Invisible Knapsack
p. 121
White Privilege/White Supremacy
p. 127
Membership Has Its Privileges: Thoughts on Acknowledging and Challenging Whiteness
p. 133
People of Color Talk is Cheap
p. 137
Questions for Thinking, Writing, and Discussion for Part Three
p. 141
whiteness: the power of resistance
Breaking the Silence
p. 145
Confronting One's Own Racism
p. 151
How White People Can Serve as Allies to People of Color in the Struggle to End Racism
p. 157
Questions for Thinking, Writing, and Discussion for Part Four
p. 167
Suggestions for Further Reading
p. 169
Acknowledgments
p. 172
Index
p. 174
Table of Contents provided by Ingram. All Rights Reserved.