Note: Supplemental materials are not guaranteed with Rental or Used book purchases.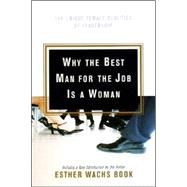 Why the Best Man for the Job Is a Woman: The Unique Female Qualities of Leadership
ISBN13:
9780066619897
by
Book, Esther Wachs
HarperCollins Publications
Questions About This Book?
What version or edition is this?
This is the edition with a publication date of 1/13/2010.
What is included with this book?
The New copy of this book will include any supplemental materials advertised. Please check the title of the book to determine if it should include any CDs, lab manuals, study guides, etc.
Summary
Playing With The Big Boys -- And Beating Them At Their Own Game! From Meg Whitman of eBay to Marcy Carsey of Carsey-Warner and Oxygen Media, today's leading businesswomen show how to make it in the notorious boys' club of corporate America. Gone are the days when men called the shots. More and more women have replaced men or excelled over rivals in male-dominated industries because they possess the qualities of leadership that top firms are seeking today. Esther Wachs Book introduces the new Female Leader and reveals the seven key, and uniquely female, qualities of leadership that are turning the world around -- and allowing more women to achieve success. Filled with compelling insights gleaned from the country's highest-ranking businesswomen, Why the Best Man for the Job Is a Woman reveals how these exceptional women have soared to the top and captures their strategies for success.
Author Biography
Esther Wachs Book is a former Forbes reported whose work has appeared in a variety of magazines including Fortune, Inc. and Working Woman. She is also the career expert at Marie Claire, with a monthly column in the magazine. She lives in Bryn Mawr, PA
Table of Contents
Acknowledgments
ix
Introduction to the Paperback Edition
xi

| | |
| --- | --- |
| | Pioneering the New Paradigm |

1
(22)
23
(30)
53
(32)
85
(30)

| | |
| --- | --- |
| | Maximizing High Touch in an Era of High Tech |

115
(34)

| | |
| --- | --- |
| | Turning Challenge into Opportunity |

149
(28)

| | |
| --- | --- |
| | An Obsession with Customer Preferences |

177
(32)
209
(26)

| | |
| --- | --- |
| | Conclusion: Applying the Lessons of New Paradigm Leadership |

235
(14)
Notes
249
(6)
Index
255
Excerpts
Why the Best Man for the Job Is A Woman
The Unique Female Qualities of Leadership
Chapter One
Pioneering The New Paradigm
Orit Gadiesh has been breaking into boys' clubs and performing under pressure since she was an aide to the deputy chief of staff in the Israeli army at the age of seventeen. In the war room, she helped army strategists draft a plan to overcome opposition from all sides. She served during the late 1960s and early 1970s, a period in Israeli history known as the War of Attrition, when the tiny nation was attacked frequently across all its borders and Egypt was a bitter foe. Back then, the choices her superiors made literally had life and death implications. But today she is the one leading the troops -- as chairman of one of the most macho American consulting firms in the industry, Bain & Company. At the age of forty-two, she took on that prominent role after its founder, William Bain, Jr., brought the company to the brink of bankruptcy.
Gadiesh is not alone. Based primarily on her marketing savvy and business acumen, Margaret (Meg) Whitman was recruited to run eBay, Inc., turning the on-line auctioneer into a household name and one of the leading businesses on the Web practically overnight. After building a $20 billion international business for energy giant Enron Corp., Rebecca Mark, a divorced mother of twins, landed the chairman and CEO job at the company's new water arm, Azurix. Darla Moore left her family's South Carolina farm to rise up in New York's male bastion of banking. Then she assumed control of husband Richard Rainwater's stock portfolio and nearly tripled his net worth. Shelly Lazarus became chairman and chief executive officer of advertising giant Ogilvy & Mather after winning the hefty IBM account, the largest in the history of her agency. Ellen Gordon turned her father's Tootsie Roll Industries from a sleepy candy maker into a winner on Wall Street, and one of the strongest performers in the business. Although she started as a secretary at ABC Sports, Patricia Fili-Krushel rose to become the highest-ranking woman in television after assuming the presidency at ABC Television Network. Not only was she given greater responsibilities than her male predecessor, but she helped her network achieve one of its biggest programming successes in years - Who Wants to Be a Millionaire.
These women are all "new paradigm" leaders, noted for their abilities to blend feminine qualities of leadership with classic male traits to run their companies successfully, and become some of the most powerful women in American business. Nearly all have reached the president, chairman, or chief executive officer level of thriving companies raking in well over $100 million in revenues. All are active leaders who have not merely kept the companies they head in a successful holding pattern. Instead, they have dramatically boosted profits and revenues. Most have taken over their companies from men and topped their results. They have also launched new initiatives that have significantly added value to their firms. They do not bother trying to run their companies just like their male predecessors, nor do they follow established norms, because they are outsiders to the corporate world. They have taken risks in their careers and developed their leadership skills by working diligently in overlooked, disparaged, or undiscovered areas of business. By excelling in these professional danger zones, they have become confident enough to rely on their own instincts and to exercise their own judgment. They lead in their own new way, and they are part of a new generation of women who chose a different path to excel in the corporate world.
Up until the mid-1990s, women were still conspicuously absent from top positions at almost all the largest companies in the United States. Catalyst reported in 1996 that only 2.4 percent of the chairmen and chief executive officers of Fortune 500 firms were women. So where were the women in business if they weren't storming the boardrooms of America's most important firms? They were beginning to succeed on their own, primarily by building their own small businesses.
"Now, a second wave of women is making its way into top management, not by adopting the style and habits that have proved successful for men, but by drawing on the skills and the attitudes they developed as women," explains Judy B. Rosener, the University of California at Irvine management professor who in 1990 wrote an influential article called "Ways Women Lead" for the Harvard Business Review. "They are succeeding because of, not in spite of, certain characteristics generally considered to be 'feminine' and inappropriate in leaders."
Succeeding Like A Man
When the first generation of women entered the workforce in earnest in the 1970s, they succeeded in the only way they could: by imitating the qualities and characteristics associated with their male colleagues. Authoritarian leadership structures were pervasive, and tight control was a hallmark of the businesses men made. America's booming economy of the late 1960s bolstered the common view that traditional male management styles were highly effective. And women were not exactly welcomed into management ranks. It was judicial mandate rather than goodwill that prompted companies to begin opening their doors to women. Title VII of the 1964 Civil Rights Act made discrimination against women in education or employment illegal. But the passage of equal opportunity legislation did not ensure equal treatment.
Developed on assembly lines and factory floors during the Industrial Age, the "traditional" approach to corporate leadership was particularly well suited to huge manufacturing runs of essentially undifferentiated products. Some of the management techniques that were used seem lifted from a military manual: operating through a hierarchical structure, command-and-control system, top-down decision making, domination of employees, and reliance on standardized codes for judgement and evaluation of others...
Why the Best Man for the Job Is A Woman
The Unique Female Qualities of Leadership
. Copyright © by Esther Wachs Book. Reprinted by permission of HarperCollins Publishers, Inc. All rights reserved. Available now wherever books are sold.
---

Excerpted from Why the Best Man for the Job Is a Woman: The Unique Female Qualities of Leadership by Esther Wachs Book
All rights reserved by the original copyright owners. Excerpts are provided for display purposes only and may not be reproduced, reprinted or distributed without the written permission of the publisher.