Note: Supplemental materials are not guaranteed with Rental or Used book purchases.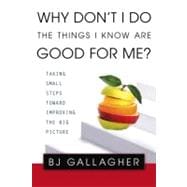 Why Don't I Do the Things I Know Are Good for Me? : Taking Small Steps Toward Improving the Big Picture
ISBN13:
9780425219652
by
Gallagher, BJ (Author)
Questions About This Book?
What version or edition is this?
This is the Original edition with a publication date of 6/2/2009.
What is included with this book?
The New copy of this book will include any supplemental materials advertised. Please check the title of the book to determine if it should include any CDs, lab manuals, study guides, etc.
Summary
You know what's Good for you, but somehow you don't do it. It's time to Understand why.
Author Biography
BJ Gallagher is a dynamic workshop leader, a charismatic keynote speaker, a relationship expert and a much published inspirational author. She writes a regular column for me* magazine, which is given to every person who sees Menopause: The Musical.
Table of Contents
Introduction: The Gap between What I know and What I do
p. xv
Why?: Why Don't I do what I know is Good for Me?
p. 1
Immediate relief from stress or pain is often more compelling than our rational self-interest.
p. 5
Childhood conditioning keeps us trapped; low or erratic self-esteem plagues us..
p. 10
Good self-care is not fun, interesting, engaging, or tasty. It's boring and bland-who wants that?
p. 15
Advertising, marketing, and the media undermine our self-esteem and self-confidence.
p. 18
The historical/cultural role of women in the world gives us second-class status, making it difficult to feel good about ourselves.
p. 25
Addictions (overeating, shopping, alcohol, pills, men, work, etc.) keep us stuck-unable to do what's good for us.
p. 33
Some of us suffer from depression. It's hard to take good care of yourself when you feel like sh☆t.
p. 40
How?: How can we change our habits of Self-Care?
p. 45
First, just notice what you do and what you don't do. Don't try to change anything-just notice.
p. 51
Pay attention to the words you use-in self-talk and in conversations with others.
p. 54
Give up the struggle. Make peace with who you are today.
p. 57
Don't let what you can't do stop you from what you can do.
p. 60
Catch yourself doing something right (or approximately right). Then pat yourself on the back for it.
p. 62
Self-care doesn't mean selfish.
p. 65
Help is not a four-letter word. Get support from others. No one can do it for you, but you can't do it alone.
p. 68
Let go of perfectionism-it's both a cause and a result of low self-esteem.
p. 72
Fake it 'til you make it. Act as if you value yourself, even when you don't feel like it.
p. 75
What would radical self-care look like for you right now?
p. 78
Make a gratitude list and build from there. What you focus on is what you'll get more of.
p. 81
Clear away negative emotions: worry, fear, anxiety, regret, pessimism.
p. 85
Don't "should" on yourself. Drop the words "should" and "ought" from your vocabulary.
p. 88
Go to bed half an hour earlier. Self-care begins with the basics.
p. 91
Look for women who have what you want and learn from them.
p. 94
Practice esteem-able acts.
p. 97
Lighten up and laugh ... a lotp.
p. 99
Go on a media fast. Be very careful what you put in your head.
p. 101
Stop playing the comparison game.
p. 105
Draw on spiritual resources to assist you.
p. 108
Adopt a flexible notion of self-care; allow it to change over time.
p. 110
Ask your friends what they love about you.
p. 112
Practice using affirmations to retrain your thinking and your attitude.
p. 115
Make self-care into a game. Make it fun, engaging, interesting.
p. 119
Do something physical today. Anything. Get your body moving.
p. 122
Resting is not "doing nothing."
p. 125
Forgive people who have hurt you. Forgiving them frees you.
p. 127
Balance your checkbook.
p. 130
It's not what you're eating-it's what's eating you.
p. 133
Give up the need to be liked by everyone.
p. 137
Never pass up an opportunity to pee.
p. 141
Ask yourself, "What's the best use of my time right now?".
p. 143
Clean out one drawer or one closet.
p. 146
Make appointments with yourself.
p. 149
Honor your feelings, but don't be a slave to them.
p. 152
Don't go to a dry well for water. Seek out the right people to support you in caring for yourself.
p. 155
Put your credit cards in a jar of water and freeze them.
p. 158
Wash a window or two in your home or apartment.
p. 161
Write down everything you spend this week. Yes, every single penny.
p. 164
Meditate for at least five minutes each day.
p. 167
Buy yourself some fresh-cut flowers.
p. 171
Seek forgiveness from people you've hurt or harmed. Make amends.
p. 173
Take care of your car.
p. 176
Buy or make a first aid kit.
p. 179
Tell yourself the truth about the men in your life.
p. 183
Acknowledge all the different ways you avoid doing the things you know are good for you.
p. 187
If you, or someone you love, is struggling with an addiction, find a local support group.
p. 190
Make a God box.
p. 194
Do what you love.
p. 198
Enroll in a personal development class.
p. 200
Use the phrase "Up until now . . ." to create openings for change.
p. 203
Own your accomplishments. Enjoy the "new you" you're becoming.
p. 206
What?: What Brings About Successful, Long-Term, Personal Change?
p. 209
Learn how your mind works, then put it to work for your highest and best good.
p. 213
Study how people bring about positive changes in their lives.
p. 221
Coax yourself through the "I don't wanna" feelings.
p. 229
Pay attention to the power of your words.
p. 234
Stick with the winners. Surround yourself with the right people.
p. 240
Teach others how to do the things they know are good for them.
p. 244
Conclusion: Closing the Gap
p. 249
Table of Contents provided by Ingram. All Rights Reserved.