Note: Supplemental materials are not guaranteed with Rental or Used book purchases.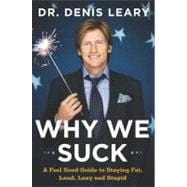 Why We Suck : A Feel Good Guide to Staying Fat, Loud, Lazy and Stupid
ISBN13:
9780670031603
by
Leary, Denis
Summary
In this hilarious blast of scathing irreverence from an award-winning actor and comedian, Leary uses his common sense, and his biting take on the world, to attack the politically correct, the hypocritical, the obese, the thin--basically everyone who takes himself too seriously.
Author Biography
Denis Leary has appeared in more than thirty films, including the Oscar-nominated Wag the Dog, The Thomas Crowne Affair, and Ice Age, as well as the Christmas cult classic The Ref, and such indie favorites as Jesus-' Son and Suicide Kings. Leary was the co-creator, producer, and star of the critically acclaimed network comedy The Job. His one-man shows No Cure For Cancer and Lock -'n Load broke viewing records on HBO. Leary has also written for New York Magazine, GQ, Playboy, Esquire, and many other publications. He is the co-writer, creator, and star of the four-time Emmy and Golden Globe-Żnominated television series Rescue Me.
Table of Contents
Doctor's Note
p. vii
Acknowledgments
p. ix
A Second Note from the Doctor
p. xiii
Special Thanks
p. xv
Prologue
p. 1
Why Everyone Hates Us
p. 15
Your Kids are Not Cute
p. 39
Please Drug Your Children
p. 46
I had Sex with Kathie Lee Gifford (and She Was Amazing)
p. 50
Bullies R Us
p. 71
Autism Shmautism
p. 87
Famous Dead Kids
p. 106
Nuns, Tits, Booze and My Mom
p. 115
Ladies and Gentlemen, Please Welcome-In Utero
p. 124
Self-Esteem This
p. 127
Matt Dillon is a Giant Fag
p. 134
Your Cat Sucks Fish Heads in Hell
p. 142
Grande Vente Mocha Oprah Chai
p. 151
Does this Bomb Make My Ass Look Fat?
p. 167
Testicle-Colored Towels
p. 171
This is Your Brain on Semen
p. 178
We'd Hate You Even if You Weren't Black
p. 206
The Pope is a Pimp
p. 218
The Asshole Olympics
p. 224
Someone Tell My Mom That Cell Phones Cause Cancer
p. 233
Table of Contents provided by Ingram. All Rights Reserved.