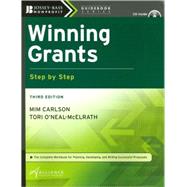 Winning Grants : Step by Step
by
Unknown
Related Products
Summary
Praise for the Third Edition of Winning Grants Step by Step"Warning: this book works. It provokes you to ask the right questions, hand holds you through practical exercises, and offers a map that includes paths to develop strategic relationships with funders." -E. Eduardo Romero, Nonprofit Roundtable"Winning Grants is a very practical A to Z resource that speaks to the importance of staying focused on your mission every step of the way. The third edition is artfully updated with words of wisdom from grantmakers themselves, as well as updates on the latest processes and buzzwords all grantseekers need to know."? -Heather Iliff, Maryland Association of Nonprofit Organizations"Just when the time is right, here is the third edition of Winning Grants with solid advice and clear examples. Nonprofit leaders will find it a page turner!" -Clarence Hauer, senior director, strategy and organizational development, St. Louis Nonprofit Services Consortium"Winning Grants Step by Step is a gift to nonprofit organizations. The valuable insights and hands-on tools will instantly make any proposal more competitive." -Alex Carter, Your Nonprofit Coach"Developing great grant proposals is essential for nonprofit leaders who are new to fundraising as well as anyone who needs a refresher. This new edition of Winning Grants brings updated tips and vivid examples. As an experienced fundraising consultant, I believe it will help my clients and colleagues alike." -Maria Gitin, CFRE, Maria Gitin & Associates"As an executive director, fundraising is on my mind every day. It's great to have a resource like Winning Grants to use and share with my board, staff, and peers." -Deborah Menkart, executive director, Teaching for Change
Author Biography
Mim Carlson is the executive director of the Berkeley–East Bay Humane Society.
Tori O'Neal-McElrath is the principal of O'Neal Consulting Services, Inc.
The Alliance for Nonprofit Management is a professional association of individuals and organizations devoted to helping nonprofits fulfill their missions by improving their management and governance capacity.
Table of Contents
List of Samples, Worksheets, and Figures
CD Contents
Acknowledgments
The Authors
About the Alliance for Nonprofit Management
How to Use This Workbook: Making the Magic Happen
Introduction: An Overview of the Grantseeking Process
Developing the Proposal Idea
Developing Relationships with Funders
Writing a Compelling Need Statement
Defining Clear Goals and Objectives
Developing the Methods
Preparing the Evaluation Component
Developing Sustainability Strategies
Preparing the Program Budget
Writing the Organization Background Component
Writing the Proposal Summary
Putting the Package Together
Sustaining Relationships with Funders
Special Resource Section
Types of Foundations
How to Research Funders
Sample Logic Model
Making the Call, by Sarah S. Brophy
Bibliography
Helpful Websites for Grantseekers
How to Use the CD-ROM
Table of Contents provided by Publisher. All Rights Reserved.