Note: Supplemental materials are not guaranteed with Rental or Used book purchases.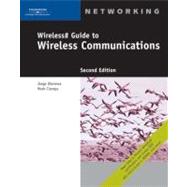 Questions About This Book?
Why should I rent this book?
Renting is easy, fast, and cheap! Renting from eCampus.com can save you hundreds of dollars compared to the cost of new or used books each semester. At the end of the semester, simply ship the book back to us with a free UPS shipping label! No need to worry about selling it back.
How do rental returns work?
Returning books is as easy as possible. As your rental due date approaches, we will email you several courtesy reminders. When you are ready to return, you can print a free UPS shipping label from our website at any time. Then, just return the book to your UPS driver or any staffed UPS location. You can even use the same box we shipped it in!
What version or edition is this?
This is the 2nd edition with a publication date of 6/5/2006.
What is included with this book?
The Used copy of this book is not guaranteed to include any supplemental materials. Typically, only the book itself is included.
The Rental copy of this book is not guaranteed to include any supplemental materials. You may receive a brand new copy, but typically, only the book itself.
Related Products
Summary
Wireless# Guide to Wireless Communications, Second Edition is a comprehensive text designed for anyone taking an entry-level wireless technology course. Due to the recent emergence of wireless technologies in business, there has been an increase in demand for skilled wireless professionals. This book provides a broad survey of wireless communications, including data link and physical layer protocols, as well as transmission methods for established and emerging standards, including Wireless Personal Area Networks (IrDA, Bluetooth, WiMedia, UWB, and ZigBee), Wireless LANs (802.11a and 802.11b/g plus new standards such as 802.11e, 802.11n, 802.11r, 802,11s, and 802.11i with 802.1X), Wireless Metropolitan Area Networks (Free-Space Optics, LMDS, MMDS, and WiMAX), Wireless Wide Area Networks (cellular telephone and satellite), and RFID. Book jacket.
Table of Contents
Introduction
xiii

| | |
| --- | --- |
| | Introduction to Wireless Communications |

1
(36)

| | |
| --- | --- |
| | How Wireless Technology Is Used |

2
(16)
2
(2)

| | |
| --- | --- |
| | Bluetooth and Ultra Wide Band |

4
(2)
6
(1)
7
(2)

| | |
| --- | --- |
| | Wireless Local Area Networks |

9
(3)
12
(1)

| | |
| --- | --- |
| | Wireless Wide Area Network |

13
(1)

| | |
| --- | --- |
| | Older Wireless Technologies |

14
(1)
15
(3)
18
(1)
18
(7)
19
(1)
19
(1)
19
(2)
21
(1)
21
(1)
21
(1)
22
(1)
22
(1)
23
(1)
23
(1)
24
(1)
25
(1)

| | |
| --- | --- |
| | Wireless Advantages and Disadvantages |

25
(4)

| | |
| --- | --- |
| | Advantages of Wireless Networking |

25
(2)

| | |
| --- | --- |
| | Disadvantages of Wireless Networking |

27
(2)
29
(1)
30
(2)
32
(1)
33
(1)
34
(1)

| | |
| --- | --- |
| | Optional Team Case Project |

35
(2)

| | |
| --- | --- |
| | Wireless Data Transmission |

37
(46)
38
(2)

| | |
| --- | --- |
| | The Decimal Number System |

38
(1)
39
(1)
40
(7)
41
(5)
46
(1)

| | |
| --- | --- |
| | How Radio Data Is Transmitted |

47
(20)
48
(1)
49
(4)
53
(2)
55
(4)
59
(8)
67
(6)

| | |
| --- | --- |
| | Frequency Hopping Spread Spectrum (FHSS) |

68
(2)

| | |
| --- | --- |
| | Direct Sequence Spread Spectrum (DSSS) |

70
(3)
73
(2)
75
(2)
77
(2)
79
(1)
80
(1)

| | |
| --- | --- |
| | Optional Team Case Project |

81
(2)

| | |
| --- | --- |
| | Understanding Radio Frequency Communications |

83
(40)

| | |
| --- | --- |
| | Components of a Radio System |

84
(5)
84
(2)
86
(2)
88
(1)
88
(1)
89
(15)
89
(5)
94
(2)
96
(3)
99
(5)
104
(7)
104
(1)

| | |
| --- | --- |
| | Advantages and Disadvantages of Standards |

104
(2)
106
(2)

| | |
| --- | --- |
| | Telecommunications Standards Organizations |

108
(2)
110
(1)
111
(3)
114
(2)
116
(3)
119
(1)
120
(1)
121
(1)

| | |
| --- | --- |
| | Optional Team Case Project |

122
(1)
123
(34)
124
(4)
125
(3)
128
(6)
128
(1)
129
(4)

| | |
| --- | --- |
| | Signal Strength and Direction |

133
(1)
134
(1)
134
(1)
135
(7)
135
(2)
137
(1)
138
(2)
140
(2)

| | |
| --- | --- |
| | Antenna System Implementation |

142
(6)
143
(1)
144
(1)

| | |
| --- | --- |
| | Point-to-Multipoint Links |

145
(1)
145
(1)
146
(1)
146
(1)
147
(1)

| | |
| --- | --- |
| | Other Challenges of Outdoor Links |

148
(1)
148
(2)
150
(2)
152
(2)
154
(1)
155
(1)

| | |
| --- | --- |
| | Optional Team Case Project |

156
(1)

| | |
| --- | --- |
| | Low Rate Wireless Personal Area Networks |

157
(44)
158
(2)

| | |
| --- | --- |
| | Existing and Future Standards |

158
(2)
160
(4)
163
(1)

| | |
| --- | --- |
| | Other IrDA Considerations |

164
(1)
164
(20)

| | |
| --- | --- |
| | IEEE 802.15.1 and Bluetooth |

165
(1)
165
(7)

| | |
| --- | --- |
| | Bluetooth Link Manager Layer |

172
(2)

| | |
| --- | --- |
| | Other Layers and Functions |

174
(1)

| | |
| --- | --- |
| | IEEE 802.15.4---Low Rate WPANs (ZigBee) |

175
(9)
184
(3)

| | |
| --- | --- |
| | Security in Infrared WPANs |

185
(1)

| | |
| --- | --- |
| | Security in Bluetooth WPANs |

185
(1)

| | |
| --- | --- |
| | Security in ZigBee and IEEE 802.15.4 WPANs |

186
(1)
187
(2)
189
(3)
192
(2)
194
(5)
199
(1)

| | |
| --- | --- |
| | Optional Team Case Project |

200
(1)

| | |
| --- | --- |
| | High Rate Wireless Personal Area Networks |

201
(32)
202
(1)
202
(12)
203
(3)

| | |
| --- | --- |
| | 802.15.3 Network Topology |

206
(3)

| | |
| --- | --- |
| | Additional MAC Layer Functionality |

209
(4)

| | |
| --- | --- |
| | Mesh Networking (802.15.5) |

213
(1)
214
(4)
215
(3)
218
(1)
218
(5)

| | |
| --- | --- |
| | Competition Among WPAN Standards |

218
(1)
219
(1)
220
(1)

| | |
| --- | --- |
| | Industry Support for WPAN Technologies |

221
(1)

| | |
| --- | --- |
| | Protocol Functionality Limitations |

221
(1)
222
(1)
223
(2)
225
(1)
226
(3)
229
(1)
230
(1)

| | |
| --- | --- |
| | Optional Team Case Project |

231
(2)

| | |
| --- | --- |
| | Low-Speed Wireless Local Area Networks |

233
(42)
234
(1)
234
(4)

| | |
| --- | --- |
| | Wireless Network Interface Card |

234
(3)
237
(1)
238
(3)
238
(1)
239
(2)

| | |
| --- | --- |
| | Wireless LAN Standards and Operation |

241
(19)
241
(1)

| | |
| --- | --- |
| | IEEE 802.11 Infared WLAN Standard |

242
(3)
245
(13)

| | |
| --- | --- |
| | Distributed Coordination Function Rules |

258
(2)
260
(2)
262
(2)
264
(2)
266
(7)
273
(2)

| | |
| --- | --- |
| | High-Speed WLANs and WLAN Security |

275
(38)
276
(9)
276
(4)

| | |
| --- | --- |
| | Orthogonal Frequency Division Multiplexing |

280
(4)

| | |
| --- | --- |
| | Error Correction in 802.11a |

284
(1)
284
(1)
285
(3)
286
(2)
288
(5)
288
(2)
290
(1)
291
(1)
291
(2)
293
(1)

| | |
| --- | --- |
| | Expanding WLAN Functionality |

293
(3)

| | |
| --- | --- |
| | Wireless Bridges and Repeaters |

293
(2)
295
(1)

| | |
| --- | --- |
| | Other WLAN Expansion Hardware |

296
(1)
296
(7)
297
(1)
297
(5)

| | |
| --- | --- |
| | Additional WLAN Security Strategies |

302
(1)
303
(1)
304
(1)
305
(2)
307
(4)
311
(1)

| | |
| --- | --- |
| | Optional Team Case Project |

312
(1)

| | |
| --- | --- |
| | Wireless Metropolitan Area Networks |

313
(42)
314
(3)

| | |
| --- | --- |
| | Last Mile Wired Connections |

314
(1)

| | |
| --- | --- |
| | Last Mile Wireless Connections |

315
(2)
317
(1)

| | |
| --- | --- |
| | Land-Based Fixed Broadband Wireless |

317
(14)
318
(4)

| | |
| --- | --- |
| | Local Multipoint Distribution Service (LMDS) |

322
(6)

| | |
| --- | --- |
| | Multichannel Multipoint Distribution Service (MMDS) |

328
(3)
331
(14)
332
(2)

| | |
| --- | --- |
| | Standards Family Overview |

334
(1)
334
(10)
344
(1)
345
(1)
345
(1)
346
(3)
349
(1)
350
(3)
353
(1)
353
(2)

| | |
| --- | --- |
| | Wireless Wide Area Networks |

355
(38)

| | |
| --- | --- |
| | Cellular Telephone Applications |

356
(2)

| | |
| --- | --- |
| | How Cellular Telephony Works |

358
(5)

| | |
| --- | --- |
| | Digital Cellular Technology |

363
(8)

| | |
| --- | --- |
| | First Generation Cellular Telephony |

363
(1)

| | |
| --- | --- |
| | Second Generation Cellular Telephony |

364
(3)

| | |
| --- | --- |
| | 2.5 Generation Cellular Telephony |

367
(1)

| | |
| --- | --- |
| | Third Generation Cellular Telephony |

368
(3)
371
(3)

| | |
| --- | --- |
| | Wireless Application Protocol (WAP and WAP Version 2) |

371
(2)
373
(1)
373
(1)

| | |
| --- | --- |
| | Binary Runtime Environment for Wireless (BREW) |

374
(1)

| | |
| --- | --- |
| | Digital Cellular Challenges and Outlook |

374
(3)
374
(1)
375
(1)
375
(1)
376
(1)

| | |
| --- | --- |
| | Satellite Broadband Wireless |

377
(8)
377
(3)
380
(2)
382
(1)

| | |
| --- | --- |
| | Geosynchronous Earth Orbit (GEO) |

383
(2)

| | |
| --- | --- |
| | Experimental Technologies |

385
(1)

| | |
| --- | --- |
| | Satellite Technology Outlook |

385
(1)
385
(2)
387
(2)
389
(1)
390
(1)
391
(1)

| | |
| --- | --- |
| | Optional Team Case Project |

392
(1)

| | |
| --- | --- |
| | Radio Frequency Identification |

393
(28)
394
(9)
394
(9)
403
(5)
404
(1)
405
(1)
406
(2)
408
(1)
408
(1)
408
(3)
408
(1)
409
(1)

| | |
| --- | --- |
| | Transportation and Military |

409
(1)
410
(1)

| | |
| --- | --- |
| | People Monitoring, Crowds, and Access |

410
(1)
411
(1)
411
(3)

| | |
| --- | --- |
| | Impact on Corporate Networks |

411
(1)
412
(1)
412
(1)
412
(1)
413
(1)
414
(1)
415
(2)
417
(1)
418
(1)
419
(1)

| | |
| --- | --- |
| | Optional Team Case Project |

420
(1)

| | |
| --- | --- |
| | Wireless Communications in Business |

421
(26)

| | |
| --- | --- |
| | Advantages of Wireless Technology |

422
(4)

| | |
| --- | --- |
| | Universal Access to Corporate Data |

422
(1)
423
(1)

| | |
| --- | --- |
| | Increased Access to the Customer's Own Data |

423
(1)

| | |
| --- | --- |
| | Data Availability Around the Clock |

424
(1)
424
(1)

| | |
| --- | --- |
| | Voice over Wireless LAN (VoWLAN) |

424
(2)

| | |
| --- | --- |
| | Challenges of Using Wireless Technology |

426
(3)
426
(2)

| | |
| --- | --- |
| | Data Security and Privacy |

428
(1)
428
(1)

| | |
| --- | --- |
| | Shortage of Qualified Staff |

428
(1)

| | |
| --- | --- |
| | Building a Wireless Infrastructure |

429
(10)
429
(1)
429
(1)

| | |
| --- | --- |
| | Assess the Current Network |

430
(7)
437
(1)
437
(1)
438
(1)
438
(1)
439
(1)
440
(1)
441
(2)
443
(1)
444
(1)

| | |
| --- | --- |
| | Optional Team Case Project |

445
(2)

| | |
| --- | --- |
| | APPENDIX A: Wireless# Certification Exam Objectives |

447
(8)

| | |
| --- | --- |
| | APPENDIX B: History of Wireless Communications |

455
(16)
456
(1)
457
(2)
459
(2)
461
(3)
464
(3)
467
(4)
Glossary
471
(16)
Index
487