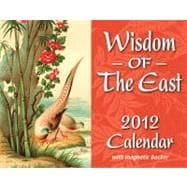 Wisdom of the East 2012 Mini Day-to-Day Calendar
by
Unknown
Andrews McMeel Publishing
This title is currently not available.
Summary
Searching for a more blissful, happy life? Let the wisdom of such great Eastern thinkers as Saigyo, the Dalai Lama, Nichiren, Confucius, and many others help guide you. Their knowledge and philosophy fill the full-color pages of the
Wisdom of the East 2012 Mini Day-to-Day Calendar
whose backer has magnets and an easel so it can be displayed anywhere space is limited.
* The heart's message cannot be delivered in words. --Mu-Mon
* True friendship is stronger than stone. --Mongolian proverb