Note: Supplemental materials are not guaranteed with Rental or Used book purchases.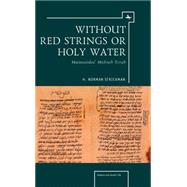 Without Red Strings or Holy Water: Maimonides Mishne Torah
ISBN13:
9781936235483
by
Strickman, H. Norman
Summary
Maimonides was one of the greatest Jewish personalities of the Middle Ages: - a halakhist par excellence, a great philosopher, a political leader of his community, and a guardian of Jewish rights. In 1180 C E, Maimonides composed his Halakhic magnum opus, the Mishneh Torah, which can be described without exaggeration as the greatest code of Jewish law to be composed in the post-Talmudic era, unique in scope, originality and language. In addition to dealing with an immense variety of Jewish law, from the laws of Sabbath and festival observances, dietary regulations, and relations between the sexes, to the sacrificial system, the construction of the Temple, and the making of priestly garments, the Mishneh Torah represents Maimonides' conception of Judaism. Maimonides held that the version of Judaism believed in and practised by many pious Jews of his generation had been infected by with pagan notions. In the Mishneh Torah, he aimed at cleansing Judaism from these non-Jewish practices and beliefs and impressing upon readers that Jewish law and ritual are free from irrational and superstitious practices. Without Red Strings or Holy Water explores Maimonides' views regarding God, the commandments, astrology, medicine, the evil eye, amulets, magic, theurgic practices, omens, communicating with the dead, the messianic era, midrashic literature, and the oral law. This book will be of interest in to all who are interested in the intellectual history of Judaism.