Note: Supplemental materials are not guaranteed with Rental or Used book purchases.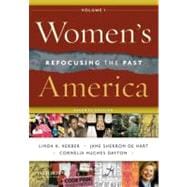 Questions About This Book?
What version or edition is this?
This is the 7th edition with a publication date of 7/9/2010.
What is included with this book?
The Used copy of this book is not guaranteed to include any supplemental materials. Typically, only the book itself is included.
Summary
Featuring a mix of primary source documents, articles, and illustrations, Women's America: Refocusing the Past has long been an invaluable resource. Now in its seventh edition, the book has been extensively revised and updated to cover recent events in American women's history. New to this Edition * 33% new selections: Two extended photo essays: "Women in Public" and "Adorning the Body" * New design: provides a clearer distinction between essays, documents, and photo essays * Available for the first time in 2-volume splits: presents more flexibility for two-semester courses
Author Biography

Linda K. Kerber is May Brodbeck Professor in the Liberal Arts & Sciences at the University of Iowa. She is the author of several books, including No Constitutional Right to Be Ladies (1999) and Toward an Intellectual History of Women (1997). She has served as President of the Organization of American Historians and the American Studies Association and is a Fellow of the American Academy of Arts and Sciences.

Jane Sherron De Hart is Professor Emerita of History at the University of California, Santa Barbara. Co-author of Sex, Gender, and ERA: A State and the Nation (OUP, 1990), and winner of the American Political Science Association's Victoria Schuck Award (1991), she specializes in twentieth-century issues of gender, politics, and policy. She is currently completing a study of Justice Ruth Bader Ginsburg that blends biography and legal history.

Cornelia Hughes Dayton is Associate Professor of History at the University of Connecticut. The author of Women Before the Bar (1995), she is currently writing a book about the life stories of those with mental disorders and their caretakers in eighteenth-century America. She recently launched a new website supplementing her essay "Taking the Trade" about a 1740s abortion trial.

Table of Contents

PART I: EARLY AMERICA: 1600-1820
Sara Evans, The First American Women
Jennifer L. Morgan, "Some Could Suckle over Their Shoulder:" European Depictions of Indigenous Women, 1492-1750
Laurel Thatcher Ulrich, The Ways of Her Household
DOCUMENT The Law of Domestic Relations: Marriage, Divorce, Dower
Examples from Colonial Connecticut
Mary Beth Norton, "Searchers again Assembled:" Gender Distinctions in Seventeenth-Century America
DOCUMENT The Trial of Anne Hutchinson, 1637
"What law have I broken?"
Carol F. Karlsen, The Devil in the Shape of a Woman: The Economic Basis of Witchcraft
Carol Berkin, African American Women in Colonial Society
DOCUMENTS The Law of Slavery and Freedom
Virginia Establishes a Double Standard in Tax Law
"According to the condition of the mother . . ."
"For prevention of that abominable mixture . . ."
A Massachusetts Minister's Slave Marriage Vows
Ann M. Little, Captivity and Conversion: Daughters of New England in French Canada
Cornelia Hughes Dayton, Taking the Trade: Abortion and Gender Relations in an Eighteenth-Century New England Village
DOCUMENTS Supporting the Revolution
"The ladies going about for money exceeded everything . . ."
Sarah Osborn, "The bullets would not cheat the gallows . . ."
Rachel Wells, "I have Don as much to Carrey on the Warr as maney . . ."
Annette Gordon-Reed, The Hemings-Jefferson Treaty: Paris, 1789
Linda K. Kerber, The Republican Mother and the Woman Citizen: Contradictions and Choices in Revolutionary America
PART II: THE MANY FRONTIERS OF INDUSTRIALIZING AMERICA, 1820-1880
DOCUMENTS The Testimony of Slave Women
Maria Perkins, "I am quite heartsick . . ."
Rose, "Look for some others for to 'plenish de earth"
Sharon Block, Lines of Color, Sex, and Service: Sexual Coercion in the Early Republic
Jeanne Boydston, The Pastoralization of Housework
DOCUMENT Working Conditions in Early Factories, 1845
"She complained of the hours for labor being too many . . ."
Carroll Smith-Rosenberg, The Female World of Love and Ritual: Relations between Women in Nineteenth-Century America
James C. Mohr, Abortion in America
Maureen Fitzgerald, Habits of Compassion: Irish American Nuns in New York City
Susan Zaeske, Signatures of Citizenship: Debating Women's Antislavery Petitions
DOCUMENTS Claiming Rights I
Sarah and Angelina Grimké: The Connection between Religious Faith, Abolition, and Women's Rights
Keziah Kendall, "What I have suffered, I cannot tell you"
Photo Essay: Women in Public
Gerda Lerner, The Meanings of Seneca Falls, 1848-1998
DOCUMENTS Claiming Rights II
Declaration of Sentiments, 1848
Married Women's Property Acts, New York State, 1848, 1860
DOCUMENT Sojourner Truth's carte de visite
Rose Stremlau, "I Know What an Indian Woman can Do:" Sarah Winnemucca Writes about Rape on the Northern Paiute Frontier
Drew Gilpin Faust, Enemies in Our Households: Confederate Women and Slavery
DOCUMENTS Counterfeit Freedom
A. S. Hitchcock, "Young women particularly flock back & forth . . ."
Roda Ann Childs, "I was more dead than alive"
Tera W. Hunter, Reconstruction and the Meanings of Freedom
DOCUMENTS After the Civil War: Reconsidering the Law Reconstruction Amendments, 1868, 1870
Coger v. The North Western Union Packet Company, Supreme Court of Iowa, 1873
Bradwell v. Illinois, 1873
Comstock Act, 1873
Minor v. Happersett, 1874
Page Act, 1875
Barbara Sicherman, Reading Little Women: The Many Lives of a Text
DOCUMENT The Women's Centennial Agenda, 1876
Elizabeth Cady Stanton and Susan B. Anthony, "Guaranteed to us and our daughters forever"