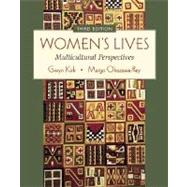 List Price: $81.65
Usually Ships in 3-5 Business Days
Questions About This Book?
What version or edition is this?
This is the 3rd edition with a publication date of 8/4/2003.
What is included with this book?
The Used copy of this book is not guaranteed to inclue any supplemental materials. Typically, only the book itself is included.
Summary
This interdisciplinary, multicultural text-reader provides an introduction to women's studies within a global context by examining the diversity of women's lives across categories of race-ethnicity, class, sexuality, disability, and age. Substantial chapter introductions provide statistical information and explanations of key concepts and ideas as a context for the reading selections. Each chapter includes reading questions and suggestions for taking action, to help students link what they learn to their own lives and to the world around them.
Table of Contents
Preface
xix
Introduction The Framework of This Book
1
(1)

| | |
| --- | --- |
| | The Focus of Women's Studies |

1
(1)

| | |
| --- | --- |
| | The Framework for This Book: Collective Action for a Sustainable Future |

2
(1)
2
(1)

| | |
| --- | --- |
| | A Sustainable and Secure Future |

2
(1)

| | |
| --- | --- |
| | The United States in a Global Context |

3
(1)

| | |
| --- | --- |
| | Linking the Personal and the Global |

3
(1)

| | |
| --- | --- |
| | A Matrix of Oppression and Resistance |

3
(1)

| | |
| --- | --- |
| | Feminisms: Tangling with the ``F'' Word |

4
(3)

| | |
| --- | --- |
| | Women's Studies Is Ideological |

5
(1)

| | |
| --- | --- |
| | Women's Studies Is a White, Middle-Class Thing |

6
(1)

| | |
| --- | --- |
| | Women's Studies Is Narrowly Concerned with Women's Issues |

7
(1)
7
(2)

| | |
| --- | --- |
| | PART ONE KNOWING AND UNDERSTANDING |

| | |
| --- | --- |
| | Theories and Theorizing: Integrative Frameworks for Understanding |

9
(50)
9
(1)

| | |
| --- | --- |
| | Theories, Theorizing, and Ways of Knowing |

10
(2)
10
(1)
11
(1)
12
(1)

| | |
| --- | --- |
| | Theoretical Frameworks for Understanding Women's Lives |

12
(3)

| | |
| --- | --- |
| | ``Socially Lived'' Theorizing |

15
(3)

| | |
| --- | --- |
| | Media Representations and the Creation of Knowledge |

18
(3)
19
(1)

| | |
| --- | --- |
| | Finding Out More on the Web |

20
(1)
20
(1)

| | |
| --- | --- |
| | ``The Social Construction of Gender'' |

21
(4)

| | |
| --- | --- |
| | ``Patriarchy, the System: An It, Not a He, a Them, or an Us'' |

25
(8)

| | |
| --- | --- |
| | Combahee River Collective, ``A Black Feminist Statement'' |

33
(5)

| | |
| --- | --- |
| | ``Defining Genealogies: Feminist Reflections on Being South Asian in North America'' |

38
(6)

| | |
| --- | --- |
| | ``Who Am I If I'm Not My Father's Daughter?''' |

44
(2)
46
(3)

| | |
| --- | --- |
| | ``A Latina in the Land of Hollywood: Transgressive Possibilities'' |

49
(10)

| | |
| --- | --- |
| | Identities and Social Locations: Who Am I? Who Are My People? |

59
(52)

| | |
| --- | --- |
| | Being Myself: The Micro Level |

60
(1)

| | |
| --- | --- |
| | Community Recognition, Expectations, and Interactions: The Meso Level |

61
(1)

| | |
| --- | --- |
| | Social Categories, Classifications, and Structural Inequality: Macro and Global Levels |

62
(6)

| | |
| --- | --- |
| | Maintaining Systems of Structural Inequality |

63
(2)

| | |
| --- | --- |
| | Colonization, Immigration, and the U.S. Landscape of Race and Class |

65
(3)

| | |
| --- | --- |
| | Multiple Identities, Social Location, and Contradictions |

68
(2)
69
(1)

| | |
| --- | --- |
| | Finding Out More on the Web |

69
(1)
69
(1)

| | |
| --- | --- |
| | ``Perspectives of Native American Women on Race and Gender'' |

70
(8)
78
(7)

| | |
| --- | --- |
| | ``A Word about the Great Terminology Question'' |

85
(2)
87
(3)

| | |
| --- | --- |
| | ``Moving from Cultural Appropriation toward Ethical Cultural Connections'' |

90
(6)

| | |
| --- | --- |
| | ``Optional Ethnicities: For Whites Only?'' |

96
(7)

| | |
| --- | --- |
| | ``Jews, Class, Color, and the Cost of Whiteness'' |

103
(8)

| | |
| --- | --- |
| | PART TWO OUR BODIES, OURSELVES |

111
(32)

| | |
| --- | --- |
| | Body Image and the Beauty Ideal |

111
(5)
112
(1)
113
(1)

| | |
| --- | --- |
| | Commodification and Co-option |

113
(1)

| | |
| --- | --- |
| | Whites Only? Forever Young? Always Able? |

114
(2)

| | |
| --- | --- |
| | Resisting Beauty Stereotypes |

116
(2)

| | |
| --- | --- |
| | Feminist Theorizing about Body Image and Beauty Ideals |

118
(1)
119
(2)
120
(1)

| | |
| --- | --- |
| | Finding Out More on the Web |

120
(1)
120
(1)
121
(4)

| | |
| --- | --- |
| | ``The Coming of Maureen Peal'' |

125
(5)
130
(5)

| | |
| --- | --- |
| | ``My Body Is a Map of My Life'' |

135
(1)
136
(1)

| | |
| --- | --- |
| | ``What's a Leg Got to Do with It?'' |

136
(2)

| | |
| --- | --- |
| | ``Tangled Lives: Daughters, Mothers, and the Crucible of Aging'' |

138
(5)
143
(30)

| | |
| --- | --- |
| | Stereotypes, Contradictions, and Double Standards |

143
(1)

| | |
| --- | --- |
| | What Is Women's Autonomous Sexuality? |

144
(2)
146
(2)
148
(3)
151
(1)
151
(1)
151
(1)

| | |
| --- | --- |
| | Finding Out More on the Web |

152
(1)
152
(1)

| | |
| --- | --- |
| | ``Guadalupe the Sex Goddess'' |

152
(3)

| | |
| --- | --- |
| | ``Radical Heterosexuality'' |

155
(3)

| | |
| --- | --- |
| | ``Radical Pleasure: Sex and the End of Victimhood'' |

158
(1)

| | |
| --- | --- |
| | ``A New Politics of Sexuality'' |

159
(3)

| | |
| --- | --- |
| | ``The All-American Queer Pakistani Girl'' |

162
(2)

| | |
| --- | --- |
| | ``We Are All Works in Progress'' |

164
(4)

| | |
| --- | --- |
| | ``Uses of the Erotic: The Erotic as Power'' |

168
(5)
173
(52)

| | |
| --- | --- |
| | Reproductive Health, Reproductive Rights |

173
(5)
174
(3)

| | |
| --- | --- |
| | Medicalization of Reproductive Life |

177
(1)
178
(4)

| | |
| --- | --- |
| | Effects of Gender, Race, and Class on Health and Illness |

179
(1)

| | |
| --- | --- |
| | Mental and Emotional Health |

180
(2)
182
(1)
182
(3)
183
(1)

| | |
| --- | --- |
| | Other Barriers and Biases in Medical Services and Research |

184
(1)
185
(2)

| | |
| --- | --- |
| | Requirements for Good Health |

185
(1)

| | |
| --- | --- |
| | Feminist Approaches to Wellness |

185
(1)
186
(1)

| | |
| --- | --- |
| | Finding Out More on the Web |

186
(1)
187
(1)

| | |
| --- | --- |
| | ``Three Generations of Native American Women's Birth Experience'' |

187
(3)

| | |
| --- | --- |
| | ``Reproductive Rights: A Disability Rights Issue'' |

190
(4)

| | |
| --- | --- |
| | ``The Life and Death of Miss Mildred: An Elderly Black Woman'' |

194
(7)

| | |
| --- | --- |
| | ``Breast Cancer: The Environmental Connection--a 1998 Update'' |

201
(7)

| | |
| --- | --- |
| | ```If It's Not On, It's Not On'--Or Is It? Discursive Constraints on Women's Condom Use'' |

208
(11)

| | |
| --- | --- |
| | ```I Am a Beautiful, Multifaceted Black Woman''': Interview with Shirley Royster, HIV/AIDS Educator and Activist |

219
(6)
225
(48)

| | |
| --- | --- |
| | What Counts as Violence Against Women? |

226
(2)

| | |
| --- | --- |
| | The Incidence of Violence Against Women |

228
(3)

| | |
| --- | --- |
| | Effects of Race, Class, Nation, Sexuality, and Disability |

230
(1)

| | |
| --- | --- |
| | Explanations of Violence Against Women |

231
(3)
231
(1)
232
(2)

| | |
| --- | --- |
| | Ending Violence Against Women |

234
(4)

| | |
| --- | --- |
| | The Importance of a Political Movement |

234
(1)

| | |
| --- | --- |
| | Providing Support for Victims/Survivors |

235
(1)

| | |
| --- | --- |
| | Public and Professional Education |

236
(1)

| | |
| --- | --- |
| | Policy and Legislative Initiatives |

236
(1)

| | |
| --- | --- |
| | Contradictions in Seeking State Support to End Violence Against Women |

237
(1)

| | |
| --- | --- |
| | Women's Rights as Human Rights |

238
(1)
238
(1)

| | |
| --- | --- |
| | Finding Out More on the Web |

239
(1)
239
(1)

| | |
| --- | --- |
| | ``Lisa's Ritual, Age 10'' |

239
(1)

| | |
| --- | --- |
| | ``National Symposium on La Violencia Domestica: An Emerging Dialogue Among Latinos'' (excerpt) |

240
(9)

| | |
| --- | --- |
| | ``Domestic Violence and Asian American Women'' |

249
(7)

| | |
| --- | --- |
| | ``Sexual Violence and American Indian Genocide'' |

256
(10)

| | |
| --- | --- |
| | ``On Becoming Anti-Rapist'' |

266
(5)

| | |
| --- | --- |
| | ``My Vagina Was My Village'' |

271
(2)

| | |
| --- | --- |
| | PART THREE MAKING A HOME, MAKING A LIVING |

| | |
| --- | --- |
| | Relationships, Families, and Households |

273
(44)

| | |
| --- | --- |
| | Defining Ourselves Through Connections with Others |

273
(1)

| | |
| --- | --- |
| | Marriage, Domestic Partnerships, and Personal Relationships |

274
(3)

| | |
| --- | --- |
| | Contradictions Surrounding the Institution of Marriage |

274
(1)

| | |
| --- | --- |
| | Personal Relationships: Living in Different Worlds? |

275
(1)

| | |
| --- | --- |
| | Gay Marriage and Domestic Partnership |

276
(1)
277
(2)

| | |
| --- | --- |
| | The Social Construction of Motherhood |

278
(1)
278
(1)
279
(3)

| | |
| --- | --- |
| | U.S. Families: Cultural and Historical Variations |

280
(2)

| | |
| --- | --- |
| | Immigration and the Family |

282
(1)

| | |
| --- | --- |
| | Feminist Perspectives on Marriage, Motherhood, and the Family |

282
(2)

| | |
| --- | --- |
| | Challenging the Private/Public Dichotomy |

282
(1)

| | |
| --- | --- |
| | Mothering and Maternal Thinking |

283
(1)

| | |
| --- | --- |
| | The Family and the Economic System |

283
(1)

| | |
| --- | --- |
| | Policy Implications and Implementation |

283
(1)

| | |
| --- | --- |
| | Toward a Redefinition of Family Values |

284
(2)
285
(1)

| | |
| --- | --- |
| | Finding Out More on the Web |

285
(1)
286
(1)
286
(1)

| | |
| --- | --- |
| | ``The Marriage Mystique'' |

286
(8)

| | |
| --- | --- |
| | ``Raising Kids como Los Americanos'' |

294
(7)

| | |
| --- | --- |
| | ``Personal Reflections on Being a Grandmother: L'Chol Dor Va Dor'' |

301
(4)

| | |
| --- | --- |
| | ``Shattering Two Molds: Feminist Parents with Disabilities'' |

305
(3)

| | |
| --- | --- |
| | ``Loving Across the Boundary'' |

308
(9)
317
(54)
317
(1)

| | |
| --- | --- |
| | Women in the U.S. Workforce |

318
(8)

| | |
| --- | --- |
| | Women's Wages: The Effects of Gender, Race, Class, Disability, and Education |

319
(2)

| | |
| --- | --- |
| | Discrimination Against Working Women: Sexual Harassment, Age, and Disability |

321
(1)
322
(2)

| | |
| --- | --- |
| | Organized Labor and Collective Action |

324
(2)

| | |
| --- | --- |
| | Pensions, Disability Payments, and Welfare |

326
(3)

| | |
| --- | --- |
| | Pensions and Disability Payments |

326
(2)
328
(1)

| | |
| --- | --- |
| | Feminist Approaches to Women's Work and Income |

329
(1)
329
(1)
329
(1)
329
(1)

| | |
| --- | --- |
| | Policy Implications and Activist Projects |

330
(1)

| | |
| --- | --- |
| | Promoting Greater Economic Security for Women |

330
(2)
331
(1)

| | |
| --- | --- |
| | Finding Out More on the Web |

331
(1)
332
(1)

| | |
| --- | --- |
| | ``the cleaning woman/labor relations #4'' |

332
(1)

| | |
| --- | --- |
| | ``The Transformation of Women's Wage Work'' |

333
(14)

| | |
| --- | --- |
| | ``He Works, She Works, but What Different Impressions They Make'' |

347
(1)

| | |
| --- | --- |
| | ``Reflections of a Feminist Mom'' |

348
(2)

| | |
| --- | --- |
| | Jeannine Ouellette Howitz |

| | |
| --- | --- |
| | ``Violating Women: Rights Abuses in the Welfare Police State'' |

350
(9)
359
(12)

| | |
| --- | --- |
| | Living in a Global Economy |

371
(42)
372
(4)
375
(1)

| | |
| --- | --- |
| | Consumerism, Expansionism, and Waste |

375
(1)
376
(1)

| | |
| --- | --- |
| | Emphasis on Immediate Costs |

376
(1)
376
(7)
376
(3)
379
(1)
380
(3)

| | |
| --- | --- |
| | Implications of Global Economic Inequalities |

383
(2)

| | |
| --- | --- |
| | Connections to U.S. Policy Issues |

383
(1)

| | |
| --- | --- |
| | International Alliances Among Women |

384
(1)

| | |
| --- | --- |
| | The Seeds of a New Global Economy |

385
(3)
387
(1)

| | |
| --- | --- |
| | Finding Out More on the Web |

387
(1)
388
(1)

| | |
| --- | --- |
| | ``Maquiladoras: The View from Inside'' |

388
(9)

| | |
| --- | --- |
| | Maria Patricia Fernandez-Kelly |

| | |
| --- | --- |
| | ``The Global Trade in Filipina Workers'' |

397
(10)

| | |
| --- | --- |
| | ``The Border Patrol State'' |

407
(3)
410
(1)

| | |
| --- | --- |
| | Diverse Women for Diversity, ``Seattle Declaration'' |

411
(2)

| | |
| --- | --- |
| | PART FOUR SECURITY AND SUSTAINABILITY |

| | |
| --- | --- |
| | Women, Crime, and Criminalization |

413
(40)

| | |
| --- | --- |
| | The National Context: ``Get Tough on Crime'' |

413
(2)

| | |
| --- | --- |
| | Women in the Criminal Justice System |

415
(4)

| | |
| --- | --- |
| | Characteristics of Incarcerated Women |

416
(1)

| | |
| --- | --- |
| | Offenses Committed by Women and Patterns of Arrest |

416
(2)

| | |
| --- | --- |
| | Sentence Length and Time Served |

418
(1)

| | |
| --- | --- |
| | Race and Class Disparities |

418
(1)

| | |
| --- | --- |
| | Girls in the Criminal Justice System |

419
(1)

| | |
| --- | --- |
| | Women Political Prisoners |

419
(2)

| | |
| --- | --- |
| | Theories of Women and Crime |

421
(1)

| | |
| --- | --- |
| | ``Equality with a Vengeance'': Is Equal Treatment Fair Treatment? |

422
(1)

| | |
| --- | --- |
| | The ``Prison Industrial Complex'' |

423
(1)

| | |
| --- | --- |
| | Inside/Outside Connections |

423
(2)
424
(1)

| | |
| --- | --- |
| | Finding Out More on the Web |

425
(1)
425
(1)
425
(1)

| | |
| --- | --- |
| | ``Behind the Walls: The History and Current Reality of Women's Imprisonment'' |

426
(10)

| | |
| --- | --- |
| | ``Punishing Drug Addicts Who Have Babies: Women of Color, Equality, and the Right of Privacy'' |

436
(6)

| | |
| --- | --- |
| | ``U.S. Concentration Camps and Exclusion Policies: Impact on Japanese American Women'' |

442
(7)

| | |
| --- | --- |
| | ACLU of Illinois, ``ACLU of Illinois Challenges Ethnic and Religious Bias in Strip Search of Muslim Woman at O'Hare International Airport'' |

449
(4)

| | |
| --- | --- |
| | Women and the Military, War, and Peace |

453
(38)

| | |
| --- | --- |
| | The Need for Women in the Military |

454
(1)
454
(1)

| | |
| --- | --- |
| | Limitations to Women's Equal Participation in the Military |

455
(3)
455
(1)

| | |
| --- | --- |
| | Officer Training: Storming the Citadel |

456
(1)
456
(1)
457
(1)
458
(1)
458
(1)

| | |
| --- | --- |
| | The Impact of the U.S. Military on Women Overseas |

459
(3)
460
(1)

| | |
| --- | --- |
| | Mixed-Race Children Fathered by U.S. Troops |

460
(1)

| | |
| --- | --- |
| | Crimes of Violence Against Women |

460
(1)

| | |
| --- | --- |
| | Health Effects of Environmental Contamination |

461
(1)

| | |
| --- | --- |
| | Women's Opposition to the Military |

462
(5)

| | |
| --- | --- |
| | Early Peace Organizations in the United States |

462
(1)

| | |
| --- | --- |
| | Feminist Antimilitarist Perspectives |

462
(3)
465
(1)
466
(1)

| | |
| --- | --- |
| | Finding Out More on the Web |

466
(1)
467
(1)
467
(2)

| | |
| --- | --- |
| | ``The Search for Peace and Justice: Notes Toward an Autobiography'' |

469
(6)

| | |
| --- | --- |
| | Women's Pentagon Action, ``Unity Statement'' |

475
(3)

| | |
| --- | --- |
| | Women of Color Resource Center, ``Ten Reasons Why Women Should Oppose the U.S. `War on Terrorism''' |

478
(1)
478
(4)

| | |
| --- | --- |
| | ``Sneak Attack: The Militarization of U.S. Culture'' |

482

| | |
| --- | --- |
| | ``Media and Ideology'' (excerpt) |

283
(208)

| | |
| --- | --- |
| | Women and the Environment |

491
(30)

| | |
| --- | --- |
| | Theoretical and Activist Perspectives |

492
(5)
493
(1)

| | |
| --- | --- |
| | Deep Ecology and Bioregionalism |

493
(1)
494
(1)
495
(2)

| | |
| --- | --- |
| | Connectedness and Sustainability |

497
(3)
499
(1)

| | |
| --- | --- |
| | Finding Out More on the Web |

499
(1)
500
(1)

| | |
| --- | --- |
| | ``The Ecofeminist Imperative'' |

500
(3)

| | |
| --- | --- |
| | ``Empowering Ourselves: Women and Toxics Organizing'' |

503
(5)

| | |
| --- | --- |
| | The First National People of Color Environmental Leadership Summit, ``Principles of Environmental Justice'' |

508
(1)

| | |
| --- | --- |
| | ``Native Hawaiian Historical and Cultural Perspectives on Environmental Justice'' |

509
(4)
513
(1)

| | |
| --- | --- |
| | ``Consumption: North American Perspectives'' |

514
(7)

| | |
| --- | --- |
| | PART FIVE ACTIVISM AND CHANGE |

| | |
| --- | --- |
| | Creating Change: Theory, Vision, and Action |

521
522
(3)

| | |
| --- | --- |
| | Using the Head: Theories for Social Change |

522
(1)

| | |
| --- | --- |
| | Using the Heart: Visions for Social Change |

522
(1)

| | |
| --- | --- |
| | Using the Hands: Action for Social Change |

523
(1)

| | |
| --- | --- |
| | Overcoming Blocks to Effective Action |

524
(1)

| | |
| --- | --- |
| | Women and Political Activism |

525
(5)
525
(1)
526
(1)

| | |
| --- | --- |
| | Women in Electoral Politics |

527
(3)

| | |
| --- | --- |
| | Building Alliances for the Twenty-First Century |

530
(4)

| | |
| --- | --- |
| | Some Principles for Alliance Building |

530
(1)

| | |
| --- | --- |
| | Overcoming Impediments to Effective Alliances |

531
(1)

| | |
| --- | --- |
| | Creating a Secure and Sustainable World |

531
(1)
532
(1)

| | |
| --- | --- |
| | Finding Out More on the Web |

533
(1)
533
(1)

| | |
| --- | --- |
| | ``Listening to the Voices of My Spiritual Self'' |

534
(2)
536
(9)

| | |
| --- | --- |
| | ``Multiracial Feminism: Recasting the Chronology of Second Wave Feminism'' |

545
(12)

| | |
| --- | --- |
| | ``Common Threads: Life Stories and the Arts in Educating for Social Change'' |

557
(6)

| | |
| --- | --- |
| | ``Research on Women in Legislatures: What Have We Learned, Where Are We Going?'' Michele Swers |

563
(11)
574
(3)

| | |
| --- | --- |
| | ``Taking On the Global Economy'' |

577
Glossary
1
(1)
References
1
(1)
Credits
1
(1)
Name Index
1
(5)
Index
6
About the Authors
1