Note: Supplemental materials are not guaranteed with Rental or Used book purchases.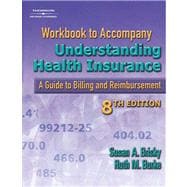 Questions About This Book?
What version or edition is this?
This is the 8th edition with a publication date of 9/9/2005.
What is included with this book?
The New copy of this book will include any supplemental materials advertised. Please check the title of the book to determine if it should include any CDs, lab manuals, study guides, etc.
Summary
The restructured chapter content of the workbook offers application-based assignments with more critical thinking components. The assignments require learners to demonstrate an understanding of the content rather than simple recall of facts. Chapter 1 provides guidelines for professional development as well as initiating a job search, with numerous resources identified. Chapters 2-17 offer an in-depth review of health insurance billing and reimbursement concepts.
Table of Contents
Introduction
vii

| | |
| --- | --- |
| | Health Insurance Specialist Career |

1
(20)

| | |
| --- | --- |
| | Assignment 1.1 Interview of a Professional |

1
(1)

| | |
| --- | --- |
| | Assignment 1.2 Ready, Set, Get a Job! |

2
(14)

| | |
| --- | --- |
| | Assignment 1.3 Journal Abstract |

16
(1)

| | |
| --- | --- |
| | Assignment 1.4 Professional Discussion Forums (Listservs) |

17
(1)

| | |
| --- | --- |
| | Assignment 1.5 Multiple Choice Review |

18
(3)

| | |
| --- | --- |
| | Introduction to Health Insurance |

21
(12)

| | |
| --- | --- |
| | Assignment 2.1 Health Insurance Coverage Statistics |

21
(4)

| | |
| --- | --- |
| | Assignment 2.2 Major Developments in Health Insurance (Research Paper) |

25
(5)

| | |
| --- | --- |
| | Assignment 2.3 Multiple Choice Review |

30
(3)
33
(6)

| | |
| --- | --- |
| | Assignment 3.1 National Committee for Quality Assurance (NCQA) Health Plan Report Card |

33
(1)

| | |
| --- | --- |
| | Assignment 3.2 Managed Health Care Federal Legislation |

34
(1)

| | |
| --- | --- |
| | Assignment 3.3 Multiple Choice Review |

35
(4)

| | |
| --- | --- |
| | Life Cycle of an Insurance Claim |

39
(14)

| | |
| --- | --- |
| | Assignment 4.1 Payment of Claims: Encounter Form |

39
(2)

| | |
| --- | --- |
| | Assignment 4.2 Payment of Claims: Remittance Advice |

41
(8)

| | |
| --- | --- |
| | Assignment 4.3 Payment of Claims: Explanation of Benefits |

49
(1)

| | |
| --- | --- |
| | Assignment 4.4 Multiple Choice Review |

50
(3)

| | |
| --- | --- |
| | Legal and Regulatory Issues |

53
(8)

| | |
| --- | --- |
| | Assignment 5.1 HIPAA: Student Confidentiality Statement |

53
(1)

| | |
| --- | --- |
| | Assignment 5.2 HIPAA: Preventing Health Care Fraud and Abuse |

54
(2)

| | |
| --- | --- |
| | Assignment 5.3 HIPAA: Privacy and Security Rules |

56
(1)

| | |
| --- | --- |
| | Assignment 5.4 Multiple Choice Review |

56
(5)
61
(12)

| | |
| --- | --- |
| | Assignment 6.1 ICD-9-CM Index to Diseases |

61
(1)

| | |
| --- | --- |
| | Assignment 6.2 Basic Coding |

62
(1)

| | |
| --- | --- |
| | Assignment 6.3 Multiple Coding |

62
(1)

| | |
| --- | --- |
| | Assignment 6.4 Combination Coding |

63
(1)

| | |
| --- | --- |
| | Assignment 6.5 Coding Hypertension |

63
(1)

| | |
| --- | --- |
| | Assignment 6.6 Coding Neoplasms |

64
(1)

| | |
| --- | --- |
| | Assignment 6.7 Assigning V Codes (Factors Influencing Health Status and Contact with Health Services) |

64
(1)

| | |
| --- | --- |
| | Assignment 6.8 Coding Burns, Fractures, and Late Effects |

65
(1)

| | |
| --- | --- |
| | Assignment 6.9 Assigning E Codes (External Causes of Injury and Poisoning) |

66
(1)

| | |
| --- | --- |
| | Assignment 6.10 Coding Procedures |

66
(1)

| | |
| --- | --- |
| | Assignment 6.11 Coding Patient Cases |

67
(2)

| | |
| --- | --- |
| | Assignment 6.12 Multiple Choice Review |

69
(4)
73
(12)
73
(1)

| | |
| --- | --- |
| | Assignment 7.2 Evaluation and Management (E/M) Coding |

74
(1)

| | |
| --- | --- |
| | Assignment 7.3 Anesthesia Coding |

74
(1)

| | |
| --- | --- |
| | Assignment 7.4 Surgery Coding |

75
(2)

| | |
| --- | --- |
| | Assignment 7.5 Radiology Coding |

77
(1)

| | |
| --- | --- |
| | Assignment 7.6 Pathology and Laboratory Coding |

77
(1)

| | |
| --- | --- |
| | Assignment 7.7 Medicine Coding |

78
(1)

| | |
| --- | --- |
| | Assignment 7.8 Assigning CPT Modifiers |

78
(1)

| | |
| --- | --- |
| | Assignment 7.9 Coding Case Studies |

79
(3)

| | |
| --- | --- |
| | Assignment 7.10 Multiple Choice Review |

82
(3)
85
(12)

| | |
| --- | --- |
| | Assignment 8.1 HCPCS Index |

85
(1)

| | |
| --- | --- |
| | Assignment 8.2 HCPCS Coding |

86
(5)

| | |
| --- | --- |
| | Assignment 8.3 Coding Drugs in HCPCS |

91
(1)

| | |
| --- | --- |
| | Assignment 8.4 HCPCS Level II National Modifiers |

91
(1)

| | |
| --- | --- |
| | Assignment 8.5 Coding Case Studies |

92
(2)

| | |
| --- | --- |
| | Assignment 8.6 Multiple Choice Review |

94
(3)

| | |
| --- | --- |
| | CMS Reimbursement Methodologies |

97
(8)

| | |
| --- | --- |
| | Assignment 9.1 Outpatient Prospective Payment System (OPPS) |

97
(1)

| | |
| --- | --- |
| | Assignment 9.2 Diagnosis Related Groups |

98
(3)

| | |
| --- | --- |
| | Assignment 9.3 Multiple Choice Review |

101
(4)

| | |
| --- | --- |
| | Coding for Medical Necessity |

105
(12)

| | |
| --- | --- |
| | Assignment 10.1 Choosing the First-Listed Diagnosis |

105
(1)

| | |
| --- | --- |
| | Assignment 10.2 Linking Diagnoses with Procedures/Services |

106
(1)

| | |
| --- | --- |
| | Assignment 10.3 National Coverage Determinations |

106
(1)

| | |
| --- | --- |
| | Assignment 10.4 Coding from Case Scenarios |

107
(1)

| | |
| --- | --- |
| | Assignment 10.5 Coding from SOAP Notes and Operative Reports |

108
(4)

| | |
| --- | --- |
| | Assignment 10.6 Multiple Choice Review |

112
(5)

| | |
| --- | --- |
| | Essential CMS-1500 Claim Instructions |

117
(8)

| | |
| --- | --- |
| | Assignment 11.1 Optical Scanning Guidelines |

117
(1)

| | |
| --- | --- |
| | Assignment 11.2 Entering Diagnoses and Procedures on the CMS-1500 Claim Form |

117
(4)

| | |
| --- | --- |
| | Assignment 11.3 Multiple Choice Review |

121
(4)
125
(14)

| | |
| --- | --- |
| | Assignment 12.1 Commercial Primary CMS-1500 Claims Completion |

125
(1)

| | |
| --- | --- |
| | Assignment 12.2 Commercial Secondary CMS-1500 Claims Completion |

125
(6)

| | |
| --- | --- |
| | Assignment 12.3 Multiple Choice Review |

131
(8)

| | |
| --- | --- |
| | Blue Cross and Blue Shield Plans |

139
(12)

| | |
| --- | --- |
| | Assignment 13.1 BCBS Primary CMS-1500 Claims Completion |

139
(1)

| | |
| --- | --- |
| | Assignment 13.2 BCBS Secondary CMS-1500 Claims Completion |

139
(9)

| | |
| --- | --- |
| | Assignment 13.3 Multiple Choice Review |

148
(3)
151
(18)

| | |
| --- | --- |
| | Assignment 14.1 Medicare Primary CMS-1500 Claims Completion |

151
(1)

| | |
| --- | --- |
| | Assignment 14.2 Medicare as Secondary Payer CMS-1500 Claims Completion |

151
(8)

| | |
| --- | --- |
| | Assignment 14.3 Medicare/Medigap CMS-1500 Claims Completion |

159
(1)

| | |
| --- | --- |
| | Assignment 14.4 Medicare/Medicaid CMS-1500 Claims Completion |

159
(1)

| | |
| --- | --- |
| | Assignment 14.5 Multiple Choice Review |

159
(10)
169
(10)

| | |
| --- | --- |
| | Assignment 15.1 Medicaid Primary CMS-1500 Claims Completion |

169
(1)

| | |
| --- | --- |
| | Assignment 15.2 Medicaid Mother/Baby CMS-1500 Claims Completion |

169
(7)

| | |
| --- | --- |
| | Assignment 15.3 Multiple Choice Review |

176
(3)
179
(8)

| | |
| --- | --- |
| | Assignment 16.1 Tricare Primary CMS-1500 Claims Completion |

179
(1)

| | |
| --- | --- |
| | Assignment 16.2 Multiple Choice Review |

179
(8)
187
(70)

| | |
| --- | --- |
| | Assignment 17.1 Workers' Compensation Primary CMS-1500 Claims Completion |

187
(1)

| | |
| --- | --- |
| | Assignment 17.2 Multiple Choice Review |

187
(70)
InstaClaim Trial Version CD-ROM
257