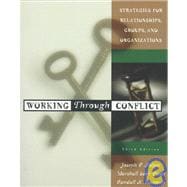 Summary
Focusing on the whole range of conflict settings - interpersonal, group, and organizational - Working Through Conflict, Third Edition, provides an introduction to conflict management that is firmly grounded in current theory and research. The text encompasses a wide range of theoretical perspectives and includes timely, up-to-date coverage of the role of third parties in conflict resolution. Numerous, highly practical case studies clarify theoretical content and make it accessible to a broad audience. Updated to reflect the latest research and theory, the third edition of Working Through Conflict includes new information on culture and conflict and the impact of cultural differences. Prefaced by new "Imagine Yourself..". questions that encourage the reader to assume the role of one of the disputants, each case study also ends with questions that highlight the theory behind the case and encourage classroom discussion.
Table of Contents
Each chapter concludes with "Summary and Review" and "Conclusion
List of Cases
Preface
Introduction: Conflict Interaction
1A: The Women's Hotline Case
1B: The Women's Hotline Case (Continued)
Conflict Defined
Arenas for Conflict
Productive and Destructive Conflict Interaction
Judgments About Conflict Outcomes
More on Conflict Interaction
Plan of the Book
Communication and Conflict
A Model of Effective Conflict Management
Properties of Conflict Interaction
The Columnist's Brown Bag
The Inner Experience of Conflict
Perspectivism and Conflict
The Role of Theories
Classic and Contemporary Theories of the Inner Experience of Conflict
The Psychodynamic Perspective
The Parking Lot Scuffle
Verbal Aggressiveness
Psychodynamic Theory and the Parking Lot Scuffle
Verbal Aggressiveness Theory and the Parking Lot Scuffle
Attribution Theory
Field Theory and the Concept of Climate
Attribution Theory and the Parking Lot Scuffle
Field Theory and the Parking Lot Scuffle
Theories of Conflict Interaction
The Human Relations Perspective and Conflict Styles
Experimental Gaming Research
Human Relations Theory and the Parking Lot Scuffle
Game Research and the Parking Lot Scuffle
Intergroup Conflict Research
Intergroup Dynamics and the Parking Lot Scuffle
Phase Models of Conflict
Phase Theories and the Parking Lot Scuffle
Power: The Architecture of Conflict
Power and the Emergence of Conflict
A: A Raid on the Student Activity Fees and Fund
B: A Raid on the Student Activity Fees Fund, Continued
A Relational View of Power
The Eccentric Professor
Power and Conflict Interaction
The Creativity Development Committee
The Use of Power in Conflict Tactics
The Balance of Power in Conflict
The Copywriters Committee
Unbalanced Intimacy
Job Resignation at the Social Service Agency
Working with Power
Fostering Shared Power in Group and Organizational Conflicts
Face-Saving
The Dimensions of Face
Face-Loss
Face-Saving: A Threat to Flexibility in Conflict Interaction
The Professor's Decision
The Outspoken Member
The Controversial Team Member
Conflict Interaction as an Arena for Face-Saving
Forms of Face-Saving in Conflict Interaction
Face-Giving
Working with Face-Saving Issues
The Productivity/Performance Report
Table of Contents provided by Publisher. All Rights Reserved.