Note: Supplemental materials are not guaranteed with Rental or Used book purchases.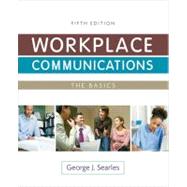 Questions About This Book?
What version or edition is this?
This is the 5th edition with a publication date of 11/3/2010.
What is included with this book?
The Used copy of this book is not guaranteed to include any supplemental materials. Typically, only the book itself is included.
Summary
Workplace Communicationsis the first brief, less theory-intensive text that focuses on the fundamentals of workplace communication specifically intended for applied writing courses in community colleges and similar settings. Written in a conversational style and featuring a clean, uncluttered page layout,Workplace Communicationsis designed to be accessible. The high quantity of examples, illustrations, and exercises emphasize practical applications to ensure the text is user-friendly. Workplace Communicationsis an ideal text to bridge business communication and technical communication courses.
Author Biography
George J. Searles is a Professor of Arts & Humanities at Mohawk Valley Community College, specializing in journalism, business/technical writing, contemporary poetry, and Latin. He has also taught at Green Haven State Prison, Binghamton University (where he earned his Ph.D.), New York Institute of Technology, St. Elizabeth's College of Nursing, Utica College of Syracuse University, and SUNY College of Technology, and on the graduate level for New School University. Currently he is an adjunct instructor of creative writing at Pratt Institute's upstate campus at the Munson-Williams-Proctor Arts Institute in Utica. He has served on the governing boards of both the Modern Language Association and the North East Modern Language Association, presenting scholarly papers at the annual conventions of those and other such professional organizations. In addition, he has served as a communications consultant to many corporate clients and social services agencies, as well as the National Endowment for the Humanities and the National Science Foundation. Along with numerous articles, reviews, and poems in a broad range of popular and academic periodicals, he has published three volumes of literary criticism from university presses and five editions of Workplace Communications: The Basics, a Pearson textbook used on over 200 campuses here and abroad. The recipient of two SUNY Chancellor's medals for excellence, he was named the Carnegie Foundation's "New York State Professor of the Year" in 2002, and the New York State United Teachers' "Higher Education Member of the Year" in 2003.
Table of Contents
Preface
Introduction
Chapter 1 The Keys to Successful Communication: Purpose, Audience, and Tone
Purpose
Audience
Tone
Exercises
Chapter 2 Memos and E-mail
Memos
E-mail
Exercises
Checklist: Evaluating a Memo or E-mail
Chapter 3 Business Letters
Letters
Format
Checklist: Evaluating a Letter
Exercises
Chapter 4 Effective Visuals: Tables, Graphs, Charts, and Illustrations
Principles of Effective Visuals
Tables
Graphs
Line Graphs
Bar Graphs
Charts
Flowcharts
Organizational Charts
Gantt Charts
Circle Charts
Illustrations
Photographs
Drawings
Diagrams
Checklist: Evaluating a Visual
Exercises
Chapter 5 Short Reports: Page Design, Formats, and Types
Page Design
Report Formats: Memo, Letter, and Booklet
Types of Reports
Incident Report
Progress Report
Recommendation Report
Travel Report
Exercises
Checklist: Evaluating a Memo Report
Checklist: Evaluating a Letter Report
Checklist: Evaluating a Booklet Report
Chapter 6 Summaries
Types of Summaries: Descriptive, Informative, and Evaluative
Summarizing Print Sources
Summarizing Nonprint Sources
Checklist: Evaluating a Summary
Exercises
Chapter 7 Fliers, Brochures, and Newsletters
Fliers
Checklist: Evaluating a Flier
Brochures
Checklist: Evaluating a Brochure
Newsletters
Checklist: Evaluating a Newsletter
Exercises
Chapter 8 Instructions and Procedure Description
Instructions
Procedure Description
Avoiding Liability
Checklist: Evaluating Instructions and Procedure Description
Exercises
Chapter 9 Job Application Process: Letter, Résumé, Interview, and Follow-Up
Application Letter
Résumé
Traditional Résumé
Scannable Résumé
Interview
Follow-up
Checklist: Evaluating an Application Letter, Résumé, and Follow-Up
Exercises
Chapter 10 Oral Presentations: Preparation and Delivery
Preparation
Preliminaries
Rehearsal
Delivery
Introductions and Conclusions
Vocal Factors
Physical Factors
Eye Contact
Presentation Aids
Enthusiasm
Checklist: Evaluating a Public Speaker
Exercises
Chapter 11 Proposals
Solicited Proposals
Unsolicited Proposals
Internal and External Proposals
Formats of Proposals
Objectives of Proposals
Checklist: Evaluating Proposal
Exercises
Chapter 12 Long Reports: Format, Collaboration, and Documentation
Format
Transmittal Document
Title Page
Abstract
Table of Contents
List of Illustrations
Glossary
Text
Visuals
Pagination
Collaboration
Documentation
Bibliography
Parenthetical Citations
Checklist: Evaluating a Long Report
Exercises
Appendix A: Ten Strategies to Improve Style
Appendix B: Review of Mechanics: Spelling, Punctuation, and Grammar
Index