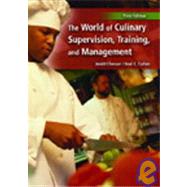 List Price: $84.00
In Stock Usually Ships in 24-48 Hours

More New and Used
from Private Sellers
Questions About This Book?
What version or edition is this?
This is the 3rd edition with a publication date of 1/1/2005.
What is included with this book?
The Used copy of this book is not guaranteed to inclue any supplemental materials. Typically, only the book itself is included.
Related Products
Summary
For sophomore/senior-level undergraduate courses in Food and Beverage; courses in all culinary arts two- and four-year degree programs; training seminars for chefs; and certification programs for the American Culinary Federation Educational Institute. This unique text gives aspiring chefs, sous chefs, chefs de cuisine, and executive chefs the necessary knowledge, skills, and attitudes required to lead, supervise and manage foodservice workers. In-depth, yet easily understood, it outlines in clear terms those elements crucial to success in today's quality driven foodservice industrydetailing the elements of supervision and total quality management. It examines all aspects of training as it affects the chef supervisor; and providing practical, step-by-step discussions on crucial management skills and functions involving a chef supervisor. This informational and educational training resource fulfills a need as chefs move from being culinarians to managers, supervisors, and trainers in the world of total quality management. It identifies those key areas that will lead qualified individuals into the chef positions of the future, and provides reasonable solutions to situations that typically evolve from them.
Author Biography
Jerald W. Chesser is Associate Dean and Professor at the Collins School of Hospitality Management, California State Polytechnic University - Pomona.
Table of Contents
``Chef Talk'' Contributors
xi
Preface
xv

| | |
| --- | --- |
| | Part One The Chef AS Supervisor |

1
(26)
1
(1)
2
(1)
2
(1)
3
(1)

| | |
| --- | --- |
| | Definition of Supervision |

4
(1)

| | |
| --- | --- |
| | Attributes of the Successful Chef Supervisor |

5
(1)

| | |
| --- | --- |
| | Chef Supervisory Role Models |

6
(3)

| | |
| --- | --- |
| | Duties and Functions of the Chef Supervisor |

9
(1)

| | |
| --- | --- |
| | The Chef Supervisor and Total Quality Management |

10
(2)

| | |
| --- | --- |
| | Elements of Kitchen Supervision |

12
(8)
20
(1)

| | |
| --- | --- |
| | The Evolution of Supervisory Chefs |

20
(3)
23
(1)
23
(1)
24
(1)
24
(3)

| | |
| --- | --- |
| | Quality, Philosophy, History, Excellence, Reengineering, and Change |

27
(24)
27
(1)
28
(1)
28
(1)
29
(3)

| | |
| --- | --- |
| | The Foodservice Customer Defined |

32
(1)

| | |
| --- | --- |
| | Deming's Principles of Quality |

33
(6)

| | |
| --- | --- |
| | Philosophies, Concepts, and Strategies of Management |

39
(1)

| | |
| --- | --- |
| | Scientific Management: A Historical Perspective |

40
(1)
40
(2)
42
(1)
43
(2)
45
(3)
48
(1)
49
(1)
49
(1)
49
(2)

| | |
| --- | --- |
| | Motivation, Morale, and Strokes |

51
(20)
51
(1)
52
(1)
52
(1)
53
(1)
53
(2)

| | |
| --- | --- |
| | Theories and Motivational Philosophies |

55
(4)
59
(3)
62
(4)
66
(1)
67
(1)
68
(1)
68
(1)
69
(2)

| | |
| --- | --- |
| | Building Teamwork in the Kitchen |

71
(26)
71
(1)
72
(1)
73
(1)
74
(1)

| | |
| --- | --- |
| | Building a Successful Kitchen Team |

75
(1)
76
(1)

| | |
| --- | --- |
| | Developing a Kitchen Team Commitment |

77
(2)

| | |
| --- | --- |
| | Getting It Done: Developing the Kitchen Team Project or Plan |

79
(2)

| | |
| --- | --- |
| | Empowerment and Kitchen Teams |

81
(4)

| | |
| --- | --- |
| | Empowerment and Job Enrichment |

85
(1)

| | |
| --- | --- |
| | Involving the Kitchen Team |

85
(5)

| | |
| --- | --- |
| | Improving Kitchen Teamwork |

90
(1)
91
(1)

| | |
| --- | --- |
| | Creating a Vision and Building a Superior Kitchen Team |

92
(1)
93
(1)
93
(2)
95
(1)
95
(2)
97
(16)
97
(1)
97
(1)
98
(1)
99
(4)
103
(2)
105
(4)
109
(1)
109
(1)
110
(1)
110
(3)

| | |
| --- | --- |
| | Dealing with Conflict and Complaints |

113
(18)
113
(1)
114
(1)
114
(2)
116
(1)
116
(1)
117
(2)
119
(1)

| | |
| --- | --- |
| | Health and Safety in the Kitchen |

120
(3)
123
(3)
126
(1)
127
(1)
127
(1)
128
(1)
128
(3)
131
(28)
131
(1)
132
(1)
132
(1)
133
(2)

| | |
| --- | --- |
| | Elements of Communication |

135
(2)

| | |
| --- | --- |
| | Barriers to Communication |

137
(4)
141
(1)
142
(2)

| | |
| --- | --- |
| | Ways to Improve Listening Skills |

144
(2)
146
(1)
147
(1)
148
(6)

| | |
| --- | --- |
| | Communication via the Grapevine |

154
(1)
155
(1)
155
(1)
156
(1)
156
(3)
159
(26)
159
(1)
160
(1)
160
(1)
161
(2)
163
(5)
168
(1)
168
(2)
170
(1)

| | |
| --- | --- |
| | The Nature of Culinary Leadership |

171
(3)

| | |
| --- | --- |
| | Building Leadership Self-Confidence |

174
(1)

| | |
| --- | --- |
| | Developing Culinary Leadership |

175
(3)

| | |
| --- | --- |
| | Humor as a Leadership Tool |

178
(2)
180
(2)
182
(1)
182
(1)
183
(2)

| | |
| --- | --- |
| | Part Two The Chef as Trainer |

| | |
| --- | --- |
| | Total Quality and Training in the Kitchen |

185
(24)
185
(1)
186
(1)
186
(2)
188
(1)

| | |
| --- | --- |
| | Total Quality Management and Training |

188
(1)

| | |
| --- | --- |
| | A Systems Approach to Training |

189
(5)
194
(3)
197
(3)
200
(1)
201
(3)
204
(1)
205
(1)
206
(1)
207
(2)

| | |
| --- | --- |
| | Preparing Training Objectives |

209
(12)
209
(1)
210
(1)
210
(1)
211
(1)
211
(2)
213
(2)
215
(1)

| | |
| --- | --- |
| | Characteristics of a Training Session |

216
(1)

| | |
| --- | --- |
| | Steps in Planning a Training Session |

217
(2)
219
(1)
220
(1)
220
(1)

| | |
| --- | --- |
| | Understanding Instructional Delivery |

221
(18)
221
(1)
222
(1)
222
(1)
223
(1)
224
(1)
225
(1)

| | |
| --- | --- |
| | Effective Interpersonal Communication |

226
(1)
227
(2)

| | |
| --- | --- |
| | Trainer Styles and Attributes |

229
(2)

| | |
| --- | --- |
| | Getting the Team Involved |

231
(4)

| | |
| --- | --- |
| | Understanding Group Behaviors |

235
(1)
236
(1)
237
(1)
238
(1)
239
(22)
239
(1)
240
(1)
240
(2)
242
(1)

| | |
| --- | --- |
| | Specific Training Methods |

242
(12)
254
(2)

| | |
| --- | --- |
| | Negative Training Methods |

256
(1)

| | |
| --- | --- |
| | Developing the Team Member with Potential |

256
(1)
257
(2)
259
(1)
260
(1)
260
(1)

| | |
| --- | --- |
| | Induction and Orientation Training |

261
(14)
261
(1)
262
(1)
262
(2)
264
(1)
264
(1)
265
(3)

| | |
| --- | --- |
| | Duration of Orientation Training |

268
(1)

| | |
| --- | --- |
| | Communicating Induction and Orientation Training |

269
(1)

| | |
| --- | --- |
| | Topics for Kitchen Orientation |

270
(2)
272
(1)
272
(2)
274
(1)
274
(1)

| | |
| --- | --- |
| | Training Media and Technology |

275
(14)
275
(1)
276
(1)
276
(1)
277
(2)

| | |
| --- | --- |
| | Computer-Generated Slides and Digital Projection |

279
(1)
280
(1)
281
(1)

| | |
| --- | --- |
| | Interactive Computer Training |

282
(1)
283
(1)

| | |
| --- | --- |
| | 35-mm Slide Presentations |

284
(1)
285
(1)
286
(1)
286
(1)
287
(2)

| | |
| --- | --- |
| | Training and Transactional Analysis |

289
(12)
289
(1)
290
(1)
290
(1)
291
(1)
292
(3)
295
(1)
296
(3)
299
(1)
299
(1)
300
(1)

| | |
| --- | --- |
| | Part Three Management and Chef Supervisors |

| | |
| --- | --- |
| | Managing and Utilizing Time |

301
(12)
301
(1)
302
(1)
302
(1)
303
(2)

| | |
| --- | --- |
| | Time Management Misconceptions |

305
(1)
306
(1)
307
(1)
308
(3)
311
(1)
312
(1)
312
(1)

| | |
| --- | --- |
| | Recruiting and Selecting Kitchen Team Members |

313
(20)
313
(1)
314
(1)
314
(1)
315
(1)
316
(1)
317
(1)
318
(2)
320
(1)
321
(8)
329
(1)
330
(1)
331
(1)
331
(2)

| | |
| --- | --- |
| | Discipline and the Kitchen Team |

333
(14)
333
(1)
334
(1)
334
(1)
335
(1)
336
(1)
336
(4)
340
(3)

| | |
| --- | --- |
| | Approaches to Positive Discipline |

343
(1)
344
(1)
345
(1)
345
(1)
346
(1)

| | |
| --- | --- |
| | Problem Solving and Decision Making |

347
(16)
347
(1)
348
(1)
348
(1)
349
(1)

| | |
| --- | --- |
| | The Decision-Making Process |

350
(1)

| | |
| --- | --- |
| | Empowerment and Decision Making |

351
(2)
353
(1)
354
(3)

| | |
| --- | --- |
| | Rules of Problem Solving and Decision Making |

357
(2)
359
(1)
360
(1)
361
(2)

| | |
| --- | --- |
| | Team Performance Appraisal |

363
(12)
363
(1)
364
(1)
364
(1)
365
(1)
365
(2)
367
(1)
368
(3)
371
(1)
372
(1)
372
(1)
373
(2)
Appendix A Federal Regulations and Executive Orders
375
(8)
Appendix B Glossary of Terms
383
(7)
Appendix C Bibliography
390
(6)
Index
396
Excerpts
Dr. Noel Cullen's first edition of this book achieved his original aim "to create an information, educational, and training resource for all culinarians." As Chef Ferdinand Metz said in the foreword to the second edition, "This book fills a void in the industry and brings the matter of supervision in the kitchen to the fore." The need for chef supervisors in the kitchen to direct, mentor, and lead staff with the same high level of expertise and professionalism that they practice in the art and science of culinary preparation has not diminished--it has grown. Twenty-first-century culinarians must prepare themselves with culinary knowledge and knowledge of supervision, training, and management. Dr. Cullen recognized this need and provided a valuable resource that would assist future culinarians in this endeavor. The importance in the kitchen of teamwork, mentoring, leadership, supervision, training, management, and a total quality focus continues unabated. Total quality in foodservice has always been and always will be achieved through teamwork driven by leadership, management, supervision, and training. This third edition continues Dr. Cullen's foresight in using the principles of total quality management as the foundation for culinary supervision, training, and management. It has been enhanced with updated information, expanded discussions of topics including leadership, diversity, and training technology, and case studies to assist the reader in understanding and applying the information. My appreciation goes out to Keith E. Gardiner of Guilford Technical Community College and John Britto of San Joaquin Delta College for their review of the manuscript. Supplemental materials have been expanded to include an instructor's manual, PowerPoint slides, and a test bank. Jerald W. Chesser, EdD, CEC, FMP, CEC