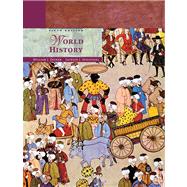 List Price: $290.95
In Stock Usually Ships in 24 Hours.
Usually Ships in 2-3 Business Days

More New and Used
from Private Sellers
Questions About This Book?
Why should I rent this book?
Renting is easy, fast, and cheap! Renting from eCampus.com can save you hundreds of dollars compared to the cost of new or used books each semester. At the end of the semester, simply ship the book back to us with a free UPS shipping label! No need to worry about selling it back.
How do rental returns work?
Returning books is as easy as possible. As your rental due date approaches, we will email you several courtesy reminders. When you are ready to return, you can print a free UPS shipping label from our website at any time. Then, just return the book to your UPS driver or any staffed UPS location. You can even use the same box we shipped it in!
What version or edition is this?
This is the 5th edition with a publication date of 1/13/2006.
What is included with this book?
The New copy of this book will include any supplemental materials advertised. Please check the title of the book to determine if it should include any CDs, lab manuals, study guides, etc.
The Used copy of this book is not guaranteed to inclue any supplemental materials. Typically, only the book itself is included.
The Rental copy of this book is not guaranteed to include any supplemental materials. You may receive a brand new copy, but typically, only the book itself.
Summary
Noted teachers and scholars William J. Duiker and Jackson J. Spielvogel present a balanced, highly readable overview of world history that explores common challenges and experiences that unite the human past and that identify key global patterns over time. Thorough coverage of political, economic, social, religious, intellectual, cultural, and military history has been integrated into a chronologically ordered synthesis to help students gain an appreciation and understanding of the distinctive character and development of individual cultures in society. This edition of WORLD HISTORY continues to take a global approach to world history, with an emphasis on analytical comparisons between and among cultures throughout history. This approach helps students' link events together in a broad comparative and global framework, thereby placing the contemporary world in a more meaningful historical context. WORLD HISTORY is available in the following volume options: WORLD HISTORY, FIFTH EDITION (Chapters 1-29) ISBN: 0495050121; WORLD HISTORY, VOLUME I: TO 1800, FIFTH EDITION (Contains Chapters 1-17) ISBN: 0495050539; WORLD HISTORY, VOLUME II: SINCE 1500, FIFTH EDITION (Contains Chapters 13-29) ISBN: 0495050547; WORLD HISTORY TO 1500, FIFTH EDITION (Contains Chapters 1-12) ISBN: 0495050601.
Table of Contents
xvi
Chronologies
xviii
Documents
xix
Preface
xxi
Acknowledgments
xxvii
A Note to Students on Language and the Dating of Time
xxx
Themes for Understanding World History
xxxi

| | |
| --- | --- |
| | Part I The First Civilizations and the Rise of Empires (prehistory to 500 C.E.) |

1
(159)

| | |
| --- | --- |
| | The First Civilizations: The Peoples of Western Asia and Egypt |

2
(35)
3
(5)

| | |
| --- | --- |
| | The Emergence of Homo sapiens |

3
(1)

| | |
| --- | --- |
| | The Hunter-Gatherers of the Paleolithic Age |

3
(2)

| | |
| --- | --- |
| | The Neolithic Revolution, c. 10,000--4,000 B.C.E |

5
(3)

| | |
| --- | --- |
| | The Emergence of Civilization |

8
(1)

| | |
| --- | --- |
| | Early Civilizations Around the World |

9
(1)
9
(1)

| | |
| --- | --- |
| | Civilization in Mesopotamia |

9
(7)

| | |
| --- | --- |
| | The City-States of Ancient Mesopotamia |

10
(1)

| | |
| --- | --- |
| | Empires in Ancient Mesopotamia |

11
(3)

| | |
| --- | --- |
| | The Culture of Mesopotamia |

14
(2)

| | |
| --- | --- |
| | Egyptian Civilization: ``The Gift of the Nile'' |

16
(7)
17
(1)

| | |
| --- | --- |
| | The Old and Middle Kingdoms |

18
(1)

| | |
| --- | --- |
| | Society and Economy in Ancient Egypt |

19
(1)
20
(1)

| | |
| --- | --- |
| | Chaos and a New Order: The New Kingdom |

21
(1)

| | |
| --- | --- |
| | Daily Life in Ancient Egypt: Family and Marriage |

22
(1)

| | |
| --- | --- |
| | New Centers of Civilization |

23
(5)

| | |
| --- | --- |
| | The Impact of the Indo-Europeans |

24
(1)
24
(1)

| | |
| --- | --- |
| | The Hebrews: The ``Children of Israel'' |

25
(3)
28
(9)
29
(2)
31
(2)
33
(1)
34
(1)
34
(3)
37
(27)

| | |
| --- | --- |
| | The Emergence of Civilization in India: Harappan Society |

38
(4)
38
(1)

| | |
| --- | --- |
| | Harappan Civilization: A Fascinating Enigma |

38
(4)
42
(1)

| | |
| --- | --- |
| | The Arrival of the Aryans |

42
(7)
42
(1)
43
(2)

| | |
| --- | --- |
| | Caste and Class: Social Structures in Ancient India |

45
(2)

| | |
| --- | --- |
| | Daily Life in Ancient India |

47
(1)
48
(1)

| | |
| --- | --- |
| | Escaping the Wheel of Life: The Religious World of Ancient India |

49
(7)
49
(3)

| | |
| --- | --- |
| | Buddhism: The Middle Path |

52
(4)

| | |
| --- | --- |
| | The Rule of the Fishes: India After the Mauryas |

56
(1)

| | |
| --- | --- |
| | The Exuberant World of Indian Culture |

57
(7)
57
(1)

| | |
| --- | --- |
| | Architecture and Sculpture |

58
(3)
61
(1)
61
(1)
62
(1)
62
(2)
64
(31)

| | |
| --- | --- |
| | The Dawn of Chinese Civilization |

65
(5)

| | |
| --- | --- |
| | The Land and People of China |

65
(2)
67
(3)
70
(7)
70
(2)
72
(1)

| | |
| --- | --- |
| | The Hundred Schools of Ancient Philosophy |

73
(4)

| | |
| --- | --- |
| | The Rise of the Chinese Empire: The Qin and the Han |

77
(7)

| | |
| --- | --- |
| | The Qin Dynasty (221-206 B.C.E) |

78
(3)

| | |
| --- | --- |
| | The Glorious Han Dynasty (202 B.C.E--221 C.E) |

81
(3)

| | |
| --- | --- |
| | Daily Life in Ancient China |

84
(3)
85
(1)
86
(1)
87
(1)

| | |
| --- | --- |
| | The Humble Estate: Women in Ancient China |

87
(1)
87
(8)
87
(2)
89
(2)
91
(1)
92
(1)
93
(1)
94
(1)

| | |
| --- | --- |
| | The Civilization of the Greeks |

95
(31)
96
(4)
96
(1)

| | |
| --- | --- |
| | The First Greek State: Mycenae |

97
(1)

| | |
| --- | --- |
| | The Greeks in a Dark Age (c. 1100-c. 750 B.C.E) |

98
(2)

| | |
| --- | --- |
| | The Greek City-States (c.750--c. 500 B.C.E) |

100
(5)
100
(1)

| | |
| --- | --- |
| | Colonization and the Growth of Trade |

101
(1)

| | |
| --- | --- |
| | Tyranny and the Greek Polis |

102
(1)
102
(2)
104
(1)

| | |
| --- | --- |
| | The High Point of Greek Civilization: Classical Greece |

105
(9)
105
(1)

| | |
| --- | --- |
| | The Growth of an Athenian Empire in the Age of Pericles |

106
(1)

| | |
| --- | --- |
| | The Great Peloponnesian War and the Decline of the Greek States |

107
(1)

| | |
| --- | --- |
| | The Culture of Classical Greece |

108
(4)
112
(1)

| | |
| --- | --- |
| | Daily Life in Classical Athens |

113
(1)

| | |
| --- | --- |
| | The Rise of Macedonia and the Conquests of Alexander |

114
(3)
114
(3)

| | |
| --- | --- |
| | The World of the Hellenistic Kingdoms |

117
(9)
117
(1)
117
(1)
118
(1)
118
(1)

| | |
| --- | --- |
| | Social Life: New Opportunities for Women |

119
(1)

| | |
| --- | --- |
| | Culture in the Hellenistic World |

119
(4)
123
(1)
123
(1)
124
(2)
126
(34)

| | |
| --- | --- |
| | Early Rome and the Republic |

127
(9)
127
(1)
128
(3)

| | |
| --- | --- |
| | The Roman Conquest of the Mediterranean (264--133 B.C.E) |

131
(2)

| | |
| --- | --- |
| | The Decline and Fall of the Roman Republic (133--31 B.C.E) |

133
(3)

| | |
| --- | --- |
| | The Roman Empire at Its Height |

136
(12)

| | |
| --- | --- |
| | The Age of Augustus (31 B.C.E--14 C.E) |

136
(2)

| | |
| --- | --- |
| | The Early Empire (14--180) |

138
(2)

| | |
| --- | --- |
| | Culture and Society in the Roman World |

140
(8)

| | |
| --- | --- |
| | Crisis and the Late Empire |

148
(2)

| | |
| --- | --- |
| | Crises in the Third Century |

148
(1)
149
(1)

| | |
| --- | --- |
| | Transformation of the Roman World: The Development of Christianity |

150
(4)

| | |
| --- | --- |
| | The Religious World of the Romans |

150
(1)
150
(1)
151
(3)

| | |
| --- | --- |
| | The Triumph of Christianity |

154
(1)

| | |
| --- | --- |
| | Comparison of the Roman and Han Empires |

154
(6)
156
(1)
156
(1)
157
(3)

| | |
| --- | --- |
| | Part II New Patterns of Civilization |

160
(200)
162
(25)

| | |
| --- | --- |
| | The Peopling of the Americas |

163
(1)
163
(1)

| | |
| --- | --- |
| | Early Civilizations in Central America |

163
(13)

| | |
| --- | --- |
| | Teotihuacan: America's First Metropolis |

165
(1)
166
(5)
171
(5)

| | |
| --- | --- |
| | The First Civilizations in South America |

176
(6)
177
(1)
177
(1)
178
(4)

| | |
| --- | --- |
| | Stateless Societies in the New World |

182
(5)
182
(1)
182
(1)

| | |
| --- | --- |
| | The ``Ancient Ones'': The Anasazi |

183
(1)

| | |
| --- | --- |
| | South America: The Arawak |

184
(1)
184
(1)
185
(1)
185
(2)
187
(29)
188
(3)
188
(1)

| | |
| --- | --- |
| | The Teachings of Muhammad |

189
(2)

| | |
| --- | --- |
| | The Arab Empire and Its Successors |

191
(6)
191
(1)
192
(1)
193
(2)
195
(1)
196
(1)
197
(1)
197
(10)

| | |
| --- | --- |
| | The Wealth of Araby: Trade and Cities in the Middle East |

197
(2)
199
(1)
200
(7)
207
(9)

| | |
| --- | --- |
| | The Reign of Justinian (527--565) |

207
(3)

| | |
| --- | --- |
| | From Eastern Roman to Byzantine Empire |

210
(1)

| | |
| --- | --- |
| | The Zenith of Byzantine Civilization |

211
(1)

| | |
| --- | --- |
| | New Challenges to the Byzantine Empire |

212
(1)
213
(1)
213
(1)
214
(1)
214
(2)

| | |
| --- | --- |
| | Early Civilizations in Africa |

216
(25)

| | |
| --- | --- |
| | The Emergence of Civilization |

217
(6)
217
(1)
217
(1)
218
(1)

| | |
| --- | --- |
| | The Sahara and Its Environs |

219
(3)
222
(1)
223
(7)

| | |
| --- | --- |
| | African Religious Beliefs Before Islam |

224
(1)

| | |
| --- | --- |
| | The Arabs in North Africa |

224
(1)

| | |
| --- | --- |
| | The Kingdom of Ethiopia: A Christian Island in a Muslim Sea |

225
(1)

| | |
| --- | --- |
| | East Africa: The Land of Zanj |

225
(1)

| | |
| --- | --- |
| | The States of West Africa |

226
(4)

| | |
| --- | --- |
| | States and Stateless Societies in Central and Southern Africa |

230
(1)
230
(1)
230
(1)
230
(1)
231
(3)
231
(1)
232
(1)
232
(1)
233
(1)
234
(7)
234
(1)
235
(1)
235
(1)
236
(3)
239
(1)
240
(1)
240
(1)

| | |
| --- | --- |
| | The Expansion of Civilization in Southern Asia |

241
(28)
242
(2)
244
(3)

| | |
| --- | --- |
| | The Gupta Dynasty: A New Golden Age? |

244
(1)

| | |
| --- | --- |
| | The Transformation of Buddhism |

244
(3)

| | |
| --- | --- |
| | The Decline of Buddhism in India |

247
(1)
247
(3)

| | |
| --- | --- |
| | The Arrival of Mahmud of Ghazni |

247
(1)
248
(1)
249
(1)
250
(8)
250
(3)
253
(1)

| | |
| --- | --- |
| | The Wonder of Indian Culture |

254
(4)

| | |
| --- | --- |
| | The Golden Region: Early Southeast Asia |

258
(11)

| | |
| --- | --- |
| | Paddy Fields and Spices: The States of Southeast Asia |

259
(3)
262
(2)

| | |
| --- | --- |
| | World of the Spirits: Religious Belief |

264
(2)
266
(2)
268
(1)
268
(1)

| | |
| --- | --- |
| | The Flowering of Traditional China |

269
(29)
270
(1)

| | |
| --- | --- |
| | China Reunified: The Sui, the Tang, and the Song |

271
(12)
271
(1)
272
(2)
274
(1)

| | |
| --- | --- |
| | Political Structures: The Triumph of Confucianism |

274
(3)
277
(5)

| | |
| --- | --- |
| | Society in Traditional China |

282
(1)

| | |
| --- | --- |
| | Explosion in Central Asia: The Mongol Empire |

283
(3)

| | |
| --- | --- |
| | The Creation of the Mongol Empire |

283
(1)
283
(2)

| | |
| --- | --- |
| | From the Yuan to the Ming |

285
(1)
286
(1)
286
(1)
286
(1)
287
(4)

| | |
| --- | --- |
| | The Rise and Decline of Buddhism and Daoism |

287
(2)

| | |
| --- | --- |
| | Neo-Confucianism: The Investigation of Things |

289
(2)

| | |
| --- | --- |
| | The Apogee of Chinese Culture |

291
(7)
291
(2)
293
(3)
296
(1)
297
(1)
297
(1)

| | |
| --- | --- |
| | The East Asian Rimlands: Early Japan, Korea, and Vietnam |

298
(25)

| | |
| --- | --- |
| | Japan: Land of the Rising Sun |

299
(15)

| | |
| --- | --- |
| | A Gift from the Gods: Prehistoric Japan |

300
(1)

| | |
| --- | --- |
| | The Rise of the Japanese State |

301
(4)

| | |
| --- | --- |
| | Economic and Social Structures |

305
(4)

| | |
| --- | --- |
| | In Search of the Pure Land: Religion in Early Japan |

309
(1)

| | |
| --- | --- |
| | Sources of Traditional Japanese Culture |

310
(4)

| | |
| --- | --- |
| | Japan and the Chinese Model |

314
(1)

| | |
| --- | --- |
| | Korea: Bridge to the East |

314
(3)
315
(1)

| | |
| --- | --- |
| | The Rise of the Koryo Dynasty |

316
(1)
316
(1)

| | |
| --- | --- |
| | Vietnam: The Smaller Dragon |

317
(6)
317
(3)
320
(1)
320
(1)
321
(1)
321
(2)
323
(37)

| | |
| --- | --- |
| | The Emergence of Europe in the Early Middle Ages |

324
(7)

| | |
| --- | --- |
| | The New Germanic Kingdoms |

324
(1)

| | |
| --- | --- |
| | The Role of the Christian Church |

324
(2)

| | |
| --- | --- |
| | Charlemagne and the Carolingians |

326
(1)

| | |
| --- | --- |
| | The World of Lords and Vassals |

326
(5)

| | |
| --- | --- |
| | Europe in the High Middle Ages |

331
(12)
331
(1)

| | |
| --- | --- |
| | The New World of Trade and Cities |

332
(3)

| | |
| --- | --- |
| | Evolution of the European Kingdoms |

335
(4)

| | |
| --- | --- |
| | Christianity and Medieval Civilization |

339
(2)

| | |
| --- | --- |
| | The Culture of the High Middle Ages |

341
(2)

| | |
| --- | --- |
| | Medieval Europe and the World |

343
(2)
344
(1)
344
(1)

| | |
| --- | --- |
| | The Crises of the Late Middle Ages |

345
(6)
345
(2)

| | |
| --- | --- |
| | Economic Dislocation and Social Upheaval |

347
(1)
348
(1)

| | |
| --- | --- |
| | The Decline of the Church |

349
(2)

| | |
| --- | --- |
| | Recovery: The Renaissance |

351
(9)

| | |
| --- | --- |
| | The Intellectual Renaissance |

351
(1)
351
(2)

| | |
| --- | --- |
| | The State in the Renaissance |

353
(2)
355
(1)
356
(1)
356
(4)

| | |
| --- | --- |
| | Part III The Emergence of New World Patterns (1500--1800) |

360
(150)

| | |
| --- | --- |
| | New Encounters: The Creation of a World Market |

362
(30)

| | |
| --- | --- |
| | An Age of Exploration and Expansion |

363
(3)

| | |
| --- | --- |
| | Islam and the Spice Trade |

363
(1)
363
(3)

| | |
| --- | --- |
| | The Portuguese Maritime Empire |

366
(3)
366
(2)
368
(1)

| | |
| --- | --- |
| | Spanish Conquests in the ``New World'' |

369
(2)
369
(1)
370
(1)

| | |
| --- | --- |
| | Governing the Spanish Empire |

370
(1)

| | |
| --- | --- |
| | The Impact of European Expansion |

371
(6)
374
(3)
377
(6)
377
(1)

| | |
| --- | --- |
| | The Dutch in South Africa |

378
(1)
378
(1)
378
(5)

| | |
| --- | --- |
| | Political and Social Structures in a Changing Continent |

383
(1)

| | |
| --- | --- |
| | Southeast Asia in the Era of the Spice Trade |

383
(9)
384
(1)

| | |
| --- | --- |
| | State and Society in Precolonial Southeast Asia |

385
(4)
389
(1)
390
(1)
391
(1)

| | |
| --- | --- |
| | Europe Transformed: Reform and State Building |

392
(27)

| | |
| --- | --- |
| | The Reformation of the Sixteenth Century |

393
(9)

| | |
| --- | --- |
| | Background of the Reformation |

394

| | |
| --- | --- |
| | Martin Luther and the Reformation in Germany |

295
(102)

| | |
| --- | --- |
| | The Spread of the Protestant Reformation |

397
(2)

| | |
| --- | --- |
| | The Social Impact of the Protestant Reformation |

399
349
(53)

| | |
| --- | --- |
| | Europe in Crisis, 1560--1650 |

402
(5)

| | |
| --- | --- |
| | Politics and the Wars of Religion in the Sixteenth Century |

402
(2)

| | |
| --- | --- |
| | Economic and Social Crises |

404
(2)

| | |
| --- | --- |
| | Seventeenth-Century Crises: Revolution and War |

406
(1)

| | |
| --- | --- |
| | Response to Crises: The Practice of Absolutism |

407
(5)
408
(2)

| | |
| --- | --- |
| | Absolutism in Central and Eastern Europe |

410
(2)

| | |
| --- | --- |
| | England and Limited Monarchy |

412
(1)

| | |
| --- | --- |
| | Conflict Between King and Parliament |

412
(1)

| | |
| --- | --- |
| | Civil War and Commonwealth |

412
(1)

| | |
| --- | --- |
| | Restoration and a Glorious Revolution |

412
(1)

| | |
| --- | --- |
| | The Flourishing of European Culture |

413
(6)
413
(2)
415
(1)

| | |
| --- | --- |
| | A Golden Age of Literature in England |

415
(2)
417
(1)
418
(1)
418
(1)
419
(29)
420
(10)

| | |
| --- | --- |
| | The Rise of the Ottoman Turks |

420
(1)
421
(4)

| | |
| --- | --- |
| | The Nature of Turkish Rule |

425
(2)

| | |
| --- | --- |
| | Religion and Society in the Ottoman World |

427
(1)
428
(1)
428
(2)
430
(4)
430
(1)
430
(1)

| | |
| --- | --- |
| | Safavid Politics and Society |

431
(2)

| | |
| --- | --- |
| | Safavid Art and Literature |

433
(1)

| | |
| --- | --- |
| | The Grandeur of the Mughals |

434
(14)

| | |
| --- | --- |
| | The Mughal Dynasty: A ``Gunpowder Empire''? |

434
(1)

| | |
| --- | --- |
| | Akbar and Indo-Muslim Civilization |

435
(2)
437
(2)

| | |
| --- | --- |
| | The Impact of Western Power in India |

439
(2)

| | |
| --- | --- |
| | Society Under the Mughals |

441
(1)
442
(3)
445
(1)
445
(1)
445
(3)
448
(28)
449
(7)

| | |
| --- | --- |
| | From the Ming to the Qing |

449
(2)

| | |
| --- | --- |
| | The Greatness of the Qing |

451
(5)
456
(6)
456
(2)

| | |
| --- | --- |
| | Seeds of Industrialization |

458
(1)
459
(2)
461
(1)
462
(10)
462
(1)
463
(3)

| | |
| --- | --- |
| | The Tokugawa ``Great Peace'' |

466
(2)
468
(1)
469
(3)

| | |
| --- | --- |
| | Korea: The Hermit Kingdom |

472
(4)
473
(1)
474
(1)
474
(2)

| | |
| --- | --- |
| | The West on the Eve of a New World Order |

476
(34)

| | |
| --- | --- |
| | Toward a New Heaven and a New Earth: An Intellectual Revolution in the West |

477
(9)

| | |
| --- | --- |
| | The Scientific Revolution |

477
(2)

| | |
| --- | --- |
| | Background to the Enlightenment |

479
(1)

| | |
| --- | --- |
| | The Philosophes and Their Ideas |

480
(4)

| | |
| --- | --- |
| | Culture in an Enlightened Age |

484
(2)

| | |
| --- | --- |
| | Economic Changes and the Social Order |

486
(2)
486
(1)

| | |
| --- | --- |
| | European Society in the Eighteenth Century |

486
(2)

| | |
| --- | --- |
| | Colonial Empires and Revolution in the Western Hemisphere |

488
(4)

| | |
| --- | --- |
| | The Society of Latin America |

488
(2)
490
(2)

| | |
| --- | --- |
| | Toward a New Political Order and Global Conflict |

492
(3)

| | |
| --- | --- |
| | Prussia: The Army and the Bureaucracy |

492
(1)

| | |
| --- | --- |
| | The Austrian Empire of the Habsburgs |

492
(1)

| | |
| --- | --- |
| | Russia Under Catherine the Great |

492
(1)

| | |
| --- | --- |
| | Enlightened Absolutism Reconsidered |

493
(1)

| | |
| --- | --- |
| | Changing Patterns of War: Global Confrontation |

494
(1)
495
(6)

| | |
| --- | --- |
| | Background to the French Revolution |

495
(1)

| | |
| --- | --- |
| | From Estates-General to National Assembly |

496
(1)

| | |
| --- | --- |
| | Destruction of the Old Regime |

496
(1)
497
(4)

| | |
| --- | --- |
| | Reaction and the Directory |

501
(1)
501
(9)
501
(1)
502
(3)
505
(1)
505
(1)
505
(5)

| | |
| --- | --- |
| | Part IV Modern Patterns of World History (1800--1945) |

510
(210)

| | |
| --- | --- |
| | The Beginnings of Modernization: Industrialization and Nationalism, 1800--1870 |

512
(29)

| | |
| --- | --- |
| | The Industrial Revolution and Its Impact |

513
(9)

| | |
| --- | --- |
| | The Industrial Revolution in Great Britain |

513
(2)

| | |
| --- | --- |
| | The Spread of Industrialization |

515
(2)

| | |
| --- | --- |
| | Limiting the Spread of Industrialization to the Rest of the World |

517
(1)

| | |
| --- | --- |
| | Social Impact of the Industrial Revolution |

518
(4)

| | |
| --- | --- |
| | Reaction and Revolution: The Growth of Nationalism |

522
(8)
523
(1)
523
(2)

| | |
| --- | --- |
| | Independence and the Development of the National State in Latin America |

525
(3)

| | |
| --- | --- |
| | Nationalism in the Balkans: The Ottoman Empire and the Eastern Question |

528
(2)

| | |
| --- | --- |
| | National Unification and the National State, 1848--1871 |

530
(5)
530
(1)

| | |
| --- | --- |
| | The Unification of Germany |

530
(2)

| | |
| --- | --- |
| | Nationalism and Reform: The European National State at Mid-Century |

532
(2)

| | |
| --- | --- |
| | The Growth of the United States |

534
(1)

| | |
| --- | --- |
| | The Emergence of a Canadian Nation |

535
(1)

| | |
| --- | --- |
| | Cultural Life: Romanticism and Realism in the Western World |

535
(6)

| | |
| --- | --- |
| | The Characteristics of Romanticism |

535
(1)
536
(1)

| | |
| --- | --- |
| | Realism in Literature and Art |

537
(2)
539
(1)
539
(1)
539
(2)

| | |
| --- | --- |
| | The Emergence of Mass Society in the Western World |

541
(30)

| | |
| --- | --- |
| | The Growth of Industrial Prosperity |

542
(5)
542
(1)
543
(1)
544
(1)

| | |
| --- | --- |
| | The Spread of Industrialization |

544
(1)

| | |
| --- | --- |
| | Women and Work: New Job Opportunities |

544
(1)

| | |
| --- | --- |
| | Organizing the Working Classes |

544
(3)

| | |
| --- | --- |
| | The Emergence of Mass Society |

547
(7)

| | |
| --- | --- |
| | The New Urban Environment |

547
(2)

| | |
| --- | --- |
| | The Social Structure of Mass Society |

549
(1)
550
(1)

| | |
| --- | --- |
| | Education in an Age of Mass Society |

551
(2)

| | |
| --- | --- |
| | Leisure in an Age of Mass Society |

553
(1)
554
(7)

| | |
| --- | --- |
| | Tradition and Change in Latin America |

554
(1)

| | |
| --- | --- |
| | Political Change in Latin America |

554
(1)

| | |
| --- | --- |
| | The Rise of the United States |

555
(1)
556
(1)

| | |
| --- | --- |
| | The National State in Europe |

557
(2)

| | |
| --- | --- |
| | International Rivalries and the Winds of War |

559
(1)

| | |
| --- | --- |
| | The Ottoman Empire and Nationalism in the Balkans |

560
(1)

| | |
| --- | --- |
| | Toward the Modern Consciousness: Intellectual and Cultural Developments |

561
(10)
561
(1)

| | |
| --- | --- |
| | Sigmund Freud and Psychoanalysis |

562
(1)

| | |
| --- | --- |
| | Social Darwinism and Racism |

563
(3)
566
(2)
568
(1)
569
(1)
569
(2)

| | |
| --- | --- |
| | The High Tide of Imperialism |

571
(28)

| | |
| --- | --- |
| | The Spread of Colonial Rule |

572
(9)
572
(1)
572
(1)

| | |
| --- | --- |
| | ``Opportunity in the Orient'': The Colonial Takeover in Southeast Asia |

573
(1)

| | |
| --- | --- |
| | Empire Building in Africa |

574
(7)
581
(11)

| | |
| --- | --- |
| | The Philosophy of Colonialism |

581
(1)

| | |
| --- | --- |
| | India Under the British Raj |

582
(2)

| | |
| --- | --- |
| | Colonial Regimes in Southeast Asia |

584
(4)
588
(4)

| | |
| --- | --- |
| | The Emergence of Anticolonialism |

592
(7)
592
(1)

| | |
| --- | --- |
| | Traditional Resistance: A Precursor to Nationalism |

593
(3)
596
(2)
598
(1)
598
(1)

| | |
| --- | --- |
| | Shadows over the Pacific: East Asia Under Challenge |

599
(27)

| | |
| --- | --- |
| | The Decline of the Manchus |

600
(10)
600
(3)
603
(1)

| | |
| --- | --- |
| | The Climax of Imperialism |

604
(3)

| | |
| --- | --- |
| | Collapse of the Old Order |

607
(3)

| | |
| --- | --- |
| | Chinese Society in Transition |

610
(3)

| | |
| --- | --- |
| | Obstacles to Industrialization |

610
(1)

| | |
| --- | --- |
| | The Impact of Imperialism |

610
(2)
612
(1)

| | |
| --- | --- |
| | A Rich Country and a Strong State: The Rise of Modern Japan |

613
(13)
613
(1)
614
(3)

| | |
| --- | --- |
| | Joining the Imperialist Club |

617
(3)

| | |
| --- | --- |
| | Japanese Culture in Transition |

620
(1)

| | |
| --- | --- |
| | The Meiji Restoration: A Revolution from Above |

621
(3)
624
(1)
625
(1)
625
(1)

| | |
| --- | --- |
| | The Beginning of the Twentieth-Century Crisis: War and Revolution |

626
(30)
627
(3)

| | |
| --- | --- |
| | Nationalism and Internal Dissent |

627
(1)
627
(1)

| | |
| --- | --- |
| | The Outbreak of War: Summer 1914 |

627
(3)
630
(8)

| | |
| --- | --- |
| | 1914--1915: Illusions and Stalemate |

630
(2)

| | |
| --- | --- |
| | 1916--1917: The Great Slaughter |

632
(2)
634
(2)

| | |
| --- | --- |
| | The Home Front: The Impact of Total War |

636
(2)
638
(8)
638
(4)
642
(1)
643
(3)

| | |
| --- | --- |
| | The Futile Search for Stability |

646
(4)

| | |
| --- | --- |
| | Uneasy Peace, Uncertain Security |

646
(1)
646
(1)
647
(2)

| | |
| --- | --- |
| | Socialism in Soviet Russia |

649
(1)

| | |
| --- | --- |
| | In Pursuit of a New Reality: Cultural and Intellectual Trends |

650
(6)

| | |
| --- | --- |
| | Nightmares and New Visions |

651
(2)
653
(1)
653
(1)
654
(1)
654
(2)

| | |
| --- | --- |
| | Nationalism, Revolution, and Dictatorship: Africa, Asia, and Latin America from 1919 to 1939 |

656
(28)
657
(10)
657
(1)

| | |
| --- | --- |
| | Gandhi and the Indian National Congress |

658
(2)

| | |
| --- | --- |
| | The Nationalist Revolt in the Middle East |

660
(5)

| | |
| --- | --- |
| | Nationalism and Revolution in Asia and Africa |

665
(2)
667
(8)

| | |
| --- | --- |
| | Mr. Science and Mr. Democracy: The New Culture Movement |

668
(1)

| | |
| --- | --- |
| | The Nationalist-Communist Alliance |

669
(1)
670
(3)

| | |
| --- | --- |
| | ``Down with Confucius and Sons'': Economic, Social, and Cultural Change in Republican China |

673
(2)
675
(2)
675
(1)
676
(1)
677
(1)

| | |
| --- | --- |
| | Nationalism and Dictatorship in Latin America |

677
(7)

| | |
| --- | --- |
| | The Economy and the United States |

678
(1)

| | |
| --- | --- |
| | The Move to Authoritarianism |

679
(1)
680
(1)
681
(1)
682
(1)
683
(1)

| | |
| --- | --- |
| | The Crisis Deepens: World War II |

684
(36)

| | |
| --- | --- |
| | Retreat from Democracy: Dictatorial Regimes |

685
(6)
685
(1)
686
(4)

| | |
| --- | --- |
| | The Stalinist Era in the Soviet Union |

690
(1)

| | |
| --- | --- |
| | The Rise of Militarism in Japan |

691
(1)
691
(5)

| | |
| --- | --- |
| | The Path to War in Europe |

692
(2)
694
(2)
696
(6)
696
(2)
698
(1)

| | |
| --- | --- |
| | The Turning Point of the War, 1942--1943 |

698
(3)

| | |
| --- | --- |
| | The Last Years of the War |

701
(1)
702
(5)
702
(2)
704
(1)
705
(2)
707
(5)
708
(1)
708
(4)

| | |
| --- | --- |
| | Aftermath: Toward the Cold War |

712
(8)
712
(1)
713
(1)
714
(2)
716
(1)
716
(4)

| | |
| --- | --- |
| | Part V Toward a Global Civilization? The World Since 1945 |

720
(167)

| | |
| --- | --- |
| | In the Grip of the Cold War: The Breakdown of the Yalta System |

722
(28)

| | |
| --- | --- |
| | The Collapse of the Grand Alliance |

723
(5)

| | |
| --- | --- |
| | Soviet Domination of Eastern Europe |

723
(1)

| | |
| --- | --- |
| | Descent of the Iron Curtain |

723
(1)
724
(1)
724
(1)
725
(3)
728
(5)
728
(2)
730
(1)
731
(1)
732
(1)

| | |
| --- | --- |
| | From Confrontation to Coexistence |

733
(9)

| | |
| --- | --- |
| | Ferment in Eastern Europe |

733
(2)

| | |
| --- | --- |
| | Rivalry in the Third World |

735
(2)
737
(1)
738
(4)
742
(8)
743
(1)
744
(1)

| | |
| --- | --- |
| | Renewed Tensions in the Third World |

745
(1)

| | |
| --- | --- |
| | Countering the Evil Empire |

745
(2)
747
(1)
747
(1)
748
(2)

| | |
| --- | --- |
| | Brave New World: Communism on Trial |

750
(33)
751
(8)

| | |
| --- | --- |
| | From Stalin to Khrushchev |

751
(2)

| | |
| --- | --- |
| | The Brezhnev Years (1964--1982) |

753
(4)

| | |
| --- | --- |
| | Cultural Expression in the Soviet Bloc |

757
(1)

| | |
| --- | --- |
| | Social Changes in the Soviet Union and Eastern Europe |

758
(1)

| | |
| --- | --- |
| | The Disintegration of the Soviet Empire |

759
(6)
760
(2)

| | |
| --- | --- |
| | The New Russia: From Empire to Nation |

762
(2)

| | |
| --- | --- |
| | Eastern Europe: From Satellites to Sovereign Nations |

764
(1)

| | |
| --- | --- |
| | The East Is Red: China Under Communism |

765
(8)
765
(1)

| | |
| --- | --- |
| | The Transition to Socialism |

766
(1)

| | |
| --- | --- |
| | The Great Proletarian Cultural Revolution |

767
(1)
768
(1)

| | |
| --- | --- |
| | Incident at Tiananmen Square |

769
(2)
771
(2)

| | |
| --- | --- |
| | ``Serve the People'': Chinese Society Under Communism |

773
(10)
773
(3)
776
(1)
777
(3)
780
(1)
780
(1)
780
(3)

| | |
| --- | --- |
| | Europe and the Western Hemisphere Since 1945 |

783
(32)

| | |
| --- | --- |
| | Recovery and Renewal in Europe |

784
(5)

| | |
| --- | --- |
| | Western Europe: The Triumph of Democracy |

784
(2)

| | |
| --- | --- |
| | Eastern Europe After Communism |

786
(3)

| | |
| --- | --- |
| | The Unification of Europe |

789
(1)

| | |
| --- | --- |
| | Emergence of the Superpower: The United States |

789
(4)

| | |
| --- | --- |
| | American Politics and Society Through the Vietnam Era |

790
(1)

| | |
| --- | --- |
| | The Shift Rightward After 1973 |

791
(2)

| | |
| --- | --- |
| | The Development of Canada |

793
(1)
794
(6)

| | |
| --- | --- |
| | The Threat of Marxist Revolutions |

795
(2)

| | |
| --- | --- |
| | Nationalism and the Military: The Examples of Argentina and Brazil |

797
(2)
799
(1)

| | |
| --- | --- |
| | Society and Culture in the Western World |

800
(15)

| | |
| --- | --- |
| | The Emergence of a New Society |

800
(1)
801
(1)

| | |
| --- | --- |
| | Women in the Postwar Western World |

801
(4)
805
(1)

| | |
| --- | --- |
| | Guest Workers and Immigrants |

806
(1)

| | |
| --- | --- |
| | The Environment and the Green Movements |

807
(1)

| | |
| --- | --- |
| | Western Culture Since 1945 |

807
(1)
808
(1)

| | |
| --- | --- |
| | The World of Science and Technology |

809
(1)

| | |
| --- | --- |
| | Varieties of Religious Life |

810
(2)

| | |
| --- | --- |
| | The Explosion of Popular Culture |

812
(1)
812
(1)
812
(1)
813
(2)

| | |
| --- | --- |
| | Challenges of Nation-Building in Africa and the Middle East |

815
(36)

| | |
| --- | --- |
| | Uhuru: The Struggle for Independence in Africa |

816
(2)
816
(1)
817
(1)
818
(8)

| | |
| --- | --- |
| | Pan-Africanism and Nationalism: The Destiny of Africa |

818
(1)

| | |
| --- | --- |
| | Dream and Reality: Political and Economic Conditions in Independent Africa |

819
(1)
819
(7)

| | |
| --- | --- |
| | Continuity and Change in Modern African Societies |

826
(5)
826
(1)
827
(1)
827
(2)
829
(2)
831
(1)
831
(9)

| | |
| --- | --- |
| | The Question of Palestine |

832
(1)
833
(1)
834
(3)
837
(1)
838
(1)

| | |
| --- | --- |
| | Conflict in Afghanistan and Iraq |

839
(1)

| | |
| --- | --- |
| | Society and Culture in the Contemporary Middle East |

840
(11)
840
(1)
840
(2)
842
(3)
845
(1)
846
(2)
848
(1)
848
(1)
849
(2)

| | |
| --- | --- |
| | Toward the Pacific Century? |

851
(36)
852
(9)

| | |
| --- | --- |
| | The End of the British Raj |

852
(1)
852
(3)

| | |
| --- | --- |
| | The Land of the Pure: Pakistan Since Independence |

855
(1)

| | |
| --- | --- |
| | Poverty and Pluralism in South Asia |

856
(3)

| | |
| --- | --- |
| | South Asian Art and Literature Since Independence |

859
(2)
861
(1)
861
(7)

| | |
| --- | --- |
| | The Era of Independent States |

861
(4)

| | |
| --- | --- |
| | Regional Conflict and Cooperation: The Rise of ASEAN |

865
(1)

| | |
| --- | --- |
| | Daily Life: Town and Country in Contemporary Southeast Asia |

866
(1)
867
(1)
867
(1)
868
(19)

| | |
| --- | --- |
| | The Japanese Miracle: The Transformation of Modern Japan |

868
(6)
874
(4)

| | |
| --- | --- |
| | On the Margins of Asia: Postwar Australia and New Zealand |

878
(1)

| | |
| --- | --- |
| | Explaining the East Asian Miracle |

879
(1)
880
(1)
881
(1)
881
(6)
Glossary
887
(12)
Pronunciation Guide
899
(11)
Credits
910
(13)
Index
923