Note: Supplemental materials are not guaranteed with Rental or Used book purchases.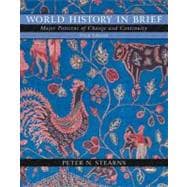 World History in Brief: Major Patterns of Change and Continuity, Single Volume Edition
ISBN13:
9780321196729
by
Stearns, Peter N.
Questions About This Book?
Why should I rent this book?
Renting is easy, fast, and cheap! Renting from eCampus.com can save you hundreds of dollars compared to the cost of new or used books each semester. At the end of the semester, simply ship the book back to us with a free UPS shipping label! No need to worry about selling it back.
How do rental returns work?
Returning books is as easy as possible. As your rental due date approaches, we will email you several courtesy reminders. When you are ready to return, you can print a free UPS shipping label from our website at any time. Then, just return the book to your UPS driver or any staffed UPS location. You can even use the same box we shipped it in!
What version or edition is this?
This is the 5th edition with a publication date of 1/1/2005.
What is included with this book?
The Used copy of this book is not guaranteed to include any supplemental materials. Typically, only the book itself is included.
The Rental copy of this book is not guaranteed to include any supplemental materials. You may receive a brand new copy, but typically, only the book itself.
Summary
With its brief, global (rather than West-centered) approach, World History in Brief, Fifth Edition, seeks to show how different civilizations developed in a global context, and then encountered the various forces of contemporary life. Rather than overwhelm students, the chief goal of World History in Brief is to present the big picture, to facilitate comparison and assessment of change, and to highlight the major developments in the world's history. This text also presents the global interactions of major civilizations so that students can compare and assess changes. the compact size of this text gives instructors the opportunity to take advantage of additional supplementary readings.
Table of Contents
List of Maps
xvi
List of Features
xvii
Preface
xviii
PART I The Rise of Agriculture and Agricultural Civilizations
1
(48)

| | |
| --- | --- |
| | CHAPTER 1 From Human Prehistory to the Rise of Agriculture |

7
(13)

| | |
| --- | --- |
| | Getting Started Is Always Hard |

7
(1)

| | |
| --- | --- |
| | Human Development and Change |

8
(4)

| | |
| --- | --- |
| | HISTORY DEBATE People in the Americas |

12
(4)
12
(3)

| | |
| --- | --- |
| | The Nature of Agricultural Societies |

15
(1)

| | |
| --- | --- |
| | UNDERSTANDING CULTURES The Nature of Culture |

16
(4)
17
(2)
19
(1)

| | |
| --- | --- |
| | CHAPTER 2 Early Civilization |

20
(20)
20
(9)

| | |
| --- | --- |
| | Egypt and Mesopotamia Compared |

29
(1)

| | |
| --- | --- |
| | HISTORY DEBATE Women in Patriarchal Societies |

30
(4)

| | |
| --- | --- |
| | Transitions: The End of the River Valley Period |

33
(1)

| | |
| --- | --- |
| | UNDERSTANDING CULTURES Uses and Varieties |

34
(6)

| | |
| --- | --- |
| | The Heritage of the River Valley Civilizations |

35
(1)

| | |
| --- | --- |
| | New States and Peoples Around 1000 B.C.E. |

36
(2)
38
(1)
38
(2)

| | |
| --- | --- |
| | CHAPTER 3 Nomadic Societies |

40
(9)
40
(2)

| | |
| --- | --- |
| | Nomadic Society and Culture |

42
(2)

| | |
| --- | --- |
| | UNDERSTANDING CULTURES Nomadic Art |

44
(2)
44
(1)

| | |
| --- | --- |
| | Nomads and Global Patterns |

45
(1)

| | |
| --- | --- |
| | HISTORY DEBATE The Contributions of Nomads |

46
(2)
46
(2)

| | |
| --- | --- |
| | CONTACTS AND IDENTITIES Part The Rise of Agriculture and Agricultural Civilizations |

48
(1)
PART II The Classical Period, 1000 B.C.E.-500 C.E.
49
(92)

| | |
| --- | --- |
| | CHAPTER 4 Classical Civilization: China |

55
(20)

| | |
| --- | --- |
| | Patterns in Classical China |

56
(4)
60
(2)
62
(2)
63
(1)

| | |
| --- | --- |
| | WORLD PROFILES Confucius, or Kong Fuzi (c. 551-479 B.C.E.) |

64
(7)
68
(3)

| | |
| --- | --- |
| | WORLD PROFILES Ban Zhao (c. 48-117 C.E.) |

71
(4)

| | |
| --- | --- |
| | How Chinese Civilization Fit Together |

72
(2)
74
(1)

| | |
| --- | --- |
| | CHAPTER 5 Classical Civilization: India |

75
(19)

| | |
| --- | --- |
| | The Framework for Indian History: Geography and a Formative Period |

76
(2)

| | |
| --- | --- |
| | Patterns in Classical India |

78
(3)
81
(1)

| | |
| --- | --- |
| | HISTORY DEBATE Interpreting Civilization, Round Two |

82
(7)
83
(6)

| | |
| --- | --- |
| | UNDERSTANDING CULTURES Comparing Systems of Belief |

89
(5)
89
(2)
91
(1)
92
(1)
92
(2)

| | |
| --- | --- |
| | CHAPTER 6 Classical Civilization in the Mediterranean: Greece and Rome |

94
(22)
95
(1)

| | |
| --- | --- |
| | Patterns of Greek and Roman History |

96
(3)

| | |
| --- | --- |
| | Greek and Roman Political Institutions |

99
(3)

| | |
| --- | --- |
| | WORLD PROFILES Julius Caesar (100-44 B.C.E.) |

102
(8)
104
(6)

| | |
| --- | --- |
| | UNDERSTANDING CULTURES When Two Belief Systems Meet |

110
(2)

| | |
| --- | --- |
| | Economy and Society in the Mediterranean |

110
(2)

| | |
| --- | --- |
| | HISTORY DEBATE Mediterranean Civilization and "Western" Civilization |

112
(4)
114
(1)
114
(2)

| | |
| --- | --- |
| | CHAPTER 7 The Classical Period: Directions, Diversities, and Declines by 500 C.E. |

116
(25)

| | |
| --- | --- |
| | Expansion and Integration |

117
(1)

| | |
| --- | --- |
| | Beyond the Classical Civilizations |

118
(3)

| | |
| --- | --- |
| | Decline in China and India |

121
(3)
124
(5)

| | |
| --- | --- |
| | HISTORY DEBATE What Caused Decline and Fa11? |

129
(4)
129
(4)

| | |
| --- | --- |
| | WORLD PROFILES Saint Paul (Paul of Tarsus) |

133
(6)

| | |
| --- | --- |
| | The World Around 500 C.L. |

137
(1)
137
(2)

| | |
| --- | --- |
| | CONTACTS AND IDENTITIES Part II: The Classical Period, 1000 Q.C.E.-500 C.E. |

139
(2)
PART III The Postclassical Period, 500-1450 C.E.
141
(124)

| | |
| --- | --- |
| | CHAPTER 8 The Rise of Islam: Civilization in the Middle East |

149
(25)

| | |
| --- | --- |
| | UNDERSTANDING CULTURES The Impact of World Religions |

150
(1)
150
(1)

| | |
| --- | --- |
| | WORLD PROFILES Muhammad (570-632 C.E.) |

151
(7)

| | |
| --- | --- |
| | Patterns of Islamic History |

152
(4)

| | |
| --- | --- |
| | Islamic Political Institutions |

156
(2)

| | |
| --- | --- |
| | HISTORY DEBATE Political Implications of Islam |

158
(5)

| | |
| --- | --- |
| | Islam and Middle Eastern Culture |

159
(4)

| | |
| --- | --- |
| | WORLD PROFILES Omar Khayyam (c.11th-12th centuries) |

163
(11)

| | |
| --- | --- |
| | Economy and Society in the Middle East |

165
(4)

| | |
| --- | --- |
| | The Decline of Middle Eastern Civilization |

169
(1)
170
(4)

| | |
| --- | --- |
| | CHAPTER 9 India and Southeast Asia Under the Impact of Islam |

174
(9)

| | |
| --- | --- |
| | The Development of Indian Culture |

173
(3)

| | |
| --- | --- |
| | HISTORY DEBATE The Caste System |

176
(2)

| | |
| --- | --- |
| | The Muslim Challenge in India |

176
(2)

| | |
| --- | --- |
| | UNDERSTANDING CULTURES Comparison and Contact |

178
(5)
179
(2)
181
(1)
181
(2)

| | |
| --- | --- |
| | CHAPTER 10 Africa and Islam |

183
(11)

| | |
| --- | --- |
| | Sub-Saharan Africa and the World Network |

184
(1)
185
(5)
186
(4)

| | |
| --- | --- |
| | HISTORY DEBATE Handles for African History |

190
(4)

| | |
| --- | --- |
| | Features of African Civilization |

191
(2)
193
(1)

| | |
| --- | --- |
| | CHAPTER 11 East European Civilization: Byzantium and Russia |

194
(14)
195
(1)

| | |
| --- | --- |
| | WORLD PROFILES The Emperor Justinian (527-565 C.E.) |

196
(7)

| | |
| --- | --- |
| | The Early Russian Phase: Kievan Rus' |

200
(2)

| | |
| --- | --- |
| | East European Political Institutions |

202
(1)

| | |
| --- | --- |
| | HISTORY DEBATE A Russian Civilization? |

203
(5)

| | |
| --- | --- |
| | East European Religion and Culture |

203
(2)

| | |
| --- | --- |
| | East European Economy and Society |

205
(1)

| | |
| --- | --- |
| | East European Civilization in Eclipse |

206
(1)
207
(1)

| | |
| --- | --- |
| | CHAPTER 12 Western Civilization: The Middle Ages |

208
(18)

| | |
| --- | --- |
| | Early Patterns in Western Civilization |

209
(4)

| | |
| --- | --- |
| | HISTORY DEBATE Western Civilization |

213
(6)

| | |
| --- | --- |
| | Medieval Political Institutions |

213
(2)

| | |
| --- | --- |
| | Medieval Religion and Culture |

215
(3)
218
(1)

| | |
| --- | --- |
| | UNDERSTANDING CULTURES Christianity and Syncretism |

219
(7)
222
(1)

| | |
| --- | --- |
| | Tensions in the Later Middle Ages |

223
(1)

| | |
| --- | --- |
| | After the Medieval, What? |

224
(1)
224
(2)

| | |
| --- | --- |
| | CHAPTER 13 The Spread of East Asian Civilization |

226
(18)

| | |
| --- | --- |
| | Political and Cultural Developments in China |

227
(1)

| | |
| --- | --- |
| | WORLD PROFILES Taizong (626-649 C.E.) |

228
(12)

| | |
| --- | --- |
| | Economy and Society in China |

233
(3)

| | |
| --- | --- |
| | Civilization in Korea, Vietnam, and Japan |

236
(3)

| | |
| --- | --- |
| | Culture, Society, and Economy in Japan |

239
(1)

| | |
| --- | --- |
| | WORLD PROFILES Mugai Nyodai |

240
(4)

| | |
| --- | --- |
| | East Asian Self-Confidence |

242
(1)
242
(2)

| | |
| --- | --- |
| | CHAPTER 14 Centers of Civilization in the Americas |

244
(11)
246
(3)

| | |
| --- | --- |
| | HISTORY DEBATE What Happened to the Mayas? |

249
(3)

| | |
| --- | --- |
| | American Indian Civilization: A Continuing Heritage |

251
(1)

| | |
| --- | --- |
| | UNDERSTANDING CULTURES The Question of Legacies |

252
(3)
253
(1)
253
(2)

| | |
| --- | --- |
| | CHAPTER 15 The Mongol Interlude and the End of the Postclassical Period |

255
(10)
256
(3)

| | |
| --- | --- |
| | WORLD PROFILES Chabi Khan |

259
(2)

| | |
| --- | --- |
| | China and the West as New World Powers |

260
(1)

| | |
| --- | --- |
| | HISTORY DEBATE Causes of Global Change by 1450 |

261
(3)

| | |
| --- | --- |
| | The End of Transition: Postclassical to Early Modern |

262
(1)
263
(1)

| | |
| --- | --- |
| | CONTACTS AND IDENTITIES Part III: The Postclassical Period, 500-1450 C.E. |

264
(1)
PART IV A New World Economy, 1450-1750
265
(108)

| | |
| --- | --- |
| | CHAPTER 16 The West and the World: Discovery, Colonization, and Trade |

275
(26)

| | |
| --- | --- |
| | Patterns of Exploration and Trade |

276
(1)

| | |
| --- | --- |
| | HISTORY DEBATE The West as World Leader |

277
(3)

| | |
| --- | --- |
| | WORLD PROFILES Amerigo Vespucci (1451-1512) |

280
(6)
281
(2)
283
(3)

| | |
| --- | --- |
| | WORLD PROFILES Olandah Equiano |

286
(8)

| | |
| --- | --- |
| | Colonization in Latin America: The Birth of a New Civilization |

287
(3)

| | |
| --- | --- |
| | Latin American Civilization |

290
(4)

| | |
| --- | --- |
| | WORLD PROFILES Sor Juana Inés de la Cruz (1651-1695) |

294
(7)

| | |
| --- | --- |
| | Western Civilization in North America |

295
(1)

| | |
| --- | --- |
| | North and South America: Reasons for the Differences |

296
(2)

| | |
| --- | --- |
| | The World Economy Revisited |

298
(1)
299
(2)

| | |
| --- | --- |
| | CHAPTER 17 Western Civilization Changes Shape in the Early Modern Centuries |

301
(24)

| | |
| --- | --- |
| | Patterns of Early Modern Western History |

302
(1)

| | |
| --- | --- |
| | WORLD PROFILES Maria Portinari |

303
(15)

| | |
| --- | --- |
| | Political Institutions and Ideas |

310
(3)

| | |
| --- | --- |
| | The Ferment in Western Culture |

313
(5)

| | |
| --- | --- |
| | UNDERSTANDING CULTURES A Revolution in Popular Culture |

318
(7)

| | |
| --- | --- |
| | Transformations in Economic and Social Life |

319
(4)

| | |
| --- | --- |
| | How Early Modern Trends in the West Interrelated |

323
(1)
323
(2)

| | |
| --- | --- |
| | CHAPTER 18 The Rise of Eastern Europe |

325
(15)

| | |
| --- | --- |
| | Patterns of Early Modern Russian History |

326
(3)

| | |
| --- | --- |
| | WORLD PROFILES Catherine the Great (1762-1796) |

329
(2)

| | |
| --- | --- |
| | HISTORY DEBATE A Russian Civilization? |

331
(9)

| | |
| --- | --- |
| | Russian Political Institutions |

332
(1)
333
(3)

| | |
| --- | --- |
| | Economy and Society in Russia |

336
(2)

| | |
| --- | --- |
| | The World's First Effort at Westernization |

338
(1)
339
(1)

| | |
| --- | --- |
| | CHAPTER 19 The Ottoman and Mughal Empires |

340
(17)

| | |
| --- | --- |
| | The Expanding Force of the Ottoman Empire |

341
(5)

| | |
| --- | --- |
| | The Ottoman Empire in Decline |

346
(1)

| | |
| --- | --- |
| | HISTORY DEBATE Guns and Their Impact |

347
(4)

| | |
| --- | --- |
| | The Mughal Empire: Invasion, Consolidation, and Decline |

348
(3)

| | |
| --- | --- |
| | UNDERSTANDING CULTURES Reactions to Western Values |

351
(6)

| | |
| --- | --- |
| | Western Intrusion into the Mughal Empire |

353
(1)

| | |
| --- | --- |
| | The Rise and Decline of Asian Empires |

354
(1)
355
(2)

| | |
| --- | --- |
| | CHAPTER 20 East Asia: Degrees of Isolation |

357
(16)

| | |
| --- | --- |
| | China: The Resumption of the Dynasties |

358
(2)

| | |
| --- | --- |
| | Cultural and Social Trends: Some New Problems |

360
(3)

| | |
| --- | --- |
| | HISTORY DEBATE Chinese and Western Economies |

363
(3)

| | |
| --- | --- |
| | Japan and the Origins of Isolation |

364
(2)

| | |
| --- | --- |
| | WORLD PROFILES Toyotomi Hideyoshi (1536-1548) |

366
(5)

| | |
| --- | --- |
| | Vitality and Tension in East Asia |

369
(1)
369
(2)

| | |
| --- | --- |
| | CONTACTS AND IDENTITIES Part IV: A New World Economy, 1450-1750 |

371
(2)
PART V The World's first Industrial Period, 1750-1914
373
(120)

| | |
| --- | --- |
| | CHAPTER 21 The first Industrial Revolution: Western Society, 1780-1914 |

383
(25)

| | |
| --- | --- |
| | Patterns of Industrialization |

384
(1)

| | |
| --- | --- |
| | Causes of Industrialization |

385
(2)

| | |
| --- | --- |
| | HISTORY DEBATE Consumerism and Industrialization |

387
(11)

| | |
| --- | --- |
| | Effects of Industrialization |

388
(2)

| | |
| --- | --- |
| | The Period of Revolution, 1789-1848 |

390
(4)

| | |
| --- | --- |
| | The Postrevolutionary Era and Nationalism, 1848-1871 |

394
(1)

| | |
| --- | --- |
| | "The Social Question," 1871-1914 |

395
(1)

| | |
| --- | --- |
| | Western Political Institutions in the Industrial Revolution |

396
(2)

| | |
| --- | --- |
| | WORLD PROFILES Mary Wollstonecraft (1759-1797) |

398
(5)

| | |
| --- | --- |
| | Western Culture in the Industrial Century |

399
(3)
402
(1)

| | |
| --- | --- |
| | HISTORY DEBATE Women in Industrial Society |

403
(5)

| | |
| --- | --- |
| | Gain and Strain in Industrialization |

405
(1)
406
(2)

| | |
| --- | --- |
| | CHAPTER 22 World Economy and Western Imperialism: Africa and South Asia |

408
(18)

| | |
| --- | --- |
| | The Reasons for Imperialism: Motives and Means |

410
(1)

| | |
| --- | --- |
| | HISTORY DEBATE Causes of the Abolition of Slavery |

411
(10)

| | |
| --- | --- |
| | Imperialism in India and Southeast Asia |

413
(6)
419
(2)

| | |
| --- | --- |
| | WORLD PROFILES John Mensch Sorbah (1865-1910) |

421
(5)
423
(1)
424
(2)

| | |
| --- | --- |
| | CHAPTER 23 The Settler Societies: The West on Frontiers |

426
(8)
427
(1)

| | |
| --- | --- |
| | HISTORY DEBATE Exceptionalism |

428
(3)
429
(1)

| | |
| --- | --- |
| | Newer European Settlements |

429
(2)

| | |
| --- | --- |
| | WORLD PROFILES Hongi Hika |

431
(3)

| | |
| --- | --- |
| | Special Features of Settler Societies |

432
(1)
432
(2)

| | |
| --- | --- |
| | CHAPTER 24 The Development of Latin American Civilization |

434
(19)
435
(3)

| | |
| --- | --- |
| | WORLD PROFILES Simón Bolivar (1783-1830) |

438
(4)

| | |
| --- | --- |
| | The Period of Consolidation |

439
(2)

| | |
| --- | --- |
| | Late-Century Trends: Dictatorship, Immigration, and Western Intervention |

441
(1)

| | |
| --- | --- |
| | WORLD PROFILES Benito Juárez (1806-1872) |

442
(4)

| | |
| --- | --- |
| | Political Institutions and Values |

444
(2)

| | |
| --- | --- |
| | HISTORY DEBATE Is Latin America Western? |

446
(7)
446
(2)
448
(3)
451
(1)
452
(1)

| | |
| --- | --- |
| | CHAPTER 25 The Middle East and China in the Imperialist Century |

453
(15)

| | |
| --- | --- |
| | The Attempt to Modernize Egypt |

454
(1)

| | |
| --- | --- |
| | Decline of the Ottoman Empire |

455
(2)
457
(2)

| | |
| --- | --- |
| | WORLD PROFILES Lalla Zainab |

459
(4)
460
(3)

| | |
| --- | --- |
| | HISTORY DEBATE Chinas 19th-Century Sluggishness |

463
(5)

| | |
| --- | --- |
| | The Need for Further Change |

466
(1)
466
(2)

| | |
| --- | --- |
| | CHAPTER 26 Russia and Japan: Industrialization Outside the West |

468
(17)

| | |
| --- | --- |
| | Russian Conservatism: An Alternative to the West |

469
(1)

| | |
| --- | --- |
| | The Beginnings of Russian Industrialization |

470
(2)

| | |
| --- | --- |
| | The Foundations of Revolution in Russia |

472
(3)

| | |
| --- | --- |
| | UNDERSTANDING CULTURES Persistence and Change in Russia |

475
(5)

| | |
| --- | --- |
| | The Culture of Eastern Europe |

475
(2)

| | |
| --- | --- |
| | The Opening of Trade in Japan |

477
(1)

| | |
| --- | --- |
| | Japanese Industrialization in Response to the West |

478
(2)

| | |
| --- | --- |
| | HISTORY DEBATE Different Confucian Paths |

480
(5)

| | |
| --- | --- |
| | Cultural and Economic Effects of Japanese Industrialization |

480
(2)

| | |
| --- | --- |
| | The Strain of Modernization |

482
(1)
483
(2)

| | |
| --- | --- |
| | CHAPTER 27 World War I and the End of an Era |

485
(8)
485
(1)

| | |
| --- | --- |
| | HISTORY DEBATE Causes of World War I |

486
(4)

| | |
| --- | --- |
| | A World History Watershed |

488
(1)
489
(1)

| | |
| --- | --- |
| | CONTACTS AND IDENTITIES Part V: The World's first Industrial Period, 1750-1914 |

490
(3)
PART VI The Contemporary World
493
(186)

| | |
| --- | --- |
| | CHAPTER 28 The West in the 20th Century |

508
(26)

| | |
| --- | --- |
| | Patterns of Western History: 1914-1945 |

508
(7)

| | |
| --- | --- |
| | Patterns of Western History: 1950 to the Present |

515
(4)

| | |
| --- | --- |
| | Western Political Institutions in the 20th Century |

519
(1)

| | |
| --- | --- |
| | HISTORY DEBATE Convergence |

520
(8)

| | |
| --- | --- |
| | Contemporary Western Culture |

521
(4)
525
(3)

| | |
| --- | --- |
| | WORLD PROFILES Simone de Beauvoir |

528
(6)
531
(1)
532
(2)

| | |
| --- | --- |
| | CHAPTER 29 Eastern European Civilization |

534
(22)
535
(2)

| | |
| --- | --- |
| | HISTORY DEBATE Women and the Russian Revolution |

537
(9)

| | |
| --- | --- |
| | Patterns of Soviet History After 1923 |

538
(4)

| | |
| --- | --- |
| | Soviet Political Institutions |

542
(3)
545
(1)

| | |
| --- | --- |
| | UNDERSTANDING CULTURES The Impact of Revolution |

546
(10)
547
(2)

| | |
| --- | --- |
| | The Explosion of the 1980's |

549
(1)

| | |
| --- | --- |
| | Dismantling the Soviet Empire |

550
(1)

| | |
| --- | --- |
| | Renewed Turmoil After 1991 |

551
(2)

| | |
| --- | --- |
| | Uncertain Futures in Eastern Europe |

553
(1)
554
(2)

| | |
| --- | --- |
| | CHAPTER 30 East Asia in the 20th Century |

556
(20)

| | |
| --- | --- |
| | A Clash of Cultures: Revolution and War |

557
(1)

| | |
| --- | --- |
| | WORLD PROFILES Sun Yat-sen (1867-1925) |

558
(8)

| | |
| --- | --- |
| | Return to Stability in Japan |

562
(1)

| | |
| --- | --- |
| | Upheaval and Ongoing Revolution in China |

562
(3)

| | |
| --- | --- |
| | East Asia Toward the End of the Century |

565
(1)
565
(1)

| | |
| --- | --- |
| | HISTORY DEBATE Japan and Westernization |

566
(10)
570
(1)
570
(4)
574
(1)
575
(1)

| | |
| --- | --- |
| | CHAPTER 31 India and Southeast Asia: World War I to Independence |

576
(19)
577
(1)

| | |
| --- | --- |
| | The Nonviolent Strategies of Gandhi |

578
(1)

| | |
| --- | --- |
| | WORLD PROFILES Mohandas Gandhi (1889-1948) |

579
(9)

| | |
| --- | --- |
| | Nationalism in Southeast Asia |

580
(1)

| | |
| --- | --- |
| | Decolonization After the War |

581
(2)

| | |
| --- | --- |
| | Southeast Asia After Independence |

583
(2)
585
(3)

| | |
| --- | --- |
| | HISTORY DEBATE Women's Conditions in India |

588
(7)
592
(1)
593
(2)

| | |
| --- | --- |
| | CHAPTER 32 Middle Eastern Civilization in the 20th Century |

595
(21)

| | |
| --- | --- |
| | Replacing the Ottoman Empire |

596
(2)

| | |
| --- | --- |
| | Assertions of Arab Nationalism |

598
(5)

| | |
| --- | --- |
| | The New Role of the State |

603
(1)

| | |
| --- | --- |
| | The Rise of Fundamentalism |

604
(4)
608
(1)

| | |
| --- | --- |
| | Middle Eastern Culture and Society |

608
(1)

| | |
| --- | --- |
| | UNDERSTANDING CULTURES Fundamentalism |

609
(7)

| | |
| --- | --- |
| | New Tensions in the Early 2000's |

612
(1)
612
(2)
614
(2)

| | |
| --- | --- |
| | CHAPTER 33 Latin America in the 20th Century |

616
(19)

| | |
| --- | --- |
| | Latin America in 20th-Century World History |

617
(1)

| | |
| --- | --- |
| | The Mexican Revolution, 1910-1920's |

617
(3)

| | |
| --- | --- |
| | Effects of the Depression, 1930's-1950's |

620
(2)

| | |
| --- | --- |
| | Revolution and Response, 1950's-1990's |

622
(4)
626
(2)
628
(1)

| | |
| --- | --- |
| | HISTORY DEBATE Latin America and the Third World |

629
(1)

| | |
| --- | --- |
| | UNDERSTANDING CULTURES Adapting Consumer Values |

630
(5)

| | |
| --- | --- |
| | Toward a Greater World Role? |

632
(1)
633
(2)

| | |
| --- | --- |
| | CHAPTER 34 Sub-Saharan Africa: From Colonies to New Nations |

635
(20)
636
(3)

| | |
| --- | --- |
| | The Transformation to Independence |

639
(1)

| | |
| --- | --- |
| | The Challenges of New Nationhood |

640
(4)

| | |
| --- | --- |
| | African Political Culture |

644
(2)
646
(1)

| | |
| --- | --- |
| | HISTORY DEBATE The Question of Identity |

647
(8)
650
(3)
653
(1)
653
(2)

| | |
| --- | --- |
| | CHAPTER 35 The Early 21st Century: World History and the Future |

655
(24)
656
(2)
658
(2)

| | |
| --- | --- |
| | HISTORY DEBATE How Much Historical Change? |

660
(17)

| | |
| --- | --- |
| | A World of Regions: Disputes and Alliances |

660
(3)
663
(2)
665
(1)
666
(1)

| | |
| --- | --- |
| | Business Organization and Investment |

666
(1)
667
(1)
668
(1)

| | |
| --- | --- |
| | Institutions of Globalization |

669
(2)

| | |
| --- | --- |
| | Protest and Economic Uncertainties |

671
(1)

| | |
| --- | --- |
| | Nationalism and Religious Currents |

671
(1)
672
(1)

| | |
| --- | --- |
| | Global Warming and a Planet in Peril |

673
(1)
674
(1)
674
(1)
675
(2)

| | |
| --- | --- |
| | CONTACTS AND IDENTITIES Part VI: The Contemporary World |

677
(2)
Credits
679
(2)
Index
681