Note: Supplemental materials are not guaranteed with Rental or Used book purchases.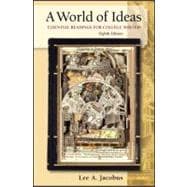 A World of Ideas: Essential Readings for College Writers
by
Jacobus, Lee A.
Questions About This Book?
What version or edition is this?
This is the 8th edition with a publication date of 3/3/2009.
What is included with this book?
The Used copy of this book is not guaranteed to include any supplemental materials. Typically, only the book itself is included.
Summary
The most successful reader of its kind,A World of Ideasintroduces first-year writing students to the thinkers and writers whose ideas have shaped civilization: for example, Niccolo Machiavelli on government, Elizabeth Cady Stanton on justice, and Sigmund Freud on the mind. Because students perceive these writers as important, they take the writing course seriously: they learn to read more attentively, think more critically, and write more effectively. No other composition reader offers a comparable collection of important readings along with the supportive apparatus students need to understand, analyze, and respond to them.
Table of Contents
Preface To the Student Evaluating Ideas: An Introduction to Critical Reading PART ONE: GOVERNMENT new VISUALIZING GOVERNMENT: Eugéne Delacroix, Liberty Leading the People [Image]
Lao-Tzu, Thoughts from the Tao-te Ching Niccolò Machiavelli, The Qualities of the Prince Jean-Jacques Rousseau, The Origin of Civil Society Thomas Jefferson, The Declaration of Independence new José Ortega y Gasset, The Greatest Danger, the State new Carl Becker, Ideal Democracy Hannah Arendt, Total Domination PART TWO: JUSTICE new VISUALIZING JUSTICE: Luca Giordano, The Triumph of Justice [Image]
Marcus Tullius Cicero, The Defense of Injustice Frederick Douglass, from Narrative of the Life of Frederick Douglass, and American Slave Henry David Thoreau, Civil Disobedience Elizabeth Cady Stanton, Declaration of Sentiments and Resolutions Martin Luther King, Jr., Letter from Birmingham Jail John Rawls, A Theory of Justice new PART THREE: THE INDIVIDUAL new VISUALIZING THE INDIVIDUAL: Caspar David Friedrich, Wanderer Above the Sea of Fog [Image] new Ralph Waldo Emerson, Self-Reliance new Emile Durkheim, The Individual and the Intellectuals new W.E.B. DuBois, Of Our Spiritual Strivings newRuth Benedict, The Individual and the Pattern of Culture new Erich Fromm, The Individual in the Chains of Illusion PART IV: WEALTH AND POVERTY new VISUALIZING WEALTH AND POVERTY: Henry Osawa Tanner, The Thankful Poor [Image]
Adam Smith, Of the Natural Progress of Opulence Karl Marx, The Communist Manifesto new Andrew Carnegie, The Gospel of Wealth
John Kenneth Galbraith, The Position of Poverty Robert B. Reich, Why the Rich are Getting Richer and the Poor, Poorer PART V: MIND new VISUALIZING THE MIND: Salvador Dalí, The Persistence of Memory [Image]
Plato, The Allegory of the Cave new René Descartes, Fourth Meditation: Of Truth and Error Sigmund Freud, The Oedipus Complex Carl Jung, The Personal and Collective Unconscious Howard Gardner, A Rounded Version: The Theory of Multiple Intelligences new Steven Pinker, Thinking Machines new V.S. Ramachandran, Neuroscience¾ The New Philosophy
PART VI: NATURE new VISUALIZING NATURE: Asher Durand, Kindred Spirits [Image] Francis Bacon, The Four Idols Charles Darwin, Natural Selection Rachel Carson, The Sunless Sea Stephen Jay Gould, Nonmoral Nature Michio Kaku, The Mystery of Dark Matter new Francis Fukuyama, Genetic Engineering PART VII: ETHICS AND MORALITY new VISUALIZING ETHICS AND MORALITY: Joseph Wright, An Experiment on a Bird in the Air Pump [Image] Aristotle, The Aim of Man Friedrich Nietzsche, Morality as Anti-Nature Iris Murdoch, Morality and Religion new Aldo Leopold, The Land Ethic new Peter Singer & Jim Mason, The Ethics of Eating Meat new PART VIII: GENDER AND CULTURE new VISUALIZING GENDER AND CULTURE: Mary Cassatt, In the Loge [Image] Mary Wollstonecraft, Pernicious Effects Which Arise from the Unnatural Distinctions Established in Society new John Stuart Mill, The Subjection of Women Virgina Woolf, Shakespeare's Sister new Margaret Mead, Sex and Temperament new Claude Lévi-Strauss, Men, Women, and Chiefs new Germaine Greer, Masculinity WRITING ABOUT IDEAS: An Introduction to Rhetoric INDEX OF RHETORICAL TERMS