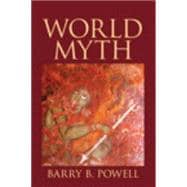 World Myth with NEW MyLiteratureLab -- Access Card Package
by
Powell, Barry B.
This title is currently not available.
Summary
ALERT: Before you purchase, check with your instructor or review your course syllabus to ensure that you select the correct ISBN. Several versions of Pearson's MyLab & Mastering products exist for each title, including customized versions for individual schools, and registrations are not transferable. In addition, you may need a CourseID, provided by your instructor, to register for and use Pearson's MyLab & Mastering products.
Packages
Access codes for Pearson's MyLab & Mastering products may not be included when purchasing or renting from companies other than Pearson; check with the seller before completing your purchase.
Used or rental books
If you rent or purchase a used book with an access code, the access code may have been redeemed previously and you may have to purchase a new access code.
Access codes
Access codes that are purchased from sellers other than Pearson carry a higher risk of being either the wrong ISBN or a previously redeemed code. Check with the seller prior to purchase.
--
Worldly and scholarly, this well-designed text presents myths from around the world in a lively and easy-to-read manner. The material has been arranged by geographic and chronologic origin. It features fresh translations, numerous illustrations, maps, and commentary that emphasizes the anthropological, historical, religious, sociological, and economic contexts in which the myths were told.
0321878221 / 9780321878229 World Myth with NEW MyLiteratureLab -- Access Card Package
Package consists of:
0205730523 / 9780205730520 World Myth
0205883583 / 9780205883585 NEW MyLiteratureLab -- Valuepack Access Card
Author Biography
Barry B. Powell , after graduation from Berkeley and Harvard, taught at Northern Arizona University, then took a job at the University of Wisconsin-Madison, where he taught for 34 years. He is a master of many languages, both ancient and modern, and for many years taught Egyptian philology and culture at Wisconsin, in addition to courses in Classics. His book Homer and the Origin of the Greek Alphabet, which advanced the thesis that one man invented the Greek alphabet in order to record the poet Homer, has become a classic and changed the way we think about the origins of Western Culture. He has written many other books, including two novels and a book of poetry. His book Classical Myth, is the best-book on the topic, and is now in its seventh edition. His book Homer is the best-selling study of this author. The Greeks: History, Culture, and Society (second edition, with Ian Morris) is widely used in college classrooms. He is currently preparing a translation of the Iliad and the Odyssey. He lives in Santa Fe, New Mexico, where he and his wife Patricia enjoy the company of their children and grandchildren.
Table of Contents
PREFACE
PART I. INTRODUCTION
1. THE NATURE OF MYTH
What is a myth?
Perspective: the "Myth of Atlantis"
Types of myth
divine myth
legend
folktale
The study of myth
PART II. MYTHS OF THE ANCIENT WORLD
2. MESOPOTAMIAN MYTH
Sumerians and cuneiform writing
MYTH: Akkadian epic of creation
the primordial separation
first conflict between older and younger gods
birth of Marduk
Marduk and Tiamat
Observations: Separation and succession in Mesopotamian creation stories
Perspective: The biblical creation story
MYTH: Inanna prefers the farmer
MYTH: The descent of Ishtar
Observations: The cycle of life
MYTH: the great flood
a race of slaves
lessening the population
the universal flood
Observations: divine myth in Mesopotamia
MYTH: Gilgamesh
Gilgamesh, son of Lugalbanda
Enkidu
Humbaba
the love of Ishtar
the Bull of Heaven
the death of Enkidu
the quest for eternal life
the man who never died
the seven loaves
the plant of rejuvenation
Observations: Gilgamesh, archetypal hero
Conclusion: The myths of Mesopotamia

3. EGYPTIAN MYTH
The black land
Egyptian history
Egyptian writing
the forms of Egyptian writing
Perspective: The decipherment of Jean-François Champollion
MYTH: the creation by Atum
MYTH: creation in Memphis
MYTH: the destruction of humankind
MYTH: story of the two brothers
Conclusion: Egyptian myth
4. THE MYTHS OF CANAAN

The discovery of Ugarit
Ugaritic writing
MYTH: myth of Aqhat
Observations: the legend of Danel
MYTH: the myth of Baal
El surrenders Baal
Baal defeats Sea
a banquet for Baal
the wrath of Anat
Baal and Anat bribe Asherah
Kothar-wa-Hasis builds a palace for Baal
Death kills Baal
Athtar, son of Asherah, is made king
Anat kills Death
the resurrection of Baal and Death
Perspective: the Hittite myth of kingship in Heaven
Observations: the triumph of Baal
5. GREEK MYTH
Greek landscape
Indo-European origins
The alphabetic revolution
Greek polytheism
Homer and Hesiod
MYTH: the creation of the world
the children of Chaos
the children of Gaea: the Titans
Cyclopes, Hecatonchires
Cronus against Uranus
the birth of Aphrodite, monsters, and sea deities
MYTH: the war against the Titans
MYTH: the war against Typhon
Observations: prominent themes in Hesiod's stories of the early days
MYTH: Odysseus in the cave of Polyphemus
Observations: the man who came home
6. ROMAN MYTH
Roman geography and culture
Roman government and history
Roman gods equated with Greek
Gods of the family and state
MYTH: the legend of Aeneas
arrival at Carthage
suicide of Dido
descent to the Underworld
Latium
Observations: The Aeneid, a myth of rebirth
MYTH: Romulus and Remus
MYTH: the rape of the Sabine women
MYTH: Titus Tatius, Tarpeia, and the death of Romulus
MYTH: Lucretia and the end of monarchy
Observations: an imaginary past preserves the present
7. MYTH IN INDIA
Historical background
The sources for Indian myth
MYTH: Brahma creates the world
MYTH: Vishnu's incarnation as a dwarf
MYTH: the myth of what was in Krishna's mouth
Perspective: Mughal miniatures
Shiva, Lord of the Dance
MYTH: the sage dances for Shiva
MYTH: gods and demons churn the ocean to obtain ambrosia
MYTH: Devi kills the buffalo demon
MYTH: the abduction of Sita
MYTH: how Rama rejected Sita
Observations: Queen Maya, lord of all
PART III. MYTHS OF THE MEDIEVAL PERIOD
8. PERSIAN MYTH
History of Iran
Perspective: Frank Miller's "300"
Writing down the Persian language
The religion of Zoroaster
The cult of Mithras
Ferdowsi's Shahnameh
MYTH: Rostam and Sohrab
Observations: Ferdowsi's Shahnameh
9. JAPANESE MYTH

Japan in history
Japanese religions
MYTH: Japanese creation of the world
MYTH: origin of the Japanese islands
MYTH: the triumph of Amaterasu
MYTH: Amaterasu and Susano-o
MYTH: the tale of the bamboo-cutter
the suitors
the stone begging bowl of the Buddha
Perspective: Japanese woodblock prints
the jeweled branch from paradise
the jewel in the dragon's head
the easy-delivery charm of the swallows
the imperial hunt
the celestial robe of feathers
Observations: the tale of the bamboo-cutter

10. CELTIC MYTH
Celtic records
MYTH: Cuchulain of Ireland
birth of Cuchulain
youthful deeds of Cuchulain
Perspective: the Druids
more youthful deeds of Cuchulain
the cattle raid at Cooley
the loves of Cuchulain
the death of Cuchulain
Observations: Cuchulain and history
Wales
MYTH: Pwyll, Prince of Dyfed
Pwyll and Arawen change places
the lady on horseback
the stranger at the feast
the invention of "Badger in the Bag"
the happiness of Pwyll and Rhiannon
the penance of Rhiannon
Observations: folktale motifs in the Mabinogion
11. SCANDINAVIAN MYTH
Writing among the Norsemen
The Poetic Edda
MYTH: the giantess's prophecy
the creation of the world
the world tree and war in heaven
the horn of Heimdall
the death of Balder
Giantland and the land of Hel
Ragnarok begins
the death of Odin
Thor and the serpent
the world renewed
Observations: the Norse picture of the cosmos
MYTH: the rise of the Volsungs
MYTH: Sigurd and Fafnir
MYTH: Sigurd and Brynhild
Perspective: the Ring Cycle of Richard Wagner
Observations: the saga of the Volsungs
PART IV. MYTHS OF THE MODERN WORLD
12. THE MYTHS OF MEXICO
Maya civilization
Maya writing
MYTH: Popol Vuh
the Maya creation of the world
the creation of humans
the death of Vucub Caquix
Zipacna kills the four-hundred boys
the twins overcome Zipacna, son of Vucub Caquix
the twins overcome Cabracan, son of Vucub Caquix
the birth of Hunahpu and Xbalanque
Xquic Tricks the Lords of Xibalba
the rest of the story
The Aztecs
MYTH: the birth of Huitzilopochtli
MYTH: the plot of Tezcatlipoca against Quetzalcoatl
Perspective: the Plumed Serpent of D. H. Lawrence
MYTH: the journey to Tlapallan
13. OCEANIC MYTH
European contact
The study of Oceanic myth
The myths of Polynesia
Perspective: the statues of Easter Island
MYTH: Polynesian creation myths
MYTH: the Polynesian creation of humans
MYTH: Legends of Maui
MYTH: Maui fishes up the land
MYTH: Maui snares the sun
MYTH: Maui goes in quest of fire
MYTH: Maui Raises the Sky
MYTH: the death of Maui
Perspective: the Day of the Gods by Paul Gauguin
The myths of Melanesia
MYTH: the origin of man
MYTH: the origin of races
MYTH: the Melanesian origin of fire
MYTH: the origin of cannibalism
MYTH: the wise and the foolish brothers
MYTH: Melanesian Myths of cannibalism
The myths of Micronesia
MYTH: the exploits of Olofat
The myths of Australia
MYTH: the Australian origin of humankind
MYTH: the origin of the moon
MYTH: the Australasian origin of fire
MYTH: how the curlew got red legs
MYTH: Australasian myths of cannibalism
14. MYTHS OF THE NORTH AMERICAN INDIANS
American Indian culture
MYTH: Hopi creation
MYTH: Raven, bringer of abundance
MYTH: Sedna, mistress of the underworld
MYTH: The release of the wild animals
MYTH: Lodge-Boy and Thrown-Away
MYTH: the bear-woman
MYTH: The trickster's great fall and his revenge
Perspective: Longfellow's Hiawatha
MYTH: the girls enticed to the sky
MYTH: the man-eating wife
MYTH: the fatal swing
MYTH: Cherokee origin of fire
Observations: stories of the North American Indians
15. AFRICAN MYTH
African history
Conditions of performance
MYTH: creation in Uganda
MYTH: the tale of Abunawas
MYTH: Hare
MYTH: the story of the cannibal mother and her children
MYTH: the disobedient daughter who married a skull
MYTH: the magic drum
MYTH: Nyikang and the sun
Observations: African myth
PART V. THEORY
16. THEORIES OF MYTH INTERPRETATION
Greek theories
physical allegory
historical allegory: euhemerism
moral allegory
Medieval and Renaissance theories
Theories of the Enlightenment
Theories of the 19th and 20th centuries
Romantic theories
anthropological theories
linguistic theories
psychological theories
structuralist theories
contextual approaches
Conclusion: the study of myth