Note: Supplemental materials are not guaranteed with Rental or Used book purchases.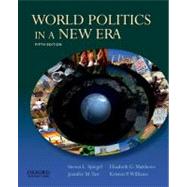 Questions About This Book?
What version or edition is this?
This is the 5th edition with a publication date of 2/4/2011.
What is included with this book?
The Used copy of this book is not guaranteed to include any supplemental materials. Typically, only the book itself is included.
Summary
Thoroughly updated in its fifth edition,World Politics in a New Erais a comprehensive and thought-provoking text for introductory courses on world politics. Reflecting the changes that have occurred worldwide since the collapse of the Berlin Wall--including recent upheavals in the financial sphere--the book integrates coverage of the competing threads of globalization and fragmentation, examining how they tangle and weave through studies of global politics, economics, and culture. World Politics in a New Era,Fifth Edition, provides a uniquely in-depth treatment of the field by introducing key contemporary issues with theory; supporting these issues with historical context; and giving students the analytical tools to apply the theories to current issues. It introduces the major theories used to explain international relations--realism, liberalism, constructivism, and a few select alternatives--in Chapter 2, providing students with a primer on the topic. Discussions of these theories are then incorporated into the narrative throughout the text, creating a useful framework for analysis. Extensive historical coverage in four chapters (3-6) reviews key events in world politics from the Peace of Westphalia in 1648 to the present, offering students the best context to fully comprehend the modern political stage. Chapters 7-14 cover key topics in contemporary world politics: security, trade and investment, development, human and resource issues, global governance, and ethics. FEATURES: * "At a Glance" text boxesapply the theories and levels of analysis--individual, domestic, and systemic--to each chapter's theme * "What Would You Do" boxesprofile real-life events, asking students to play the role of a world leader/decision-maker and propose a solution that takes into account the many complexities of world politics * "Spotlight" features in every chapterhighlight interesting people, places, and situations; discuss important international events and colorful personalities in greater depth; or focus on specific facets of complex conflicts or theories NEW TO THIS EDITION: * Thoroughly updated to reflect the economic crisis, the changing security environment, data on issues in population, migration, and health, and more * Refines the discussion of constructivism, emphasizing that its significance equals that of realism and liberalism * Explains (in the four history chapters) how specific events were chosen for study and why history itself is important SUPPLEMENTS: * A Companion Website atwww.oup.com/he/spiegeloffers substantial review materials for students and password-protected resources for instructors * Instructor's Resource Manual with Test Bank * Computerized Test Bank * PowerPoint-based slides * Instructor's Resource CD including the Instructor's Resource Manual with Test Bank, the Computerized Test Bank, the PowerPoint-based slides, and graphics from the text
Table of Contents
Each chapter ends with Discussion and Review Questions and Key Terms
List of Maps
Special Features
Preface
Foundations of World Politics
World Politics: Complexity and Competing Processes
Conflict and Cooperation
Globalization versus Fragmentation
Anarachy versus Order
Conclusion
What Would You Do? North Korea's Nuclear Test
Theory and World Politics
Climate Change
Levels of Analysis
Systemic Level of Analysis
At a Glance: The Prisoner's Dilemma Game
Domestic Level of Analysis
Individual Level of Analysis
Spotlight: The Operational Code
Levels of Analysis: Analytical Tools
Theoretical Paradigms/Worldviews
Realism
Liberalism
Constructivism
Blurring the Lines
Other Theoretical Paradigms/Worldviews
Summary and Preview
At a Glance: Levels of Analysis and Paradigms in Review: International Responses to Climate Change
What Would You Do? Drilling for Oil
World Politics and Economics: 1648-1945
Thirty Years' War and the Peace of Westphalia
Eighteenth Century Europe
Great Powers
Aftermath of War and Two Revolutions
At a Glance: "World Wars" of the Eighteenth Century
Napoleonic Era
Concert of Europe
Uunification of Italy and Europe
Italian Unification
German Unification
At a Glance: The Wars of German Unification
The Industrial Revolution
British Economic Hegemony and its Challenges
Bismarckian System
The Eve of War: Protectionism and Discord
The World Wars
Causes of World War IAt a Glance: World War I and the Levels of Analysis
Rise of Germany
Alliance System
Economic Change and Competition
Nationalism
Imperialism
Cult of the Offensive
Consequences of World War IRussian Revolution
Versailles Settlement
What Would You Do? Russia and the Path to War
Spotlight: An Idealist at Versailles
A Weak League and the Road to Another World War
Spotlight: The Munich Analogy
Economic Collapse and the Great Depression
Causes of World War IIAt a Glance: World War II and the Levels of Analysis
Consequences of World War IIUneasy Alliance
The Holocaust
Atomic Bomb
Conclusion
At a Glance: Levels of Analysis and Paradigms in Review: Examples from 1648 to 1945
World Politics and Economics: The Cold War
Who or What Caused the Cold War?
At a Glance: The Origins of the Cold War and the Levels of Analysis
It Was Moscow's Fault
No, It Was Washington's Fault
Ideological Conflict
Leadership or the Lack Thereof
One World Divided by Two Superpowers Equals Conflict
It Was All a Misunderstanding
Heating up the Cold War
Initial Confrontation: Iran
The Iron Curtain Descends and Conflict Intensifies?
Truman Doctrine
Marshall Plan
Berlin Blockade
Spotlight: The Telegrams: Mr. X and Containment and the Novikov Telegram
NATO and the Warsaw Pact
Transformation of the World Economy
The Bretton Woods System
The Cold War in Asia
NSC-68Korea: The Turning Point
The Cold War and the Third World
Trouble Spots: Berlin and Cuba
JFK, Cold Warrior
Berlin Wall
Cuban Missile Crisis
Vietnam and its Consequences
What Woul You Do? Soviet Missiles in Cuba
The Apparent Decline of U.S. Economic Hegemony
D'Etente
The Opening of China, the Moscow Summit, and SALT
Tensions in D'etente
From Dialogue to Discord
The Invasion of Afghanistan
The Reagan Doctrine
Why Did the Cold War End?
At a Glance: The End of the Cold War and the Levels of Analysis
The Gorbachev Factor
Failure of Communism
The End of the Evil Empire
The End of Bipolarity
Conclusion
At a Glance: Levels of Analysis and Paradigms in Review: Examples from the Cold War
Imperialism and Its Victims
Origins of Imperialism
The First Transoceanic Empires: Spain and Portugal
Colonial Collusion: Dividing the World
Spanish Colonial Administration
Portuguese Colonialism
Spanish-American Independence
Independence from Portugal
Dutch Empire
Anglo-French Rivalry
France's Bid for Empire
British Empire
What Would You Do? The Costs of Imperialism
Seventeenth and Eighteenth Centuries
Nineteenth and Twentieth Centuries
Spotlight: British India
Twilight of Empire
Spotlight: The Mahatma
Two Great Continental Empires: Russia and the United States
The Russians
Ninth through Eighteenth Centuries
Nineteenth and Twentieth Centuries
The Americans
Ottoman Empire
Fourteenth through Eighteenth Centuries
Nineteenth and Twentieth Centuries
Too Little Too Late: German and Japanese Empires
Decline of Imperialism
Social Impact of Imperialism
North America
The Caribbean
Latin America
Africa
Asia
The Pacific
China and Japan
Economic Consequences of Colonialism
Latin America, Africa, and the Pacific
Asia
Economic Consequences: An Assessment
Cultural and Ideological Impact of Colonialism
Colonialism and Culture
Colonialism and Ideology
Conclusion
At a Glance: Levels of Analysis and Paradigms in Review: Examples from Imperialism
Globalization and Fragmentation in the New World Order: 1991 to the Present
Globalization and Fragmentation
A New World Order?
War in the Gulf
The European Union
U.S. Economic Hegemony Endures
Enduring Regional and Internal Conflicts: The Middle East, South Asia, and East Asia
The Middle East
At a Glance Arab-Israeli Confrontations
South Asia
The Korean Peninsula
The People's Republic of China and Taiwan
Collective Security
Spotlight Definitional Discord: Genocide and Ethnic Cleansing
What Would You Do? Genocide in Rwanda
The Terror of September 11War in Iraq
Terrorism Redux
Conclusion
At a Glance: Levels of Analysis and Paradigms in Review: Examples from 1991 to the Present
The Major Issues in World Politics
Security Theory and Practice
The Many Faces of Security
External and Internal Threats
Subjective Versus Objective Aspects of Security
Working Definition of Security
Security Dilemma Revisited
Spotlight: Clausewitz on War and Politics
Military Power
Weapons of Mass Destruction
Military Personnel
Defense Expenditures
Logistics and Power Projection
Qualitative Factors: Equipment, Training, and Morale
Soft Power
Strategies for Security: Deterrence, Defense, and Compellence
Deterrence
Defense
Compellence
Requirements for Deterrence
Commitment
Capability
Credibility
Criticisms of Deterrence
Defensive Weapons Systems
Technology and Security
Breakthroughs, Lead Times, and Cost
Spotlight: Nukespeak
The Offense/Defense Balance
The Cutting Edge
Arms Control and Disarmament
Definitions
Early Efforts at Disarmament
Test Bans
Salt, Start, Sort, and New Start
Intermediate-Range and Tactical Nuclear Weapons
Cooperative Threat Reduction
Non-Proliferation Treaty
Chemical Weapons, Biological Weapons, and Missiles
Conventional Arms Control
What Would You Do? Nuclear Proliferation
Conclusion
At a Glance: Levels of Analysis and Paradigms in Review: Security Examples
Contemporary Security Issues
Proliferation
Spotlight: Human Costs of Modern Conflict
The Debate over Proliferation
Command and Control
Current Proliferation Concerns
Terrorism
Contemporary Terrorism Around the World
Spotlight: The Sheikh
Categories of Terrorist Groups
State-Sponsored Terrorism
Nationalist Separatists
Ideological Terrorism
Religious Terrorism
Terrorism and Weapons of Mass Destruction
Combating International Terrorism
What Would You Do? Response to Terrorism
Organized Crime
What Is Organized Crime?
Transnational Organized Crime Activities
The Globalization of Organized Crime
Spotlight: The Red Mafiya Penalty Box and the NHLSpotlight: International Drug Trafficking
Combating Organized Crime
Conclusion
At a Glance: Levels of Analysis and Paradigms in Review: Contemporary Security Examples
World Politics: Trade and Investment
Trade
Ricardo's Model of Trade
Trade Barriers
Balance of Payments
Money Makes the World Go Around
Exchange Rates
Capital Markets and Investment
Capital Markets
Spotlight: Day Traders Find New Outlet
Foreign Direct Investment
Economic Power
Trade and Industry
Technology
Spotlight: Technology Globalizes the Workforce
Economics as Politics
Realism
Liberalism
At a Glance: East African Countries Form a Common Market
Hegemonic Stability Theory: Bridging the Liberal-Realist Divide
Constructivism
Conclusion
At a Glance: Levels of Analysis and Paradigms in Review: Trade and Investment
What Would You Do? The Sock Trade
World Politics: Development
What Development Means
Human and Social Development
Development: A Holistic Approach 3Spotlight: Gender Inequalities Harm Well-Being, Hinder Development
Civil Society and Development
Modernization Theory
Social Impact of Modernization
Critiques of Modernization Theory
Political Development
Requirements of Political Development
Domestic: Political Culture
Economic Development
Spotlight: Tough Truths About Free Trade
Systemic: Dependency Theory
Primary Product Exports
Unequal Terms of Trade
Multinational Corporations
Critiques of Dependency Theory
Domestic: Economic Development Theories
Import-Substitution Industrialization
Export-Led Industrialization
At a Glance: Argentina
Washington Consensus
Systemic-Domestic
Structural Adjustment Programs
Development Today
Creating a New Paradigm
Searching for Practical Solutions: Technology
Spotlight: Invention and Innovation
Searching for Practical Solutions: Microfinance
Corruption Versus Courage
What Would You Do? Promoting Development
Conclusion
At a Glance: Levels of Analysis and Paradigms in Review: Development
Human Issues: Demographic Trends
Population
Population Growth and Decline: Impact of Youth
Bulges and Aging Populations
Urbanization and Megacities
International Responses to Population Dynamics: Importance of Family Planning
The Abortion Debate
Migration
Economic Migration
Refugees
Consequences of Migration
International Solutions to Problems of Migration
Spotlight: Human Trafficking
Health and Disease
The Global Health Picture
Responses to Global Health Problems
Conclusion
What Would You Do? Avian Flu
At a Glance: Levels of Analysis and Paradigms in Review: Demographic Issues
Resource Issues
The Environment
Deforestation
Pollution
Spotlight: Is the Earth Getting Warmer?
International Cooperation for Saving the Environment
A Green and Pleasant Globe?
Water
Water Scarcity and the Potential for Conflict
International Responses to the Need for Water
Water's Future
Food
Feeding the World
International Food Aid and Famine Relief Efforts
Energy
The Need for Energy
Oil's Critical Role
Energy Crises and Global Responses
Coal and Natural Gas
Renewable Energy
What Would You Do? Economic Growth Versus the
Environment
Conclusion
At a Glance: Levels of Analysis and Paradigms in Review: Resource Issues
Global Governance: International Law and Organizations
International Law
Sources of International Law
Customary Practices
Spotlight: The First International Lawyer
Treaties
Violation and Compliance
Areas of International Law
Human Rights Under International Law
Can Human Rights Conventions Be Enforced
Warfare and Aggression
Effectiveness and Compliance: The Verdict on International Law
International Organizations
International Governmental Organizations
Security IGOS: The United Nations
The United Nations Is Born
The United Nations: Structure, Functions, and Politics
General Assembly
Security Council
Spotlight: Conflict and Cooperation in the Security Council
Secretariat and Secretary-General
International Court of Justice
Economic and Social Council
UN Peacekeeping Missions: Expectations and Experience
What Would You Do? UN Peacekeeping
United Nations' Effectiveness
Economic IGOs
The World Bank
The International Monetary Fund
The GATT and the World Trade Organization (WTO)The Bretton Woods Institutions into the Future
Nongovernmental Organizations
NGOs, Power, and Global Governance
NGOs in Action
Conclusion
At a Glance: Levels of Analysis and Paradigms in Review: Global Governance
World Politics in Context
What Have We Covered So Far?
What Have We Not Covered Yet?
Ethics
Ethics of War
Ethics of Sovereignty and Positive Intervention
Ethics of Peace and Reconciliation
Ethics of Trade and Development
Ethics of Competing Interests
Spotlight: Bad Guys Make Even Worse Allies
Relationship of World Politics to Other Subdisciplines of Political Science
Foreign Policy
Comparative Politics
American Politics
Political Theory
The Future
Realist Projection
Liberal Projection
Constructivist Projection
Conclusion
What Would You Do? The Future of the UNNotes
Glossary
Bibliography
Figure Sources
Index
Table of Contents provided by Publisher. All Rights Reserved.