Note: Supplemental materials are not guaranteed with Rental or Used book purchases.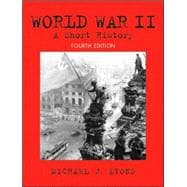 Questions About This Book?
What version or edition is this?
This is the 4th edition with a publication date of 1/1/2004.
What is included with this book?
The Used copy of this book is not guaranteed to include any supplemental materials. Typically, only the book itself is included.
Related Products
Summary
Highly regarded for its clarification of the complexities of World War II, the book illuminates the origins, course, and long-range effects of the war and provides a balanced account that analyzes both the European and Pacific theaters of operations and the connections between them. TheFourth Editionincorporates new material from the latest literature, offering modified conclusions on key topics and expanding coverage throughout.The author examines the origins of World War II, the legacy of World War I, the rise of the dictators, the road to war, Germany's march of conquest, globalization of the war, the second front question and the invasion of North America, war in the Atlantic, the allied bombing offensive, the home fronts, and the triumph of the allies.For World War II enthusiasts.
Table of Contents
Preface
The Origins of World war II
World War I: The Great Turning Point
The Legacy of World War I
The Rise of the Dictators
The Road to War
Germany's March of Conquest
Blitzkriegin the East,Sitzkriegin the West
Complications in the North: Finland, Denmark, Norway
The Fall of France
Britain Is Still an Island
The Plot Thickens: The Mediterranean and the Balkans
The War Becomes Global
Operation Barbarossa: Dream ofLebensraum
Hitler's New Order in Europe
America Enters the War
Japan Triumphant, December 1941-May 1942
The Tide Turns
The Tide Turns in the Pacific
The Tide Turns in Europe: Stalingrad and El Alamein
The Second Front Question and the Invasion of North America
Probing the Underbelly: Sicily and Italy
War in the Atlantic
Target Germany: The Allied Bombing Offensive
Total War and the Home Fronts
The Triumph of the Allies
Russia Moves West, 1943-44
Cross-Channel Invasion at Last: D Day to the German Border
The End of the Thousand-Year Reich
Island Hopping in the Pacific
War on the Periphery: China, Burma, India
The Collapse of Japan
Aftermath
Additional Reading
Index
Table of Contents provided by Publisher. All Rights Reserved.
Excerpts
When the first edition ofWorld War II: A Short Historyappeared in 1989, the conflict had already inspired over 70,000 volumes. The number has risen steadily since then. In this fourth edition, I again have incorporated material from the vast array of new literature, along with suggestions from readers. In particular, I have increased coverage of the Holocaust as well as German occupation policies and the issues of collaboration and resistance among European peoples. I have also expanded the chapter on the home fronts in the chief belligerent countries and have devoted more attention to Japan in the period preceding the war as well as in regard to the Japanese biological and chemical warfare program. In addition, I have dwelt to a greater extent on the intense hatred between Americans id Japanese that marked the war in the Pacific and set it apart to some extent from the conflict between the Western Allies and Germany. I have added a section on early efforts to break the German cipher that eventually enabled the Allies to read enemy messages on a regular basis, the process known by the code name "Ultra." In the light of new research, I have modified my analysis on the German victory in the West in 1940 to a certain degree. I have also focused in greater detail on the Allied landings in Normandy. Finally, I have interjected as much material as possible to illustrate what it was like to be a fighting man during the war. I have tried to accomplish all of this without expanding the book to un-manageable length. It is, after all, billed as a short history. By its very nature, it cannot cover everything in the detail one might like.My basic purpose in this edition is still the same as that which prompted me to write the first: to satisfy the needs of the college student in the classroom as well as those of the general reader. At the same time, I have sought to provide a relatively brief synthesis of the work of other scholars that the professional historian will find useful. With these aims in mind, I have endeavored neither to overestimate the reader's knowledge of the subject nor to insult his or her intelligence by being too elementary. In pursuit of this elusive goal, I have attempted to fashion a book that is readable, informative, understandable, and interesting. Each reader will determine how well I have succeeded.Though focusing primarily on the Second World War, I have examined the many factors that combined to cause that terrible calamity as well as the most significant effects of the conflict. Obviously, in a work of this scope, it has been necessary to deal selectively and summarily with the highly complex history of the decades preceding the outbreak of hostilities in 1939 and the period that followed the defeat of Germany and Japan in 1945. I have also striven to present a balanced account that does justice to both the European and Pacific theaters of operations and the connections between them. The global conflagration gave birth to innumerable controversies, and I have done my best 'to analyze the most important of these while often presenting my own views as to the best interpretations to place on them.Any author incurs numerous debts in writing and publishing a book. Mine start with the late Professor Harold C. Deutsch, whose masterful course at the University of Minnesota kindled my fascination with the Second World War. Thanks also go to the many students who enrolled in my own World War II course at North Dakota State University during a period of over two decades. Their obvious interest helped stimulate my dedication to this project. Professor Archer Jones offered encouragement and advice during his years as dean of the College of Humanities and Social Sciences. I must also acknowledge my discussions, not to mention arguments, with Professor James D. Sadkovich, which helped to alter my view of Italy's performance in the war to some extent. My good friend and colleague Professor Dav