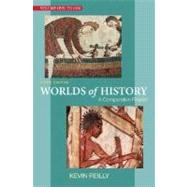 Worlds of History, Volume One: To 1550: A Comparative Reader
by
Reilly
List Price: $56.80
Hurry!
Only two copies
in stock at this price.
In Stock Usually Ships in 24 Hours.
In Stock Usually Ships in 24 Hours.

More New and Used
from Private Sellers
Questions About This Book?
Why should I rent this book?
Renting is easy, fast, and cheap! Renting from eCampus.com can save you hundreds of dollars compared to the cost of new or used books each semester. At the end of the semester, simply ship the book back to us with a free UPS shipping label! No need to worry about selling it back.
How do rental returns work?
Returning books is as easy as possible. As your rental due date approaches, we will email you several courtesy reminders. When you are ready to return, you can print a free UPS shipping label from our website at any time. Then, just return the book to your UPS driver or any staffed UPS location. You can even use the same box we shipped it in!
What version or edition is this?
This is the 3rd edition with a publication date of 1/5/2007.
What is included with this book?
The New copy of this book will include any supplemental materials advertised. Please check the title of the book to determine if it should include any CDs, lab manuals, study guides, etc.
The Used copy of this book is not guaranteed to inclue any supplemental materials. Typically, only the book itself is included.
The Rental copy of this book is not guaranteed to include any supplemental materials. You may receive a brand new copy, but typically, only the book itself.
Related Products
Summary
Assembled by award-winning community college teacher and distinguished world historian Kevin Reilly, the documents in the best-sellingWorlds of Historybring history alive for students. Students read voices from the distant and more recent past that address topics and issues -- like patriarchy, love and marriage, and imperialism -- of enduring interest and relevance. Ranging widely across regions and cultures, each chapter takes up a major theme and asks students to examine it in the context of two or more cultures, encouraging them to make cross-cultural connections and comparisons. The flexible comparative and thematic framework easily accommodates the variety of approaches instructors bring to teaching world history while supporting the general goal of cultivating critical thinking skills.
Author Biography
KEVIN REILLY is a professor of humanities at Raritan Valley College and has taught at Rutgers, Columbia, and Princeton Universities. Co-founder and first president of the World History Association, Reilly wrote The West and the World and has edited a number of works in world history including Readings in World Civilization and the World History syllabus collection. As a specialist in immigration history, Reilly was tapped to create the "Modern Global Migrations" globe at Ellis Island's Museum of the History of Immigration. His work on the history of racism led to the editing of Racism: A Global Reader. He was a Fulbright scholar in Brazil (1989) and Jordan (1994). In 1992, the Community College Humanities Association named him "Distinguished Educator of the Year." Currently he serves on the governing Council of the American Historical Association.
Table of Contents
Volume I: To 1550

Preface

Introduction

Chapter 1: Prehistory and Origins of Patriarchy: Gathering, Agricultural, and Urban Societies, 20,000-3000 BCE

The agricultural revolution ten thousand years ago and the urban revolution five thousand years ago were probably the two most important events in human history. Did they "revolutionize" the power of women or begin the age of male domination? Thinking in "stages" can be more useful than thinking in years.

Historical Context

Thinking Historically: Thinking about History in Stages

1. Natalie Angier, Furs for Evening, But Cloth Was the Stone Age Standby

2. Marjorie Shostak, from Nisa: The Life and Words of a !Kung Woman

3. Elise Boulding, Women and the Agricultural Revolution

4. Gerda Lerner, The Urban Revolution: Origins of Patriarchy

Reflections



Chapter 2: The Urban Revolution and "Civilization": Mesopotamia and Egypt, 3500-1000 BCE

The urban revolution created writing and interpretation, war and law, individual anonymity, money and taxes, paupers and kings. Did Mesopotamia and Egypt undergo the same development and changes? We have primary (written and visual) as well as secondary sources of find the answers.

Historical Context

Thinking Historically: Distinguishing Primary and Secondary Sources

5. Kevin Reilly, Cities and Civilization

6. From The Epic of Gilgamesh

7. From Hammurabi's Code

*8. Advice to the Young Egyptian: "Be a Scribe"

*9. Images from Egypt

Reflections



Chapter 3: Identity in Caste and Territorial Societies: Greece and India, 1000-300 BCE

Ancient Greece and India developed with different ideas of society. Does who we are depend on where we are or who we know? While finding out, we explore the relationship between facts and opinions, sources and interpretations.

Historical Context

Thinking Historically: Interpreting Primary Sources in Light of a Secondary Source

10. William H. McNeill, Greek and Indian Civilization

11. From the Rig Veda: Sacrifice as Creation

12. From the Upanishads: Karma and Reincarnation

*13. From the Upanishads: Brahman and Atman

14. From the Bhagavad Gita: Caste and Self

15. Aristotle, from The Athenian Constitution: Territorial Sovereignty

16. Thucydides, The Funeral Oration of Pericles

17. Plato, from The Republic

Reflections



Chapter 4: Classical Civilizations and Empires: China and Rome, 300 BCE – 300 CE

Two thousand years ago the Chinese Han dynasty and the Roman Empire spanned Eurasia. In comparing these ancient empires, we seek to understand more about ancient empires, empires in general, and the course of change in ancient societies. A good comparison can lead us to consider new questions and topics, and generate new comparisons as well.

Historical Context

Thinking Historically: Making Comparisons

*18. S.A.M. Adshead, China and Rome Compared from China in World History

19. Confucius, From The Analects

20. Plutarch, On Education

*21. G.E.R. Lloyd, Chinese and Greco-Roman Innovation

*22. The Salt and Iron Debates

23. Cicero, Against Verres

Reflections



Chapter 5: Women in Classical Societies, India, China, and the Mediterranean, 500 BCE – 500 CE

The experiences of women varied greatly over time both within and among the classical cultures of India, China, and the Greco-Roman world. The written and visual documents in this chapter allow us to explore the differences and similarities. At the same time we also examine both moments and processes in the history of women in classical antiquity to understand two different ways of thinking about the past.

Historical Context

Thinking Historically: Considering Historical Moment and Historical Process

*24. Sarah Shaver Hughes and Brady Hughes, Women in the Classical Era

25. R.K. Narayan, From The Ramayana

26. Ban Zhao, Lessons for Women

*27. Aristophanes, from Lysistrata

28. Livy, Women Demonstrate against the Oppian Law

*29. Fayum Portraits

Reflections



Chapter 6: From Tribal to Universal Religion: Hindu-Buddhist and Judeo-Christian Traditions, 1000 BCE-100 CE

Two religious traditions transformed themselves into universal religions at about the same time in two different parts of Asia as each became part of a more connected world. Their holy books reveal the changes as well as the desire to hold on to the tried and true.

Historical Context: Detecting Change in Primary Sources

Thinking Historically:

30. Svetasvatara Upanishad

31. Buddhism: Gotama's Discovery

32. The Buddha's First Sermon

33. Buddhism and Caste

34. The Bible: History, Laws, and Psalms

35. The Bible: Prophets and Apocalypse

36. Christianity: Jesus According to Matthew

Reflections



Chapter 7: Encounters and Conversions: Monks, Merchants, and Monarchs, Expansion of Salvation Religions, 400 BCE to 1400 CE

Christianity, Buddhism, and later, Islam, spread far across Eurasia often along the same routes in the first thousand years of the Common Era. To understand their success, we explore the evolution of religions in a larger context.

Historical Context

Thinking Historically: Studying Religion in Historic Context

37. Jerry H. Bentley, The Spread of World Religions

38. Pliny Consults the Emperor Trajan

39. Eusebius, From Life of Constantine

40. Buddhism in China: From The Disposition of Error

41. The Lotus Sutra

*42. Selections from the Koran

*43. Islamic Expansion, Peace Terms with Jerusalem (636)

*44. The Glorious Victories of 'Amda Seyon, King of Ethiopia

Reflections



Chapter 8: Medieval Civilizations: European, Islamic, and Chinese Societies, 600-1400 CE

Three Great civilizations spanned Eurasia between 500 and 1500. Of the three, China and Islam were the strongest, Europe the weakest. But their differences can be best understood by looking separately at the social structure, economy, politics, and culture of each.

Historical Context

Thinking Historically: Distinguishing Social, Economic, Political, and Cultural Aspects

45. Feudalism: An Oath of Homage and Fealty

46. Manorialism: Duties of a Villein

47. From the Magna Carta

48. Islam: Sayings Ascribed to the Prophet

*49. Al-Tanukhi, A Government Job

50. Egyptian Invitation

51. Ichisada Miyazaki, The Chinese Civil Service Exam System

52. Liu Tsung-Yuan, Camel Kuo the Gardener

53. Rules for the Fan Lineage's Charitable Estate

Reflections



Chapter 9: Love and Marriage: Medieval Europe and Asia, 400-1200 CE

Love and marriage make the world go'round today, but not a thousand years ago. Love meant different things to different people in Europe, India, and Japan, and we use cultural comparisons to find out more.

Historical Context

Thinking Historically: Analyzing Cultural Differences

54. Kevin Reilly, Love in Medieval Europe, India, and Japan

*55. Ulrich von Lichtenstein, The Service of Ladies

56. Andreas Capellanus, From The Art of Courtly Love

*57. Kalidasa, Shakuntala

*58. Mirabai, Bhakti poems

59. Murasaki Shikibu, From The Tale of Genji

Reflections



Chapter 10: The First Crusade: Muslims, Christians, and Jews during the First Crusade, 1095-1102 CE

The First Crusade initiated a centuries-long struggle and dialogue between Christians and Muslims that would have a lasting impact on both. Wars are windows on cultures, but they also make moving narratives. Using the selections here put together your own version of the story.

Historical Context

Thinking Historically: Analyzing and Writing Narrative

60. Fulcher of Chartres, Pope Urban at Clermont

61. Chronicle of Solomon bar Simson

62. Anna Comnena, From The Alexiad

63. Fulcher of Chartres, The Siege of Antioch

*64. Ibn Al-Qalanisi, from The Damascus Chronicle

65. Raymond of St. Giles, Count of Toulouse, The Capture of Jerusalem by the Crusaders

*66. Ibn al-Anthir, The Conquest of Jerusalem

67. Letter from a Jewish Pilgrim in Egypt

Reflections



Chapter 11: Raiders of Steppe and Sea: Vikings and Mongols, Eurasia and the Atlantic, 900-1350 CE

From the late 9th through the 10th century, waves of Viking ships attacked across Europe; a few centuries later beginning in 1200, the Mongols swept across Eurasia, conquering all in their path and creating the largest empire the world had ever seen. What was the impact of these raiding peoples on settled societies and vice versa? In considering this question and the violent and destructive nature of these "barbarian" raids, we will consider the relationship of morality to history.

Historical Context

Thinking Historically: Distinguishing historical understanding from moral judgments

68. Gregory Guzman, Were the Barbarians a Negative or Positive Factor in Ancient and Medieval History?

*69. Ibn Fadlan, The Viking Rus

*70. Barry Cunliffe, The Western Vikings

*71. Eirik's Saga

*72. The Poetic Edda, Selections from the Havamol

73. From The Secret History of the Mongols

74. John of Plano Carpini, History of the Mongols



Chapter 12: The Black Death: Afro-Eurasia, 1346-1350

The pandemic plague ravaged the population of Afro-Eurasia, killing about one third of the population of Europe and Egypt. In this chapter, we examine the impact of the plague in various locales while also contemplating its causes and the relation between cause and effect.

Historical Context

Thinking Historically: Considering Cause and Effect

*75. Mark Wheelis, Biological Warfare at the 1346 Siege of Caffa

76. Gabriel de' Mussis, Origins of the Black Death

77. Giovanni Boccacio, The Plague in Florence, from the Decameron

*77. Images of the Black Death

*78. Ahmad al-Magrizi, the Plague in Cairo

79. William H. McNeill, Consequences of the Black Death in Europe





Chapter 13: On Cities: European, Chinese, Islamic, and Mexican Cities, 1000-1550 CE

What did increasing urbanization from the medieval period on mean for those who lived in cities and those who did not? Wandering through some of the great cities of medieval Europe, China, and the Islamic world, we attempt to answer this question while also considering the validity and merits of one historian's famous comparative thesis about urbanization.

Historical Context

Thinking Historically: Evaluating a Comparative Thesis

80. Fernand Braudel, Towns and Cities

*81. European Guilds and Urban Autonomy

Charter of Henry I for London, 1130-1133

Gregorio Dati, Corporation and Community in Florence

82. Marco Polo, From The Travels of Marco Polo

83. S.D. Goitein, Cairo: An Islamic City in Light of the Geniza

*84. Bernal Diaz, Cities of Mexico

Reflections



Chapter 14: Ecology, Technology, and Science: Europe, Asia, Oceania, and Africa, 500-1550 CE

Since the Middle Ages, the most significant changes have occurred in the fields of ecology, technology, and science. In this chapter we read and assess three grand theories about the origins of our technological transformation and of our environmental problems, drawing on written and visual primary source evidence to develop our conclusions.

Historical Context

Thinking Historically: Evaluating Grand Theories

85. Lynn White, Jr., The Historical Roots of Our Ecological Crisis

*86. Life of Boniface: Converting the Hessians

*87. Humans and the Environment

Image from a Cistercian Manuscript, 12th Century

Image from a French Calendar, 15th Century

Image of a Chinese Feng-Shui Master

88. Lynda Norene Shaffer, Southernization

*89. Jared Diamond, Easter Island's End

Reflections





List of Maps

Map 2.1 Early Civilizations: Egypt and Mesopotamia

Map 3.1 Indus River Valley, c. 500 BCE

Map 3.2 Archaic Greece, c. 750-500 BCE

Map 4.1 Imperial China at 210 BCE and 120 CE

Map 4.2 The Roman Empire, at 264 BCE and 117 CE

Map 6.1 The Ancient Near East, 4000-3000 BCE

Map 7.1 The Silk Road

Map 7.2 The Spread of Christianity, 300-600 CE

Map 7.3 The Expansion of Islam to 750

Map 10.1 The First Crusade, 1096-1099

Map 11.1 Viking Invasions and Voyages of the Ninth and Tenth Centuries

Map 11.2 Mongol Invasions of the Thirteenth Century

Map 12.1 Tentative Chronology of the Initial Spread of Plague in the Mid-Fourteenth Century
* new to this edition