Note: Supplemental materials are not guaranteed with Rental or Used book purchases.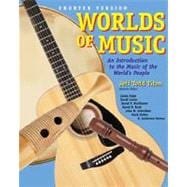 Worlds of Music An Introduction to Music of the World's Peoples, Shorter Edition
by
Titon, Jeff Todd
Questions About This Book?
What version or edition is this?
This is the 1st edition with a publication date of 12/13/2000.
What is included with this book?
The New copy of this book will include any supplemental materials advertised. Please check the title of the book to determine if it should include any CDs, lab manuals, study guides, etc.
Summary
Carrying the reputation and authority of the market leader for this courseůTiton's WORLDS OF MUSIC, 3RD--this SHORTER EDITION introduces world music at a more rudimentary level and in a smaller package. Beginning with a newly written introductory chapter, it proceeds to case studies of music of different cultures in eight different parts of the world, and concludes with a fieldwork project. The author treats music both on its own terms and as a human activity in diverse historical, social, and cultural contexts. The book encourages active student involvement by showing how a beginner may document, play, and even build the instruments used in the music of another culture.
Table of Contents
Recorded Selections
xi
Preface
xiii
The Authors
xvii

| | |
| --- | --- |
| | The Music-Culture As a World of Music |

1
(26)
1
(2)
3
(2)
5
(3)
8
(2)
10
(2)
12
(1)
13
(1)

| | |
| --- | --- |
| | Four Components of a Music-Culture |

14
(10)
14
(5)

| | |
| --- | --- |
| | Activities Involving Music |

19
(1)
20
(3)

| | |
| --- | --- |
| | Material Culture of Music |

23
(1)
24
(2)
26
(1)
26
(1)

| | |
| --- | --- |
| | North America/Native America/Navajo |

27
(28)

| | |
| --- | --- |
| | A Yeibichai Song from the Nightway Ceremony |

27
(5)
32
(1)
33
(3)

| | |
| --- | --- |
| | Traditional Popular Music |

36
(3)

| | |
| --- | --- |
| | The Circle Dance Song ``Shizhane`e''' |

37
(2)
39
(4)

| | |
| --- | --- |
| | The Native American Church |

43
(3)
46
(4)

| | |
| --- | --- |
| | New Composers in Traditional Modes |

46
(2)

| | |
| --- | --- |
| | Music with Newly Created Navajo Texts and Melodies |

48
(2)

| | |
| --- | --- |
| | New Navajo Music with English Texts and Orchestral Accompaniment |

50
(1)

| | |
| --- | --- |
| | The Native-American Flute Revival |

50
(1)
51
(1)
52
(1)
53
(1)

| | |
| --- | --- |
| | Major Sources for Recordings |

53
(2)
55
(30)

| | |
| --- | --- |
| | Agbekor: Music and Dance of the Ewe People |

57
(19)
57
(2)

| | |
| --- | --- |
| | Agbekor: History and Contemporary Performance |

59
(4)
63
(3)

| | |
| --- | --- |
| | Music of the Percussion Ensemble |

66
(6)
72
(4)
76
(5)
76
(1)
77
(1)

| | |
| --- | --- |
| | Life Story: Abubakari Lunna |

78
(3)
81
(1)
82
(1)
83
(1)
83
(1)
83
(2)

| | |
| --- | --- |
| | North America/Black America/Blues |

85
(34)
87
(4)

| | |
| --- | --- |
| | Autobiography and the Blues |

91
(6)

| | |
| --- | --- |
| | The Life History of Bill Lucas, Blues Singer |

91
(5)

| | |
| --- | --- |
| | Lazy Bill Lucas and ``Poor Boy Blues'' |

96
(1)
97
(3)
100
(1)

| | |
| --- | --- |
| | Social Context and the Meaning of the Blues |

101
(15)
104
(6)
110
(4)

| | |
| --- | --- |
| | The Blues Music-Culture in the Contemporary World |

114
(2)
116
(1)
116
(1)
117
(1)
118
(1)
118
(1)
119
(26)

| | |
| --- | --- |
| | Bosnia: From Tradition to Destruction |

122
(1)

| | |
| --- | --- |
| | Music in a Muslim Highlander Village |

123
(6)

| | |
| --- | --- |
| | Music of Rural and Urban Lowlands Muslims |

129
(5)

| | |
| --- | --- |
| | Popular Music Styles: ``Newly Composed Folk Music'' and Rock |

134
(3)

| | |
| --- | --- |
| | Two Bosnian Musicians Abroad |

137
(5)

| | |
| --- | --- |
| | Mensur Hatic: Versatile Musical Traveler |

137
(3)

| | |
| --- | --- |
| | Flory Jagoda: Keeper of the Sephardic Jewish Tradition of Bosnia |

140
(2)
142
(1)
143
(1)
143
(2)
145
(34)

| | |
| --- | --- |
| | The Environment of Indian Musics |

147
(6)

| | |
| --- | --- |
| | History, Culture, Politics |

147
(3)
150
(3)

| | |
| --- | --- |
| | Karnataka sangeeta, the Classical Music of South India |

153
(1)

| | |
| --- | --- |
| | A Performance Segment: The Sound World |

154
(9)
155
(1)
156
(1)
156
(2)

| | |
| --- | --- |
| | Raga (the Expressive Mode) |

158
(1)

| | |
| --- | --- |
| | Scale, Raga sankarabharanam |

159
(1)
160
(1)

| | |
| --- | --- |
| | Musical Structure: Improvisation |

161
(2)

| | |
| --- | --- |
| | Musical Structure: The Kriti |

163
(10)
166
(2)

| | |
| --- | --- |
| | Svara kalpana in the Performance |

168
(1)
169
(3)
172
(1)

| | |
| --- | --- |
| | Indian Music and the West |

173
(3)
176
(1)
176
(1)
176
(1)
177
(1)

| | |
| --- | --- |
| | Major Sources for Recordings |

177
(2)
179
(32)
181
(20)
182
(6)
188
(1)
188
(1)

| | |
| --- | --- |
| | Gamelan Performance Contexts |

189
(3)

| | |
| --- | --- |
| | Gamelan Music: A Javanese Gendhing in Performance |

192
(6)
198
(1)

| | |
| --- | --- |
| | Performing Your Own Gamelan Music |

199
(1)

| | |
| --- | --- |
| | Gamelan Music and Shadow Puppetry |

199
(2)
201
(3)
204
(3)
207
(1)
207
(1)
208
(1)
208
(3)
211
(32)

| | |
| --- | --- |
| | Japanese Traditional Music |

213
(3)
213
(1)
214
(1)
214
(1)
215
(1)
216
(1)
216
(5)
221
(7)
228
(3)
231
(7)
232
(1)
233
(5)
238
(1)
239
(1)
240
(1)
240
(3)
243
(34)

| | |
| --- | --- |
| | The Quichua of the Northern Andes of Ecuador |

245
(3)

| | |
| --- | --- |
| | The Musical Tradition: Sanjuan |

248
(8)

| | |
| --- | --- |
| | Sanjuan and Cotacachi Quichua Lifeways |

256
(3)

| | |
| --- | --- |
| | Walking in Sanjuan: The Vital-Domain Metaphor |

259
(2)
261
(3)

| | |
| --- | --- |
| | The Andean Ensemble Phenomenon |

264
(3)
267
(6)
273
(1)
274
(1)
275
(1)
276
(1)
276
(1)

| | |
| --- | --- |
| | Discovering and Documenting a World of Music |

277
(26)

| | |
| --- | --- |
| | Music in Our Own Backyards |

277
(10)
279
(1)
280
(1)
281
(1)
281
(1)
282
(2)
284
(1)
285
(1)
286
(1)

| | |
| --- | --- |
| | Doing Musical Ethnography |

287
(14)

| | |
| --- | --- |
| | Selecting a Subject: Some Practical Suggestions |

287
(2)
289
(11)
300
(1)
301
(1)
301
(2)
Index
303