Note: Supplemental materials are not guaranteed with Rental or Used book purchases.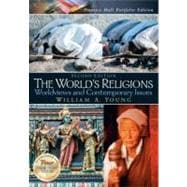 World's Religions w/CD: Worldviews and Contemporary Issues, A Prentice Hall Portfolio Edition
ISBN13:
9780131830103
by
Young, William A
Related Products
Summary
William A. Young employs a set of engaging, essential questions to draw students into a concise, contemporary study of the world's religions. Coverage includes major religions, as well as indigenous religions and new religious movements, providing basic history and worldviews of each. Unlike other leading texts on the market, Young devotes an entire section to twenty-first century ethical concerns-ecology, economics, war, capital punishment, abortion, euthanasia, gender, and sexual orientation-describing in a balanced manner how world religions understand and address these issues. FREE! BOUND INTO EVERY NEW COPY of The World's Religions is The Sacred World: Encounters with the World's Religions, Prentice Hall's new student tutorial on CD-ROM for world religion. Containing over 60 video segments on nine of the world's leading religions, it vividly illustrates key rituals and beliefs. Also included are a glossary of terms and self-assessment questions on the web tied directly to The Sacred World, to help improve student comprehension. The Sacred World brings the color, sound, and beauty of the world's religions right to students ...no matter where in the world they are! ALSO FREE! AND BUNDLED WITH EVERY NEW COPY of The World's Religions is Prentice Hall's exclusive TIMESpecial Edition: World Religions. Recent articles and essays on the world's major religions bring currency to students' study of religion. Articles are highlighted at the end of chapters.
Table of Contents
(Note:Each chapter concludes with a Chapter Summary, Questions for Discussion and Reflection, and Sources and Suggestions for Further Study sections.)
Introduction
An Introduction to Religion and the Study of Religion
The World's Religions-Basic Histories and World Views
Indigenous Religions-Quest for Harmony
Hinduism-Many Paths to the Summit
Theravada Buddhism-The Middle Way
Jainism-The Way of Non Injury
Daoism-The Way of Nature
Confucianism-The Way of Virtue
Mahayana Buddhism-The Great Vehicle
Shinto-The Way of the Kami
Judaism-The Way of Torah
Christianity-The Way of Jesus Christ
Islam-The Way of Submission to Allah
Sikhism-The Way of the Guru
The New Religious Movements-Renewal and Innovation
The World's Religions and Contemporary Ethical Issues
The Ecological and Economic Crises-Humans and Resources
War and Capital Punishment-Society and Violence
Abortion and Euthanasia-Life and Death
Gender and Sexual Orientation-Roles and Identity
Conclusion
The Future of the World's Religions
Glossary
Photo Credits
Index
Table of Contents provided by Publisher. All Rights Reserved.
Excerpts
In nearly three decades of teaching college courses on the world's religions, I have found that students most want to know how religions answer basic human questions such as "Why are we here?" and "What happens after death?" In addition, they wish to learn how religions respond to contemporary ethical issues such as the ecological crisis, economic justice, war, capital punishment, abortion, euthanasia, gender equality, and sexual orientation. They also request an accessible overview of the history and development of religions and their worldviews.Informed by my students' interests and questions, I have attempted to write a "reader-friendly" introduction to the world's religions, intended for use in classroom surveys, as well as for general readers. It focuses on the basic histories, worldviews, and responses to contemporary ethical issues of the world's religions.This second edition reorganizes the structure of the book, allowing students to more effectively explore, as well as compare and contrast, religious worldviews and religious responses to some of the most critical issues of the twenty-first century. It also thoroughly updates the surveys of the religions, adding reflections on the status of each religion as the new century begins, and makes current the discussion of ethical issues. Finally, it adds study aids requested by students, including lists of important terms and phrases, and Web sites useful for further study.Chapter One establishes a framework for understanding religion, with a definition that both distinguishes religion from other human phenomena and structures the analysis of religion. This edition explores more fully the various established methods for studying religion, and clarifies the approach taken in this text. It also discusses general questions, such as "Why are people religious?" and "What is the relationship between religion and science?"Chapters Two through Thirteen provide an overview of the histories, sacred texts, and worldviews of the major religions of the world. The worldviews are presented using the framework introduced in Chapter One, allowing students to develop their own comparisons. The religions surveyed include indigenous religions (with the religions of the Yoruba of West Africa and Oglala Lakota of the northern great plains of North America as examples); religions of South Asia (Hinduism, Theravada Buddhism, and Jainism); religions of East Asia (Daoism, Confucianism, Mahayana Buddhism, Shinto); and religions of the Middle East and beyond (Judaism, Christianity, Islam, and Sikhism).Chapter Fourteen focuses on a representative sampling of new religious movements. This edition reorganizes the discussion, in terms of the following distinguishing themes evident in these religions: Preparing for the End: Apocalyptic New Religious Movements Faith and Spirit: New Religious Movements of Healing and Awareness Reviving the Church: Christian New Religious Movements of Renewal Nature and Spirit: Earth-based and Ecological New Religious Movements Liberation and Enlightenment: New Religious Movements with Asian Roots African-American and Afro-Caribbean New Religious Movements Native American New Religious Movements Focusing on the Human and the Natural: Secular New Religious Movements The Quest for Unity: Universalist New Religious MovementsThe chapter updates the treatment of new religious movements, and adds descriptions of several that have become prominent since the publication of the first edition in 1995: Aum Shinryko, International Raelian Religion, and Falun Gong.Chapters Fifteen through Eighteen present in an updated manner the responses of the world's major religions and selected new religious movements to the following critically important twenty-first-century ethical issues: The Ecological Crisis: Is the Balance of Life on Planet Earth in Jeop