Note: Supplemental materials are not guaranteed with Rental or Used book purchases.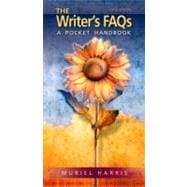 Summary
The easiest pocket handbook to use. . .for writers who want a simple guide to writing the rules of composition. With The Writer's FAQs, Third Edition, writers can easily use the Question and Correct feature at the beginning of the handbook to find quick answers and clear explanations. This brief handbook is the easiest pocket reference for students to use in any course where writing or research is required as well as outside the classroom.
Table of Contents
How to Use This Book
p. v
Question and Correct
p. viii
Writing and Speaking
p. 1
Checklist for Effective Papers/Presentations
p. 3
Sentence Choices
p. 13
Clarity
p. 16
Conciseness
p. 18
Variety
p. 20
Voice (Formal and Informal)
p. 21
Mixed Constructions
p. 22
Active and Passive Verbs
p. 23
Parallelism
p. 24
Transitions
p. 26
Nonsexist Language
p. 28
Sentence Grammar
p. 31
Fragments
p. 34
Comma Splices and Fused Sentences
p. 36
Subjects and Verbs
p. 37
Pronouns
p. 48
Adjectives and Adverbs
p. 55
Modifiers
p. 58
Shifts
p. 60
Punctuation
p. 63
Sentence Punctuation Patterns (for Commas, Semicolons, and Colons)
p. 67
Commas
p. 69
Apostrophes
p. 74
Semicolons
p. 76
Quotation Marks
p. 78
Other Punctuation
p. 81
Mechanics
p. 87
Capitalization
p. 90
Italics
p. 93
Numbers
p. 94
Abbreviations
p. 96
Spelling
p. 99
MultiLingual Speakers (ESL)
p. 105
American Style in Writing/ESL Resources
p. 107
Verbs
p. 109
Nouns (Count and Noncount)
p. 113
Articles ("A," "An," and "The")
p. 114
Prepositions
p. 116
Omitted/Repeated Words
p. 117
Idioms
p. 118
Research
p. 121
Doing Print and Online Research
p. 124
Evaluating Print and Internet Sources
p. 150
Integrating Sources
p. 158
Designing Documents
p. 166
Documentation
p. 173
MLA Style
p. 176
APA Style
p. 214
Chicago Manual of Style (CM)
p. 235
Council of Science Editors (CSE)
p. 246
Style Manuals and Resources for Various Fields
p. 252
Glossary of Usage
p. 255
Glossary of Grammatical Terms
p. 266
Index
p. 287
Correction Symbols
Table of Contents provided by Ingram. All Rights Reserved.
Excerpts
BRIEF CONTENTS How to Use This Book xxx Question and Correct xxx I. WRITING and SPEAKING xxx 1. Checklist for Effective Papers/Presentations xxx II. SENTENCE CHOICES 2. Clarity xxx 3. Conciseness xxx 4. Variety xxx 5. Voice (Formal and Informal) xxx 6. Mixed Constructions xxx 7. Active and Passive Verbs xxx 8. Parallelism xxx 9. Transitions xxx 10. Nonsexist Language xxx III. SENTENCE GRAMMAR 11. Fragments xxx 12. Comma Splices and Fused Sentences xxx 13. Subjects and Verbs xxx 14. Pronouns xxx 15. Adjectives and Adverbs xxx 16. Modifiers xxx 17. Shifts xxx IV. PUNCTUATION 18. Sentence Punctuation Patterns (for Commas, Semicolons, and Colons) xxx 19. Commas xxx 20. Apostrophes xxx 21. Semicolons xxx 22. Quotation Marks xxx 23. Other Punctuation xxx V. MECHANICS 24. Capitalization xxx 25. Italics xxx 26. Numbers xxx 27. Abbreviations xxx 28. Spelling xxx VI. MULTI-LINGUAL SPEAKERS (ESL) 29. American Style in Writing/ESL Resources xxx 30. Verbs xxx 31. Nouns (Count and Non-count) xxx 32. Articles xxx 33. Prepositions xxx 34. Omitted/Repeated Words xxx 35. Idioms xxx VII. RESEARCH PAPERS 36. Doing Print and Online Research xxx 37. Evaluating Print and Internet Sources xxx 38. Integrating Sources xxx 39. Document Design xxx VIII .DOCUMENTATION 40. MLA Style xxx 41. APA Style xxx 42. Chicago Manual of Style xxx 43. CSE (Council of Science Editors) xxx 44. Style Manuals and Resources for Various Fields xxx GLOSSARY OF USAGE xxx GLOSSARY OF TERMS xxx INDEX xxx CORRECTION SYMBOLS Inside back cover HOW TO USE THIS BOOK This book has many ways to help you easily find the information you need: Brief Contents: This is the table of contents for the book, listing only the sections and chapter titles. Each section of the book begins with a more complete list of its contents. xx Question and Correct: This is a list typical questions writers ask. When you find a question similar to the one you have, you'll see the section number and page to turn to. You won't need to know any terminology. xx Sections of the Book: Here you'll find summaries of the contents of each part of the book to help you find the type of information you need. xx HINT boxes: Throughout the book you'll find HINT boxes that offer advice, help you remember rules, and keep you from making mistakes that often arise. xx Questions at the Beginning of Each Part of the Book: To help you find what you need in a section of the book, you'll find a list of more questions writers typically ask. xx Glossary of Usage: This is an alphabetical list of words that can be confusing, such as when to write "may" and when to write "can" (or "your" or "you're") or whether or not terms such as "could of" or "use to" are correct. xx Glossary of Grammatical Terms: This is an alphabetical list of grammatical terms and their definitions. xx Index: This is an alphabetical list of the topics covered in this book with the pages to turn to, to find explanations. xx Correction Symbols: This is a list of correction symbols many instructors use when reading student papers. Inside back cover Sections of the Book I. Writing and Speaking Here you'll find checklists for planning, writing, and revising papers and has information about developing a thesis statement, linking sentences and paragraphs, writing introductions and conclusions, and using computers effectively when you write. There is also information and advice on developing oral and multimedia presentations. II. Sentence Choices Included here is information about composing sentence including how to write clear, effe