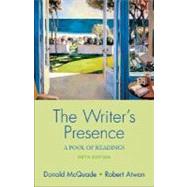 List Price: $62.67
In Stock Usually Ships in 24 Hours.
Questions About This Book?
Why should I rent this book?
Renting is easy, fast, and cheap! Renting from eCampus.com can save you hundreds of dollars compared to the cost of new or used books each semester. At the end of the semester, simply ship the book back to us with a free UPS shipping label! No need to worry about selling it back.
How do rental returns work?
Returning books is as easy as possible. As your rental due date approaches, we will email you several courtesy reminders. When you are ready to return, you can print a free UPS shipping label from our website at any time. Then, just return the book to your UPS driver or any staffed UPS location. You can even use the same box we shipped it in!
What version or edition is this?
This is the 5th edition with a publication date of 1/11/2006.
What is included with this book?
The Used copy of this book is not guaranteed to inclue any supplemental materials. Typically, only the book itself is included.
The Rental copy of this book is not guaranteed to include any supplemental materials. You may receive a brand new copy, but typically, only the book itself.
Summary
The Writer's Presencecombines great writing with a simple organization and uncluttered presentation to give instructors the widest range of options. Each selection showcases a writer's unique voice to demonstrate how writers present themselves through their work and to provide students with models they can use to develop their own voices. Arranged alphabetically by author and by five types of writing (informal, personal, expository, and argumentative writing, as well as short fiction) and with minimal apparatus, the readings allow instructors to be flexible and allow the writing to speak for itself.
Author Biography
DONALD MCQUADE is professor of English and former dean of undergraduate studies at the University of California, Berkeley; he currently serves as Vice Chancellor of University Affairs. A past chair of CCCC, he has directed the writing programs at Berkeley and at Queens College, CUNY, and has published widely on American literature, American culture, and composition theory and practice. With his daughter Christine, he is coeditor of Seeing & Writing, now in its third edition from Bedford/St. Martin's.

ROBERT ATWAN founded the Best American Essays series, for which he serves as series editor. His essays and reviews have appeared in the New York Times, the Los Angeles Times, Atlantic Monthly, and Kenyon Review. For Bedford/St. Martin's, he has edited Ten on Ten: Major Essayists on Recurring Themes; Our Times: Readings from Recent Periodicals, now in its fifth edition, America Now: Short Readings from Recent Periodicals, now in its sixth edition, and Convergences, now available in its second edition.
Table of Contents
Preface for Instructors
v
Alternate Table of Contents

| | |
| --- | --- |
| | Selections Arranged by Theme |

xxxix

| | |
| --- | --- |
| | Selections Arranged by Common Rhetorical Modes and Patterns of Development |

xlvii
Introduction for Students: The Writer's Presence
1
(10)
I. THE INFORMAL VOICE: Diaries, Journals, Notebooks, Letters, Lists, Bumper Stickers, and Testimony
11
(60)

| | |
| --- | --- |
| | Christopher Columbus, Land! October 12-14, 1492 |

13
(4)

| | |
| --- | --- |
| | "They ought to be good servants and of good skill, for I see that they repeat very quickly whatever was said to them. I believe that they would easily be made Christians, because it seemed to me that they belonged to no religion. I, please Our Lord, will carry off six of them at my departure to Your Highnesses, that they may learn to speak. I saw no animal of any kind in this island, except parrots." |

| | |
| --- | --- |
| | Toi Derricotte, from The Black Notebooks |

17
(4)

| | |
| --- | --- |
| | "I let the tension stay in my body. I go home and sit with myself for an hour, trying to grasp the feeling—the odor of self-hatred, the biting stench of shame." |

| | |
| --- | --- |
| | Joan Didion, On Keeping a Notebook |

21
(7)

| | |
| --- | --- |
| | "My first notebook was a Big Five tablet, given to me by my mother with the sensible suggestion that I stop whining and learn to amuse myself by writing down my thoughts." |

| | |
| --- | --- |
| | Anne Frank, from The Diary of a Young Girl |

28
(6)

| | |
| --- | --- |
| | "Oh, so many things bubble up inside me as I lie in bed, having to put up with people I'm fed up with, who always misinterpret my intentions. That's why in the end I always come back to my diary." |

| | |
| --- | --- |
| | Michihiko Hachiya, from Hiroshima Diary |

34
(6)

| | |
| --- | --- |
| | "We stood in the street, uncertain and afraid, until a house across from us began to sway and then with a rending motion fell almost at our feet. Our own house began to sway, and in a minute it, too, collapsed in a cloud of dust." |

| | |
| --- | --- |
| | Amanda Hesser, Shop Write |

40
(3)

| | |
| --- | --- |
| | "What was the shopper with vodka, lighters, milk and ice cream on his list planning to do with them? In what order would they be consumed? Was it a he or a she? Who had written 'Tootie food, kitten chow, bird food stick, toaster scrambles, coffee drinks'?" |

| | |
| --- | --- |
| | Adam Mayblum, The Price We Pay |

43
(5)

| | |
| --- | --- |
| | "On the forty-fourth floor my phone rang again. It was my parents. They were hysterical. I said relax, I'm fine. My father said get out, there is a third plane coming. I still did not understand." |

| | |
| --- | --- |
| | Sparrow and Art Chantry, My Career in Bumper Stickers |

48
(7)

| | |
| --- | --- |
| | "Eventually I realized: bumper stickers are the Haiku of the American highway." |

| | |
| --- | --- |
| | Tim Townsend, The First Hours |

| | |
| --- | --- |
| | "In the seconds, minutes, and hours following the World Trade Center attacks, hundreds—maybe even thousands—of ordinary people would find their best selves and become heroes. And then there were the rest of us, running hard, wanting only to live and to talk to someone we loved, even if it meant leaving an old guy lying in the street, glasses gone, a cloud of death and destruction creeping up on him." |

| | |
| --- | --- |
| | Marine Staff Sergeant Aaron Dean White, Army Pfc. Diego Fernando Rincon, and Army Specialist Brett T. Christian, Last Letters Home |

55
(5)

| | |
| --- | --- |
| | "I don't know what I'm talking about or why I'm writing it down. Maybe I just want someone to know what goes through my head..." |

| | |
| --- | --- |
| | Walt Whitman, from Specimen Days: Civil War Diary |

60
(6)

| | |
| --- | --- |
| | "Future years will never know the seething hell and the black infernal background of countless minor scenes and interiors...of the Secession war; and it is best they should not—the real war will never get in the books." |

| | |
| --- | --- |
| | Virginia Woolf, from A Writer's Diary |

66
(5)

| | |
| --- | --- |
| | "What sort of diary should I like mine to be? Something loose knit and yet not slovenly, so elastic that it will embrace anything, solemn, slight or beautiful that comes into my mind. I should like it to resemble some deep old desk, or capacious hold-all, in which one flings a mass of odds and ends without looking them through." |

II. PERSONAL WRITING: Exploring Our Own Lives
71
(248)

| | |
| --- | --- |
| | Sherman Alexie, The Joy of Reading and Writing: Superman and Me |

73
(4)

| | |
| --- | --- |
| | "A smart Indian is a dangerous person, widely feared and ridiculed by Indians and non-Indians alike. I fought with my classmates on a daily basis. They wanted me to stay quiet when the non-Indian teacher asked for answers, for volunteers, for help. We were Indian children who were expected to be stupid." |

| | |
| --- | --- |
| | Maya Angelou, 'What's Your Name, Girl?" |

77
(6)

| | |
| --- | --- |
| | "Every person I knew had a hellish horror of being 'called out of his name.' It was a dangerous practice to call a Negro anything that could be loosely construed as insulting because of the centuries of their having been called niggers, jigs, dinges, blackbirds, crows, boots, and spooks." |

| | |
| --- | --- |
| | James Baldwin, Notes of a Native Son |

83
(20)

| | |
| --- | --- |
| | "The day of my father's funeral had also been my nineteenth birthday. As we drove him to the graveyard, the spoils of injustice, anarchy, discontent, and hatred were all around us. It seemed to me that God himself had devised, to mark my father's end, the most sustained and brutally dissonant of codas. And it seemed to me, too, that the violence which rose all about us as my father left the world had been devised as a corrective for the pride of his eldest son." |

| | |
| --- | --- |
| | James Baldwin on Black English |

100
(1)

| | |
| --- | --- |
| | "The brutal truth is that the bulk of white people in America never had any interest in educating black people, except as this could serve white purposes. It is not the black child's language that is in question, it is not his language that is despised: It is his experience." |

| | |
| --- | --- |
| | Raymond Carver, My Father's Life |

103
(7)

| | |
| --- | --- |
| | "My Dad walked, hitched rides, and rode in empty boxcars when he went from Arkansas to Washington State in 1934, looking for work. I don't know whether he was pursuing a dream when he went out to Washington. I doubt it. I don't think he dreamed much." |

| | |
| --- | --- |
| | Judith Ortiz Cofer, Silent Dancing |

110
(11)

| | |
| --- | --- |
| | "My father's Navy check provided us with financial security and a standard of life that the factory workers envied. The only thing his money could not buy us was a place to live away from the barrio—his greatest wish, Mother's greatest fear." |

| | |
| --- | --- |
| | Judith Ortiz Cofer on Memory and Personal Essays |

118
(1)

| | |
| --- | --- |
| | "Much of my writing begins as a meditation on past events. But memory for me is the 'jumping off' point; I am not, in my poetry and my fiction writing, a slave to memory." |

| | |
| --- | --- |
| | Bernard Cooper, A Clack of Tiny Sparks: Remembrances of a Gay Boyhood |

121
(8)

| | |
| --- | --- |
| | "My longing was wrong in the eyes of my mother, whose hazel eyes were the eyes of the world, and if that longing continued unchecked, the unwieldy shape of my fate would be cast, and I'd be subjected to a lifetime of scorn." |

| | |
| --- | --- |
| | Frederick Douglass, Learning to Read and Write |

129
(5)

| | |
| --- | --- |
| | "The more I read, the more I was led to abhor and detest my enslavers. I could regard them in no other light than a band of successful robbers, who had left their homes, and gone to Africa, and stolen us from our homes, and in a strange land reduced us to slavery. I loathed them as being the meanest as well as the most wicked of men." |

| | |
| --- | --- |
| | Jonathan Franzen, The Comfort Zone |

134
(19)

| | |
| --- | --- |
| | "Our visual cortexes are wired to quickly recognize faces and then quickly subtract massive amounts of detail from them, zeroing in on their essential message: Is this person happy? Angry? Fearful? Individual faces may vary greatly, but a smirk on one is a lot like a smirk on another. Smirks are — conceptual, not pictorial. Our brains are like cartoonists—and cartoonists are like our brains, simplifying and exaggerating, subordinating facial detail to abstract comic concepts." |

| | |
| --- | --- |
| | Henry Louis Gates Jr., Rope Burn |

153
(5)

| | |
| --- | --- |
| | "I'd had a lifelong fascination with Africa—I had spent a year in rural Tanzania when I was a college student, had studied African cultures as an adult, and had recently begun making a series of documentaries about the continent. This time, I thought I'd explore some of Africa's less visited corners, and that's how I ended up contemplating the doubtful integrity of an extremely elderly piece of leather." |

| | |
| --- | --- |
| | Henry Louis Gates Jr. on the Writer's Voice |

156
(1)

| | |
| --- | --- |
| | "I've always had two conflicting voices within me, one that wants to be outrageous and on the edge, always breaking new ground, and another that wants to be loved by the community for that outrageousness." |

| | |
| --- | --- |
| | Edward Hoagland, On Stuttering |

158
(4)

| | |
| --- | --- |
| | "I've stuttered for more than 60 years, and the mysteries of the encumbrance still catch me up: being reminded every morning that it's engrained in my fiber, although I had forgotten in my dreams. Life can become a matter of measuring the importance of anything you have to say." |

| | |
| --- | --- |
| | Edward Hoagland on What an Essay Is |

161
(1)

| | |
| --- | --- |
| | "Essays are how we speak to one another in print—caroming thoughts not merely in order to convey a certain packet of information, but with a special edge or bounce of personal character in a kind of public letter." |

| | |
| --- | --- |
| | Langston Hughes, Salvation |

162
(4)

| | |
| --- | --- |
| | "Suddenly the whole room broke into a sea of shouting, as they saw me rise. Waves of rejoicing swept the place. Women leaped in the air. My aunt threw her arms around me. The minister took me by the hand and led me to the platform." |

| | |
| --- | --- |
| | Langston Hughes on How to Be a Bad Writer (In Ten Easy Lessons) |

165
(1)

| | |
| --- | --- |
| | "Have nothing to say, but use a great many words, particularly high-sounding words, to say it." |

| | |
| --- | --- |
| | Zora Neale Hurston, How It Feels to Be Colored Me |

166
(5)

| | |
| --- | --- |
| | "Among the thousand white persons, I am a dark rock surged upon, and overswept, but through it all, I remain myself. When covered by the waters, I am; and the ebb but reveals me again." |

171
(4)

| | |
| --- | --- |
| | "Today I know an Irwin who, his first day of college, introduced himself to everyone as Richard. I know a Becky who, once she got to grad school, asked even her oldest friends to call her Rebecca. Names matter to us; and as for whether the world cares, I think it does much more than it realizes." |

| | |
| --- | --- |
| | Jamaica Kincaid, Biography of a Dress |

175
(8)

| | |
| --- | --- |
| | "The dress I am wearing in this black-and-white photograph, taken when I was two years old, was a yellow dress made of cotton poplin (a fabric with a slightly unsmooth texture first manufactured in the French town of Avignon and brought to England by the Huguenots, but I could not have known that at the time), and it was made for me by my mother." |

| | |
| --- | --- |
| | Nancy Mairs, On Being a Cripple |

183
(11)

| | |
| --- | --- |
| | "First, the matter of semantics. I am a cripple. I choose this word to name me. I choose from among several possibilities, the most common of which are 'handicapped' and 'disabled.' I made the choice a number of years ago, without thinking, unaware of my motives for doing so." |

| | |
| --- | --- |
| | Nancy Mairs on Finding a Voice |

193
(1)

| | |
| --- | --- |
| | "The question I am most often asked when I speak to students and others interested in writing is, How did you find your voice?" |

194
(15)

| | |
| --- | --- |
| | "I spent my first month in town with my mouth hanging open. The sharp-dressed young 'cats' who hung on the corners and in the poolrooms, bars and restaurants, and who obviously didn't work anywhere, completely entranced me. I couldn't get over marveling at how their hair was straight and shiny like white men's hair; Ella told me this was called a 'conk.'" |

| | |
| --- | --- |
| | David Mamet, The Rake: A Few Scenes from My Childhood |

209
(6)

| | |
| --- | --- |
| | "We were raking the lawn, my sister and I. I was raking, and she was stuffing the leaves into a bag. I loathed the job, and my muscles and my mind rebelled, and I was viciously angry, and my sister said something, and I turned and threw the rake at her and it hit her in the face." |

| | |
| --- | --- |
| | Joyce Carol Oates, District School #7, Niagara County, New York |

215
(6)

| | |
| --- | --- |
| | "My early 'creative' experience evolved not from printed books, but from coloring books, predating my ability to read. I did not learn to read until I was in first grade, and six years old, though by this time I had already produced numerous 'books' of a kind by drawing, coloring, and scribbling in tablets, in what I believed to be a convincing imitation of adults." |

| | |
| --- | --- |
| | George Orwell, Shooting an Elephant |

221
(7)

| | |
| --- | --- |
| | "When I pulled the trigger I did not hear the bang or feel the kick—one never does when a shot goes home—but I heard the devilish roar of glee that went up from the crowd." |

| | |
| --- | --- |
| | Adrienne Rich, Split at the Root: An Essay on Jewish Identity |

228
(11)

| | |
| --- | --- |
| | "Sometimes I feel I have seen too long from too many disconnected angles: white, Jewish, anti-Semite, racist, anti-racist, once-married, lesbian, middle-class, feminist, exmatriate southerner, split at the root—that I will never bring them whole." |

| | |
| --- | --- |
| | Richard Rodriguez, Aria: A Memoir of a Bilingual Childhood |

239
(20)

| | |
| --- | --- |
| | "Memory teaches me what I know of these matters. The boy reminds the adult. I was a bilingual child, but of a certain kind: 'socially disadvantaged,' the son of working-class parents, both Mexican immigrants." |

| | |
| --- | --- |
| | Richard Rodriguez on a Writer's Identity |

256
(1)

| | |
| --- | --- |
| | "The notion of the writer as a kind of sociological sample of a community is ludicrous. Even worse is the notion that writers should provide an example of how to live." |

| | |
| --- | --- |
| | Marjane Satrapi, The Socks |

259
(14)

| | |
| --- | --- |
| | David Sedaris, Me Talk Pretty One Day |

273
(5)

| | |
| --- | --- |
| | "Huddled in the hallways and making the most of our pathetic French, my fellow students and I engaged in the sort of conversation commonly overheard in refugee camps. 'Sometimes me cry alone at night.' 'That be common for I, also, but be more strong, you. Much work and someday you talk pretty. People start love you soon. Maybe tomorrow, okay.'" |

| | |
| --- | --- |
| | Zadie Smith, Scenes from the Smith Family Christmas |

278
(5)

| | |
| --- | --- |
| | "I've ruined this photo. I don't understand why I can't take better care of things like this. It's an original, I have no negative, yet I allowed it to sit for months in a pile of mail on my open windowsill. Finally the photo got soaked, imprinted with the text of phone bills and Post-it notes. I felt sick wedging it inside my O.E.D. to stop the curling." |

| | |
| --- | --- |
| | Brent Staples, Just Walk on By: A Black Man Ponders His Power to Alter Public Space |

283
(7)

| | |
| --- | --- |
| | "She cast back a worried glance. To her, the youngish black man—a broad six feet two inches with a beard and billowing hair, both hands shoved into the pockets of a bulky military jacket—seemed menacingly close. After a few more quick glimpses, she picked up her pace and was soon running in earnest." |

| | |
| --- | --- |
| | Another Version of Just Walk on By |

287
(1)

| | |
| --- | --- |
| | "She looked back at me once, then again, and picked up her pace. She looked back again and started to run. I stopped where I was and looked up at the surrounding windows. What did this look like to people peeking out through their blinds?" |

290
(5)

| | |
| --- | --- |
| | "Lately, I've been giving more thought to the kind of English my mother speaks. Like others, I have described it to people as 'broken' or 'fractured' English. But I wince when I say that. It has always bothered me that I can think of no way to describe it other than 'broken,' as if it were damaged and needed to be fixed, as if it lacked a certain wholeness and soundness." |

| | |
| --- | --- |
| | Garry Trudeau, My Inner Shrimp |

295
(3)

| | |
| --- | --- |
| | "For the rest of my days, I shall be a recovering short person. Even from my lofty perch of something over six feet (as if I don't know within a micron), I have the soul of a shrimp." |

| | |
| --- | --- |
| | John Updike, At War with My Skin |

298
(6)

| | |
| --- | --- |
| | "In certain lights, your face looks passable; in slightly different other lights, not. Shaving mirrors and rearview mirrors in automobiles are merciless, whereas the smoky mirrors in airplane bathrooms are especially flattering and soothing: one's face looks as tawny as a movie star's." |

| | |
| --- | --- |
| | Alice Walker, Beauty: When the Other Dancer Is the Self |

304
(7)

| | |
| --- | --- |
| | "Where the BB pellet struck there is a glob of whitish scar tissue, a hideous cataract, on my eye. Now when I stare at people—a favorite pastime, up to now—they will stare back. Not at the 'cute' little girl, but at her scar." |

| | |
| --- | --- |
| | E.B. White, Once More to the Lake |

311
(8)

| | |
| --- | --- |
| | "Summertime, oh, summertime, pattern of life indelible, the fadeproof lake, the woods unshatterable, the pasture with the sweetfern and the juniper forever and ever, summer without end." |

| | |
| --- | --- |
| | E.B. White on the Essayist |

317
(1)

| | |
| --- | --- |
| | "There is one thing the essayist cannot do...he cannot indulge himself in deceit or in concealment, for he will be found out in no time." |

III. EXPOSITORY WRITING: Shaping Information
319
(304)

| | |
| --- | --- |
| | Diane Ackerman, We Are Our Words |

321
(3)

| | |
| --- | --- |
| | "Words form the backbone of what we think. So, although it is possible to have thought without words, it's rarely possible to know what one thinks without bronzing it in words. Otherwise, the thoughts seem to float away. Refine the words, and you refine the thought. But that sometimes means squishing a square thought into a round hole and saying what you can instead of what you mean." |

| | |
| --- | --- |
| | Gloria Anzalchia, How to Tame a Wild Tongue |

324
(11)

| | |
| --- | --- |
| | "If you want to be American, speak 'American.' If you don't like it, go back to Mexico, where you belong." |

| | |
| --- | --- |
| | Karen Armstrong, Is a Holy War Inevitable? |

335
(9)

| | |
| --- | --- |
| | "Fundamentalists seek to drag God and religion from the sidelines to which they have been relegated in a secular polity and pull them back to center stage. Every fundamentalist movement I have studied, in Judaism, Christianity and Islam, is rooted in a profound fear of annihilation—a conviction that the liberal, secularist establishment wants to wipe out religion." |

| | |
| --- | --- |
| | David Brooks, People Like Us |

344
(5)

| | |
| --- | --- |
| | "It is appalling that Americans know so little about one another. It is appalling that many of us are so narrow-minded that we can't tolerate a few people with ideas significantly different from our own. It's appalling that evangelical Christians are practically absent from entire professions, such as academia, the media, and filmmaking. It's appalling that people should be content to cut themselves off from everyone unlike themselves." |

| | |
| --- | --- |
| | Stephen L. Carter, The Insufficiency of Honesty |

349
(6)

| | |
| --- | --- |
| | "The first point to understand about the difference between honesty and integrity is that a person may be entirely honest without ever engaging in the hard work of discernment that integrity requires; she may tell us quite truthfully what she believes without ever taking the time to figure out whether what she believes is good and right and true." |

| | |
| --- | --- |
| | Amy Cunningham, Why Women Smile |

355
(6)

| | |
| --- | --- |
| | "Smiles are associated with joy, relief, and amusement. But smiles are by no means limited to the expression of positive emotions: People of many different cultures smile when they are frightened, embarrassed, angry, or miserable." |

| | |
| --- | --- |
| | Don DeLillo, In the Ruins of the Future: Reflections on Terror, Loss and Time in the Shadow of September |

361
(11)

| | |
| --- | --- |
| | "We like to think America invented the future. We are comfortable with the future, intimate with it. But there are disturbances now, in large and small ways, a chain of reconsiderations. Where we live, how we travel, what we think about when we look at our children." |

| | |
| --- | --- |
| | Gerald Early, Fear and Fate in America |

372
(7)

| | |
| --- | --- |
| | "Both the left and the right see the other as a cabal, plotting and scheming, a subversive network of disinformation and manipulation. Both sides want the certainty of orthodoxy and the constant reassurance that their enemies are real, undeterred by momentary defeat, corporately organized, and, indeed, evil (much like villains in Hollywood action movies, our latest cultural representation of paranoia as artistic catharsis). The objects of our paranoia must be worthy of it." |

| | |
| --- | --- |
| | Lars Eighner, On Dumpster Diving |

379
(11)

| | |
| --- | --- |
| | "Students throw out many good things, including food. In particular they tend to throw everything out when they move at the end of a semester, before and after breaks, and around midterm when many of them despair of college. So I find it advantageous to keep an eye on the academic calendar." |

| | |
| --- | --- |
| | Ralph Ellison, What America Would Be Like without Blacks |

390
(6)

| | |
| --- | --- |
| | "Without the presence of Negro American style, our jokes, our tall tales, even our sports would be lacking in the sudden turns, the shocks, the swift changes of pace (all jazz-shaped) that serve to remind us that the world is ever unexplored, and that while a complete mastery of life is mere illusion, the real secret of the game is to make life swing." |

| | |
| --- | --- |
| | Joseph Epstein, The Perpetual Adolescent |

396
(10)

| | |
| --- | --- |
| | "And yet what is so wrong about any of this? If one wants to dress like a kid, spin around the office on a scooter, not make up one's mind about what work one wants to do until one is forty, be noncommittal in one's relationships—what, really, are the consequences? I happen to think that the consequences are genuine, and fairly serious." |

| | |
| --- | --- |
| | Kai Erikson, The Witches of Salem Village |

406
(10)

| | |
| --- | --- |
| | "They would scream unaccountably, fall into grotesque convulsions, and sometimes scamper along on their hands and knees making noises like the barking of a dog." |

| | |
| --- | --- |
| | James Fallows, Throwing Like a Girl |

416
(6)

| | |
| --- | --- |
| | "Someday researchers may find evidence to support a biological theory of throwing actions. For now, what you'll hear if you ask an orthopedist, an anatomist, or (especially) the coach of a women's softball team is that there is no structural reason why men and women should throw in different ways." |

| | |
| --- | --- |
| | Ian Frazier, All-Consuming Patriotism |

422
(4)

| | |
| --- | --- |
| | "I think of myself as a good American. I follow current events, come to a complete stop at stop signs, show up for jury duty, vote. When the government tells me to shop, as it's been doing recently, I shop. Over the last few months, patriotically, I've bought all kinds of stuff I have no use for." |

| | |
| --- | --- |
| | Neal Gabler, Our Celebrities, Ourselves |

426
(6)

| | |
| --- | --- |
| | "...one may have to think of celebrity in an entirely new way—not as a status that is conferred by publicity, but as a narrative form, written in the medium of life, that is similar to narratives in movies, novels, and television." |

| | |
| --- | --- |
| | Malcolm Gladwell, Big and Bad |

432
(11)

| | |
| --- | --- |
| | "We live in an age, after all, that is strangely fixated on the idea of helplessness: we're fascinated by hurricanes and terrorist acts and epidemics like SARS—situations in which we feel powerless to affect our own destiny. In fact, the risks posed to life and limb by forces outside our control are dwarfed by the factors we can control. Our fixation with helplessness distorts our perceptions of risk." |

| | |
| --- | --- |
| | Mary Gordon, The Ghosts of Ellis Island |

443
(5)

| | |
| --- | --- |
| | "The minute I set foot upon the island I could feel all that it stood for: insecurity, obedience, anxiety, dehumanization, the terrified and careful deference of the displaced." |

| | |
| --- | --- |
| | Stephen Jay Gould, Sex, Drugs, Disasters, and the Extinction of Dinosaurs |

448
(8)

| | |
| --- | --- |
| | "My greatest unhappiness with most popular presentations of science concerns their failure to separate fascinating claims from the methods that scientists use to establish the facts of nature." |

456
(5)

| | |
| --- | --- |
| | "My daydreams were full of places I longed to be, shelters and solitudes. I wanted a room apart from others, a hidden cabin to rest in. I wanted to be in a redwood forest with trees so tall that the owls called out in the daytime." |

461
(5)

| | |
| --- | --- |
| | "Mess is a state of mind. Or rather, messiness is a particular relation between the state of arrangement of a collection of things and a state of mind that contemplates it in its containing space." |

| | |
| --- | --- |
| | Pico Iyer, Living in the Transit Lounge |

466
(7)

| | |
| --- | --- |
| | "...I am an example, perhaps, of an entirely new breed of people, a transcontinental tribe of wanderers that is multiplying as fast as IDD lines and IATA flights. We are the Transit Loungers, forever heading to the departure gate, forever orbiting the world. We buy our interests duty-free, we eat our food on plastic plates, we watch the world through borrowed headphones. We pass through countries as through revolving doors, resident aliens of the world, impermanent residents of nowhere." |

| | |
| --- | --- |
| | Sebastian Junger, Colter's Way |

473
(5)

| | |
| --- | --- |
| | "Life in modern society is designed to eliminate as many unforeseen events as possible, and as inviting as that seems, it leaves us hopelessly underutilized. And that is where the idea of 'adventure' comes in. The word comes from the Latin adventura, meaning 'what must happen.' An adventure is a situation where the outcome is not entirely within your control." |

| | |
| --- | --- |
| | Stephen King, Everything You Need to Know about Writing Successfully—in Ten Minutes |

478
(7)

| | |
| --- | --- |
| | "That's right. I know it sounds like an ad for some sleazy writers' school, but I really am going to tell you everything you need to pursue a successful and financially rewarding career writing fiction, and I really am going to do it in ten minutes, which is exactly how long it took me to learn." |

| | |
| --- | --- |
| | Maxine Hong Kingston, No Name Woman |

485
(13)

| | |
| --- | --- |
| | "Whenever she had to warn us about life, my mother told stories that ran like this one, a story to grow up on. She tested our strength to establish realities." |

| | |
| --- | --- |
| | Maxine Hong Kingston on Writing for Oneself |

496
(1)

| | |
| --- | --- |
| | "I wanted to write directly what I was thinking and feeling, not imagining fictional other people. I wanted to write myself." |

| | |
| --- | --- |
| | Abraham Lincoln, Gettysburg Address |

498
(3)

| | |
| --- | --- |
| | "The world will little note, nor long remember what we say here, but it can never forget what they did here." |

| | |
| --- | --- |
| | Abraham Lincoln's Hay Draft off the Gettysburg Address |

499
(2)

| | |
| --- | --- |
| | Abraham Lincoln, Second Inaugural Address |

501
(3)

| | |
| --- | --- |
| | "With malice toward none; with charity for all; with firmness in the right, as God gives us to see the right, let us strive on to finish the work we are in; to bind up the nation's wounds; to care for him who shall have borne the battle, and for his widow, and his orphan—to do all which may achieve and cherish a just, and a lasting peace, among ourselves, and with all nations." |

| | |
| --- | --- |
| | H.L. Mencken, The Hills of Zion |

504
(6)

| | |
| --- | --- |
| | "It was hot weather when they tried the infidel Scopes at Dayton, Tenn., but I went down there very willingly, for I was eager to see something of evangelical Christianity as a going concern." |

| | |
| --- | --- |
| | N. Scott Momaday, The Way to Rainy Mountain |

510
(6)

| | |
| --- | --- |
| | "Loneliness is an aspect of the land. All things in the plain are isolate; there is no confusion of objects in the eye, but one hill or one tree or one man. To look upon that landscape in the early morning, with the sun at your back, is to lose the sense of proportion. Your imagination comes to life, and this, you think, is where Creation was begun." |

| | |
| --- | --- |
| | Azar Nafisi, Reading Lolita in Tehran |

516
(10)

| | |
| --- | --- |
| | "Teaching in the Islamic Republic, like any other vocation, was subservient to politics and subject to arbitrary rules. Always, the joy of teaching was marred by diversions and considerations forced on us by the regime—how well could one teach when the main concern of university officials was not the quality of one's work but the color of one's lips, the subversive potential of a single strand of hair?" |

526
(7)

| | |
| --- | --- |
| | "If this were a movie, he'd score a perfect 1600 and be off to Princeton on full scholarship. But Harlem isn't Hollywood, and the challenges in real life are infinitely more complex." |

| | |
| --- | --- |
| | George Orwell, Politics and the English Language |

533
(12)

| | |
| --- | --- |
| | "Political language—and with variations this is true of all political parties, from Conservatives to Anarchists—is designed to make lies sound truthful and murder respectable, and to give an appearance of solidity to pure wind." |

| | |
| --- | --- |
| | George Orwell on the Four Reasons for Writing |

544
(1)

| | |
| --- | --- |
| | "Putting aside the need to earn a living, I think there are four great motives for writing, at any rate for writing prose." |

| | |
| --- | --- |
| | Katha Pollitt, Why Boys Don't Play with Dolls |

545
(4)

| | |
| --- | --- |
| | "Instead of looking at kids to 'prove' that differences in behavior by sex are innate, we can look at the ways we raise kids as an index to how unfinished the feminist revolution really is, and how tentatively it is embraced even by adults who fully expect their daughters to enter previously male-dominated professions and their sons to change diapers." |

| | |
| --- | --- |
| | Joe Sacco, Through Other Eyes |

549
(10)

| | |
| --- | --- |
| | "Shouldn't you be seeing our side, too?" |

| | |
| --- | --- |
| | THE GRAPHIC WRITER AT WORK |

| | |
| --- | --- |
| | Kristian Williams on The Case for Comics Journalism |

557
(1)

| | |
| --- | --- |
| | "You become part of the story if you're a journalist," Sacco says. "I mean, you can try to write yourself out of it, but you become involved. I think it's more honest to show that your involvement affects people." |

| | |
| --- | --- |
| | Eric Schlosser, Why McDonald's Fries Taste So Good |

559
(11)

| | |
| --- | --- |
| | "Wonderful smells drifted through the hallways, men and women in neat white lab coats cheerfully went about their work, and hundreds of little glass bottles sat on laboratory tables and shelves.... The long chemical names on the little white labels were as mystifying to me as medieval Latin. These odd-sounding things would be mixed and poured and turned into new substances, like magic potions." |

| | |
| --- | --- |
| | Charles Simic, The Life of Images |

570
(6)

| | |
| --- | --- |
| | "Can one experience nostalgia for a time and place one did not know? I believe so. You could put me in solitary with Abbott's photograph of 'Blossom Restaurant' and I wouldn't notice the months pass away as I studied the menu chalked on the blackboard at its entrance." |

| | |
| --- | --- |
| | Calvin Trillin, A Traditional Family |

576
(3)

| | |
| --- | --- |
| | "I just found out that our family is no longer what the Census Bureau calls a traditional American family, and I want everyone to know that this is not our fault." |

| | |
| --- | --- |
| | Barbara Tuchman, "This Is the End of the World": The Black Death |

579
(16)

| | |
| --- | --- |
| | "Ignorance of the cause augmented the sense of horror. Of the real carriers, rats and fleas, the fourteenth century had no suspicion, perhaps because they were so familiar." |

| | |
| --- | --- |
| | Sherry Turkle, How Computers Change the Way We Think |

595
(6)

| | |
| --- | --- |
| | "We live in a culture of simulation. Our games, our economic and political systems, and the ways architects design buildings, chemists envisage molecules, and surgeons perform operations all use simulation technology. In ten years the degree to which simulations are embedded in every area of life will have increased exponentially. We need to develop a new form of media literacy: readership skills for the culture of simulation." |

| | |
| --- | --- |
| | Ellen Ullman, The Museum of Me |

601
(7)

| | |
| --- | --- |
| | "I was walking toward Market Street one afternoon when I saw it, a background of brilliant sky blue, with writing on it in airy white letters, which said: now the world really does revolve around you. The letters were lowercase, soft-edged, spaced irregularly, as if they'd been skywritten over a hot August beach and were already drifting off into the air. The message they left behind was a child's secret wish, the ultimate baby-world narcissism we are all supposed to abandon when we grow up: the world really does revolve around me." |

608
(2)

| | |
| --- | --- |
| | "Let us consider television viewing in the light of the conditions that define serious addictions." |

610
(9)

| | |
| --- | --- |
| | "'Hooking up' was a term known in the year 2000 to almost every American child over the age of nine, but to only a relatively small percentage of their parents, who, even if they heard it, thought it was being used in the old sense of 'meeting' someone. Among the children, hooking up was always a sexual experience, but the nature and extent of what they did could vary widely." |

| | |
| --- | --- |
| | Virginia Woolf, The Death of the Moth |

619
(4)

| | |
| --- | --- |
| | "It was as if someone had taken a tiny bead of pure life and decking it as lightly as possible with down and feathers, had set it dancing and zigzagging to show us the true nature of life." |

IV. ARGUMENTATIVE WRITING: Contending with Issues
623
(260)

| | |
| --- | --- |
| | James Agee, America, Look at Your Shame! |

625
(8)

| | |
| --- | --- |
| | "The word cut across my solar plexus like a cold knife, and the whole bus, except for those two voices and the comments of their friends, was suddenly almost exploded by an immensely thick quietness." |

| | |
| --- | --- |
| | Dorothy Allison, This Is Our World |

633
(9)

| | |
| --- | --- |
| | "I think that using art to provoke uncertainty is what great writing and inspired images do most brilliantly. Art should provoke more questions than answers and, most of all, should make us think about what we rarely want to think about at all." |

| | |
| --- | --- |
| | Edwidge Danticat, We Are Ugly, but We Are Here |

642
(5)

| | |
| --- | --- |
| | "Watching the news reports, it is often hard to tell whether there are real living and breathing women in conflict-stricken places like Haiti. The evening news broadcasts only allow us a brief glimpse of presidential coups, rejected boat people, and sabotaged elections. The women's stories never manage to make the front page. However they do exist." |

| | |
| --- | --- |
| | Edwidge Danticat on Becoming a Writer |

646
(1)

| | |
| --- | --- |
| | "Writing was a dangerous activity. Perhaps it was that danger that attracted me, the feeling of doing a high-wire act between stretching the limits of silence and telling the whole truth." |

| | |
| --- | --- |
| | Jared Diamond, The Ends of the World as We Know Them |

647
(7)

| | |
| --- | --- |
| | "Asteroids hurtling at us beyond our control don't figure high on our list of imminent dangers. To save ourselves, we don't need new technology: we just need the political will to face up to our problems of population and the environment." |

| | |
| --- | --- |
| | Annie Dillard, Living Like Weasels |

654
(4)

| | |
| --- | --- |
| | "We can live any way we want. People take vows of poverty, chastity, and obedience—even of silence—by choice. The thing is to stalk your calling in a certain skilled and supple way, to locate the most tender and live spot and plug into that pulse. This is yielding, not fighting." |

| | |
| --- | --- |
| | Annie Dillard on the Writing Life |

657
(1)

| | |
| --- | --- |
| | "One of the few things I know about writing is this: spend it all, shoot it, play it, lose it, all, right away, every time. Do not hoard what seems good for a later place in the book, or for another book; give it, give it all, give it now." |

| | |
| --- | --- |
| | W.E.B. Du Bois, Of Our Spiritual Strivings |

658
(8)

| | |
| --- | --- |
| | "It is a peculiar sensation, this double-consciousness, this sense of always looking at one's self through the eyes of others, of measuring one's soul by the tape of a world that looks on in amused contempt and pity. One ever feels his two-ness,—an American, a Negro; two souls, two thoughts, two unreconciled strivings; two warring ideals in one dark body, whose dogged strength alone keeps it from being torn asunder." |

| | |
| --- | --- |
| | Gregg Easterbrook, The Myth of Fingerprints |

666
(5)

| | |
| --- | --- |
| | "In the fairly near future, a standard item in the trunks of American police cruisers—perhaps even on each officer's belt—may be a DNA analyzer. As a suspect is arrested, police will quickly swipe the inside of his cheek with a cotton swab and pop the results into the scanner." |

| | |
| --- | --- |
| | Barbara Ehrenreich, Family Values |

671
(7)

| | |
| --- | --- |
| | "I could have lived with 'flag' and 'faith' as neotraditional values—not happily, but I could have managed—until 'family' was press-ganged into joining them." |

| | |
| --- | --- |
| | Nora Ephron, The Boston Photographs |

678
(5)

| | |
| --- | --- |
| | "The photographs are indeed sensational. They are pictures of death in action, of that split second when luck runs out, and it is impossible to look at them without feeling their extraordinary impact and remembering, in an almost subconscious way the morbid fantasy of falling, falling off a building, falling to one's death." |

| | |
| --- | --- |
| | Paul Fussell, A Well-Regulated Militia |

683
(5)

| | |
| --- | --- |
| | "Why did the Framers of the Constitution add the word bear to the phrase 'keep and bear arms'? Because they conceived that keeping arms at home implied the public obligation to bear them in a regulated way for 'the security of ' not a private household but 'a free state.'" |

| | |
| --- | --- |
| | John Taylor Gatto, Against School |

688
(8)

| | |
| --- | --- |
| | "Do we really need school? I don't mean education, just forced schooling: six classes a day, five days a week, nine months a year, for twelve years. Is this deadly routine really necessary? And if so, for what?" |

| | |
| --- | --- |
| | William Gibson, The Net Is a Waste of Time |

696
(3)

| | |
| --- | --- |
| | "Today, in its clumsy, larval, curiously innocent way, [the Web] offers us the opportunity to waste time, to wander aimlessly, to daydream about the countless other lives, the other people, on the far sides of however many monitors in that postgeographical meta-country we increasingly call home." |

| | |
| --- | --- |
| | Vicki Hearne, What's Wrong with Animal Rights |

699
(8)

| | |
| --- | --- |
| | "Animal-rights publications are illustrated largely with photographs of two kinds of animals—'Helpless Fluff' and 'Agonized Fluff,' the two conditions in which some people seem to prefer their animals, because any other version of an animal is too complicated for propaganda." |

| | |
| --- | --- |
| | Langston Hughes, Liberals Need a Mascot |

707
(2)

| | |
| --- | --- |
| | "'Just what is a liberal?' asked Simple." |

| | |
| --- | --- |
| | Langston Hughes, That Word Black |

709
(2)

| | |
| --- | --- |
| | "Coal is black and it warms your house and cooks your food. The night is black, which has a moon, and a million stars, and is beautiful. Sleep is black, which gives you rest, so you wake up feeling good. I am black. I feel very good this evening." |

| | |
| --- | --- |
| | Thomas Jefferson, The Declaration of Independence |

711
(5)

| | |
| --- | --- |
| | "We hold these truths to be self-evident, that all men are created equal, that they are endowed by their Creator with certain inalienable Rights, that among these are Life, Liberty and the pursuit of Happiness." |

| | |
| --- | --- |
| | Michiko Kakutani, The Word Police |

716
(5)

| | |
| --- | --- |
| | "Instead of allowing free discussion and debate to occur, many gung-ho advocates of politically correct language seem to think that simple suppression of a word or concept will magically make the problem disappear." |

| | |
| --- | --- |
| | Randall Kennedy, Blind Spot |

721
(2)

| | |
| --- | --- |
| | "The racial-profiling controversy—like the conflict over affirmative action—will not end soon. For one thing, in both cases many of the contestants are animated by decent but contending sentiments. Although exasperating, this is actually good for our society; and it would be even better if participants in the debates acknowledged the simple truth that their adversaries have something useful to say." |

| | |
| --- | --- |
| | Martin Luther King Jr., I Have a Dream |

723
(15)

| | |
| --- | --- |
| | "I am not unmindful that some of you have come here out of great trials and tribulations. Some of you have come fresh from narrow jail cells. Some of you have come from areas where your quest for freedom left you battered by the storms of persecution and staggered by the winds of police brutality. You have been the veterans of creative suffering. Continue to work with the faith that unearned suffering is redemptive." |

| | |
| --- | --- |
| | THE GRAPHIC WRITER AT WORK |

| | |
| --- | --- |
| | Ho Che Anderson on I Have a Dream |

727
(1)

| | |
| --- | --- |
| | "Now, it's nearly three in the afternoon and I know a lot of you have been waiting for who I'm about to present, so I won't keep you waiting any longer." |

| | |
| --- | --- |
| | Martin Luther King Jr., Letter from Birmingham Jail |

738
(17)

| | |
| --- | --- |
| | "Abused and scorned though we may be, our destiny is tied up with the destiny of America. Before the pilgrims landed at Plymouth, we were here. Before the pen of Jefferson etched across the pages of history the majestic words of the Declaration of Independence, we were here." |

| | |
| --- | --- |
| | Martin Luther King Jr. on Self-Importance |

754
(1)

| | |
| --- | --- |
| | "This is the prayer I pray to God every day, 'Lord help me to see M.L. King as M.L. King in his true perspective.' Because if I don't see that, I will become the biggest fool in America." |

| | |
| --- | --- |
| | Laura Kipnis, Against Love |

755
(8)

| | |
| --- | --- |
| | "As love has increasingly become the center of all emotional expression in the popular imagination, anxiety about obtaining it in sufficient quantities—and for sufficient duration—suffuses the population. Everyone knows that as the demands and expectations on couples escalated, so did divorce rates. And given the current divorce statistics (roughly 50 percent of all marriages end in divorce), all indications are that whomever you love today—your beacon of hope, the center of all your optimism—has a good chance of becoming your worst nightmare tomorrow." |

| | |
| --- | --- |
| | Bill McKibben, Worried? Us? |

763
(5)

| | |
| --- | --- |
| | "...people think about 'global warming' in the way they think about 'violence on television' or 'growing trade deficits,' as a marginal concern to them, if a concern at all. Enlightened governments make smallish noises and negotiate smallish treaties; enlightened people look down on America for its blind piggishness. Hardly anyone, however, has fear in their guts." |

| | |
| --- | --- |
| | Martha Nussbaum, Can Patriotism Be Compassionate? |

768
(5)

| | |
| --- | --- |
| | "Compassion for our fellow Americans can all too easily slide over into an attitude that wants America to come out on top, defeating or subordinating other peoples or nations. Anger at the terrorists themselves is perfectly appropriate; so is the attempt to bring them to justice. But 'us versus them' thinking doesn't always stay focused on the original issue; it too easily becomes a general call for American supremacy, the humiliation of 'the other.' " |

| | |
| --- | --- |
| | Bertrand Russell, Why I Am Not a Christian |

773
(13)

| | |
| --- | --- |
| | "A good world needs knowledge, kindliness, and courage; it does not need a regretful hankering after the past or a fettering of the free intelligence by the words uttered long ago by ignorant men." |

| | |
| --- | --- |
| | Scott Russell Sanders, The Men We Carry in Our Minds |

786
(7)

| | |
| --- | --- |
| | "Here I met for the first time young men who had assumed from birth that they would lead lives of comfort and power. And for the first time I met women who told me that men were guilty of having kept all the joys and privileges of the earth for themselves. I was baffled. What privileges? What joys?" |

| | |
| --- | --- |
| | Scott Russell Sanders on Writing Essays |

791
(1)

| | |
| --- | --- |
| | "The essay is a haven for the private, idiosyncratic voice in an era of anonymous babble." |

| | |
| --- | --- |
| | Leslie Marmon Silko, In the Combat Zone |

793
(7)

| | |
| --- | --- |
| | "He thinks he can intimidate me because I am a woman, five feet five inches tall, 140 pounds. But I am not afraid, I am furious. I refuse to be intimidated. I won't play his game. I can tell by the face I see in the mirror this guy has done this before, he enjoys using his truck to menace lone women." |

| | |
| --- | --- |
| | Peter Singer, The Singer Solution to World Poverty |

800
(6)

| | |
| --- | --- |
| | "In the world as it is now, I can see no escape from the conclusion that each one of us with wealth surplus to his or her essential needs should be giving most of it to help people suffering from poverty so dire as to be life-threatening. That's right: I'm saying that you shouldn't buy that new car, take that cruise, redecorate the house, or get that pricey new suit. After all, a $1,000 suit could save five children's lives." |

| | |
| --- | --- |
| | Lauren Slater, The Trouble with Self-Esteem |

806
(9)

| | |
| --- | --- |
| | "Shifting a paradigm is never easy. More than 2,000 books offering the attainment of self-esteem have been published; educational programs in schools designed to cultivate self-esteem continue to proliferate, as do rehabilitation programs for substance abusers that focus on cognitive realignment with self-affirming statements like, 'Today I will accept myself for who I am, not who I wish I were.' " |

| | |
| --- | --- |
| | Lauren Slater on Writing Groups |

814
(1)

| | |
| --- | --- |
| | "Probably everything I write is kind of a co-construction of what I think and what other people think and I just don't see myself as being someone who's pulling ideas out of her own head." |

| | |
| --- | --- |
| | Jane Smiley, Say It Ain't So, Huck |

815
(10)

| | |
| --- | --- |
| | "The novel took me a couple of days (it was longer than I had remembered), and I closed the cover stunned. Yes, stunned. Not, by any means, by the artistry of the book but by the notion that this is the novel all American literature grows out of, that this is a great novel, that this is even a serious novel." |

| | |
| --- | --- |
| | Jonathan Swift, A Modest Proposal |

825
(8)

| | |
| --- | --- |
| | "I have been assured by a very knowing American of my acquaintance in London, that a young healthy child well nursed is at a year old a most delicious, nourishing, and wholesome food, whether stewed, roasted, baked, or broiled; and I make no doubt that it will equally serve in a fricassee or a ragout." |

| | |
| --- | --- |
| | Lewis Thomas, On Cloning a Human Being |

833
(4)

| | |
| --- | --- |
| | "The public questions are obvious. Who is to be selected, and on what qualifications? How to handle the risks of misused technology, such as self-determined cloning by the rich and powerful but socially objectionable, or the cloning by governments of dumb, docile masses for the world's work?" |

| | |
| --- | --- |
| | Sojourner Truth, And Ain't I a Woman? |

837
(4)

| | |
| --- | --- |
| | "If the first woman God ever made was strong enough to turn the world upside down all alone, these women together ought to be able to turn it back, and get it right side up again! And now they is asking to do it, the men better let them." |

| | |
| --- | --- |
| | Scott Turow, To Kill or Not to Kill |

841
(12)

| | |
| --- | --- |
| | "The case for capital punishment that seemed strongest to me came from the people who claim the most direct benefit from an execution: the families and friends of murder victims." |

| | |
| --- | --- |
| | Mark Twain, Corn-pone Opinions |

853
(5)

| | |
| --- | --- |
| | "Its name is Public Opinion. It is held in reverence. It settles everything. Some think it the Voice of God." |

858
(3)

| | |
| --- | --- |
| | "It is possible to stop most drug addiction in the United States within a very short time. Simply make all drugs available and sell them at cost." |

| | |
| --- | --- |
| | John Edgar Wideman, The Night I Was Nobody |

861
(4)

| | |
| --- | --- |
| | "Inside the door of Kelley's Bar and Lounge I was flagged by a guy collecting a cover charge and told I couldn't enter wearing my Malcolm X hat. I asked why; the guy hesitated, conferred for a moment with his partner, then declared that Malcolm X hats were against the dress code." |

| | |
| --- | --- |
| | Terry Tempest Williams, The Clan of One-Breasted Women |

865
(7)

| | |
| --- | --- |
| | "Most statistics tells us that breast cancer is genetic, hereditary, with rising percentages attached to fatty diets, childlessness, or becoming pregnant after thirty. What they don't say is that living in Utah may be the greatest hazard of all." |

| | |
| --- | --- |
| | Howard Zinn, Stories Hollywood Never Tells |

872
(11)

| | |
| --- | --- |
| | "When I began reading and studying history, I kept coming across incidents and events that led me to think, Wow, what a movie this would make. I would look to see if a movie had been made about it, but I'd never find one. It took me a while to realize that Hollywood isn't going to make movies like the ones I imagined. Hollywood isn't going to make movies that are class-conscious, or antiwar, or conscious of the need for racial equality or gender equality." |

V. THE VOICES OF FICTION: Eight Short Stories
883
(88)

| | |
| --- | --- |
| | Sherman Alexie, This Is What It Means to Say Phoenix, Arizona |

885
(10)

| | |
| --- | --- |
| | "Victor didn't have any money. Who does have money on a reservation, except the cigarette and fireworks salespeople? His father had a savings account waiting to be claimed, but Victor needed to find a way to get to Phoenix. Victor's mother was just as poor as he was, and the rest of his family didn't have any use at all for him." |

895
(6)

| | |
| --- | --- |
| | "Of course, the birthday party never happened. The birthday boy was in the hospital instead. The mother sat by the bed. She was waiting for the boy to wake up. The father hurried over from his office. He sat next to the mother. So now the both of them waited for the boy to wake up. They waited for hours, and then the father went home to take a bath." |

| | |
| --- | --- |
| | Nathaniel Hawthorne, Young Goodman Brown |

901
(11)

| | |
| --- | --- |
| | "He had taken a dreary road, darkened by all the gloomiest trees of the forest, which barely stood aside to let the narrow path creep through, and closed immediately behind. It was all as lonely as could be; and there is this peculiarity in such a solitude, that the traveler knows not who may be concealed by the innumerable trunks and the thick boughs overhead; so that with lonely footsteps he may yet be passing through an unseen multitude." |

912
(9)

| | |
| --- | --- |
| | "My daughter thought this Amy very creative—another word we do not talk about in China. In China, we talk about whether we have difficulty or no difficulty. We talk about whether life is bitter or not bitter. In America, all day long, people talk about creative." |

921
(4)

| | |
| --- | --- |
| | "Wash the white clothes on Monday and put them on the stone heap; wash the color clothes on Tuesday and put them on the clothesline to dry; don't walk barehead in the hot sun." |

924
(1)

| | |
| --- | --- |
| | "This mother in 'Girl' was really just giving the girl an idea about the things she would need to be a self-possessed woman in the world." |

| | |
| --- | --- |
| | Joyce Carol Oates, Where Are You Going, Where Have You Been? |

925
(17)

| | |
| --- | --- |
| | "She went into the kitchen and approached the door slowly, then hung out the screen door, her bare toes curling down off the step. There were two boys in the car and now she recognized the driver: he had shaggy, shabby black hair that looked crazy as a wig and he was grinning at her." |

| | |
| --- | --- |
| | Joyce Carol Oates on Smooth Talk: Short Story into Film |

939
(1)

| | |
| --- | --- |
| | "What is so difficult to accomplish in prose—nudging the reader to look over the protagonist's shoulder, so to speak—is accomplished with enviable ease in film." |

| | |
| --- | --- |
| | Flannery O'Connor, A Good Man Is Hard to Find |

942
(17)

| | |
| --- | --- |
| | "The grandmother had the peculiar feeling that the bespectacled man was someone she knew. His face was as familiar to her as if she had known him all her life but she could not recall who he was." |

| | |
| --- | --- |
| | Flannery O'Connor on Her Own Work |

955
(1)

| | |
| --- | --- |
| | "I often ask myself what makes a story work, and what makes it hold up as a story, and I have decided that it is probably some action, some gesture of a character that is unlike any other in the story, one which indicates where the real heart of the story lies." |

959
(12)

| | |
| --- | --- |
| | "'Sammy, you don't want to do this to your Mom and Dad,' he tells me. It's true, I don't. But it seems to me that once you begin a gesture it's fatal not to go through with it." |

Index of Authors and Titles
971