Note: Supplemental materials are not guaranteed with Rental or Used book purchases.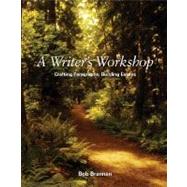 A Writer's Workshop: Crafting Paragraphs, Building Essays
ISBN13:
9780072393293
by
Brannan, Bob
McGraw-Hill Humanities/Social Sciences/Languages
Related Products
Summary
From paragraph to essay, no text builds better writing with such an active and collaborative approach. A Writer's Workshop helps hone writing through the detailed instruction - explanation, examples, student models, and activities - that students need.
Table of Contents
Unit I: Getting Our Feet Wet1. Practicing the Writing Process2. Making the Most of ReadingUnit II: Working with the Paragraph3. Introducing the Paragraph4. Revising Paragraphs 5. Picturing A Place6. Telling Your Own Story 7. Illustrating through Examples 8. Creating and Explaining Groups 9. Recognizing Causes, Explaining Effects10. Explaining Activities: Doing Them, Understanding Them 11. Explaining Similarities and DifferencesUnit III: Working with the Essay12. Introducing the Essay13. Revising Essays14. Expanding Paragraphs into Essays15. Defining Terms, Clarifying Ideas - Combining Patterns of Development16. Writing Persuasively - Combining Patterns of Development17. Taking Essay Exams - Combining Patterns of DevelopmentUnit IV: Polishing Style18. Creating Sentence Variety19. Choosing the Most Effective WordUnit V: Practicing Sentence Sense20. Working with Sentence Parts21. Coordination, Subordination, and Parallelism22. Run-Ons, Comma Splices, and Sentence Fragments23. Verbs: Form and Agreement24. Pronouns: Reference, Agreement, and Form25. Adjectives and Adverbs: Words that Describe26. Commas, Other Punctuation, and Mechanics27. Spelling and Sound-Alike Words28. ESL ConcernsUnit VI: Additional Readings"The Great Tide Pool,"excerpt from Cannery Row, by John Steinbeck "The Dare,"by Roger Hoffman "Rambos of the Road,"by Martin Gottfried "The Ways of Meeting Oppression,"by Martin Luther King, Jr. "The Ten Most Memorable Bores"by Margot Mifflin"Two by Two, We'll Fill the Planet" by Benjamin Zuckerman "Black Men and Public Spaces"by Brent Staples "How to Write a Letter,"by Garrison Keillor "Grant and Lee: A Study in Contrasts,"by Bruce Catton "A Nice Place to Visit"by Russell Baker "Opposing Principles Help Balance Society"by Sydney J. Harris "What Is a Dad?"by Bob Brannan"Abortion, Right and Wrong,"by Rachel Richardson Smith "What Is Biodiversity and Why Should We Care about It?" by Donella MeadowsAppendix 1: Working with Your ComputerAppendix 2: Improvement Chart