Note: Supplemental materials are not guaranteed with Rental or Used book purchases.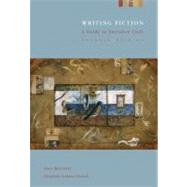 Questions About This Book?
What version or edition is this?
This is the 7th edition with a publication date of 1/1/2011.
What is included with this book?
The Used copy of this book is not guaranteed to include any supplemental materials. Typically, only the book itself is included.
Summary
A bestseller through six editions,Writing Fictionby novelists Janet Burroway and Elizabeth Stuckey-French explores the elements of fiction, providing practical writing techniques and concrete examples. Written in a tone that is personal and non-prescriptive, the text encourages writers to develop proficiency through each step of the writing process, offering an abundance of exercises designed to spur writing and creativity. The text also integrates diverse contemporary short stories in every chapter in the belief that the reading of inspiring fiction goes hand-in-hand with the writing of fresh and exciting stories.Thorough and practical discussions of all the major fictional elements offer students a comprehensive guide to the craft of writing stories. Topics include freewriting, plot, style, characterization, dialogue, time, place, imagery, and point of view. For novice writers looking to develop proficiency.
Table of Contents
Preface
ix
To Instructors: About This Book
ix
To Students: About the Writing Workshop
xi

| | |
| --- | --- |
| | 1 WHATEVER WORKS: The Writing Process |

1
(24)
2
(10)
3
(1)
4
(2)
6
(1)
7
(1)
7
(1)
8
(4)
12
(2)
14
(8)
15
(3)
18
(8)
22
(3)

| | |
| --- | --- |
| | 2 SEEING IS BELIEVING: Showing and Telling |

25
(55)
26
(7)
31
(1)
32
(1)
33
(5)

| | |
| --- | --- |
| | Prose Rhythm 36 Mechanics |

38
(39)
39
(14)
53
(12)

| | |
| --- | --- |
| | Where Are You Going, Where Have You Been? |

65
(21)
77
(3)

| | |
| --- | --- |
| | 3 BUILDING CHARACTER: Characterization, Part I |

80
(57)

| | |
| --- | --- |
| | The Direct Methods of Character Presentation |

81
(1)
81
(2)
83
(3)
86
(11)

| | |
| --- | --- |
| | Summary, Indirect, and Direct Dialogue |

86
(1)
87
(1)
88
(1)
89
(1)
90
(2)
92
(1)
93
(1)
94
(1)
95
(1)
96
(1)
97
(38)
99
(11)

| | |
| --- | --- |
| | Every Tongue Shall Confess |

110
(10)
120
(17)
135
(2)

| | |
| --- | --- |
| | 4 THE FLESH MADE WORD: Characterization, Part II |

137
(36)

| | |
| --- | --- |
| | The Indirect Methods of Character Presentation |

137
(3)
137
(1)

| | |
| --- | --- |
| | Interpretation by Another Character |

138
(2)

| | |
| --- | --- |
| | Conflict Between Methods of Presentation |

140
(5)
142
(1)
143
(2)
145
(2)
147
(1)
147
(2)
149
(1)
150
(2)

| | |
| --- | --- |
| | Creating a Group or Crowd |

152
(1)
153
(17)
154
(4)
158
(3)
161
(26)
170
(3)

| | |
| --- | --- |
| | 5 FAR, FAR AWAY: Fictional Place |

173
(45)
176
(1)

| | |
| --- | --- |
| | Harmony and Conflict Between Character and Place |

177
(1)
178
(2)
180
(2)

| | |
| --- | --- |
| | Symbolic and Suggestive Place |

182
(4)
186
(1)
187
(28)
188
(7)
195
(11)
206
(23)
215
(3)

| | |
| --- | --- |
| | 6 LONG AGO: Fictional Time |

218
(41)
219
(5)

| | |
| --- | --- |
| | Revising Summary and Scene |

224
(3)
227
(2)
229
(28)
231
(8)

| | |
| --- | --- |
| | Mrs. Duffa Writes a Letter |

239
(14)

| | |
| --- | --- |
| | CHITRA BANERJEE DIVAKARUNI |

253
(23)
257
(2)

| | |
| --- | --- |
| | 7 THE TOWER AND THE NET: Story Form, Plot, and Structure |

259
(37)

| | |
| --- | --- |
| | Conflict, Crisis, and Resolution |

261
(3)
264
(1)
265
(2)

| | |
| --- | --- |
| | Connection and Disconnection |

267
(2)

| | |
| --- | --- |
| | Story Form as a Check Mark |

269
(4)
273
(2)

| | |
| --- | --- |
| | The Short Story and the Novel |

275
(1)
276
(16)
277
(2)
279
(3)

| | |
| --- | --- |
| | Everything That Rises Must Converge |

282
(14)
292
(4)

| | |
| --- | --- |
| | 8 CALL ME ISHMAEL: Point of View |

296
(40)
296
(8)
297
(2)
299
(1)
300
(4)
304
(3)
304
(1)
304
(1)
305
(1)
305
(1)
306
(1)
307
(1)
308
(2)

| | |
| --- | --- |
| | Consistency: A Final Caution |

310
(22)
311
(4)
315
(8)
323
(20)
332
(4)

| | |
| --- | --- |
| | 9 IS AND IS NOT: Comparison |

336
(23)

| | |
| --- | --- |
| | Types of Metaphor and Simile |

337
(2)

| | |
| --- | --- |
| | Metaphoric Faults to Avoid |

339
(4)
343
(1)
343
(14)
346
(16)
347
(1)
350
(1)
357
(2)
10 I GOTTA USE WORDS WHEN I TALK TO YOU: Theme
359
(29)

| | |
| --- | --- |
| | Idea and Morality in Theme |

360
(2)

| | |
| --- | --- |
| | How Fictional Elements Contribute to Theme |

362
(3)

| | |
| --- | --- |
| | A Man Told Me the Story of His Life |

363
(2)

| | |
| --- | --- |
| | Developing Theme as You Write |

365
(20)
368
(9)

| | |
| --- | --- |
| | This Is What It Means to Say Phoenix, Arizona |

377
(19)
385
(3)
11 PLAY IT AGAIN, SAM: Revision
388
(25)
389
(1)
389
(2)

| | |
| --- | --- |
| | Criticism and the Story Workshop |

391
(2)
393
(2)

| | |
| --- | --- |
| | Further Suggestions for Revision |

395
(1)

| | |
| --- | --- |
| | Examples of the Revision Process |

396
(14)
398
(2)
400
(10)
410
(3)
Appendix A: Kinds of Fiction
413
(11)
Appendix B: Suggestions for Further Reading 417 Credits
424
(2)
Index
426