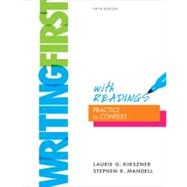 Questions About This Book?
Why should I rent this book?
Renting is easy, fast, and cheap! Renting from eCampus.com can save you hundreds of dollars compared to the cost of new or used books each semester. At the end of the semester, simply ship the book back to us with a free UPS shipping label! No need to worry about selling it back.
How do rental returns work?
Returning books is as easy as possible. As your rental due date approaches, we will email you several courtesy reminders. When you are ready to return, you can print a free UPS shipping label from our website at any time. Then, just return the book to your UPS driver or any staffed UPS location. You can even use the same box we shipped it in!
What version or edition is this?
This is the 5th edition with a publication date of 12/28/2011.
What is included with this book?
The New copy of this book will include any supplemental materials advertised. Please check the title of the book to determine if it should include any CDs, lab manuals, study guides, etc.
The Used copy of this book is not guaranteed to include any supplemental materials. Typically, only the book itself is included.
The Rental copy of this book is not guaranteed to include any supplemental materials. You may receive a brand new copy, but typically, only the book itself.
Summary
Best-selling authors and veteran college writing instructors Laurie Kirszner and Stephen Mandell believe that students learn to write best when they use their own writing as a starting point. In Writing First with Readings: Practice in Context, designed for the paragraph to essay course, Kirszner and Mandell take seriously the ideas and expressive abilities of developmental students, as well as their need to learn the rules of writing and grammar. Visual writing prompts that open every chapter get students writing immediately. By moving frequently between their own writing, writing models and instruction, and workbook-style mastery exercises, students get constant reinforcement of the skills they are learning. Thoughtful chapters on college success, research, and critical reading, along with high-interest essays, round out the text, making it the perfect introduction to college writing.
Author Biography
Laurie Kirszner and Stephen Mandell have taught college composition and basic writing for more than 25 years and have authored many widely adopted textbooks, including Foundations First: Sentences and Paragraphs, Focus on Writing: Paragraphs and Essays, Patterns for College Writing, and Practical Argument.
 
Laurie Kirszner teaches composition, literature, and creative writing at the University of the Sciences. Stephen Mandell is the founder and former director of the basic writing program at Drexel University, where he teaches composition, literature, and technical and business writing.

Table of Contents
*New
*CHAPTER 1 Writing and College Success
HOW WRITING CAN HELP YOU SUCCEED
STRATEGIES FOR COLLEGE SUCCESS
A  Orientation Strategies
B  First-Week Strategies
C  Day-to-Day Strategies
D  Time-Management Strategies
E   Note-Taking Strategies
F   Homework Strategies
G  Taking In-Class Essay Exams
H  Taking Standardized Assessment Tests
I    Strategies for Maintaining Academic Honesty
J    Strategies for Staying Safe on Campus

WRITING PARAGRAPHS AND ESSAYS
UNIT 1 Writing Paragraphs
CHAPTER 2 Writing a Paragraph
A Understanding Paragraph Structure
STEP 1: PLANNING
B Focusing on Your Assignment, Purpose, and Audience
C Finding Ideas
D Identifying Your Main Idea and Writing a Topic Sentence
STEP 2: ORGANIZING
E Choosing Supporting Points
F Making an Outline
STEP 3: DRAFTING
G Drafting Your Paragraph
*STEP 4: TESTING
H TESTing Your Paragraph
STEP 5: REVISING AND EDITING
I Revising Your Paragraph
Self-Assessment Checklist: Revising Your Paragraph
J Editing Your Paragraph
Self-Assessment Checklist: Editing Your Paragraph
Review Checklist: Writing a Paragraph
*CHAPTER 3 TESTing Your Paragraphs
A TESTing for a Topic Sentence
B TESTing for Evidence
C TESTing for a Summary Statement
D TESTing for Transitions
Chapter Review
Review Checklist: TESTing Your Paragraphs
UNIT 2 Patterns of Paragraph Development
CHAPTER 4 Exemplification
A Exemplification Paragraphs
B Case Study: A Student Writes an Exemplification Paragraph
C Step-by-Step Guide: Writing an Exemplification Paragraph
*TESTing an Exemplification Paragraph
*D Writing about Visuals
CHAPTER 5 Narration
A Narrative Paragraphs
B Case Study: A Student Writes a Narrative Paragraph
C Step-by-Step Guide: Writing a Narrative Paragraph
*TESTing a Narrative Paragraph
*D Writing about Visuals
CHAPTER 6 Description
A Descriptive Paragraphs
B Case Study: A Student Writes a Descriptive Paragraph
C Step-by-Step Guide: Writing a Descriptive Paragraph
*TESTing a Descriptive Paragraph
*D Writing about Visuals
CHAPTER 7 Process
A Process Paragraphs
B Case Study: A Student Writes a Process Paragraph
C Step-by-Step Guide: Writing a Process Paragraph
*TESTing a Process Paragraph
*D Writing about Visuals
CHAPTER 8 Cause and Effect
A Cause-and-Effect Paragraphs
B Case Study: A Student Writes a Cause-and-Effect Paragraph
C Step-by-Step Guide: Writing a Cause-and-Effect Paragraph
*TESTing a Cause-and-Effect Paragraph
*D Writing about Visuals
CHAPTER 9 Comparison and Contrast
A Comparison-and-Contrast Paragraphs
B Case Study: A Student Writes a Comparison-and-Contrast Paragraph
C Step-by-Step Guide: Writing a Comparison-and-Contrast Paragraph
*TESTing a Comparison-and-Contrast Paragraph
*D Writing about Visuals
CHAPTER 10  Classification
A Classification Paragraphs
B Case Study: A Student Writes a Classification Paragraph
C Step-by-Step Guide: Writing a Classification Paragraph
*TESTing a Classification Paragraph
*D Writing about Visuals
CHAPTER 11 Definition
A Definition Paragraphs
B Case Study: A Student Writes a Definition Paragraph
C Step-by-Step Guide: Writing a Definition Paragraph
*TESTing a Definition Paragraph
*D Writing about Visuals
CHAPTER 12 Argument
A Argument Paragraphs
B Case Study: A Student Writes an Argument Paragraph
C Step-by-Step Guide: Writing an Argument Paragraph
*TESTing an Argument Paragraph
*D Writing about Visuals
UNIT 3 Writing Essays
CHAPTER 13 Writing an Essay
STEP 1: PLANNING
A Understanding Essay Structure
B Focusing on Your Assignment, Purpose, and Audience
C Finding Ideas
D Stating Your Thesis
STEP 2: ORGANIZING
E Choosing Supporting Points
F Making an Outline
STEP 3: DRAFTING
G Drafting Your Essay
*STEP 4: TESTing
H TESTingYour Essay
STEP 5: REVISING AND EDITING
I  Revising Your Essay
Self-Assessment Checklist: Revising Your Essay
J Editing Your Essay
Self-Assessment Checklist: Editing Your Essay
K Checking Your Essay's Format
Chapter Review
Review Checklist: Writing an Essay
*CHAPTER 14  TESTing Your Essays
A TESTing for a Thesis
B TESTing for Evidence
C TESTing for a Summary Statement
D TESTing for Transitions
E Putting It Together
Chapter Review
Review Checklist: TESTing Your Essays
CHAPTER 15 Introductions and Conclusions
A Introductions
B Conclusions
Chapter Review
Review Checklist: Introductions and Conclusions
CHAPTER 16 Patterns of Essay Development
A Exemplification
*TESTing an Exemplification Essay
B Narration
*TESTing a Narrative Essay
C Description
*TESTing a Descriptive Essay
D Process
*TESTing a Process Essay
E Cause and Effect
*TESTing a Cause-and-Effect Essay
F Comparison and Contrast
*TESTing a Comparison-and-Contrast Essay
G Classification
*TESTing a Classification Essay
H Definition
*TESTing a Definition Essay
I Argument
*TESTing an Argument Essay
Chapter Review
Review Checklist: Patterns of Essay Development

*UNIT 4 Research
*CHAPTER 17 Writing a Research Paper
A Choosing a Topic
B Doing Research
C Taking Notes
D Watching Out for Plagiarism
E Developing a Thesis
F Making an Outline
G Writing Your Paper
H Documenting Your Sources
Chapter Review
REVISING AND EDITING YOUR WRITING
UNIT 5 Writing Effective Sentences
Chapter 18 Writing Simple Sentences
A Subjects
B Prepositional Phrases
C Verbs
Chapter Review
Review Checklist: Writing Simple Sentences
Chapter 19 Writing Compound Sentences
A Using Coordinating Conjunctions
B Using Semicolons
C Using Transitional Words and Phrases
Chapter Review
Review Checklist: Writing Compound Sentences
Chapter 20 Writing Complex Sentences
A Identifying Complex Sentences
B Using Subordinating Conjunctions
C Using Relative Pronouns
Chapter Review
Review Checklist: Writing Complex Sentences
Chapter 21 Writing Varied Sentences
A Varying Sentence Types
B Varying Sentence Openings
C Combining Sentences
D Mixing Long and Short Sentences
Chapter Review
Review Checklist: Writing Varied Sentences
Chapter 22 Using Parallelism
A Recognizing Parallel Structure
B Using Parallel Structure
Chapter Review
Review Checklist: Using Parallelism
Chapter 23 Using Words Effectively
A Using Specific Words
B Using Concise Language
C Avoiding Slang
D Avoiding Clichés
E Using Similes and Metaphors
F Avoiding Sexist Language
Chapter Review
Review Checklist: Using Words Effectively
Unit Review

UNIT 6 Solving Common Sentence Problems
Chapter 24 Run-Ons
A Recognizing Run-Ons
B Correcting Run-Ons
Chapter Review
Review Checklist: Run-Ons
Chapter 25 Fragments
A Recognizing Fragments
B Missing-Subject Fragments
C Phrase Fragments
D -ing Fragments
E Dependent Clause Fragments
Chapter Review
Review Checklist: Sentence Fragments
Chapter 26 Subject-Verb Agreement
A Understanding Subject-Verb Agreement
B Compound Subjects
C Be, Have, and Do
D Words between Subject and Verb
E Collective Noun Subjects
F Indefinite Pronoun Subjects
G Verbs before Subjects
Chapter Review
Review Checklist: Subject-Verb Agreement
Chapter 27  Illogical Shifts
A Shifts in Tense
B Shifts in Person
C Shifts in Voice
Chapter Review
Review Checklist: Illogical Shifts
Chapter 28 Misplaced and Dangling Modifiers
A Correcting Misplaced Modifiers
B Correcting Dangling Modifiers
Chapter Review
Review Checklist: Misplaced and Dangling Modifiers
Unit Review

UNIT 7 Understanding Basic Grammar
Chapter 29 Verbs: Past Tense
A Regular Verbs
B Irregular Verbs
C Problem Verbs: Be
D Problem Verbs: Can/Could and Will/Would
Chapter Review
Review Checklist: Verbs: Past Tense
Chapter 30 Verbs: Past Participles
A Regular Past Participles
B Irregular Past Participles
C The Present Perfect Tense
D The Past Perfect Tense
E Past Participles as Adjectives
Chapter Review
Review Checklist: Verbs: Past Participles
Chapter 31 Nouns and Pronouns
A Identifying Nouns
B Forming Plural Nouns
C Identifying Pronouns
D Pronoun-Antecedent Agreement
E Special Problems with Agreement
F Vague and Unnecessary Pronouns
G Pronoun Case
H Special Problems with Pronoun Case
I  Reflexive and Intensive Pronouns
Chapter Review
Review Checklist: Nouns and Pronouns
Chapter 32 Adjectives and Adverbs
A Identifying Adjectives and Adverbs
B Comparatives and Superlatives
Chapter Review
Review Checklist: Adjectives and Adverbs
Chapter 33 Grammar and Usage for ESL Writers
A Subjects in Sentences
B Plural Nouns
C Count and Noncount Nouns
D Determiners with Count and Noncount Nouns
E Articles
F Negative Statements and Questions
G Verb Tense
H Stative Verbs
I Modal Auxiliaries
J Gerunds
K Placing Modifiers in Order
L Choosing Prepositions
M Prepositions in Familiar Expressions
N Prepositions in Phrasal Verbs
Chapter Review
Review Checklist: Grammar and Usage for ESL Writers
Unit Review

UNIT 8 Understanding Punctuation, Mechanics, and Spelling
Chapter 34 Using Commas
A Commas in a Series
B Commas with Introductory Phrases and Transitional Words and Phrases
C Commas with Appositives
D Commas with Nonrestrictive Clauses
E Commas in Dates and Addresses
F Unnecessary Commas
Chapter Review
Review Checklist: Using Commas
Chapter 35 Using Apostrophes
A Apostrophes in Contractions
B Apostrophes in Possessives
C Incorrect Use of Apostrophes
Chapter Review
Review Checklist: Using Apostrophes
Chapter 36 Understanding Mechanics
A Capitalizing Proper Nouns
B Punctuating Direct Quotations
C Setting Off Titles
D Hyphens
E Abbreviations
F Numbers
G Using Minor Punctuation Marks
Chapter Review
Review Checklist: Understanding Mechanics
Chapter 37 Understanding Spelling
A Becoming a Better Speller
B ie and ei
C Prefixes
D Suffixes
E Commonly Confused Words
Chapter Review
Review Checklist: Understanding Spelling
Unit Review

BECOMING A CRITICAL READER
Unit 9 Reading Essays
Chapter 38 Reading Critically
A Previewing
B Highlighting
C Annotating
D Outlining
E Summarizing
F Writing a Response Paragraph
G Reading in the Classroom, in the Community, and in the Workplace
Review Checklist: Reading Critically
Chapter 39 Readings for Writers
A Exemplification
Judith Ortiz Cofer, Don't Call Me a Hot Tamale
*Richard Rodriguez, Around the World, Women are on the Move
B Narration
Lynda Barry, The Sanctuary of School
*Joshua Bearman, My Half-Baked Bubble
C Description
Amy Tan, Fish Cheeks
*Jhumpa Lahiri, Rice
D Process
Russell Baker, Slice of Life
Malcolm X, My First Conk
E Cause and Effect
*Judith Angwin, How Facebook is Making Friending Obsolete
*John Edgar Wideman, The Seat Not Taken
F Comparison and Contrast
*Steven Conn, The Twin Revolutions of Lincoln and Darwin
John Gray, Men Are from Mars, Women Are from Venus
G Classification
*Dave Barry, How Your Body Works
Scott Russell Sanders, The Men We Carry In Our Minds
H Definition
*Julia Alvarez, Quinceañera
Judy Brady, Why I Want a Wife
I Argument
*Mary Sherry, In Praise of the F Word
*Oprah Winfrey, Dnt Txt N Drv
*Steven Pinker, Mind Over Mass Media