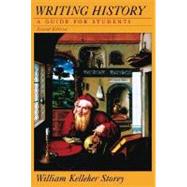 List Price: $16.95
Usually Ships in 2-3 Business Days
Questions About This Book?
What version or edition is this?
This is the 2nd edition with a publication date of 7/17/2003.
What is included with this book?
The Used copy of this book is not guaranteed to inclue any supplemental materials. Typically, only the book itself is included.
Related Products
Summary
Bringing together practical methods from both history and composition, Writing History provides a wealth of tips and advice to help students research and write essays for history classes. The book covers all aspects of writing about history, including finding topics and researching them,interpreting source materials, drawing inferences from sources, and constructing arguments. It concludes with three chapters that discuss writing effective sentences, using precise wording, and revising. Using numerous examples from the works of cultural, political, and social historians, WritingHistory serves as an ideal supplement to history courses that require students to conduct research. The second edition includes expanded sections on plagiarism, interviewing, and topic selection, as well as new sections on searching and using the Internet.
Table of Contents
Preface
vii
Introduction
1
(2)
3
(14)
3
(1)

| | |
| --- | --- |
| | Move from a Historical Interest to a Research Topic |

4
(1)

| | |
| --- | --- |
| | Use Print Sources to Begin a Project |

5
(1)
6
(1)
7
(1)

| | |
| --- | --- |
| | Use Electronic Resources in the Library |

8
(1)

| | |
| --- | --- |
| | Be Skeptical About Other Online Resources |

9
(2)

| | |
| --- | --- |
| | Approach Your Topic from a Particular Angle |

11
(1)

| | |
| --- | --- |
| | Go to the Library and Do Some Background Reading |

12
(1)
13
(1)
13
(1)
14
(1)

| | |
| --- | --- |
| | Write an Annotated Bibliography |

15
(1)

| | |
| --- | --- |
| | Talk to People About Your Topic |

16
(1)

| | |
| --- | --- |
| | If You Have to Abandon a Topic, Do It Early |

16
(1)

| | |
| --- | --- |
| | Interpreting Source Materials |

17
(8)
17
(1)

| | |
| --- | --- |
| | Distinguish Primary Sources from Secondary Works |

18
(1)

| | |
| --- | --- |
| | Refine Your Hypothesis with Who, What, Why, Where, and When |

19
(2)

| | |
| --- | --- |
| | Be Sensitive to Points of View in Your Sources |

21
(1)

| | |
| --- | --- |
| | Select the Most Important Source Materials |

22
(1)

| | |
| --- | --- |
| | Take Notes by Being Selective |

23
(2)

| | |
| --- | --- |
| | Writing History Faithfully |

25
(20)

| | |
| --- | --- |
| | Collect and Report Your Sources Carefully |

25
(1)

| | |
| --- | --- |
| | Incorporate the Ideas of Others with Care and Respect |

26
(1)

| | |
| --- | --- |
| | Summarize and Paraphrase Fairly |

27
(1)
28
(2)

| | |
| --- | --- |
| | Use Ellipses and Brackets, but Do Justice to Your Sources |

30
(2)

| | |
| --- | --- |
| | Learn How to Use Quotation Marks |

32
(1)
33
(3)

| | |
| --- | --- |
| | Be Honest, but Don't Give Unnecessary Citations |

36
(1)

| | |
| --- | --- |
| | Choose a Citation System That Suits Your Audience |

36
(9)

| | |
| --- | --- |
| | Use Sources to Make Inferences |

45
(16)

| | |
| --- | --- |
| | Be True to Recognized Facts |

46
(1)

| | |
| --- | --- |
| | Transform Facts into Evidence |

46
(1)
47
(1)

| | |
| --- | --- |
| | Check the Internal Consistency of Primary Sources |

47
(1)

| | |
| --- | --- |
| | Check Primary Sources Against Each Other |

48
(1)

| | |
| --- | --- |
| | Compare Primary Sources with Secondary Works |

48
(3)

| | |
| --- | --- |
| | Box 1: Conduct Interviews Systematically |

49
(2)

| | |
| --- | --- |
| | Juxtapose Sources to Make Inferences |

51
(4)

| | |
| --- | --- |
| | Box 2: Make Inferences from Material Sources |

54
(1)

| | |
| --- | --- |
| | Move from Inferences to Arguments |

55
(1)

| | |
| --- | --- |
| | Make Reasonable Inferences from Your Sources |

55
(1)

| | |
| --- | --- |
| | Make Inferences That Are Warranted |

56
(2)

| | |
| --- | --- |
| | Avoid Unwarranted Comparisons |

58
(1)

| | |
| --- | --- |
| | Avoid Anachronistic Inferences |

58
(3)
61
(6)

| | |
| --- | --- |
| | Consider Narratives and Analysis |

61
(1)

| | |
| --- | --- |
| | Create a Draft Outline of an Analytical Essay |

62
(1)

| | |
| --- | --- |
| | Create a Draft Outline of a Narrative Essay |

62
(1)

| | |
| --- | --- |
| | Complete Your Analytical Outline |

63
(1)

| | |
| --- | --- |
| | Complete Your Narrative Outline |

64
(1)

| | |
| --- | --- |
| | Choose a Framework for Your Essay |

65
(2)
67
(14)

| | |
| --- | --- |
| | Start to Write a First Draft |

67
(1)

| | |
| --- | --- |
| | Grab Your Reader's Attention, but Do It Gently |

68
(1)

| | |
| --- | --- |
| | State Your Intellectual Interests Early |

69
(1)

| | |
| --- | --- |
| | Build Your Essay with Good Paragraphs |

70
(2)

| | |
| --- | --- |
| | Define Your Key Terms Early |

72
(1)
73
(2)

| | |
| --- | --- |
| | Treat Other Writers with Consideration |

75
(1)

| | |
| --- | --- |
| | Account for Counterarguments |

76
(2)

| | |
| --- | --- |
| | Lead Your Readers to an Interesting Conclusion |

78
(3)

| | |
| --- | --- |
| | Narrative Techniques for Historians |

81
(6)

| | |
| --- | --- |
| | Write a Narrative to Tell a Story |

81
(1)

| | |
| --- | --- |
| | Write a Narrative to Support an Argument |

82
(1)

| | |
| --- | --- |
| | Combine Chronology with Causation |

82
(1)

| | |
| --- | --- |
| | Get a Sense of Change and Continuity |

83
(1)

| | |
| --- | --- |
| | Select the Key Participants in Your Story |

84
(1)

| | |
| --- | --- |
| | Find Your Own Voice as a Narrator |

84
(1)

| | |
| --- | --- |
| | Choose Your Own Beginning and End |

85
(2)

| | |
| --- | --- |
| | Writing Sentences in History |

87
(8)

| | |
| --- | --- |
| | Choose Verbs That Are Precise |

87
(1)

| | |
| --- | --- |
| | Make Passive Sentences Active |

88
(1)
88
(1)

| | |
| --- | --- |
| | Avoid Split Infinitives If You Can |

89
(1)

| | |
| --- | --- |
| | Put Verbs in Your Sentences |

89
(1)

| | |
| --- | --- |
| | Put Your Ideas in an Intelligible Order |

90
(1)

| | |
| --- | --- |
| | Keep Related Words Together |

90
(1)

| | |
| --- | --- |
| | Keep Pronouns Close to the Words They Represent |

90
(1)

| | |
| --- | --- |
| | Keep Subjects and Verbs Close Together |

91
(1)

| | |
| --- | --- |
| | Begin a Sentence on Common Ground and Gradually Build a New Point |

91
(1)

| | |
| --- | --- |
| | The Emphasis Comes at the End |

92
(1)

| | |
| --- | --- |
| | Construct Parallel Forms for Emphasis |

92
(1)

| | |
| --- | --- |
| | Form the Possessive Correctly |

93
(1)

| | |
| --- | --- |
| | Break the Rules If You Must |

94
(1)
95
(12)
95
(1)

| | |
| --- | --- |
| | Write in Language That Your Audience Can Understand |

96
(2)

| | |
| --- | --- |
| | Avoid Pretentious Language |

98
(1)

| | |
| --- | --- |
| | Avoid Colloquial Language |

98
(1)

| | |
| --- | --- |
| | Be Sensitive to the Politics of Diction |

98
(1)

| | |
| --- | --- |
| | Be Sensitive to Gender-Specific Language |

99
(1)
99
(1)

| | |
| --- | --- |
| | Choose Figurative Language Carefully |

100
(1)

| | |
| --- | --- |
| | Use Metaphors and Similes Judiciously |

100
(1)

| | |
| --- | --- |
| | Use Color, but Avoid Cliches |

101
(1)

| | |
| --- | --- |
| | Use Foreign Words That Are Familiar to Your Audience |

101
(1)

| | |
| --- | --- |
| | Check for These Common Diction Problems |

102
(5)
107
(6)

| | |
| --- | --- |
| | Get Some Perspective on Your Draft |

107
(1)
108
(1)

| | |
| --- | --- |
| | Evaluate Your Own Arguments and Narratives |

108
(1)

| | |
| --- | --- |
| | Evaluate Your Sentences and Word Choices |

109
(1)

| | |
| --- | --- |
| | Proofread the Final Draft |

109
(1)

| | |
| --- | --- |
| | Proofread for Punctuation |

110
(1)
110
(1)
110
(1)
111
(1)

| | |
| --- | --- |
| | Keep the Rules in Mind, but Enjoy Your Writing |

111
(2)
Notes
113
(4)
Index
117