Note: Supplemental materials are not guaranteed with Rental or Used book purchases.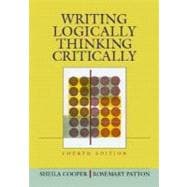 Summary
This book teaches readers how to construct logical, cohesive arguments and how to evaluate the arguments of others. Integrating writing skills and critical thinking in a concise, accessible format, this book teaches readers to draw logical inferences, identify premises and conclusions and use language precisely. In addition, readers learn how to identify fallacies, and to distinguish between inductive and deductive reasoning. Individuals who want to improve their critical analysis skills.
Table of Contents
GUIDE TO WRITING ASSIGNMENTS.
1. Thinking and Writing—A Critical Connection.
Considering Your Audience.
Your Writing Process.
2. Inference—Critical Thought.
Reconstructing the Lost Tribe.
Interpreting Fiction.
3. The Structure of Argument.
Constructing a Summary and Response.
A Letter of Application.
4. Written Argument.
Arguing Both Sides of an Issue.
Taking a Stand.
Exploring an Argument in Depth.
Collaborating on a Complex Issue.
5. The Language of Argument—Definition.
Composing an Extended Definition of an Abstract Term.
Creating a New Word.
6. Fallacious Arguments.
Analyzing an Extended Argument.
7. Deductive and Inductive Argument.
Questioning Generalizations.
Conducting a Survey: A Collaborative Project.
8. The Language of Argument—Style.
Revising an Essay.
9. Research and Documentation.