Note: Supplemental materials are not guaranteed with Rental or Used book purchases.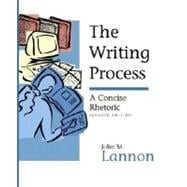 The Writing Process: A Concise Rhetoric
ISBN13:
9780321076632
by
Lannon, John M.
Summary
This practical and accessible writing guide unravels the complexities of writing by presenting the writing process as a series of critical thinking decisions. In addition to coverage of the traditional modes, the text offers practice in analyzing the unique rhetorical requirements of any writing situation by showing how audience and purpose influence writing. Student and professional readings throughout the text including fiction, poetry, advertisements, memoirs and cartoons illustrate various writing strategies.
Table of Contents
Detailed Contents
xi
Preface
xix
Ancillaries
xxv
Section One The Process---Decisions in Planning, Drafting, and Revising
1
(70)
2
(6)

| | |
| --- | --- |
| | Decisions in the Writing Process |

8
(12)
20
(23)
43
(11)
54
(17)
Section Two Specific Revision Strategies
71
(78)
72
(3)

| | |
| --- | --- |
| | Revising the Content: Writing Something Worthwhile |

75
(11)

| | |
| --- | --- |
| | Revising the Paragraphs: Shaping for Readers' Access |

86
(20)

| | |
| --- | --- |
| | Revising the Sentences: Writing with Style |

106
(24)

| | |
| --- | --- |
| | Revising the Words and Phrases: Fine-Tuning |

130
(19)
Section Three Essays for Various Goals
149
(164)
150
(4)

| | |
| --- | --- |
| | Decisions about Reading for Writing |

154
(11)

| | |
| --- | --- |
| | Helping Others See and Share an Experience: Description and Narration |

165
(18)

| | |
| --- | --- |
| | Illustrating for Readers: Examples |

183
(11)

| | |
| --- | --- |
| | Explaining Parts and Categories: Division and Classification |

194
(13)

| | |
| --- | --- |
| | Explaining Steps and Stages: Process Analysis |

207
(14)

| | |
| --- | --- |
| | Explaining Why It Happened or What Will Happen: Cause-and-Effect Analysis |

221
(16)

| | |
| --- | --- |
| | Explaining Similarities or Differences: Comparison and Contrast |

237
(14)

| | |
| --- | --- |
| | Explaining the Exact Meaning: Definition |

251
(14)

| | |
| --- | --- |
| | Using Multiple Strategies in a Persuasive Argument |

265
(26)

| | |
| --- | --- |
| | Special Issues in Persuasion |

291
(22)
Section Four The Research Process
313
(137)

| | |
| --- | --- |
| | Introduction---Thinking Critically about the Research Process |

314
(10)

| | |
| --- | --- |
| | Asking Questions and Finding Answers |

324
(26)

| | |
| --- | --- |
| | Recording, Evaluating, and Interpreting Your Findings |

350
(21)
371
(25)

| | |
| --- | --- |
| | Composing the Research Report |

396
(22)

| | |
| --- | --- |
| | Case Study: A Sample Research Project |

418
(32)
Appendix A Editing for Grammar, Punctuation, and Mechanics
450
(28)
Appendix B Format Guidelines for Submitting Your Manuscript
478
(3)
Appendix C Useful Web Sites and Electronic Library Resources
481
(4)
Credits
485
(2)
Index
487