Note: Supplemental materials are not guaranteed with Rental or Used book purchases.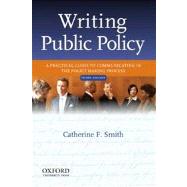 Writing Public Policy A Practical Guide to Communicating in the Policy-Making Process
ISBN13:
9780199933921
by
Smith, Catherine F.
Related Products
Summary
This book presents a general method for planning, producing, and assessing communications in a variety of real-life contexts and situations of public policy work. It explains the standards and functions of communication in policy making. It teaches the use of selected public policy communication genres and illustrates their practical use. In includes numerous, varied writing samples. It is a particularly useful writing guide for students preparing for careers in public administration, politics, government, law, public relations, nonprofit organization advocacy, journalism, public health, or any profession engaged in public process or concerned with public affairs.
Author Biography

Catherine F. Smith is Professor Emerita of English at East Carolina University and Adjunct Professor of Public Policy at The University of North Carolina at Chapel Hill.

Table of Contents

Introduction
List of Writing Samples
Chapter 1. Public Policy Making
Case 1: Milk Labeling
Case 2: State Budgeting
Summary and Preview
Reference
Further Reading
Chapter 2. Communication in the Process
Viewpoint 1: Cultural Context
Viewpoint 2: Experience
Viewpoint 3: Process into Product
Viewpoint 4: A General Method of Communicating in a Public Process
Two Checklists
Example
Summary and Preview
Further Reading
Chapter 3. Definition: Frame the Problem
How to Define a Policy Problem
Five Examples with Scenarios
Summary and Preview
References
Chapter 4. Evaluation: Analyze and Advise
Case: Food Supply Chain Security
How to Analyze Policy and Policy Discourse
Three Examples
Summary and Preview
References
Further Reading
Chapter 5. Legislative History: Know the Record
How to Conduct Legislative Research and Write a Legislative History
General Tips for Using Government Information Libraries
Three Examples
Summary and Preview
Chapter 6. Position Paper: Know the Arguments
How to Argue in a Position Paper
Example
Outline of the Argument to Expand the Earned Income Tax Credit (EITC) in the United States
Summary and Preview
Reference
Further Reading
Chapter 7. Petitions and Proposals: Request Action or Propose Policy
How to Petition for Action or Propose Policy on Behalf of a Group
Five Examples
Summary and Preview
References
Chapter 8. Briefing Memo or Opinion Statement: Inform Policy Makers
How to Inform Policy Makers in a Briefing Memo or Opinion Statement
Two Examples
Summary and Preview
Chapter 9. Testimony: Witness in a Public Hearing
How to Deliver Oral Testimony Based on a Written Statement
Develop a Testimony in Context
Two Examples with Scenarios
Summary and Preview
References
Chapter 10. Written Public Comment: Influence Administration
How to Write a Public Comment
Four Examples with Scenarios
Summary and Preview
Conclusion: Continuity and Change
Summary and Looking Forward
References
Appendix: Public Policy Writing for the Web
Index