Note: Supplemental materials are not guaranteed with Rental or Used book purchases.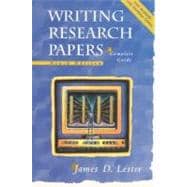 Writing Research Papers : A Complete Guide
ISBN13:
9780321049803
by
Lester, James D.
Questions About This Book?
What version or edition is this?
This is the 9th edition with a publication date of 6/1/1998.
What is included with this book?
The New copy of this book will include any supplemental materials advertised. Please check the title of the book to determine if it should include any CDs, lab manuals, study guides, etc.
Summary
The definitive research paper guide, Writing from Sources combines a traditional and practical approach to the research process with the latest information on electronic research and presentation. Step-by-step instruction in a clear, non-intimidation writing style, takes the reader from the selection and narrowing of a topic, through research, note taking, planning, drafting, revising, to preparation of the finished document.
Table of Contents
Preface
xi
Introduction
1
(2)
3
(20)

| | |
| --- | --- |
| | Generating Ideas for a Research Paper Project |

4
(4)

| | |
| --- | --- |
| | Using Personal Experience for Topic Discovery |

4
(1)

| | |
| --- | --- |
| | Talking with Others to Find a Subject |

5
(1)

| | |
| --- | --- |
| | Speculating About Your Subject to Discover Ideas |

5
(3)

| | |
| --- | --- |
| | Using a Computer Search to Discover a Topic |

8
(5)

| | |
| --- | --- |
| | Surfing the Internet for a Topic |

8
(1)

| | |
| --- | --- |
| | Using CD-ROM to Find a Topic |

9
(2)

| | |
| --- | --- |
| | Using the Public Access Catalog (PAC) to Find a Topic |

11
(2)

| | |
| --- | --- |
| | Using Printed Sources to Formulate a Topic |

13
(2)

| | |
| --- | --- |
| | Scanning Periodicals and Books |

13
(1)

| | |
| --- | --- |
| | Scanning an Encyclopedia Article |

14
(1)

| | |
| --- | --- |
| | Searching the Headings in the Printed Indexes |

14
(1)

| | |
| --- | --- |
| | Drafting a Research Proposal |

15
(6)
15
(1)
16
(1)

| | |
| --- | --- |
| | Explaining Your Purpose in the Research Proposal |

17
(1)

| | |
| --- | --- |
| | Identifying Your Audience in the Research Proposal |

17
(1)

| | |
| --- | --- |
| | Checklist on Addressing the Reader |

18
(1)

| | |
| --- | --- |
| | Identifying Your Role as a Researcher in the Proposal |

18
(1)

| | |
| --- | --- |
| | Expressing Your Thesis Sentence in the Research Proposal |

18
(2)
20
(1)

| | |
| --- | --- |
| | Narrowing the General Subject to a Specific Topic |

21
(2)

| | |
| --- | --- |
| | Narrowing the Topic by a Comparison |

21
(1)

| | |
| --- | --- |
| | Restricting and Narrowing with Disciplinary Interests |

21
(1)

| | |
| --- | --- |
| | Narrowing the Topic to Match Source Materials |

22
(1)
23
(46)

| | |
| --- | --- |
| | Learning the Organization of Your Library |

24
(3)
24
(1)
25
(1)

| | |
| --- | --- |
| | Public Access Catalog (PAC) |

25
(1)

| | |
| --- | --- |
| | CD-ROM Database Facilities |

26
25
(1)
26
(1)
26
(1)
26
(1)
26
(1)

| | |
| --- | --- |
| | Archives and Special Collections |

26
(1)
27
(1)

| | |
| --- | --- |
| | Developing a Working Bibliography |

27
(1)

| | |
| --- | --- |
| | The Electronic Library: Using a Computer Search |

28
(10)
30
(1)
31
(1)

| | |
| --- | --- |
| | Using a Subject Directory |

31
(1)
32
(1)

| | |
| --- | --- |
| | Accessing Online Magazines and Journals |

33
(1)

| | |
| --- | --- |
| | Using Online Versions Rather than Print Versions |

34
(1)

| | |
| --- | --- |
| | Using Gopher, FTP, Telnet, and Other Protocols |

35
(1)

| | |
| --- | --- |
| | Examining Library Holdings Via Internet Access |

36
(1)
37
(1)

| | |
| --- | --- |
| | Using the Printed Bibliographies |

38
(6)

| | |
| --- | --- |
| | Starting the Search with General Bibliographies |

38
(1)

| | |
| --- | --- |
| | Using the Trade Bibliographies |

39
(1)

| | |
| --- | --- |
| | Using a Shortcut: Searching the Specialized Bibliographies |

40
(4)

| | |
| --- | --- |
| | Searching the Printed Indexes |

44

| | |
| --- | --- |
| | Searching the Printed Indexes to Periodicals |

45
(2)

| | |
| --- | --- |
| | Searching an Index to Abstracts |

47
(3)

| | |
| --- | --- |
| | Searching the Biographical Indexes for Authors and Personalities |

50
(2)

| | |
| --- | --- |
| | Searching the Newspaper Indexes |

52
(1)

| | |
| --- | --- |
| | Searching the Pamphlet Files and Pamphlet Indexes |

53

| | |
| --- | --- |
| | Searching the Indexes to Government Documents |

5
(52)

| | |
| --- | --- |
| | Searching for Essays within Books |

57
(1)
57
(1)

| | |
| --- | --- |
| | Using the Printed Catalog Cards |

57
(4)

| | |
| --- | --- |
| | Distinguishing the Dewey Decimal System from the Library of Congress System |

59
(2)

| | |
| --- | --- |
| | Collecting Data Outside the Library |

61
(8)

| | |
| --- | --- |
| | Interviewing Knowledgeable People |

61
(2)
63
(1)

| | |
| --- | --- |
| | Examining Audiovisual Materials, Television, and Radio |

63
(1)

| | |
| --- | --- |
| | Attending Lectures and Public Addresses |

64
(2)
66
(1)

| | |
| --- | --- |
| | Conducting a Survey with a Questionnaire |

66
(1)
66
(1)

| | |
| --- | --- |
| | Conducting Experiments, Tests, and Measurements |

66
(3)

| | |
| --- | --- |
| | Organizing Ideas and Setting Goals |

69
(14)

| | |
| --- | --- |
| | Charting a Direction and Setting Goals |

69
(4)

| | |
| --- | --- |
| | Using Your Research Proposal to Direct Your Note Taking |

69
(1)

| | |
| --- | --- |
| | Listing Key Words and Phrases to Set Directions for Note Taking |

70
(1)
70
(1)

| | |
| --- | --- |
| | Using Questions to Identify Issues |

71
(1)

| | |
| --- | --- |
| | Setting Goals by Using the Modes of Development |

71
(1)

| | |
| --- | --- |
| | Using Approaches Across the Curriculum to Chart Your Major Ideas |

72
(1)

| | |
| --- | --- |
| | Using Your Thesis to Chart the Direction of Your Research |

72
(1)

| | |
| --- | --- |
| | Revising Your Goals During Research |

73
(1)
73
(1)

| | |
| --- | --- |
| | Using Academic Models (Paradigms) to Stimulate Your Note Taking |

73
(4)

| | |
| --- | --- |
| | A General All-Purpose Model |

74
(1)

| | |
| --- | --- |
| | Paradigm for Advancing Your Ideas and Theories |

74
(1)

| | |
| --- | --- |
| | Paradigm for the Analysis of Creative Works |

75
(1)

| | |
| --- | --- |
| | Paradigm for Argument and Persuasion Papers |

75
(1)

| | |
| --- | --- |
| | Paradigm for Analysis of History |

76
(1)

| | |
| --- | --- |
| | Paradigm for a Comparative Study |

76
(1)
77
(6)

| | |
| --- | --- |
| | Using Standard Outline Symbols |

78
(1)

| | |
| --- | --- |
| | Writing a Formal Topic Outline |

78
(1)

| | |
| --- | --- |
| | Writing a Formal Sentence Outline |

79
(1)

| | |
| --- | --- |
| | Using Your Notes, Photocopies, Internet Printouts, and Research Journal to Enrich an Outline |

80
(1)

| | |
| --- | --- |
| | Using Basic, Dynamic Order to Chart the Course of Your Work |

81
(2)

| | |
| --- | --- |
| | Finding and Reading the Best Sources |

83
(22)

| | |
| --- | --- |
| | Finding the Best Source Materials |

83
(5)

| | |
| --- | --- |
| | Consulting with Your Instructor and the Librarians |

83
(1)
84
(1)

| | |
| --- | --- |
| | Evaluating Internet Sources |

84
(1)

| | |
| --- | --- |
| | Using Journals Rather than Magazines |

84
(1)

| | |
| --- | --- |
| | Using Scholarly Books Rather than Trade Books and Encyclopedias |

85
(1)

| | |
| --- | --- |
| | Using Biographies to Evaluate an Author |

85
(1)

| | |
| --- | --- |
| | Conducting a Citation Search |

86

| | |
| --- | --- |
| | Using Biographies to Evaluate an Author |

85
(1)

| | |
| --- | --- |
| | Conducting a Citation Search |

86
(1)

| | |
| --- | --- |
| | Examining the Book Reviews |

86
(2)

| | |
| --- | --- |
| | Reading All or Part of a Source |

88
(4)
89
(1)
89
(3)

| | |
| --- | --- |
| | Responding to the Sources |

92
(3)

| | |
| --- | --- |
| | Selecting Key Ideas for Your Notes |

92
(1)

| | |
| --- | --- |
| | Outlining the Key Ideas of a Source |

93
(1)

| | |
| --- | --- |
| | Making Notations on Photocopied Materials |

94
(1)

| | |
| --- | --- |
| | Writing a Summary or a Precis |

94
(1)

| | |
| --- | --- |
| | Selecting a Mix of Both Primary and Secondary Sources |

95
(2)

| | |
| --- | --- |
| | Citing From Primary and Secondary Sources |

96
(1)

| | |
| --- | --- |
| | Preparing an Annotated Bibliography |

97
(2)

| | |
| --- | --- |
| | Preparing a Review of the Literature on a Topic |

99
(6)
105
(18)
106
(3)

| | |
| --- | --- |
| | Using a Computer for Note Taking |

107
(1)

| | |
| --- | --- |
| | Developing Handwritten Notes |

108
(1)
109
(1)

| | |
| --- | --- |
| | Writing Direct Quotation Note Cards |

109
(3)

| | |
| --- | --- |
| | Quoting the Primary Sources |

110
(1)

| | |
| --- | --- |
| | Quoting the Secondary Sources |

111
(1)

| | |
| --- | --- |
| | Writing Paraphrased Notes |

112
(2)
114
(1)
115
(2)

| | |
| --- | --- |
| | Use of Precis to Review Briefly an Article or Book |

115
(1)

| | |
| --- | --- |
| | Use the Precis to Write an Annotated Bibliography |

116
(1)

| | |
| --- | --- |
| | Use the Precis in a Plot Summary Note |

116
(1)

| | |
| --- | --- |
| | Use the Precis as the Form for an Abstract |

116
(1)

| | |
| --- | --- |
| | Writing Notes from Field Research |

117
(1)
117
(6)

| | |
| --- | --- |
| | Documenting Your Sources for a Purpose |

117
(1)
118
(1)

| | |
| --- | --- |
| | Understanding Plagiarism So You Can Avoid It |

118
(1)

| | |
| --- | --- |
| | Rules for Avoiding Plagiarism |

119
(1)

| | |
| --- | --- |
| | Checklist for Common Knowledge Exceptions |

120
(2)

| | |
| --- | --- |
| | Required Instances for Citing a Source |

122
(1)
123
(32)

| | |
| --- | --- |
| | Writing a Final Thesis Sentence |

124
(2)

| | |
| --- | --- |
| | Use Questions to Focus the Argument |

124
(1)

| | |
| --- | --- |
| | Use Key Words to Focus Your Argument |

125
(1)
125
(1)

| | |
| --- | --- |
| | Adjust Your Thesis During Research if Necessary |

126
(1)
126
(1)

| | |
| --- | --- |
| | Understanding Your Purpose and Your Role as a Writer |

127
(1)

| | |
| --- | --- |
| | Drafting the Paper from Your Notes and Outline |

127
(6)

| | |
| --- | --- |
| | Citing More Than One Source in a Paragraph |

128
(1)

| | |
| --- | --- |
| | Writing from Your Outline and Notes |

129
(1)

| | |
| --- | --- |
| | Safeguarding Your Work on a Computer |

130
(1)

| | |
| --- | --- |
| | Transferring Graphics into the Text |

130
(1)

| | |
| --- | --- |
| | Writing in the Proper Tense |

130
(1)

| | |
| --- | --- |
| | Using the Language of the Discipline |

131
(1)

| | |
| --- | --- |
| | Writing in the Third Person |

132
(1)

| | |
| --- | --- |
| | Writing with Unity and Coherence |

132
(1)

| | |
| --- | --- |
| | Writing the Introduction of the Paper |

133
(4)

| | |
| --- | --- |
| | Checklist for the Introduction |

133
(1)

| | |
| --- | --- |
| | Opening With Your Thesis Statement |

133
(1)

| | |
| --- | --- |
| | Relating to the Well Known |

134
(1)

| | |
| --- | --- |
| | Providing Background Information |

134
(1)
134
(1)

| | |
| --- | --- |
| | Reviewing the History and Background of the Subject |

135
(1)

| | |
| --- | --- |
| | Taking Exception to Critical Views |

135
(1)

| | |
| --- | --- |
| | Challenging an Assumption |

136
(1)

| | |
| --- | --- |
| | Providing a Brief Summary |

136
(1)
136
(1)

| | |
| --- | --- |
| | Supplying Data, Statistics, and Special Evidence |

137
(1)

| | |
| --- | --- |
| | Avoiding Certain Mistakes in the Opening |

137
(1)

| | |
| --- | --- |
| | Writing the Body of the Research Paper |

137
(5)

| | |
| --- | --- |
| | Checklist for the Body of the Paper |

137
(1)
138
(1)

| | |
| --- | --- |
| | Comparing or Contrasting Issues, Critics, and Literary Characters |

139
(1)

| | |
| --- | --- |
| | Developing Cause and Effect |

139
(1)

| | |
| --- | --- |
| | Defining Your Key Terminology |

139
(1)
140
(1)

| | |
| --- | --- |
| | Asking Questions and Providing Answers |

140
(1)

| | |
| --- | --- |
| | Citing Evidence from the Source Materials |

141
(1)

| | |
| --- | --- |
| | Using a Variety of Other Methods |

141
(1)

| | |
| --- | --- |
| | Writing the Conclusion of the Research Paper |

142
(3)

| | |
| --- | --- |
| | Restating the Thesis and Reaching Beyond It |

142
(1)

| | |
| --- | --- |
| | Closing With an Effective Quotation |

143
(1)

| | |
| --- | --- |
| | Returning the Focus of a Literary Study to the Author |

143
(1)

| | |
| --- | --- |
| | Comparing Past to Present |

143
(1)

| | |
| --- | --- |
| | Offering a Directive or Solution |

144
(1)

| | |
| --- | --- |
| | Discussing the Test Results |

144
(1)

| | |
| --- | --- |
| | Avoiding Certain Mistakes in the Conclusion |

144
(1)
145
(2)
145
(1)

| | |
| --- | --- |
| | Global Revision Checklist |

145
(1)

| | |
| --- | --- |
| | Revision of the Introduction |

145
(1)

| | |
| --- | --- |
| | Revision of Your Paragraphs |

145
(1)

| | |
| --- | --- |
| | Paragraph Revision Checklist |

146
(1)

| | |
| --- | --- |
| | Revision of the Conclusion |

146
(1)

| | |
| --- | --- |
| | Using the Computer for Revision of the Whole Work |

146
(1)

| | |
| --- | --- |
| | Editing before Typing or Printing the Final Manuscript |

147
(6)
147
(1)

| | |
| --- | --- |
| | Using the Computer to Edit Your Text |

148
(2)

| | |
| --- | --- |
| | Editing To Avoid Sexist and Biased Language |

150
(3)

| | |
| --- | --- |
| | Proofreading Before the Final Computer Printout |

153
(1)
154
(1)

| | |
| --- | --- |
| | Participating in Peer Review of Research Writing |

154
(1)

| | |
| --- | --- |
| | Checklist for Peer Review |

154
(1)

| | |
| --- | --- |
| | Blending Reference Material Into Your Writing |

155
(18)

| | |
| --- | --- |
| | Blending a Reference into Your Text |

156
(1)

| | |
| --- | --- |
| | Making a General Reference Without a Page Number |

156
(1)

| | |
| --- | --- |
| | Beginning with the Author and Ending with a Page Number |

156
(1)

| | |
| --- | --- |
| | Putting the Page Number Immediately after the Name |

156
(1)

| | |
| --- | --- |
| | Putting the Name and Page Number at the End of Borrowed Material |

157
(1)

| | |
| --- | --- |
| | Citing a Source When No Author Is Listed |

157
(1)

| | |
| --- | --- |
| | Citing the Title of a Magazine Article |

157
(1)

| | |
| --- | --- |
| | Citing the Title of a Report |

157
(1)

| | |
| --- | --- |
| | Citing the Name of a Publisher or a Corporate Body |

157
(1)

| | |
| --- | --- |
| | Identifying Unprinted Sources That Have No Page Number |

158
(1)

| | |
| --- | --- |
| | Identifying Internet Sources |

158
(1)

| | |
| --- | --- |
| | Establishing the Credibility of the Source |

159
(1)
160
(1)

| | |
| --- | --- |
| | Citing Frequent Page References to the Same Work |

161
(1)

| | |
| --- | --- |
| | Citing Material from Textbooks and Large Anthologies |

161
(2)

| | |
| --- | --- |
| | Adding Extra Information to In-Text Citations |

163
(1)

| | |
| --- | --- |
| | Punctuating Citations Properly and with Consistency |

164
(2)
164
(1)
165
(1)

| | |
| --- | --- |
| | Question Marks and Exclamation Marks |

166
(1)
166
(1)

| | |
| --- | --- |
| | Indenting Long Quotations |

166
(1)
167
(2)

| | |
| --- | --- |
| | Quoting Short Passages of Poetry |

168
(1)

| | |
| --- | --- |
| | Signaling Turnovers for Long Lines of Poetry |

168
(1)

| | |
| --- | --- |
| | Altering Initial Capitals in Some Quoted Matter |

169
(1)

| | |
| --- | --- |
| | Omitting Quoted Matter with Ellipsis Points |

169
(2)

| | |
| --- | --- |
| | Altering Quotations with Parentheses and Brackets |

171
(2)
173
(60)

| | |
| --- | --- |
| | Preparing the Final Manuscript in MLA Style |

173
(4)
173
(2)
175
(1)
175
(1)
175
(2)
177
(1)
177
(1)
177
(1)

| | |
| --- | --- |
| | Glossary: Techniques for Preparing the Manuscript in MLA Style |

177
(37)
177
(8)
185
(1)
185
(1)
185
(1)
186
(1)
186
(3)
189
(1)
189
(1)
189
(1)
189
(1)
189
(2)
191
(1)
191
(1)
191
(3)
194
(1)
194
(1)
195
(1)
195
(1)
195
(1)
195
(1)
195
(1)

| | |
| --- | --- |
| | Footnotes for Documentation |

195
(1)
195
(5)
200
(1)
200
(1)
200
(1)
201
(1)
201
(1)
201
(1)
201
(1)
201
(1)
202
(1)
202
(1)

| | |
| --- | --- |
| | Length of the Research Paper |

202
(1)
202
(1)
202
(1)
203
(1)
203
(1)
204
(1)
204
(1)
205
(1)
205
(4)
209
(1)
209
(1)
209
(1)
210
(1)
210
(1)
210
(1)

| | |
| --- | --- |
| | Statistical and Mathematical Copy |

211
(1)

| | |
| --- | --- |
| | Superscript Numerals in the Text |

211
(1)
211
(1)
211
(1)
211
(1)
212
(1)
212
(2)
214
(1)

| | |
| --- | --- |
| | Sample Paper: A Short Essay with Documentation |

214
(4)

| | |
| --- | --- |
| | Sample Paper: A Formal Research Paper |

218
(15)
233
(40)

| | |
| --- | --- |
| | Formatting the ``Works Cited'' |

233
(4)

| | |
| --- | --- |
| | Bibliographic Form---Books |

237
(13)

| | |
| --- | --- |
| | Sample Bibliographic Entries---Books |

242
(8)

| | |
| --- | --- |
| | Bibliographic Form---Periodicals |

250
(5)

| | |
| --- | --- |
| | Sample Bibliographic Entries---Periodicals |

252
(3)

| | |
| --- | --- |
| | Bibliographic Form---Newspapers |

255
(2)

| | |
| --- | --- |
| | Bibliographic Form---Government Documents |

257
(1)

| | |
| --- | --- |
| | Electronic Sources (CD-ROM, Internet, E-Mail, Databases) |

258
(6)

| | |
| --- | --- |
| | Citing Sources Found on the Internet |

258
(1)
259
(5)

| | |
| --- | --- |
| | Bibliographic Form---Other Sources |

264
(9)
273
(30)

| | |
| --- | --- |
| | Writing in the Proper Tense for an APA Styled Paper |

273
(3)

| | |
| --- | --- |
| | Index to Bibliographic Models: APA Style |

275
(1)

| | |
| --- | --- |
| | Establishing a Critical Approach |

276
(1)
276
(1)

| | |
| --- | --- |
| | Using In-Text Citations in APA Style |

277
(3)
280
(3)

| | |
| --- | --- |
| | Preparing a Working Draft or Publishing the Manuscript |

283
(1)

| | |
| --- | --- |
| | Preparing the List of References |

284
(7)
284
(2)
286
(2)

| | |
| --- | --- |
| | Citing Internet Sources in APA Style |

288
(3)
291
(1)

| | |
| --- | --- |
| | Sample Paper in APA Style |

292
(11)

| | |
| --- | --- |
| | Form and Style for Other Disciplines |

303
(30)

| | |
| --- | --- |
| | Using The Name and Year System |

304
(9)

| | |
| --- | --- |
| | Using the Name and Year System for Papers in the Social Sciences |

305
(3)

| | |
| --- | --- |
| | Using the Name and Year System for Papers in the Biological and Earth Sciences |

308
(4)

| | |
| --- | --- |
| | Using the Name and Year System for Papers in Business and Economics |

312
(1)
313
(11)

| | |
| --- | --- |
| | Using the Number System for Papers in the Applied Sciences |

315
(3)

| | |
| --- | --- |
| | Using the Number System for Papers in the Medical Sciences |

318
(1)

| | |
| --- | --- |
| | Sample Paper Using the Number System |

319
(5)

| | |
| --- | --- |
| | Using the Footnote System |

324
(9)

| | |
| --- | --- |
| | Using the Footnote System for Papers in the Humanities |

329
(1)

| | |
| --- | --- |
| | Using the Footnote System for Papers in the Fine Arts |

330
(1)

| | |
| --- | --- |
| | Writing a Bibliography for a Paper That Uses Footnotes |

331
(2)
Appendix A Reference Sources
333
(34)
Appendix B Finding Internet Sources for A Selected Discipline
367
(6)
Index
373
(13)
Credits
386