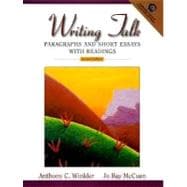 Questions About This Book?
What version or edition is this?
This is the 2nd edition with a publication date of 1/1/2000.
What is included with this book?
The New copy of this book will include any supplemental materials advertised. Please check the title of the book to determine if it should include any CDs, lab manuals, study guides, etc.
Summary
This innovative text/workbook is based on the assumption that native English speakers have a built-in "ear" for their languagei.e., can "hear" the patterns and rhythms that underlie speaking fluencyand that fluency in writing can be developed through applying this inner "ear" when working through an abundance and variety of special exercises.
Table of Contents
About the Authors
xviii
Preface
xix
PART I Preparing to Write
1
(44)
3
(14)
3
(6)
9
(8)
13
(1)
14
(1)
14
(1)
15
(2)
17
(14)
17
(7)
24
(7)
27
(1)
28
(1)
29
(1)
29
(2)
31
(14)
31
(2)
33
(1)
34
(2)
36
(2)
38
(7)

| | |
| --- | --- |
| | Unit Talk Write Assignment |

41
(2)
43
(1)
43
(1)
43
(2)
PART II Writing Good Paragraphs
45
(40)

| | |
| --- | --- |
| | The Topic Sentence of a Paragraph |

47
(12)

| | |
| --- | --- |
| | Talking and the Paragraph |

49
(1)
49
(10)

| | |
| --- | --- |
| | Unit Talk Write Assignment |

55
(1)
56
(1)
57
(1)
57
(2)
59
(12)
59
(12)

| | |
| --- | --- |
| | Unit Talk Write Assignment |

66
(2)
68
(1)
68
(1)
69
(2)

| | |
| --- | --- |
| | Sticking to the Point and Linking Sentences |

71
(14)
71
(2)

| | |
| --- | --- |
| | Prove the Point; Don't Merely Repeat It |

73
(2)
75
(10)

| | |
| --- | --- |
| | Unit Talk Write Assignment |

81
(1)
82
(1)
83
(1)
83
(2)
PART III Paragraph Strategies
85
(128)
87
(16)
87
(2)
89
(5)

| | |
| --- | --- |
| | What Do I Need to Look Out For? |

94
(9)

| | |
| --- | --- |
| | Unit Talk Write Assignment |

99
(1)
100
(1)
101
(1)
101
(2)
103
(12)
103
(1)
104
(7)

| | |
| --- | --- |
| | What Do I Need to Look Out For? |

111
(4)

| | |
| --- | --- |
| | Unit Talk Write Assignment |

112
(1)
113
(1)
113
(1)
114
(1)
115
(14)
115
(2)
117
(6)

| | |
| --- | --- |
| | What Do I Need to Look Out For? |

123
(6)

| | |
| --- | --- |
| | Unit Talk Write Assignment |

125
(1)
126
(1)
126
(1)
127
(2)
129
(14)
129
(3)
132
(3)

| | |
| --- | --- |
| | What Do I Need to Look Out For? |

135
(8)

| | |
| --- | --- |
| | Unit Talk Write Assignment |

138
(2)
140
(1)
140
(1)
141
(2)
143
(18)
143
(2)
145
(9)

| | |
| --- | --- |
| | What Do I Need to Look Out For? |

154
(7)

| | |
| --- | --- |
| | Unit Talk Write Assignment |

159
(1)
160
(1)
160
(1)
160
(1)
161
(14)
161
(1)
162
(7)

| | |
| --- | --- |
| | What Do I Need to Look Out For? |

169
(6)

| | |
| --- | --- |
| | Unit Talk Write Assignment |

172
(1)
173
(1)
173
(1)
173
(2)

| | |
| --- | --- |
| | Comparing and Contrasting |

175
(16)
175
(1)
176
(11)

| | |
| --- | --- |
| | What Do I Need to Look Out For? |

187
(4)

| | |
| --- | --- |
| | Unit Talk Write Assignment |

188
(1)
189
(1)
189
(1)
190
(1)
191
(22)
191
(2)
193
(11)

| | |
| --- | --- |
| | What Do I Need to Look Out For? |

204
(9)

| | |
| --- | --- |
| | Unit Talk Write Assignment |

210
(1)
211
(1)
211
(1)
212
(1)
PART IV Writing Good Essays
213
(70)
215
(18)
215
(3)
218
(3)
221
(2)
223
(4)
227
(6)

| | |
| --- | --- |
| | Unit Talk Write Assignment |

228
(2)
230
(1)
231
(1)
231
(2)
233
(14)

| | |
| --- | --- |
| | The Too-narrow Thesis Statement |

234
(2)

| | |
| --- | --- |
| | The Too-broad Thesis Statement |

236
(1)

| | |
| --- | --- |
| | The Uncommitted Thesis Statement |

237
(2)

| | |
| --- | --- |
| | The Unclear Thesis Statement |

239
(2)

| | |
| --- | --- |
| | The Good Thesis Statement |

241
(6)

| | |
| --- | --- |
| | Unit Talk Write Assignment |

244
(1)
244
(1)
245
(1)
245
(2)

| | |
| --- | --- |
| | Organizing Your Essay, from Beginning to End |

247
(20)
247
(6)
253
(5)
258
(3)
261
(6)

| | |
| --- | --- |
| | Unit Talk Write Assignment |

263
(1)
264
(1)
265
(1)
265
(2)

| | |
| --- | --- |
| | Revising, Editing, and Proofreading |

267
(16)
267
(5)
272
(4)
276
(1)

| | |
| --- | --- |
| | Student Essay in Progress |

276
(7)

| | |
| --- | --- |
| | Unit Talk Write Assignment |

280
(1)
281
(1)
282
(1)
282
(1)
PART V Sentence Basics
283
(32)
285
(16)
285
(2)
287
(2)

| | |
| --- | --- |
| | Action Verbs and Linking Verbs |

289
(2)
291
(1)
292
(3)

| | |
| --- | --- |
| | Compound Subjects and Verbs |

295
(6)

| | |
| --- | --- |
| | Unit Talk Write Assignment |

297
(2)
299
(1)
299
(1)
300
(1)
300
(1)
301
(14)

| | |
| --- | --- |
| | Dependent and Independent Clauses |

301
(2)

| | |
| --- | --- |
| | Three Basic Sentence Types |

303
(6)
309
(6)

| | |
| --- | --- |
| | Unit Talk Write Assignment |

310
(1)
311
(2)
313
(1)
313
(1)
313
(2)
PART VI The 20 Most Common Sentence Errors
315
(152)
317
(10)

| | |
| --- | --- |
| | Fragments Caused by a Missing Subject |

317
(1)

| | |
| --- | --- |
| | Fragments Due to -ing Words |

318
(1)

| | |
| --- | --- |
| | Fragments Due to ``To'' Clauses |

319
(2)

| | |
| --- | --- |
| | Fragments Due to Dependent Words |

321
(2)

| | |
| --- | --- |
| | Fragments Due to Added Details |

323
(4)
325
(2)
327
(6)

| | |
| --- | --- |
| | Correcting Run-on Sentences |

328
(5)
331
(2)

| | |
| --- | --- |
| | Lack of Subject-Verb Agreement |

333
(12)

| | |
| --- | --- |
| | Do, Don't, Was, and Wasn't |

334
(1)

| | |
| --- | --- |
| | Each, Every, Either/Or, and Neither/Nor |

335
(1)

| | |
| --- | --- |
| | Phrases Between a Subject and Its Verb |

336
(1)

| | |
| --- | --- |
| | Sentences Beginning with There/Here |

337
(1)
338
(1)

| | |
| --- | --- |
| | Compound Subjects Joined by And, Or, Either/Or, or Neither/Nor |

339
(2)

| | |
| --- | --- |
| | The Indefinite Pronouns Each, Everyone, Anybody, Somebody, and Nobody |

341
(1)
341
(4)
343
(2)
345
(12)

| | |
| --- | --- |
| | Omitting the Helping Verb in a Past Participle |

346
(1)
347
(5)
352
(2)

| | |
| --- | --- |
| | Lie/Lay, Sit/Set, Rise/Raise: Does It Really Matter? |

354
(3)
355
(2)

| | |
| --- | --- |
| | Incorrect Forms of Do, Be, and Have |

357
(12)
357
(2)
359
(1)
360
(2)
362
(7)
367
(2)
369
(4)
372
(1)
373
(4)
376
(1)
377
(4)
380
(1)

| | |
| --- | --- |
| | Unclear or Missing Referent |

381
(6)
381
(2)
383
(4)
386
(1)

| | |
| --- | --- |
| | Lack of Pronoun Agreement and Sexism |

387
(8)
389
(6)
393
(2)

| | |
| --- | --- |
| | Trouble with Comparisons and Superlatives |

395
(8)
396
(2)
398
(5)
402
(1)

| | |
| --- | --- |
| | Dangling or Misplaced Modifiers |

403
(6)
403
(2)
405
(4)
408
(1)
409
(4)
409
(4)
412
(1)
413
(6)
418
(1)
419
(6)
423
(2)

| | |
| --- | --- |
| | Trouble with Quotation Marks |

425
(6)
429
(2)

| | |
| --- | --- |
| | Incorrect Capitalization, Part I |

431
(8)
437
(2)

| | |
| --- | --- |
| | Incorrect Capitalization, Part II |

439
(8)
445
(2)
447
(12)

| | |
| --- | --- |
| | Tips for Improving Your Spelling |

447
(1)
447
(12)
457
(2)

| | |
| --- | --- |
| | Misspelled Words, Part II |

459
(8)

| | |
| --- | --- |
| | Homophones and Frequently Confused Words |

459
(4)

| | |
| --- | --- |
| | Commonly Misspelled Words |

463
(4)
465
(2)
PART VII Readings
467
(70)
469
(3)
472
(9)
472
(4)
476
(5)
481
(11)

| | |
| --- | --- |
| | My Grandmother, the Bag Lady |

481
(4)
485
(3)
488
(4)
492
(9)

| | |
| --- | --- |
| | So Who Makes Up All Those Signs That Tell Us What We Mustn't Do? |

492
(4)

| | |
| --- | --- |
| | Long Live High School Rebels |

496
(5)
501
(7)
501
(3)

| | |
| --- | --- |
| | How to Ace a Job Interview |

504
(4)
508
(7)
508
(4)

| | |
| --- | --- |
| | ``Both'' or ``Other''? It's Not as Clear as Black and White |

512
(3)
515
(6)
515
(3)
518
(3)

| | |
| --- | --- |
| | Comparing and Contrasting |

521
(9)
521
(3)

| | |
| --- | --- |
| | Doctor-as-God Is Dead, or Dying |

524
(3)
527
(3)
530
(7)

| | |
| --- | --- |
| | Tune In to TV, Tune Out to Language |

530
(3)

| | |
| --- | --- |
| | `Retaining' School Children Indicates Educators' Failure |

533
(4)
Credits
537
(2)
Index
539