Note: Supplemental materials are not guaranteed with Rental or Used book purchases.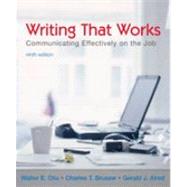 Writing That Works: Communicating Effectively on the Job
by
Oliu
;
Brusaw
;
Alred
Questions About This Book?
What version or edition is this?
This is the 9th edition with a publication date of 10/23/2006.
What is included with this book?
The Used copy of this book is not guaranteed to include any supplemental materials. Typically, only the book itself is included.
Summary
Writing That Worksis unique among business and professional writing textbooks. The book's advice on the writing process, abundant workplace samples, guidance on working to deadline, and practical assignments all draw on the author team's real-world and academic experiences. Honed by the suggestions and contributions of more than a hundred teachers and writers over nine editions,Writing That Worksis an invaluable resource for both students and practitioners of business and professional communication. Streamlined for ease of use, packed with fresh examples and assignments, and now available for course management systems,Writing That Worksworks better than ever before.
Author Biography
WALTER E. OLIU until recently served as chief of the Publishing Services Branch at the U.S. Nuclear Regulatory Commission. He is a communications consultant in the Washington, D.C. area and has taught at Miami University of Ohio, Slippery Rock State University, and Montgomery College.

CHARLES T. BRUSAW worked for twenty years as a technical writer for the NCR Corporation and has also worked in advertising, public relations, and curriculum development. He has served as a business-writing consultant for corporations worldwide and has taught at both NCR Corporation's Management College and Sinclair Community College.

GERALD J. ALRED is professor of English at the University of Wisconsin – Milwaukee, where he teaches courses in professional writing and directs the Graduate Certificate Program in International Technical Communication. He received the 2004 Jay R. Gould Award for Excellence in Teaching Technical Comunication from the Society for Technical Communication. He is also the associate editor of Journal of Business Communication.

For Bedford/St. Martin's, all three are coauthors of The Business Writer's Handbook (2006); Handbook of Technical Writing (2006); The Business Writer's Companion (2005); and The Technical Writer's Companion (2002).
Table of Contents
PART I. THE WRITING PROCESS
1. Getting Ready
*At a Glance: The Writing Process
Writing Systematically: An Introduction and Case Study
*Voices from the Workplace
Writing for Results
Summary: Getting Started

2. Organizing Your Information
*At a Glance: Organization
Voices from the Workplace
Outlining
Essential Organizing Patterns
Summary: Organizing Your Information

3. Writing the Draft
*At a Glance: Drafting
*Voices from the Workplace
Time-Management Tactics
Keeping Your Audience in Mind
Development Strategies
Writing an Opening
Writing a Closing
Case Study: Drafting the Lifemaker Brochure
Summary: Writing the Draft

4. Revising the Draft
*At a Glance: Revision
*Voices from the Workplace
Content and Organization
Coherence
Emphasis
Point of View
Language
Proofreading
Physical Appearance
Case Study: Revising the Lifemaker Brochure
Summary: Revising the Draft

PART II. ESSENTIAL SKILLS: COLLABORATION, RESEARCH, AND DESIGN
5. Collaborative Writing
*At a Glance: Collaboration
*Voices from the Workplace
Advantages and Disadvantages of Collaborative Writing
Functions of the Collaborative Writing Team
The Role of Conflict in Collaborative Writing
Leading a Collaborative Writing Team
Collaborating with Other Departments
Summary: Collaborative Writing

6. Researching Your Subject
*At a Glance: Research
Voices from the Workplace
Conducting Primary Research: Experience, Interviews, Observations, and Questionnaires
Conducting Secondary Research: The Library and Internet
Evaluating, Recording, and Acknowledging Sources
Documenting Sources
Summary: Research

7. Designing Effective Documents and Visuals
*At a Glance: Design
*Voices from the Workplace
Designing Documents
Creating Visuals
Summary: Designing Effective Documents and Visuals

PART III. WRITING AT WORK: FROM PRINCIPLE TO PRACTICE
8. Understanding the Principles of Business Communication
*At a Glance: Communication Principles
*Voices from the Workplace
Selecting the Appropriate Medium and Form
Writing and Formatting Letters
Writing and Formatting Memos
Sending E-Mail and Instant Messages: Protocol and Strategies
*Instant Messaging in the Workplace
Writing International Correspondence
Summary: Understanding the Principles of Business Correspondence

9. Writing Business Correspondence
*At a Glance: Routine, Positive, and Negative Messages
*Voices from the Workplace
Routine and Positive Messages
Sensitive and Negative Messages
Summary: Writing Business Correspondence

10. Writing Informal Reports
*At a Glance: Informal Reports
*Voices from the Workplace
Planning and Writing Informal Reports
Types of Informal Reports
Summary: Writing Informal Reports

11. Writing Formal Reports
*At a Glance: Formal Reports
Voices from the Workplace
Transmittal Letter or Memo
Body
Back Matter
Summary: Writing Formal Reports

*12. Writing Instructions
*At a Glance: Instructions
Voices from the Workplace
Planning Instructions
*Writing Instructions
Using Illustrations and Design Principles
*Testing for Usability
Summary: Writing Instructions

13. Writing Proposals
*At a Glance: Proposals
Voices from the Workplace
*Planning and Writing Proposals
Internal Proposals
*External Proposals
Summary: Writing Proposals

14. Giving Presentations and Conducting Meetings
*At a Glance: Presentations and Meetings
*Voices from the Workplace
Preparing and Delivering Presentations
Listening
Conducting Productive Meetings
Summary: Giving Presentations and Conducting Meetings

15. Writing for the Web: Rhetorical Principles
*At a Glance: Web Content
*Voices from the Workplace
Writing for Rapid Consumption
Crafting Content for the Web
Highlighting Information
Posting an Existing Document
Protecting the Privacy of Your Users
Documenting Sources of Information
Summary: Writing for the Web

16. Finding the Right Job
*At a Glance: Resumes and Interviews
*Voices from the Workplace
Determining the Best Job for You
Preparing an Effective Résumé
Writing an Effective Letter of Application
Doing Well in the Interview
Sending Follow-Up Correspondence
Sending a Resignation Letter or Memo
Summary: Finding the Right Job

*PART IV. REVISION GUIDE: SENTENCES, PUNCTUATION, AND MECHANICS
Proofreaders' Marks
Sentences
Punctuation
Mechanics
English as a Second Language (ESL)

*New to this edition