Note: Supplemental materials are not guaranteed with Rental or Used book purchases.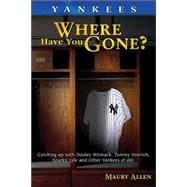 Yankees : Where Have You Gone?
ISBN13:
9781582617190
by
Allen, Maury
Summary
This is the first book in Sports Publishing's Where Have You Gone? series. Additional titles now available include Phillies: Where Have You Gone? Future titles in this series will include books on professional football, baseball, basketball, and hockey, as well as collegiate sports. Maury Allen, author of the bestselling Where Have You Gone Joe DiMaggio? has captured the dramatic and emotional highlights of the lives of 50 of the over 1,300 players who have worn the Yankee uniform in Yankees: Where Have You Gone? In these pages, Allen catches up with players who were teammates of Yankee Hall of Famers like DiMaggio, Mickey Mantle, Yogi Berra, or Catfish Hunter and contributed to Yankee legends in their own way. Most were never stars, but were fan favorites and notable achievers whose contributions on the field were essential to their team's success.
Author Biography
Maury Allen is the author of more than 30 books on baseball. He has been a working sportswriter for nearly half a century with time as a columnist for the New York Post, the Gannett Journal News and other newspapers. He has written hundreds of magazine articles and made frequent appearances on radio and television as a baseball expert
Table of Contents
| | | | |
| --- | --- | --- | --- |
| Introduction | | vi | |
| DOOLEY WOMACK | | 2 | (6) |
| PHIL LINZ | | 8 | (4) |
| HANK BAUER | | 12 | (6) |
| BOB CERV | | 18 | (6) |
| BUD DALEY | | 24 | (6) |
| SPARKY LYLE | | 30 | (6) |
| ART DITMAR | | 36 | (4) |
| ROLLIE SHELDON | | 40 | (4) |
| RON BLOMBERG | | 44 | (6) |
| DON BAYLOR | | 50 | (6) |
| BILL WERBER | | 56 | (6) |
| RON GUIDRY | | 62 | (6) |
| MIKE TORREZ | | 68 | (6) |
| BUCKY DENT | | 74 | (6) |
| CHRIS CHAMBLISS | | 80 | (6) |
| BOB KUZAVA | | 86 | (6) |
| MOOSE SKOWRON | | 92 | (6) |
| JOHNNY BLANCHARD | | 98 | (6) |
| ALLIE CLARK | | 104 | (4) |
| WILLIE RANDOLPH | | 108 | (6) |
| ROY WHITE | | 114 | (6) |
| JOHNNY KUCKS | | 120 | (6) |
| BOBBY COX | | 126 | (6) |
| HORACE CLARKE | | 132 | (6) |
| JAY JOHNSTONE | | 138 | (4) |
| FRAN HEALY | | 142 | (6) |
| FRANK TEPEDINO | | 148 | (4) |
| BOBBY MURCER | | 152 | (6) |
| CLETE BOYER | | 158 | (6) |
| STEVE BALBONI | | 164 | (6) |
| CLIFF JOHNSON | | 170 | (6) |
| RON KLIMKOWSKI | | 176 | (6) |
| HECTOR LOPEZ | | 182 | (6) |
| STAN BAHNSEN | | 188 | (4) |
| JOE DEMAESTRI | | 192 | (4) |
| TOMMY JOHN | | 196 | (4) |
| HAL RENIFF | | 200 | (6) |
| BRIAN DOYLE | | 206 | (4) |
| DAVE RIGHETTI | | 210 | (6) |
| TEX CLEVENGER | | 216 | (6) |
| GEORGE ZEBER | | 222 | (4) |
| STAN WILLIAMS | | 226 | (4) |
| TOM TRESH | | 230 | (4) |
| LEN BOEHMER | | 234 | (4) |
| MIKE HEGAN | | 238 | (4) |
| JAKE GIBBS | | 242 | (4) |
| RYNE DUREN | | 246 | (6) |
| RICK CERONE | | 252 | (4) |
| PETE WARD | | 256 | (4) |
| TOMMY HENRICH | | 260 | |