Note: Supplemental materials are not guaranteed with Rental or Used book purchases.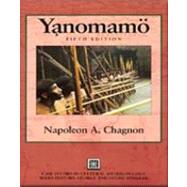 Questions About This Book?
What version or edition is this?
This is the 5th edition with a publication date of 11/15/1996.
What is included with this book?
The New copy of this book will include any supplemental materials advertised. Please check the title of the book to determine if it should include any CDs, lab manuals, study guides, etc.
The Used copy of this book is not guaranteed to include any supplemental materials. Typically, only the book itself is included.
Summary
Forward. Preface. The Killing of Ruwahiwa. 1. Doing Fieldwork Among the Yanomamo. 2. Cultural Ecology. 3. Myth and Cosmos. 4. Social Organization and Demography. 5. Political Alliances, Trading and Feasting. 6. Yanomamo Warfare. 7. The Mishmishimobewei-teri Village. 8. The Beginning of Western Acculturation. Glossary. References Cited. Ethnographic Films on the Yanomamo. Index.
Table of Contents
Foreword
v
Author's Preface to the Fifth Edition
viii
Acknowledgments
xiv
xx
Prologue
1
(260)
2
(3)

| | |
| --- | --- |
| | Doing Fieldwork among the Yanomamo |

5
(40)
5
(3)

| | |
| --- | --- |
| | Collecting the Data in the Field |

8
(23)

| | |
| --- | --- |
| | The Longest Day: The First One |

10
(1)
11
(2)

| | |
| --- | --- |
| | Life in the Jungle: Oatmeal, peanut Butter, and Bugs |

13
(6)

| | |
| --- | --- |
| | Collecting Yanomamo Genealogies and Reproductive Histories |

19
(3)

| | |
| --- | --- |
| | Enter Rerebawa: Inmarried Tough Guy |

22
(3)

| | |
| --- | --- |
| | Kaobawa: The Bisaasi-teri Headman Volunteers to Help Me |

25
(6)

| | |
| --- | --- |
| | Beyond the Bisaasi-teri and into the Remote Villages |

31
(14)

| | |
| --- | --- |
| | The Scientific Problem That Emerged |

31
(14)
45
(54)
45
(15)
46
(2)
48
(5)
53
(2)
55
(5)

| | |
| --- | --- |
| | Hunting, Gathering, and Gardening |

60
(11)
60
(1)
61
(2)
63
(2)
65
(5)
70
(1)

| | |
| --- | --- |
| | The Cultural Ecology of Settlement Pattern |

71
(10)

| | |
| --- | --- |
| | Micro Movements of Villages and Gardens |

71
(3)

| | |
| --- | --- |
| | Macro Movements of Villages and Gardens |

74
(6)

| | |
| --- | --- |
| | Population and Village Dispersal over Time |

80
(1)

| | |
| --- | --- |
| | New Data from 1990 and 1991 Fieldwork |

81
(10)

| | |
| --- | --- |
| | Bellicose and Refugee Strategies |

88
(3)

| | |
| --- | --- |
| | The Great Protein Debate: Yanomamo Data and Anthropological Theory |

91
(8)
99
(22)

| | |
| --- | --- |
| | The Spiritual Environment |

99
(22)
99
(3)

| | |
| --- | --- |
| | Myths: The Beginning of Time and the No Badabo |

102
(3)
105
(6)

| | |
| --- | --- |
| | The Twins Omawa and Yoawa |

111
(1)
112
(2)
114
(2)
116
(5)

| | |
| --- | --- |
| | Social Organization and Demography |

121
(38)
122
(15)
122
(4)
126
(2)
128
(5)

| | |
| --- | --- |
| | Status Differences and Activities |

133
(4)
137
(7)

| | |
| --- | --- |
| | An `Ideal' Model of Yanomamo Society |

140
(4)

| | |
| --- | --- |
| | The Demographic Basis of Social Behavior |

144
(15)

| | |
| --- | --- |
| | Polygyny, Genealogical Structures, and Close Kinship |

149
(3)

| | |
| --- | --- |
| | Kinship Rules, Reproduction, and Rule Breaking |

152
(2)

| | |
| --- | --- |
| | The Decay of the Nuclear Family |

154
(5)

| | |
| --- | --- |
| | Political Alliances, Trading, and Feasting |

159
(26)

| | |
| --- | --- |
| | General Features of Alliances |

159
(3)

| | |
| --- | --- |
| | Trading and Feasting in Alliance Formation |

162
(3)

| | |
| --- | --- |
| | Historical Background to a Particular Feast |

165
(5)
170
(8)
178
(7)
185
(22)
185
(4)
189
(2)
191
(13)

| | |
| --- | --- |
| | General Comments on Yanomamo Violence |

204
(3)

| | |
| --- | --- |
| | Alliance With the Mishimishimabowei-teri |

207
(20)

| | |
| --- | --- |
| | Conceptions of the Mishimishimabowei-teri |

208
(19)

| | |
| --- | --- |
| | Comparisons of the Two Villages |

210
(3)

| | |
| --- | --- |
| | Contact between Bisaasi-teri and Mishimishimabowei-teri |

213
(2)
215
(1)

| | |
| --- | --- |
| | The Social and Heroic Ingredients of Neolithic Peace |

216
(10)

| | |
| --- | --- |
| | The Deaths of Moawa and Dedeheiwa |

226
(1)

| | |
| --- | --- |
| | The Acceleration of Change in Yanomamoland |

227
(34)

| | |
| --- | --- |
| | Gradual versus Catastrophic Change |

227
(1)

| | |
| --- | --- |
| | Variation in Degree and Kind of Contact |

228
(3)

| | |
| --- | --- |
| | The 1987 Brazilian Gold Rush |

231
(4)
233
(2)
235
(19)

| | |
| --- | --- |
| | Reduction and Concentration of Yanomamo Villages |

241
(5)

| | |
| --- | --- |
| | Age/ Sex Distributions and Mortality Patterns |

246
(5)

| | |
| --- | --- |
| | Education and Growing Awareness of the Outside World |

251
(3)

| | |
| --- | --- |
| | Contending Influences and Conflicting Information |

254
(7)

| | |
| --- | --- |
| | Political, Moral and Philosophical Dilemmas |

258
(3)
Glossary
261
(2)
References Cited
263
(7)
Ethnographic Films on the Yanomamo
270
(3)
Index
273