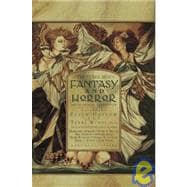 Summary
For more than a decade, readers have turned to The Year's Best Fantasy and Horror to find the most rewarding fantastic short stories. Ellen Datlow, Kelly Link, and Gavin Grant continue this critically acclaimed and award-winning tradition with another stunning collection of stories. The fiction and poetry here is culled from an exhaustive survey of the field, nearly four dozen stories ranging from fairy tales to gothic horror, from magic realism to dark tales in the Grand Guignol style. Rounding out the volume are the editors' invaluable overviews of the year in fantasy and horror, and sections on comics, by Charles Vess; on anime and manga, by Joan D. Vinge; on media, by Ed Bryant; and on music, by Charles de Lint. With a long list of Honorable Mentions, this is an indispensable reference as well as the best reading available in fantasy and horror.
Author Biography
Ellen Datlow has won the World Fantasy Award six times. She lives in New York City and currently edits fiction for SCIFI.COM Terri Windling won the Mythopoeic Award for her first adult novel. She has edited numerous books and anthologies. Honored six times with the World Fantasy Award, she divides her time between Devon, England, and Tucson, Arizona
Table of Contents
Acknowledgments
Summation 2004: Fantasy
Summation 2004: Horror
Fantasy and Horror in the Media: 2004
Comics and Graphic Novels: 2004
Anime and Manga: 2004
Fantasy and Horror in Music: 2004
Obituaries: 2004
""The Oakthing,""
""Horton's Store,""
""Rite of Spring,""
""Zora and the Zombie,""
""The Changeling,""
""Rev
Table of Contents provided by Publisher. All Rights Reserved.