Note: Supplemental materials are not guaranteed with Rental or Used book purchases.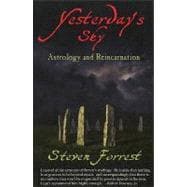 Yesterday's Sky : Astrology and Reincarnation
ISBN13:
9780979067730
by
Forrest, Steven
Summary
Behind your familiar astrological chart lies another chart entirely, one whose existence you may never have suspected. It carries your treasures and your wounds. Where the astrologer's predictions and the realities of your life might not in all honesty have lined up, this chart-behind-the-chart will help you see why. This second, hidden chart tells the tale of who you were in a prior lifetime. It speaks of what wounded you then and what work you left undone. It reveals the old ghosts that still haunt you today and it describes what happens when you let them grab the steering wheel of your life. This chart explains the reasons you have the chart you have today and it clarifies how you can get on with your evolutionary journey. In Yesterday's Sky, Steven Forrest completes the picture he began painting in his bestseller, The Inner Sky, twenty-five years ago.
Author Biography
Well-known evolutionary astrologer Steven Forrest's work includes:The Inner Sky; The Changing Sky; The Book of Pluto; The Night Speaks; and with Jeffrey Wolf Green, Measuring the Nights Vols One and Two and with Jodie Forrest, Skymates: Love, Sex and Evolutionary Astrology, and Skymates II: The Composite Chart. Steven travels extensively to teach astrology and has maintained a busy private practice since 1977.
Table of Contents
Foreword
Introduction
The Technique
Everything in the Chart Is Karmic
Why Believe in Reincarnation?
The Essence of the Technique
A Practical Example
The Astronomy of the Lunar Nodes
The Cookbook
The Lunar Nodes Through the Signs
The Lunar Nodes Through the Houses
Planets Conjunct the South Node
The Planetary Ruler of the South Node
Planets in Hard Aspect to the South Node
The Right Attitude
When the Karmic Wave Breaks
Putting It All Together
Agatha Christie
Bill Wilson
Adolph Hitler
Christine Jorgensen
Carl Gustav Jung
Conclusion: Beyond Description
Table of Contents provided by Publisher. All Rights Reserved.