Note: Supplemental materials are not guaranteed with Rental or Used book purchases.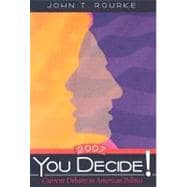 You Decide! Current Debates in American Politics, 2007 Edition
ISBN13:
9780321430168
by
Rourke, John T.
Summary
This best-selling, debate-style reader is edited and updated annually by John Rourke to examine the most important and provocative issues in American politics. The 2007 edition draws students into the key topics that have made headlines and affected our political system during 2006 and are likely to affect our daily lives in 2007. The topics featured in You Decide! have been selected for their currency, importance, and student interest, and the pieces arguing various sides of a given issue come from recent journals, congressional hearings, think tanks, and periodicals.
Table of Contents
Preface
xv
2
(14)

| | |
| --- | --- |
| | Guns, Safety, and the Constitution's Meaning: Individual Right or Subject to Regulation? |

| | |
| --- | --- |
| | Guns, Safety, and the Constitution: Individual Right |

| | |
| --- | --- |
| | Advocate: Robert A. Levy, Senior Fellow in Constitutional Studies, Cato Institute |

| | |
| --- | --- |
| | Source: Testimony during hearings on ``Oversight Hearing on the District of Columbia's Gun Control Laws,'' before the U.S. House of Representatives, Committee on Government Reform, June 28, 2005 |

| | |
| --- | --- |
| | Guns, Safety, and the Constitution: Subject to Regulation |

| | |
| --- | --- |
| | Advocate: Daniel A. Farber, Henry J. Fletcher Professor of Law and Associate Dean of Faculty and Research, University of Minnesota |

| | |
| --- | --- |
| | Source: ``Disarmed by Time: The Second Amendment and the Failure of Originalism,'' Chicago-Kent Law Review, 2000 |

| | |
| --- | --- |
| | Also suitable for chapters on Courts, Civil Liberties, Criminal Justice Policy |

16
(16)

| | |
| --- | --- |
| | Federal Regulation of Medical Marijuana: Appropriate National Power or Usurpation of State Authority? |

| | |
| --- | --- |
| | Federal Regulation of Medical Marijuana: Appropriate National Power |

| | |
| --- | --- |
| | Advocate: John Paul Stevens III, Associate Justice, U.S. Supreme Court |

| | |
| --- | --- |
| | Source: Opinion in Gonzales v. Raich, June 6, 2005 |

| | |
| --- | --- |
| | Federal Regulation of Medical Marijuana: Usurpation of State Authority |

| | |
| --- | --- |
| | Advocate: Sandra Day O'Connor, Associate Justice, U.S. Supreme Court |

| | |
| --- | --- |
| | Source: Opinion in Gonzales v. Raich, June 6, 2005 |

| | |
| --- | --- |
| | Also suitable for chapters on Civil Rights, Courts, Constitution |

32
(12)

| | |
| --- | --- |
| | Evaluating the ``Right to an Abortion'' Decision In Roe V. Wade: Positive Impact or Negative Impact? |

| | |
| --- | --- |
| | Evaluating the ``Right to an Abortion'' Decision in Roe v. Wade: Positive Impact |

| | |
| --- | --- |
| | Advocate: R. Alta Charo, Professor of Law and Bioethics; Associate Dean for Research and Faculty Development, University of Wisconsin Law School |

| | |
| --- | --- |
| | Source: Testimony during hearings on ``The Consequences of Roe v. Wade and Doe v. Boston,'' U.S. Senate Committee on the Judiciary, Subcommittee on the Constitution, Civil Rights and Property Rights June 23, 2005 |

| | |
| --- | --- |
| | Evaluating the ``Right to an Abortion'' Decision in Roe v. Wade: Negative Impact |

| | |
| --- | --- |
| | Advocate: Teresa Collett, Professor of Law, University of St. Thomas School of Law, Minneapolis, Minnesota |

| | |
| --- | --- |
| | Source: Testimony during hearings on ``The Consequences of Roe v. Wade and Doe v. Bolton,'' U.S. Senate Committee on the Judiciary, Subcommittee on the Constitution, Civil Rights and Property Rights June 23, 2005 |

| | |
| --- | --- |
| | Also suitable for chapters on Courts, American Political Culture/Ideology, Interest Groups |

44
(16)

| | |
| --- | --- |
| | The Phrase ``Under God'' in the Pledge of Allegiance: Violation of the First Amendment or Acceptable Traditional Expression? |

| | |
| --- | --- |
| | The Phrase ``Under God'' in the Pledge of Allegiance: Violation of the First Amendment |

| | |
| --- | --- |
| | Advocate: Douglas Laycock, Professor, School of Law, University of Texas; and Counsel of Record for 32 Christian and Jewish clergy filing an amicus curiae brief with the Supreme Court in Elk Grove School District v. Newdow |

| | |
| --- | --- |
| | Source: A discussion of the topic ``Under God? Pledge of Allegiance Constitutionality,'' sponsored by the Pew Forum on Religion and Public Life and held before the National Press Club, Washington, D.C., March 19, 2004 |

| | |
| --- | --- |
| | The Phrase ``Under God'' in the Pledge of Allegiance: Acceptable Traditional Expression |

| | |
| --- | --- |
| | Advocate: Jay Alan Sekulow, Chief Counsel, American Center for Law and Justice; and Counsel of Record for 76 members of Congress and the Committee to Protect the Pledge filing an amicus curiae brief with the Supreme Court in Elk Gove School District v. Newdow |

| | |
| --- | --- |
| | Source: A discussion of the topic ``Under God? Pledge of Allegiance Constitutionality,'' sponsored by the Pew Forum on Religion and Public Life and held before the National Press Club, Washington, D.C., March 19, 2004 |

| | |
| --- | --- |
| | Also suitable for chapters on Courts, Political Culture (role of religion in politics) |

| | |
| --- | --- |
| | American People/Political Culture |

60
(12)

| | |
| --- | --- |
| | Eventual Citizenship for Unauthorized Immigrants: Rewarding Illegal Behavior Or Rewarding Contributions To America? |

| | |
| --- | --- |
| | Eventual Citizenship for Unauthorized Immigrants: Rewarding Illegal Behavior |

| | |
| --- | --- |
| | Advocate: James R. Edwards, Jr., Adjunct Fellow, Hudson Institute |

| | |
| --- | --- |
| | Source: Testimony during hearings on ``Should We Embrace the Senate's Grant of Amnesty to Millions of Illegal Aliens and Repeat the Mistakes of the Immigration Reform and Control Act of 1986?'' U.S. House of Representatives, Committee on the Judiciary, Subcommittee on Immigration, Border Security, and Claims, July 18, 2006 |

| | |
| --- | --- |
| | Eventual Citizenship for Unauthorized Immigrants Rewarding Contributions to America |

| | |
| --- | --- |
| | Advocate: Tom Harkin, U.S. Senator (D-IA) |

| | |
| --- | --- |
| | Source: Congressional Record, March 29, 2006 |

| | |
| --- | --- |
| | Also suitable for chapters on Social Policy |

| | |
| --- | --- |
| | Public Opinion/Participation |

72
(10)

| | |
| --- | --- |
| | Volunteer Border Patrol Groups: Laudable Patriots or Dangerous Vigilantes? |

| | |
| --- | --- |
| | Volunteer Border Patrol Groups: Laudable Patriots |

| | |
| --- | --- |
| | Advocate: Chris Simcox, President of Minuteman Civil Defense Corps |

| | |
| --- | --- |
| | Source: Testimony during hearings on ``Securing Our Borders: What We Have Learned From Government Initiatives and Citizen Patrols,'' U.S. House of Representatives Committee on Government Reform, May 12, 2005 |

| | |
| --- | --- |
| | Volunteer Border Patrol Groups: Dangerous Vigilantes |

| | |
| --- | --- |
| | Advocate: Asheesh Siddique, Editor, The Princeton Progressive Review, Princeton University |

| | |
| --- | --- |
| | Source: ``The New Nativism,'' Campus Progress News, Spring 2005 |

| | |
| --- | --- |
| | Also suitable for chapters on Civil Liberties, Foreign Policy |

82
(14)

| | |
| --- | --- |
| | Shielding Journalists' Sources from Subpoena: Protecting Democracy or Impeding Justice? |

| | |
| --- | --- |
| | Shielding Journalists' Sources from Subpoena: Protecting Democracy |

| | |
| --- | --- |
| | Advocate: Norman Pearlstine, Editor-in-Chief, Time Inc. |

| | |
| --- | --- |
| | Source: Testimony during hearings on ``Reporters' Shield Legislation: Issues and Implications,'' U.S. Senate Committee on the Judiciary, July 20, 2005 |

| | |
| --- | --- |
| | Shielding Journalists' Sources from Subpoena: Impeding Justice |

| | |
| --- | --- |
| | Advocate: James B. Comey, Deputy Attorney General, U.S. Department of Justice |

| | |
| --- | --- |
| | Source: Testimony during hearings on ``Reporters' Shield Legislation: Issues and Implications,'' U.S. Senate Committee on the Judiciary, July 20, 2005 |

| | |
| --- | --- |
| | Also suitable for chapters on Civil Liberties |

96
(44)

| | |
| --- | --- |
| | The Pro-Israel Lobby in the United States: Goliath or David? |

| | |
| --- | --- |
| | The Pro-Israel Lobby in the United States: Goliath |

| | |
| --- | --- |
| | Advocates: John Mearsheimer, R. Wendell Harrison Distinguished Service Professor of Political Science and co-director of the Program on International Security Policy, University of Chicago; and Stephen Walt, Robert and Rene Belfer Professor of International Affairs, John F. Kennedy School of Government, Harvard University |

| | |
| --- | --- |
| | Source: ``The Israel Lobby,'' London Review of Books, March 23, 2006 |

| | |
| --- | --- |
| | The Pro-Israel Lobby in the United States: David |

| | |
| --- | --- |
| | Advocate: Alan Dershowitz, Professor, School of Law, Harvard University |

| | |
| --- | --- |
| | Source: ``Debunking the Newest -- and Oldest -- Jewish Conspiracy: A Reply to the Mearsheimer-Walt 'Working Paper,''' Faculty Research Working Papers, Kennedy School of Government, Harvard University |

| | |
| --- | --- |
| | Also suitable for chapters on Political Culture, Foreign Policy |

140
(18)

| | |
| --- | --- |
| | Hillary Clinton and the 2008 Presidential Election: The Democrats' Best Bet or a Problematic Candidate? |

| | |
| --- | --- |
| | Hillary Clinton and the 2008 Presidential Election: The Democrats' Best Bet |

| | |
| --- | --- |
| | Advocate: Carl Cannon, White House correspondent for the National Journal |

| | |
| --- | --- |
| | Source: ``She Can Win the White House,'' Washington Monthly, July/August 2005 |

| | |
| --- | --- |
| | Hillary Clinton and the 2008 Presidential Election: A Problematic Candidate |

| | |
| --- | --- |
| | Advocate: Amy Sullivan, editor, Washington Monthly |

| | |
| --- | --- |
| | Source: ``Not So Fast,'' Washington Monthly, July/August 2005 |

| | |
| --- | --- |
| | Also suitable for chapters on Elections |

| | |
| --- | --- |
| | Voting/Campaigns/Elections |

158
(14)

| | |
| --- | --- |
| | Providing Proof of Citizenship When Registering to Vote: Reasonable Requirement or Unnecessary Barrier to Participation? |

| | |
| --- | --- |
| | Providing Proof of Citizenship When Registering to Vote: Reasonable Requirement |

| | |
| --- | --- |
| | Advocate: Patrick J. Rogers, attorney and member of the Board of Directors of the American Center for Voting Rights Legislative Fund |

| | |
| --- | --- |
| | Source: Testimony during hearings on ``Non-citizen Voting,'' before the House of Representatives, Committee on House Administration, June 22, 2006 |

| | |
| --- | --- |
| | Providing Proof of Citizenship When Registering to Vote: Unnecessary Barrier to Participation |

| | |
| --- | --- |
| | Advocate: Christine Chen, Executive Director of Asian and Pacific Islander American Vote |

| | |
| --- | --- |
| | Source: Testimony during hearings on ``Non-citizen Voting,'' before the House of Representatives, Committee on House Administration, June 22, 2006 |

| | |
| --- | --- |
| | Also suitable for chapters on Civil Rights, Federalism |

172
(12)

| | |
| --- | --- |
| | Congressional Term Limits: Promoting Choice or Restricting Choice? |

| | |
| --- | --- |
| | Congressional Term Limits: Promoting Choice |

| | |
| --- | --- |
| | Advocate: Paul Jacob, Executive Director, U.S. Term Limits |

| | |
| --- | --- |
| | Source: Testimony during hearings on ``Limiting Terms of Office for Members of the U.S. Senate and U.S. House of Representatives,'' U.S. House of Representatives, Committee on the Judiciary, Subcommittee on the Constitution, January 22, 1997 |

| | |
| --- | --- |
| | Congressional Term Limits: Restricting Choice |

| | |
| --- | --- |
| | Advocate: John R. Hibbing, Professor of Political Science, University of Nebraska |

| | |
| --- | --- |
| | Source: Testimony during hearings on ``Limiting Terms of Office for Members of the U.S. Senate and U.S. House of Representatives,'' U.S. House of Representatives, Committee on the Judiciary, Subcommittee on the Constitution, January 22, 1997 |

| | |
| --- | --- |
| | Also suitable for chapters on Elections |

184
(14)

| | |
| --- | --- |
| | Censure President Bush for Abuse of Power: Justified or Politically Motivated? |

| | |
| --- | --- |
| | Censure President Bush for Abuse of Power: Justified |

| | |
| --- | --- |
| | Advocate: John W. Dean, former Counsel to the President of the United States |

| | |
| --- | --- |
| | Source: Testimony during hearings on ``Senate Resolution 398 Relating to the Censure of George W. Bush,'' U.S. Senate, Committee on the Judiciary, March 31, 2006 |

| | |
| --- | --- |
| | Censure President Bush for Abuse of Power: Politically Motivated |

| | |
| --- | --- |
| | Advocate: Professor Robert Turner, Associate Director, Center for National Security Law, University of Virginia |

| | |
| --- | --- |
| | Source: Testimony during hearings on ``An Examination of the Call to Censure the President,'' United States Senate, Committee on the Judiciary, March 31, 2006 |

| | |
| --- | --- |
| | Also suitable for chapters on Civil Liberties, Foreign Policy |

198
(16)

| | |
| --- | --- |
| | The Department of Education and Women in Sports: Undermining Progress or Regulating Reasonably? |

| | |
| --- | --- |
| | The Department of Education and Women in Sports: Undermining Progress |

| | |
| --- | --- |
| | Advocate: Nancy Hogshead-Makar, Professor, Florida Coastal School of Law and U.S. Olympic triple goal medalist in swimming (1984) |

| | |
| --- | --- |
| | Source: Testimony during hearings on ``The First Tee and Schools: Working to Build Character Education,'' U.S. House of Representatives, Committee on Education and the Workforce, June 28, 2006 |

| | |
| --- | --- |
| | The Department of Education and Women in Sports: Regulating Reasonably |

| | |
| --- | --- |
| | Advocate: Amanda Ross-Edwards, Lecturer, Department of Political Science, North Carolina State University |

| | |
| --- | --- |
| | Source: ``Additional Clarification of Intercollegiate Athletics Policy: A Step in the Right Direction,'' an essay written especially for this volume, October 2006 |

| | |
| --- | --- |
| | Also suitable for chapters on Civil Rights, Education Policy |

214
(16)

| | |
| --- | --- |
| | Filibustering Federal Court Nominees: Frustrating the Majority or Protecting The Minority? |

| | |
| --- | --- |
| | Filibustering Federal Court Nominees: Frustrating the Majority |

| | |
| --- | --- |
| | Advocate: Orrin G. Hatch, U.S. Senator (R-UT) |

| | |
| --- | --- |
| | Source: Congressional Record, May 10, 2005 |

| | |
| --- | --- |
| | Filibustering Federal Court Nominees: Protecting the Minority |

| | |
| --- | --- |
| | Advocate: Harry F. Byrd, U.S. Senator (D-WV) |

| | |
| --- | --- |
| | Source: Congressional Record, March 1, 2005 |

| | |
| --- | --- |
| | Also suitable for chapters on Constitution, Congress |

| | |
| --- | --- |
| | State and Local Government |

230
(14)

| | |
| --- | --- |
| | Taking Property By Eminent Domain for Economic Development: Serving the Public Good or Abusing of Government Power? |

| | |
| --- | --- |
| | Taking Property by Eminent Domain for Economic Development: Serving the Public Good |

| | |
| --- | --- |
| | Advocate: Jeffrey Finkle, President And Chief Executive Office, International Economic Development Council |

| | |
| --- | --- |
| | Source: Testimony during hearings on ``Protecting Property Rights After Kelo,'' before the U.S. House of Representatives, Committee on Energy And Commerce Committee, Subcommittee on Commerce, Trade, and Consumer Protection, October 19, 2005 |

| | |
| --- | --- |
| | Taking Property by Eminent Domain for Economic Development: Abuse of Government Power |

| | |
| --- | --- |
| | Advocate: Michael D. Ramsey, Professor, School of Law, University of San Diego |

| | |
| --- | --- |
| | Source: Testimony during hearings on ``Protecting Property Rights After Kelo,'' before the U.S. House of Representatives, Committee on Energy And Commerce Committee, Subcommittee on Commerce, Trade, and Consumer Protection, October 19, 2005 |

| | |
| --- | --- |
| | Also suitable for chapters on Constitution, Courts, Economic Policy |

244
(14)

| | |
| --- | --- |
| | A Line-Item Veto for the President: Prudent Way to Restrain Spending or Unwise Grant of Power? |

| | |
| --- | --- |
| | A Line-Item Veto for the President: Prudent Way to Restrain Spending |

| | |
| --- | --- |
| | Advocate: Paul Ryan, U.S. Representative (R-WI) |

| | |
| --- | --- |
| | Source: Testimony during hearings on ``The Constitution and the Line-Item Veto,'' U.S. House of Representatives, Committee on the Judiciary, Subcommittee on the Constitution, April 27, 2006 |

| | |
| --- | --- |
| | A Line-Item Veto for the President: Unwise Grant of Power |

| | |
| --- | --- |
| | Advocate: Cristina Martin Firvida, Senior Counsel, National Women's Law Center |

| | |
| --- | --- |
| | Source: Testimony during hearings on ``The Constitution and the Line Item Veto,'' U.S. House of Representatives, Judiciary Committee, Subcommittee on the Constitution, April 27, 2006 |

| | |
| --- | --- |
| | Also suitable for chapters on Constitution, President, Congress |

258
(20)

| | |
| --- | --- |
| | The Death Penalty: Fatally Flawed or Defensible? |

| | |
| --- | --- |
| | The Death Penalty: Fatally Flawed |

| | |
| --- | --- |
| | Advocate: Stephen B. Bright, Director, Southern Center for Human Rights, Atlanta, Georgia; Visiting Lecturer in Law, Harvard and Yale Law Schools |

| | |
| --- | --- |
| | Source: Testimony during hearings on ``An Examination of the Death Penalty in the United States'' before the U.S. Senate, Committee on the Judiciary, Subcommittee on the Constitution, February 1, 2006 |

| | |
| --- | --- |
| | The Death Penalty: Defensible |

| | |
| --- | --- |
| | Advocate: John McAdams, Professor of Political Science, Marquette University |

| | |
| --- | --- |
| | Source: Testimony during hearings on ``An Examination of the Death Penalty in the United States'' before the U.S. Senate, Committee on the Judiciary, Subcommittee on the Constitution, February 1, 2006 |

| | |
| --- | --- |
| | Also suitable for chapters on Civil Rights |

278
(14)

| | |
| --- | --- |
| | Affirmative Action Admissions: Promoting Equality or Unfair Advantage? |

| | |
| --- | --- |
| | Affirmative Action Admissions: Promoting Equality |

| | |
| --- | --- |
| | Advocates: 41 College Students and 3 Student Coalitions |

| | |
| --- | --- |
| | Source: Amicus Curiae brief to the United States Supreme Court in Grutter v. Bolligner (2003) |

| | |
| --- | --- |
| | Affirmative Action Admissions: Unfair Advantage |

| | |
| --- | --- |
| | Advocates: 21 Law Professors |

| | |
| --- | --- |
| | Source: Amicus Curiae brief to the United States Supreme Court in Grutter v. Bolligner (2003) |

| | |
| --- | --- |
| | Also suitable for chapters on Constitution, Civil Rights |

292
(19)

| | |
| --- | --- |
| | U.S. Military Forces in Iraq: Stay the Course or Withdraw Quickly? |

| | |
| --- | --- |
| | U.S. Military Forces in Iraq: Stay the Course |

| | |
| --- | --- |
| | Advocate: George W. Bush, President of the United States |

| | |
| --- | --- |
| | Source: ``This Is Going To Be Freedom's Century,'' address delivered at the Freedom House, Washington, D.C., March 29, 2006 |

| | |
| --- | --- |
| | U.S. Military Forces in Iraq: Withdraw Quickly |

| | |
| --- | --- |
| | Advocates: Wesley B. Renfro and Brian Urlacher, doctoral students, Department of Political Science, University of Connecticut |

| | |
| --- | --- |
| | Source: ``With Terrorism Growing and Civil War Looming the United States Must Withdraw from Iraq,'' an essay written especially for this volume, October 2006 |

| | |
| --- | --- |
| | Also suitable for chapters on Policymaking, National Security Policy |

Credits
311