Note: Supplemental materials are not guaranteed with Rental or Used book purchases.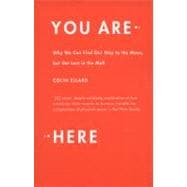 Summary
In the age of GPS and iPhones, human beings it would seem have mastered the art of direction, but does the need for these devices signal something else that as a species we are actually hopelessly lost. In fact we've filled our world with signs and arrows. We still get lost in the mall, or a maze of cubicles. What does this say about us? Drawing on his exhaustive research, Professor Collin Ellard illuminates how humans are disconnected from our world and what this means, not just for how we get from A to B, but also for how we construct our cities, our workplaces, our homes, and even our lives.
Author Biography
Colin Ellard is an experimental psychologist at the University of Waterloo, the director of its Research Laboratory for Immersive Virtual Environments, and an international expert in the psychology of navigation. The results of his research have been published in scientific journals for more than twenty years. Ellard lives in, and regularly gets lost in, Kitchener, Ontario.
Table of Contents
Introduction: Lost and Found
p. 1
Why Ants don't get Lost at the Mall: How Humans and Animals Navigate Space
Looking for Targets
Simple Tactics for Finding our way that we Share with all other Animals
p. 17
Looking for Landmarks
How we Search for the Invisible by using the Visible
p. 33
Looking for Routes
How we Try to keep Track of where we are by Noting where we have been
p. 55
Maps in the World
How Expert Navigators use Specialized Senses to find their Way
p. 79
Maps in Mouse Minds
The Mental Maps of Space Possessed by Animals
p. 101
Muddled Maps in Human Minds
The Peculiar Nature of our Mental Maps and what it says about how we Understand Space
p. 113
Making your way in the World Today: How our mind Shapes the Places where we work, Live, and Play
House Space
How our Mental Maps Influence our Behavior Inside our Homes
p. 137
Working Space
How the Geography of our mind Influences our Habits of Work and Play
p. 159
City Space
How knowing (or not knowing) our Place Influences Life in the City
p. 185
Cyberspace
How the Nature of our Mind makes it Possible for us to Live in Electronic Place
p. 225
Greenspace
How the Features of our Spatial Brain Influence our Connections to, and Neglect of, our Natural Environment
p. 259
The Future of Space
p. 293
Acknowledgments
p. 303
Notes
p. 305
Index
p. 323
Table of Contents provided by Ingram. All Rights Reserved.
Excerpts
Chapter 1
Looking For Targets
Simple Tactics for Finding Our Way
That We Share With All Other Animals

Following the light of the sun, we left the Old World

We've all done it. At a meeting, a conference, a wedding, or a simple potluck gathering with friends, the food appears. Though manners may prompt us to restrain ourselves for a few minutes, our antennae wave, our restless feet shuffle, and we make a beeline for the tables. If a scientist were to hover above us and measure our movements, it would be easy to show the average guest-to-plate distance as a steadily decreasing mathematical function. This class of behavior, called taxis, is the simplest kind of spatial behavior that can be imagined. All that is required is a target (that magnificent roast of beef), a sensor or two (our well-tuned nostrils and eyes), and some kind of motive force (sore feet squeezed into formal shoes will do nicely).

Life does not always treat us so kindly, though. On our way to the table, Longtalker Larry makes a perfect intercept course. How to rearrange the missile trajectory so as to home in on the canapés while avoiding verbal entanglement with Larry? The buffet table has two rows of food. On the closest side is Aunt Betty's famous potato salad, but it looks a little bland. The better bet is Sarah's Spicy Potatoes, but they're just out of reach. We'll need to thread our way through a crowd, momentarily losing sight of the target completely, in order to plan the return foray to starch Valhalla on the distal side of the room. What's the quickest way? Perhaps the party is in a building we've never seen before. The sweet aromas are everywhere, but compared to what vision gives us, they don't make much of a spatial cue. Which way do we go first? How do we conduct an efficient search?

Compared with many of the stories of feats of navigation that I will relate to you, finding your way to and then around a table full of food is small potatoes (Sarah's if you're lucky). Nevertheless, all such behaviors, ranging from the trivially simple taxis to the complex wayfinding task, point to one basic truth of biology. Unlike the potted geranium sitting in my window, you and I, like all other animate beings, need to be able to move from one place to another to survive. In order to remain nourished, I must get up from my chair and go to the fridge to find food. In order to avoid a premature demise, I need to leap out of the way of the bus that hurtles down the road toward me. The whole raw biological point of my individual survival is to reproduce. But this, too, requires movement. In order to pass my genes on, I need to be able to get up and walk around until I find a mate. (This, you may argue, is something of an oversimplification.) To survive, we must come to terms with space and time. Whatever the physicists and philosophers might say about these things, movement is defined as a change in place over some duration of time. Given this, it is not at all surprising that nature has produced a wide array of mechanical devices that produce movement (legs, wings, fins, and so on). In addition, we have evolved an even more impressive arsenal of tools that allow us to know where to move—that is, to find our way through space to important goals such as sustenance, warmth, safety, and sex.

The simplest tricks of navigation are perhaps so obvious that we don't even think of them as being tricks. You are walking down the aisle in a grocery store when, just ahead of you, you see the box of spaghetti you've been seeking. With little or no conscious effort, the box is soon in your hand and then in your shopping cart. What's to explain? This seemingly trivial piece of behavior—moving to a clearly visible target—is something that we do hundreds of times a day. Such behaviors are required of all animals that move