Note: Supplemental materials are not guaranteed with Rental or Used book purchases.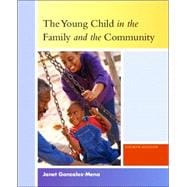 Questions About This Book?
What version or edition is this?
This is the 4th edition with a publication date of 1/1/2006.
What is included with this book?
The Used copy of this book is not guaranteed to include any supplemental materials. Typically, only the book itself is included.
Summary
For courses in Child, Family, and Community and Parents/Home-School Relations in Early Child Education. This exciting revision differs from our other text offerings for this course(Berger, Barbour, Wright/Stegelin) in that it focuses primarily on the young child's socialization. So, if social competence and socialization are important to you, this text is one for consideration. Recognizing that socialization is one of the most important aspects of child development, this lively and engaging book examines socialization issues of young children during child rearing, in child care facilities, and in the early education system within a developmental context. Child development as it relates to a child's first eight years, to a healthy family, and to a multicultural community is presented to students through personal stories, vignettes, pictures, and a wealth of examples.
Table of Contents
| | |
| --- | --- |
| | PART 1 The Child: Socialization in a Developmental Context |

1
(102)
4
(26)
6
(3)
9
(2)
11
(1)

| | |
| --- | --- |
| | Signs of Attachment in Parents |

11
(1)

| | |
| --- | --- |
| | Signs of Attachment in Infants |

11
(1)
12
(3)

| | |
| --- | --- |
| | Temperament and Attachment |

14
(1)

| | |
| --- | --- |
| | Developmental Differences |

15
(1)

| | |
| --- | --- |
| | Learning to Cope with Feelings of Loss |

15
(3)

| | |
| --- | --- |
| | Varying Attachment Patterns |

18
(2)

| | |
| --- | --- |
| | Bowlby and Ainsworth's Research |

18
(1)

| | |
| --- | --- |
| | Questions About Classic Attachment Research |

19
(1)

| | |
| --- | --- |
| | Attachment and Infant Mortality |

20
(1)

| | |
| --- | --- |
| | Judging Attachment in a Cross-Cultural Situation |

21
(1)

| | |
| --- | --- |
| | Child Care and Attachment |

22
(4)

| | |
| --- | --- |
| | Effects of Child Care on Attachment |

22
(2)

| | |
| --- | --- |
| | How Caregiver and Parent Roles Differ |

24
(1)

| | |
| --- | --- |
| | Attachment in Full-Inclusion Programs |

25
(1)
26
(1)
26
(1)
27
(1)
28
(2)
30
(24)
32
(1)

| | |
| --- | --- |
| | Signs of Developing Autonomy |

32
(8)
33
(1)
33
(2)
35
(3)
38
(2)

| | |
| --- | --- |
| | Dealing with Issues of Power and Control |

40
(7)

| | |
| --- | --- |
| | Set Up a Developmentally Appropriate Environment |

40
(1)
41
(2)

| | |
| --- | --- |
| | Encourage Self-Help Skills |

43
(1)
43
(1)
44
(1)
45
(2)

| | |
| --- | --- |
| | Coping with Loss and Separation |

47
(3)

| | |
| --- | --- |
| | Taking Separation in Small Steps |

47
(1)
48
(2)

| | |
| --- | --- |
| | Partnering with Parents of Toddlers |

50
(1)
51
(1)
51
(1)
52
(1)
53
(1)
54
(26)

| | |
| --- | --- |
| | What Initiative Looks Like in a 4-Year-Old |

56
(1)

| | |
| --- | --- |
| | Analyzing Initiative in a 4-Year-Old |

57
(2)
59
(2)

| | |
| --- | --- |
| | Autonomy Versus Shame and Doubt |

59
(1)
60
(1)
61
(1)

| | |
| --- | --- |
| | The Value of Play of All Sorts |

61
(2)

| | |
| --- | --- |
| | How the Environment Contributes to a Sense of Initiative |

63
(3)

| | |
| --- | --- |
| | Dimensions of Play Environments |

64
(2)

| | |
| --- | --- |
| | How Adults Contribute to Children's Initiative |

66
(1)

| | |
| --- | --- |
| | Special Considerations for Children with Disabilities |

66
(1)
67
(2)
69
(2)
69
(2)

| | |
| --- | --- |
| | Teaching Young Children Problem-Solving Skills |

71
(3)

| | |
| --- | --- |
| | Empowering the Preschool-Age Child |

74
(3)
77
(1)
77
(1)
77
(2)
79
(1)
80
(23)

| | |
| --- | --- |
| | Portrait of a Person with High Self-Esteem |

82
(1)

| | |
| --- | --- |
| | Definition of Self-Esteem |

83
(1)

| | |
| --- | --- |
| | Dimensions of Self-Esteem |

84
(2)
85
(1)
86
(1)
86
(1)
86
(1)

| | |
| --- | --- |
| | The Role of Beliefs and Expectations in Self-Esteem |

86
(2)

| | |
| --- | --- |
| | Where Does Self-Esteem Come From? |

88
(1)
89
(4)

| | |
| --- | --- |
| | Give More Honest Feedback and Encouragement Than Praise |

89
(1)

| | |
| --- | --- |
| | Give Children Opportunities to Experience Success |

90
(3)

| | |
| --- | --- |
| | Children Learn from Failure |

93
(1)

| | |
| --- | --- |
| | Celebrating Differences: An Antibias Approach |

94
(5)
95
(1)

| | |
| --- | --- |
| | Cultural Differences and Self-Esteem |

96
(3)
99
(1)
100
(1)
100
(1)
101
(2)

| | |
| --- | --- |
| | PART 2 The Family: Socialization for High Self-Esteem in Healthy Families |

103
(180)

| | |
| --- | --- |
| | Goals, Values, and Culture |

108
(28)

| | |
| --- | --- |
| | Relationship of Goals and Values to Child-Rearing Practices |

110
(1)

| | |
| --- | --- |
| | Cultural Differences in Goals and Values |

111
(2)

| | |
| --- | --- |
| | Contrasting Cultural Patterns |

113
(1)

| | |
| --- | --- |
| | When Parents and/or Caregivers or Teachers Have Conflicting Goals and Values |

114
(3)

| | |
| --- | --- |
| | What to Do When Conflicts Arise |

117
(6)
121
(1)
121
(1)

| | |
| --- | --- |
| | Work to Bring Differences Out in the Open |

121
(1)
122
(1)

| | |
| --- | --- |
| | Become an Effective Cross-Cultural Communicator |

122
(1)
122
(1)

| | |
| --- | --- |
| | Commit Yourself to Education |

122
(1)

| | |
| --- | --- |
| | Helping Children Understand and Value Cultural Pluralism |

123
(1)

| | |
| --- | --- |
| | Teaching Morals and Values to Children |

124
(1)

| | |
| --- | --- |
| | Teaching Morals by Helping Children Examine Their Decision-Making Process |

125
(2)

| | |
| --- | --- |
| | Teaching Morals by Promoting Prosocial Development |

127
(3)
130
(1)
130
(1)
131
(2)
133
(3)

| | |
| --- | --- |
| | Child Care: An Extension of the Family |

136
(26)

| | |
| --- | --- |
| | Child Care as a Child-Rearing Environment |

138
(2)

| | |
| --- | --- |
| | Affordability and Availability |

140
(3)
141
(2)

| | |
| --- | --- |
| | The State of Child Care in America Today |

143
(1)
143
(2)

| | |
| --- | --- |
| | Adult-Child Interactions in Child Care and Early Education Settings |

145
(1)

| | |
| --- | --- |
| | Including Everybody: Children with Special Needs |

146
(1)
147
(2)

| | |
| --- | --- |
| | Questions Concerning Continuity Between Child Care and Home |

149
(3)

| | |
| --- | --- |
| | Parent-Professional Partnerships |

152
(4)

| | |
| --- | --- |
| | Roadblocks to Mutual Appreciation, Respect, and Support |

153
(3)
156
(1)
156
(1)
157
(2)
159
(3)

| | |
| --- | --- |
| | Disciplining for High Self-Esteem |

162
(20)

| | |
| --- | --- |
| | Defining the Word Discipline |

164
(1)

| | |
| --- | --- |
| | Problems with Using Punishment to Teach Young Children |

165
(2)

| | |
| --- | --- |
| | Guidelines for Disciplining Young Children |

167
(11)

| | |
| --- | --- |
| | Discipline as Preventing Unacceptable Behavior |

168
(4)

| | |
| --- | --- |
| | Discipline as Responding to Unacceptable Behavior |

172
(6)
178
(1)
178
(1)
178
(2)
180
(2)
182
(22)
186
(1)

| | |
| --- | --- |
| | All Feelings Are Positive |

186
(1)
186
(9)
187
(3)
190
(1)

| | |
| --- | --- |
| | The Importance of Accepting Feelings |

191
(1)

| | |
| --- | --- |
| | Teaching Children Healthy Expressions of Feelings |

192
(3)

| | |
| --- | --- |
| | Teaching Children to Cope with Feelings |

195
(5)

| | |
| --- | --- |
| | Developing Self-Calming Skills |

195
(1)

| | |
| --- | --- |
| | Coping by Playing Pretend |

196
(1)

| | |
| --- | --- |
| | Coping with Simultaneous Feelings |

197
(1)
197
(1)
198
(2)
200
(1)
201
(1)
201
(1)
202
(2)
204
(20)

| | |
| --- | --- |
| | Problem Solving When Needs Conflict |

206
(1)

| | |
| --- | --- |
| | The Direct Order and Its Disadvantages |

206
(1)

| | |
| --- | --- |
| | The Fear-Inducing Approach and Its Disadvantages |

206
(1)
207
(1)
207
(1)
207
(1)
207
(2)

| | |
| --- | --- |
| | The Authoritarian Approach |

208
(1)
208
(1)

| | |
| --- | --- |
| | The Authoritative Approach |

208
(1)

| | |
| --- | --- |
| | The Problem-Solving Process |

209
(7)

| | |
| --- | --- |
| | Problem Solving When the Child Has a Problem |

211
(1)

| | |
| --- | --- |
| | Problem Solving When the Adult Has the Problem |

212
(3)

| | |
| --- | --- |
| | Using the RERUN Process: An Example |

215
(1)

| | |
| --- | --- |
| | Problem Solving and Cognitive Development |

216
(3)
217
(1)
218
(1)

| | |
| --- | --- |
| | Summary of Steps of Problem Solving |

219
(1)
220
(1)
220
(1)
221
(1)
221
(3)

| | |
| --- | --- |
| | Strokes and Affirmations: A Path to Self-Esteem |

224
(20)
226
(3)

| | |
| --- | --- |
| | Using Positive Strokes to Change Behavior |

229
(1)
229
(6)

| | |
| --- | --- |
| | Affirmations Can Create Self-Fulfilling Prophecies |

230
(2)

| | |
| --- | --- |
| | Children's Response to Affirmations and Strokes |

232
(3)

| | |
| --- | --- |
| | Relation of Adult Self-Esteem to Building Self-Esteem in Children |

235
(2)

| | |
| --- | --- |
| | Changing Negative Messages to Positive Ones |

235
(2)
237
(1)
238
(4)

| | |
| --- | --- |
| | Tips for Getting Yourself Nurtured |

240
(2)
242
(1)
242
(1)
242
(1)
243
(1)

| | |
| --- | --- |
| | Modeling and Teaching Gender Roles |

244
(16)

| | |
| --- | --- |
| | Why Think About Teaching Gender Roles? |

246
(1)
246
(1)

| | |
| --- | --- |
| | Gender Equity and Child Rearing |

247
(3)
248
(1)
249
(1)
250
(1)

| | |
| --- | --- |
| | Differential Socialization |

251
(4)

| | |
| --- | --- |
| | Differential Treatment from Parents |

252
(1)

| | |
| --- | --- |
| | Differential Treatment in Preschool |

253
(1)

| | |
| --- | --- |
| | Differential Treatment in Elementary School |

254
(1)

| | |
| --- | --- |
| | The Role of Biology in Creating Differences Between Boys and Girls |

255
(1)

| | |
| --- | --- |
| | Guidelines for Parents and Early Childhood Educators |

256
(2)
258
(1)
258
(1)
258
(1)
259
(1)

| | |
| --- | --- |
| | Stress and Success in Family Life |

260
(23)
263
(1)

| | |
| --- | --- |
| | Traits of Successful Families |

264
(8)
265
(1)
266
(1)
267
(1)
268
(1)
268
(1)
269
(1)

| | |
| --- | --- |
| | Comparing the Six Families |

270
(2)

| | |
| --- | --- |
| | Stress as a Positive Force |

272
(2)

| | |
| --- | --- |
| | What We Can Learn from Studies of Resilient Children |

274
(1)

| | |
| --- | --- |
| | Helping All Children Become Resilient Children |

275
(3)
278
(1)
278
(1)
279
(1)
279
(4)

| | |
| --- | --- |
| | PART 3 The Community: Socialization in the Community Context |

283
(66)
288
(18)
290
(3)

| | |
| --- | --- |
| | Developing a Broad Base of Support |

290
(2)

| | |
| --- | --- |
| | Forms Social Networks May Take |

292
(1)

| | |
| --- | --- |
| | Community Institutions That Serve Families |

292
(1)

| | |
| --- | --- |
| | Families Using Community Resources |

293
(7)
294
(1)
295
(1)
296
(1)
297
(1)
298
(1)
299
(1)

| | |
| --- | --- |
| | Connections to the Community |

300
(3)

| | |
| --- | --- |
| | A Summary of Community Resources |

300
(2)

| | |
| --- | --- |
| | Availability of Community Resources |

302
(1)
303
(1)
303
(1)
304
(1)
304
(2)
306
(24)

| | |
| --- | --- |
| | Socialization and the Family |

308
(6)
309
(5)

| | |
| --- | --- |
| | Schools as Socializing Agents |

314
(6)

| | |
| --- | --- |
| | Getting into Kindergarten |

314
(4)
318
(1)
319
(1)
320
(1)

| | |
| --- | --- |
| | The Peer Group as an Agent of Socialization |

320
(3)

| | |
| --- | --- |
| | Functions of the Peer Group |

322
(1)

| | |
| --- | --- |
| | The Media as an Influence on Socialization |

323
(4)
325
(1)
325
(2)
327
(1)
327
(1)
328
(1)
329
(1)
330
(19)

| | |
| --- | --- |
| | Who Is Responsible for America's Children? |

332
(3)

| | |
| --- | --- |
| | Children and Equal Opportunity |

334
(1)

| | |
| --- | --- |
| | Ready to Learn: A Goal for All of America's Children |

335
(4)
336
(1)
337
(2)

| | |
| --- | --- |
| | Moving Toward Full-Inclusion Programs |

339
(1)
340
(1)

| | |
| --- | --- |
| | Adequate Health Services and Nutrition for All |

340
(1)

| | |
| --- | --- |
| | Taking a Preventive Approach |

341
(1)
342
(2)
344
(1)
344
(1)
345
(1)
346
(3)
NAEYC Program Standards for Accreditation
349
(4)
Index
353