Note: Supplemental materials are not guaranteed with Rental or Used book purchases.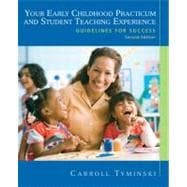 Your Early Childhood Practicum and Student Teaching Experience : Guidelines for Success
ISBN13:
9780137152902
by
Tyminski, Carroll
Questions About This Book?
What version or edition is this?
This is the 2nd edition with a publication date of 4/10/2009.
What is included with this book?
The New copy of this book will include any supplemental materials advertised. Please check the title of the book to determine if it should include any CDs, lab manuals, study guides, etc.
The Used copy of this book is not guaranteed to include any supplemental materials. Typically, only the book itself is included.
Related Products
Summary
Your Early Childhood Practicum and Student Teaching Experience: Guidelines for Success is designed for students who are assuming the responsibilities of teaching young children while receiving guidance and supervision. Students may be taking part in a variety of student teaching experiences. These may include capstone courses for one-year certificate programs and for associate degree programs, practicum experiences in a community college setting, as well as traditional early childhood programs in a four-year university setting. This text offers both theory and practical application to guide each student to a successful conclusion of the practicum and student teaching experience. New to this Edition! Current information on national and state standards Reauthorization of RReauthorization ofNo Child Left Behind Assessment ofALLchildren Diverse family structures and family systems such as grandparent-headed families,families with one or more LGBT parents, military families, single parent families, and families experiencing poverty Expanded focus on inclusion and working with children who have special needs and their families Expanded focus on professional behavior Lesson planning with sample formats Electronic portfolio development and expanded portfolio activities Helpful web sites on each topic
Table of Contents
Chapter 1 Preparing to Begin Student Teaching
Final Preparations for Day One
Terminology of Student Teaching
Making a Good First Impression
Develop Knowledge Base
Examination of Personal Assumptions and Beliefs
Reflective Inquiry to Raise Awareness and Reduce Harmful Assumptions
Potential for Cultural Misconceptions
Initial Meetings
Communicate with Cooperating Teacher
Communicate with Children
Maintain Confidentiality
Communicate with Your Supervisor
Sample Topics for Meeting with Supervisor
Communicate with Administration
Communicate with Support Staff
Communicate with Friends and Family
Personal Preparations
Legal Considerations
Health Considerations
Stress Management
Development of a Support System
Need for a Support System
Creating a Peer Group Support System
Process of Group Support16
Benefits of the Support Group
Keeping a Human Connection
Final Thoughts
Activities for Reflection and Thought
Portfolio Activities
Chapter 2 Becoming a Professional
What It Means to Be a Professional
Terminology
Ethical Guidelines and Professional Standards
The Code of Ethical Conduct and Ethical Dilemmas
Confidentiality
Written Sources for Professional Decision Making
Knowledge and Critical Reflection
Identification and Involvement
Professionalism and Lifelong Learning
Professional Growth as a Team Member
Becoming a Professional Member of the Workplace
Becoming an Informed Professional
Professional Issues Related to Early Childhood
Public Perception
Compensation
Increased Demand for Early Education
Shortage of Early Childhood Teachers
Final Thoughts
Activities for Reflection and Action
Portfolio Activity
Chapter 3 Establishing Effective Professional Relationships
Establishing a Positive Relationship with Cooperating Teachers
Differing Types of Cooperating Teachers
Invited Guest/Participant
Establishing a Successful Mentoring Relationship
Establishing a Positive Relationship with Your College Supervisor
Effective Communication and Building Relationships
Developing Effective Communication Skills
Effective Communication and Nonverbal Behaviors
Importance of Verbal Behaviors and Active Listening
"Growing Pains": Stages of Development
Stages of Student Teaching
Comments During The Early Days
Comments on Becoming a Member of the Teaching Team
Comments on Soloing as a Teacher
Comments on Feeling Like a Teacher
Final Thoughts
Activities for Reflection and Action
Portfolio Activity
Chapter 4 Guiding Young Children in the Classroom
Metaphorical Perspective
Emphasis on Classroom Management
Distinct Areas of Classroom Management
Discipline and Guidance
Definition of Terms
Guidance Approach
Focus on the Child
Teaching Self-Discipline<
Guidance for Infants and Toddlers
Supportive Time Away
Modeling Effective Strategies

Behavior as Communication
Guidance Strategies
Conflict Resolution
Class Meetings
Peace Table
Additional Behavior Management Techniques
Assertive Discipline
Logical Consequences
Glasser's Choice Theory
Limits or Class Rules
Behavior Modification
What To Do When All Else Fails
Real-Life Ethical Dilemmas
Setting the Stage
Student Teacher's Response
College Supervisor's Response
Cooperating Teacher's Response
Ethical Dilemma and the Decision-Making Process
Comments
The Support Group Meets
Final Thoughts
Activities for Reflection and Action
Portfolio Activity
Chapter 5 Classroom Management: Environments and Routines
Physical Space and Classroom Management
Safety and the Classroom Environment
Color and the Classroom Environment
Texture and the Classroom Environment
Furniture and the Classroom Environment
Multicultural Elements and the Classroom Environment
Arrangement of Physical Environment and Program Philosophy
Common Types of Physical Space
Physical Envronment and Inclusion of Children with Special Needs
Emotional Climate and Classroom Management
Young Children and Fear
Using Play to Develop Emotional Well-Being
Bloom's Taxonomy and the Affective Domain
Classroom Management and Rules
Classroom Routines
Daily Routines
Time Management
Schedule for Managing Classroom Time
Transitions
Outdoor Physical Environment
Final Thoughts
Activities for Reflection and Action
Portfolio Activity
Chapter 6 Observations and Evaluations of Student Teaching
Making the Most of the Observation/Evaluation Process
Goals of Observations
Climate of Trust
Observations of Teaching
Direct Observation
Format
Purposes of the Observation
Informal Observations
Peer Coaching
Video Observations
Evaluation
Receiving Criticism
Personal Characteristics
Self-Evaluation
Reflective Journals
Forms of Inquiry
Process of Journal Writing
Portfolios
Definition of Terms
Levels of Portfolio Development
Electronic Portfolio Development
Criteria for Assessment
State Standards and High-Stakes Assessment
Praxis Tests
Passing the Praxis Tests
Certification
Peer Support Group
Evaluations and the Unexpected
Time Management
Final Thoughts
Activities for Reflection and Action
Portfolio Activity
Chapter 7 Assessment of Young Children
Assessment: A Blessing or a Curse?
What Assessment Is and What It Is Not
Assessment-Related Terminology
Testing
Measurement
Standards
Purposes of Assessment
Assessment to Monitor Understanding
Assessment as a Screening Tool
Assessment to Evaluate Programs
Assessment for Accountability Purposes
Formal Assessment
Informal Assessment
Observation
Authentic Assessments
Children's Portfolios
Performance Assessment
Alternate Assessment
Assessment Considerations for Special Populations
English-language learners
Children who have special needs
Final Thoughts
Activities for Reflection and Action
Portfolio Activity
Chapter 8 Supportive Instruction
Recognizing Children's Unique Ways of Knowing
Relating Instruction to Young Children's Ways of Knowing
Children's Ways of Knowing
Utilizing Children's Sensitive Periods
Applying Gardner's Theory of Multiple Intelligences (MI)
Developmentally Appropriate Practice and Curriculum
Developmentally Appropriate Practice
DAP versus DIP
Curriculum
Supportive Instruction in Communication
Student Teacher's Role in Language Development
Supporting a Language-Rich Environment for Bilingual Children
Antibias Curriculum
Supportive Instruction Using an Integrated Curriculum
The Project Approach and the Integrated Curriculum
Content Areas and Standards
Lesson Planning
Technology and Supportive Instruction
Technology in Preschool
Developmentally Appropriate Software
Assistive and Adaptive Technology
Final Thoughts
Activities for Reflection and Action
Portfolio Activity
Chapter 9 Understanding Diverse Communities and Interacting with Children's Families
Changing Cultural Demographics
Demographic Changes and Teachers
Terminology
Student Teaching and Becoming Culturally Competent
Breaking Down Cultural Barriers
Awareness of Diversity Within Minority Cultures
Family Involvement and Cultural Diversity
Difference in Parent-Child Communication
Diverse Family Structures in Today's Classrooms
Collaboration with Diverse Families
Grandparent-headed Families
Families with One or More LGBT Parents
Military Families
Single Parent Families
Families Experiencing Poverty
Families of Children with Special Needs
How to Develop Positive Home—School Relationships
Building Effective Interaction with Children's Families
School Visits and Interaction with Children's Families
A Culture-Friendly Room for Children and Families
Selection of Culturally Appropriate Books and Stories
Home Visits and Interaction with Children's Families
Parent Conferences and Interaction with Children's Families
Nonverbal Cultural Codes
Physical Proximity, Eye Contact, and Touch
Final Thoughts
Activities for Reflection and Action
Portfolio Activity
Chapter 10 Completion of Student Teaching: Looking Ahead
Leaving Your Student Teaching Practicum
Leaving Your Cooperating Teacher and Colleagues
Leaving the Children in Your Placement
Final Evaluation of Student Teaching Practicum
Planning Ahead after Graduation
Networking
Resume Writing
Job Fairs
Applications
Interviews
Preparation for the Interview
Sample Interview Questions
Additional Interview Tips
Follow-Up to Your Interview
Final Thoughts
Sample Format for Cover Letter
Sample Format for Resumé
Activities for Reflection and Action
Portfolio Activity
Appendix A Code of Ethical Conductand Statement of Commitment
APPENDIX BNCATE Unit StandardsStandard 1: Candidate Knowledge,
Skills, and Professional Dispositions