Note: Supplemental materials are not guaranteed with Rental or Used book purchases.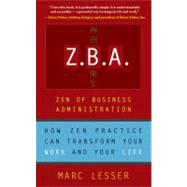 Z.B.A. Zen of Business Administration
ISBN13:
9781577314691
by
Lesser, Marc
Questions About This Book?
What version or edition is this?
This is the edition with a publication date of 1/21/2005.
What is included with this book?
The New copy of this book will include any supplemental materials advertised. Please check the title of the book to determine if it should include any CDs, lab manuals, study guides, etc.
Summary
In the great Zen tradition of teaching stories, Marc Lesser relates his own personal and professional trials as he navigates the delicate path of managing a successful business while staying true to his spiritual roots. Struggling through a difficult economic climate, he also faces the usual challenges of running a growing company — meeting payroll, balancing cashflow, hiring and firing employees, and maintaining relationships with vendors and customers. Guiding him through these difficulties while providing strength and insight is the practice of Zen. Utilizing his training as a Zen practitioner, Lesser learns to apply specific teachings such as the eight-fold path directly to work and life. In chapters such as "Work: The Impossible Request," "Appreciating Uncertainty," and "Accomplishing More by Doing Less," ZBA: The Zen of Business Administration provides readers with intimate, helpful advice, while acknowledging the paradox of applying spiritual practice to the business world.
Table of Contents
Introduction
xv
WE ARE ALL ZEN STUDENTS, WE ARE ALL BUSINESSPEOPLE

| | |
| --- | --- |
| | We Are All Zen Students, We Are All Businesspeople |

5
(8)
13
(8)

| | |
| --- | --- |
| | Serenity Is Not Freedom from the Storm but Peace within the Storm |

21
(4)

| | |
| --- | --- |
| | The Benefits of Integrating Zen Practice with Your Work |

25
(6)
31
(4)

| | |
| --- | --- |
| | Work: The Impossible Request |

35
(4)

| | |
| --- | --- |
| | Our Happiness and Freedom Are Right Here, Right Now |

39
(4)

| | |
| --- | --- |
| | Before Awakening, Work Is Just Work; After Awakening, Work Is Just Work |

43
(6)

| | |
| --- | --- |
| | The First Thing, the Most Important Thing |

49
(4)
53
(6)
WALKING THE PATH
59
(4)

| | |
| --- | --- |
| | Uncovering Your Approach: Right View |

63
(8)

| | |
| --- | --- |
| | What Are You Thinking? Right Thinking |

71
(6)

| | |
| --- | --- |
| | Paying Attention: Right Mindfulness |

77
(6)

| | |
| --- | --- |
| | It's What You Say: Right Speech |

83
(6)

| | |
| --- | --- |
| | It's What You Do: Right Action |

89
(4)

| | |
| --- | --- |
| | It's Your Work: Right Livelihood |

93
(4)

| | |
| --- | --- |
| | Staying with It: Right Diligence |

97
(4)

| | |
| --- | --- |
| | Staying Focused: Right Concentration |

101
(8)
WISDOM: YOUR ORDINARY MIND IS THE PATH
109
(4)
113
(4)
117
(4)
121
(4)

| | |
| --- | --- |
| | Meditation: Letting Go of Everything |

125
(6)

| | |
| --- | --- |
| | Wisdom: Your Ordinary Mind Is the Path |

131
(6)
LISTENING TO YOUR CLEAR, QUIET VOICE

| | |
| --- | --- |
| | Run Your Business and Your Life Like a Zen Monastery Kitchen |

137
(6)
143
(4)

| | |
| --- | --- |
| | Listening to Your Clear, Quiet Voice |

147
(4)

| | |
| --- | --- |
| | Radical View of Life, Radical View of Business |

151
(4)

| | |
| --- | --- |
| | Accomplishing More by Doing Less |

155
(4)
159
(4)

| | |
| --- | --- |
| | What Do You Want? What Do You Have to Do to Get It? Can You Pay the Price? |

163
(4)
167
(4)

| | |
| --- | --- |
| | Taking the Busyness Out of Business |

171
(4)

| | |
| --- | --- |
| | Having a Teacher or Mentor |

175
(4)
179
(4)

| | |
| --- | --- |
| | Success Is Highly Overrated |

183
(6)
189
(4)

| | |
| --- | --- |
| | Let Cash Be Your King, but Let Flexibility Be Your God |

193
(6)
YOU CAN CHANGE THE WORLD

| | |
| --- | --- |
| | Be Mindful of the Needs You Meet |

199
(4)
203
(4)
207
(4)

| | |
| --- | --- |
| | Sit-Down Comedy: Humor at Work |

211
(4)
215
(4)

| | |
| --- | --- |
| | Woo Hoo, I Feel Really Dumb |

219
(4)

| | |
| --- | --- |
| | Not You, Not Your Problems |

223
(2)
225
(4)

| | |
| --- | --- |
| | If It's Not Paradoxical, It's Not True! |

229
(4)

| | |
| --- | --- |
| | Act as Though You Know What You Are Doing |

233
(4)
237
(4)
Nine Practices for Being More in Connection with Yourself While at Work
241
(2)
The Z.B.A. Manifesto
243
(4)
Recommended Reading
247
(4)
Acknowledgments
251
(4)
Index
255
(12)
About the Author
267